If you have a sister, you know that life can be a little crazy with them. From stealing clothes to chewing too loud, sisters can be a pain. Can you imagine if your sister was in charge of your hair? Well, that's my life. Here are five things you can relate to if you grew up with a sister who doubled as your hairdresser.
1. All of a sudden, you start to feel phantom burning sensations on your neck.

Because it's never their fault and she "didn't even touch you" with the curling iron. "Stop being a baby." "You're fine! It's just a third-degree burn!"
3. No matter how hard you worked on your hair, you should've done something different.

If you curled it, there's definitely a few curls that are wonky that need to be fixed. If you straightened it, you for sure missed a spot. Just leave the iron on so she can fix it because you already know it's going to happen. If you blow dry it, you definitely are using the wrong brush, cause why does it look like that? Maybe it's the product... "what product is in this? None? Just start over." If you let it air dry, why didn't you blow dry it? And, of course, it doesn't matter when you last washed your hair it's probably greasy somewhere.

3. Somehow, you always end up the guinea pig.

Even though all you wanted was a simple touch up to get rid of your roots, you're now a part of a brand new technique that she just learned because it's going to make it look "so much better." I will give it to my sister though, it did end up looking much better. Nonetheless, it was terrifying.
4. You drenched every time she washes your hair.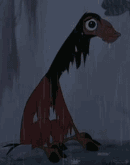 It's probably best if you don't wear makeup when getting your hair done because, by the time she rinses out the color and washes your hair, it'll be gone. Also, don't wear a nice shirt, because that'll be soaked too. Honestly, just get in the shower and wash out the color yourself. It'll be so much easier on both of you.

5. You always had great hair.

I knew how to curl my hair before any girl in my grade and all of my girlfriends would come over before school dances so my sister would do their hair. I had red dip dyed tips in 7th grade and a purple extension in 8th. You rocked the cool looks before they were cool. And when you grow up, and your sister becomes your best friend, then getting your hair done gets even better. And sometimes she'll feed you dinner after.