LuLaRoe. If you haven't heard of this amazing clothing company you are missing out! I bought my first LuLaRoe Irma in early October, and the same night I bought my first pair of leggings. I'm pretty sure during the month of October I spent waaaayyyy more than I should've. I have two friends that spent waaayyyyy more than me, though. One friend bought three pairs of leggings in one night and the other spent over $100 in one day! But girls, there is no shame and judgment coming from me. I seriously love LLR so much! If I had the $6000 it costs to startup and become a consultant, that would've happened on day one, but luckily for my wallet (and my family) I can't afford to become a consultant. Yet. ;) There are five steps that every LuLa lover must go through when it comes to LuLaRoe. Once you cross the line you can never go back!
1. Discovery

Congratulations! you discovered LLR and have purchased your 1st pair! Now that you've discovered LuLaRoe, you've probably texted or called everyone you know to tell them about it, and if they haven't you quickly educate them and corrupt them.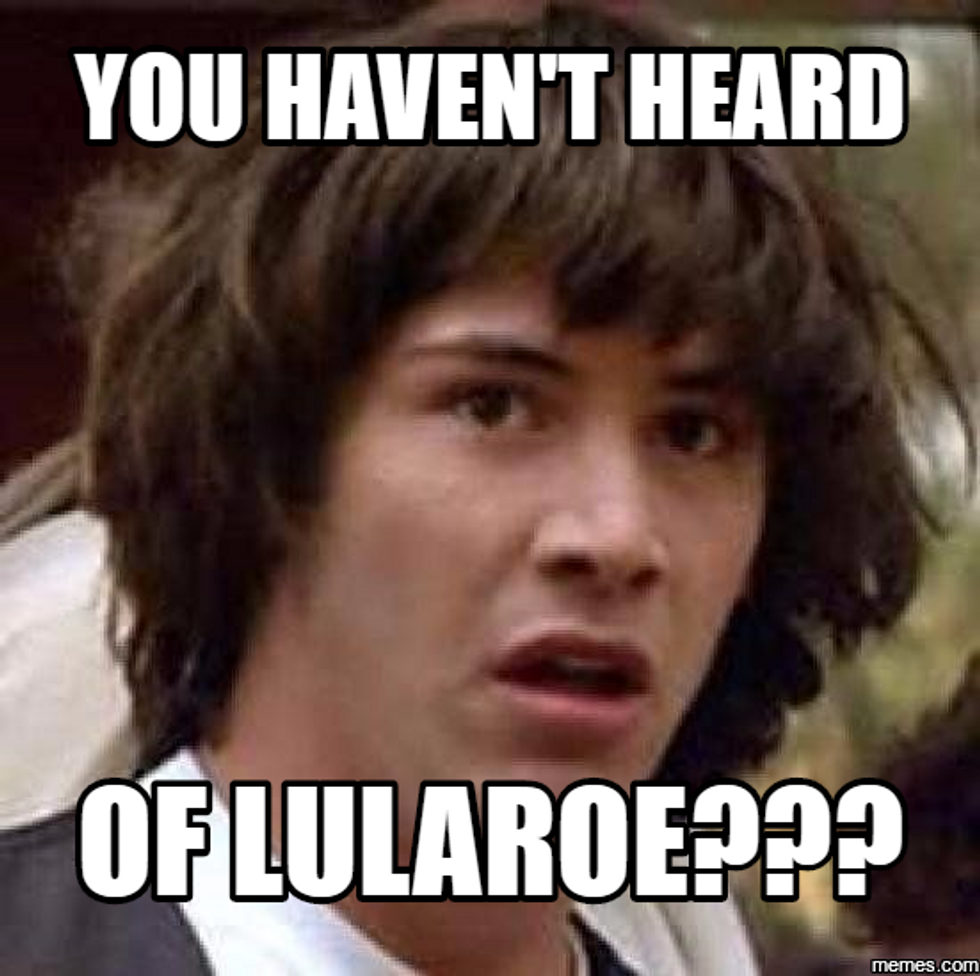 2. Shock
You're now in a state of shock and are wondering how you could've gone this long without TCs and Irmas, OSs and Patricks, Maxis and Sarahs. The list of styles goes on and on as your bank account shrinks and shrinks.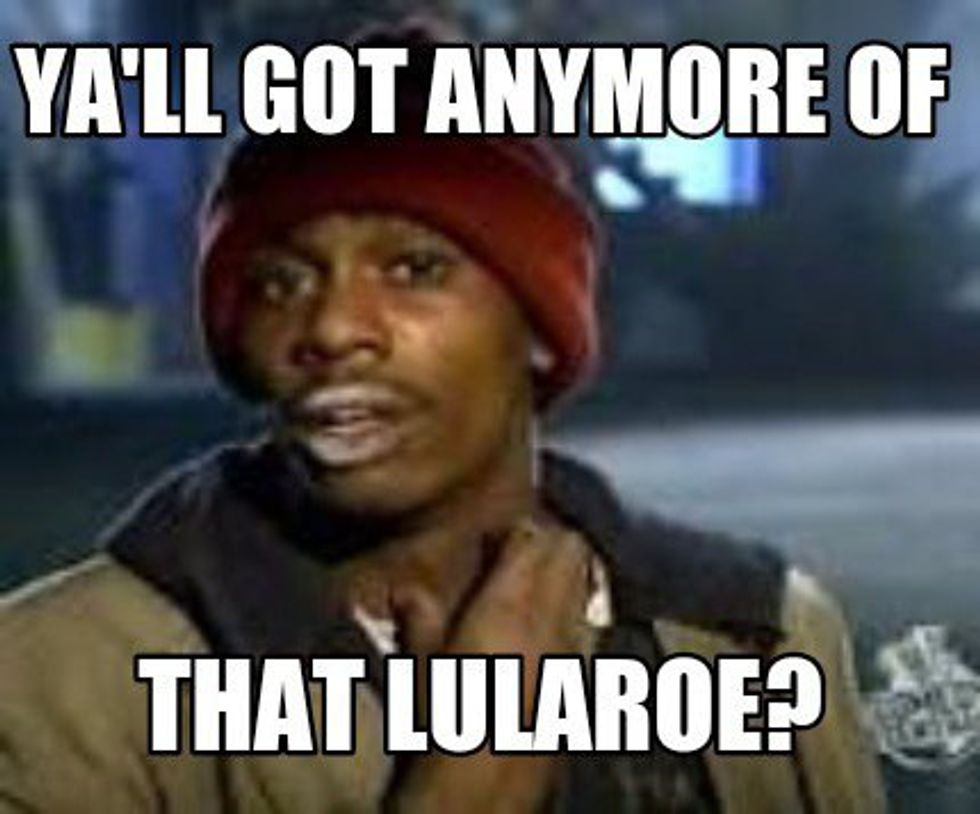 3. Denial/Disbelief

Denial and disbelief. You're probably denying that you have a problem and are in disbelief as to the fact that you've spent $150 on LuLaRoe in one month alone. By now you've probably been confronted by concerned friends and family members about your addiction and have had to watch your favorite consultant's live sale under the cover of darkness so that no one discovers that you can't stop no matter how hard you try.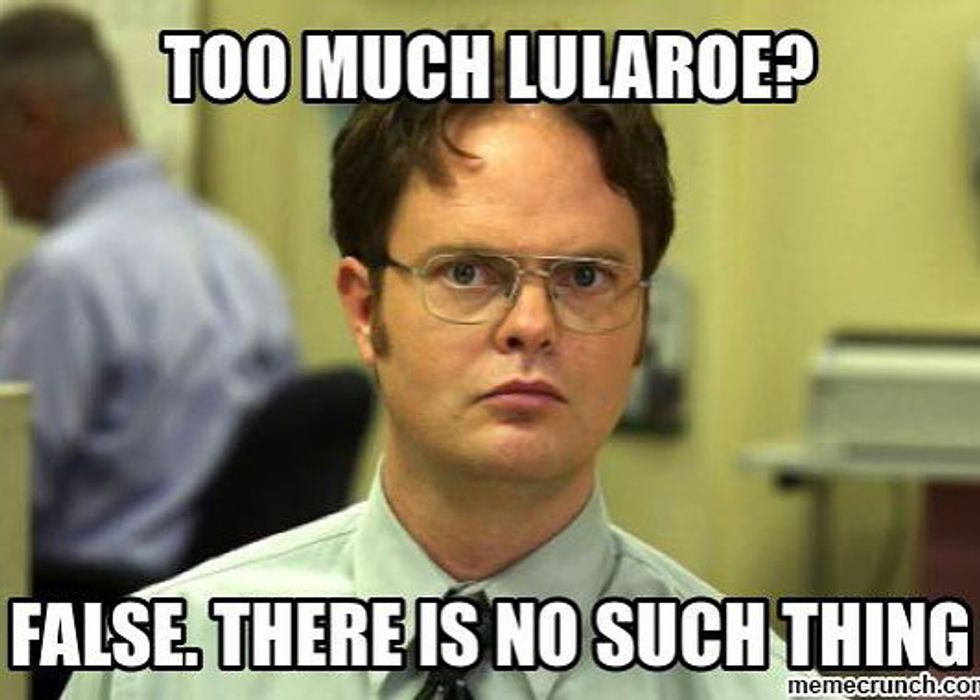 One night, while my mom and I were watching a live sale in different rooms, my dad came out and asked what I was doing and I told him I was watching another live sale and he told me to stop. When he went in the next room with my mom I was commenting on items and yelling about how much I wanted them and he yelled at me to stop. It became very clear that I have a serious problem at that moment.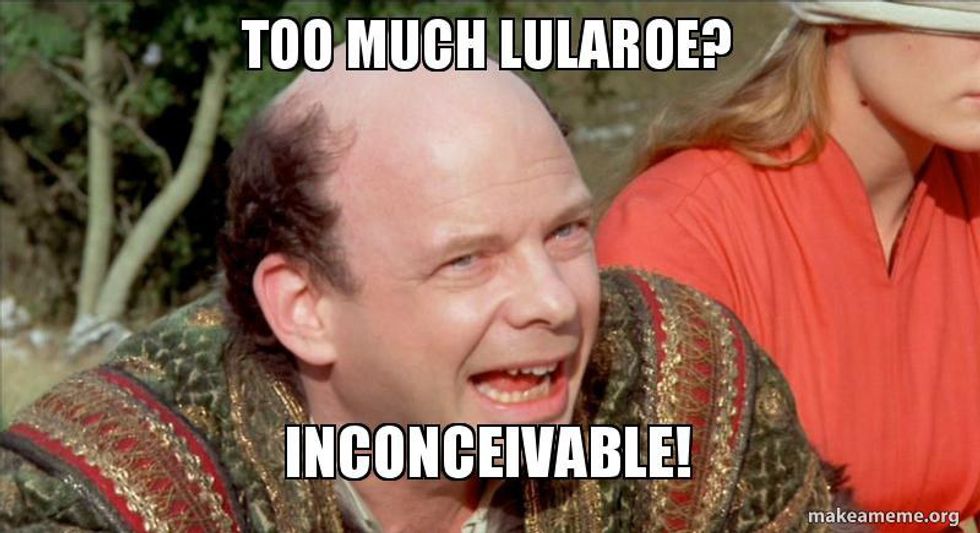 There is no so such thing as too much. So what if I have like 8 or 9 pairs of leggings. There are 7 days in a week and you can't wear the same pair of leggings every day!
4. Acceptance
OK. This is the big one. Acceptance. When you've reached this stage you've admitted and accepted that you have a problem and you need help. If there were a LuLaRoe addicts anonymous meeting you would definitely have attended it or at least discovered it by now. If there were a movie title that described you it would be Confessions of a Shopaholic (LuLaholic)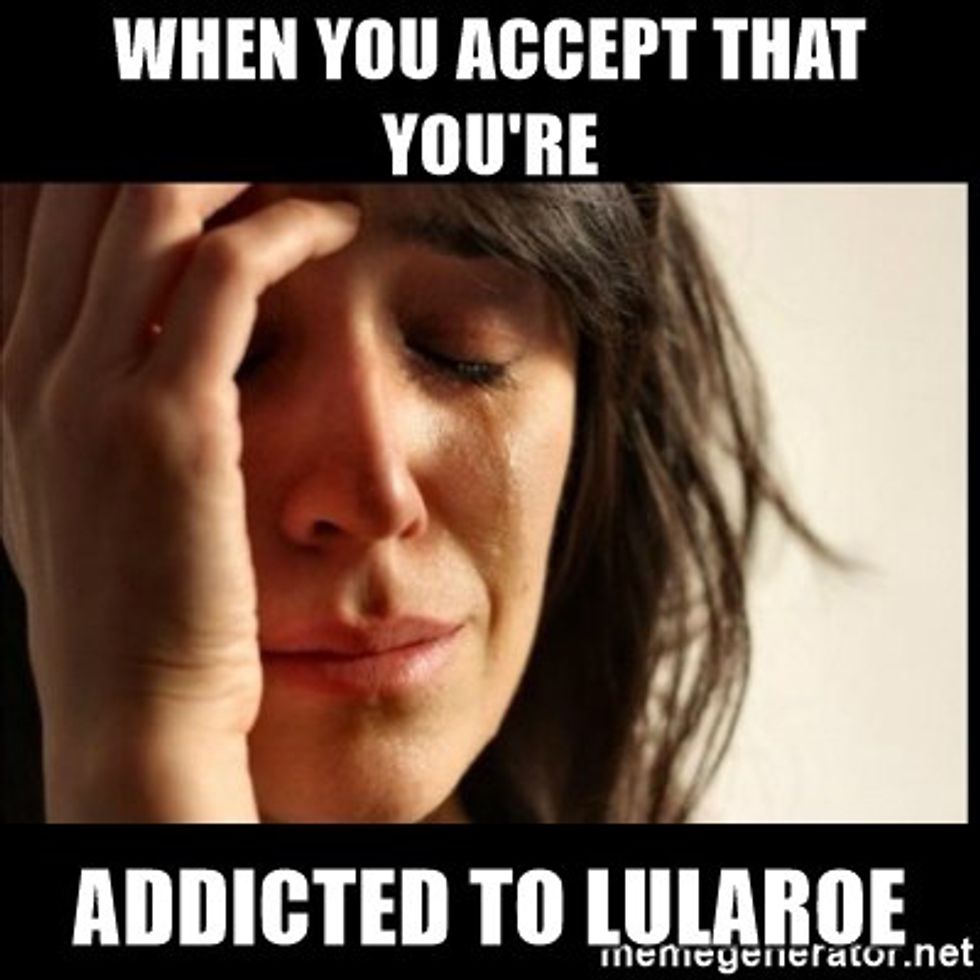 5. Defeat
Yes, defeat. Defeat is a stage because no matter how hard you've tried to stop, you can't and won't stop, so you give up and accept your fate. LulaRoe is so amazing and eventually, even if you've tried really hard, there is simply no turning back from this line you've just crossed.
[rebelmouse-proxy-image https://media.rbl.ms/image?u=%2Ffiles%2F2016%2F11%2F21%2F636152975180145752-428961702_image.gif%3Fw%3D500%26c%3D1&ho=https%3A%2F%2Faz616578.vo.msecnd.net&s=136&h=91837e33dd144a3ee41183cd0124eb94d7850b7830d29231a357f3390715dafb&size=980x&c=3146040866 crop_info="%7B%22image%22%3A%20%22https%3A//media.rbl.ms/image%3Fu%3D%252Ffiles%252F2016%252F11%252F21%252F636152975180145752-428961702_image.gif%253Fw%253D500%2526c%253D1%26ho%3Dhttps%253A%252F%252Faz616578.vo.msecnd.net%26s%3D136%26h%3D91837e33dd144a3ee41183cd0124eb94d7850b7830d29231a357f3390715dafb%26size%3D980x%26c%3D3146040866%22%7D" expand=1]
So there it is. The 5 steps of the LuLaRoe addiction summed up into some pretty simple terms and awesome memes. Hopefully, if you love the LuLa like I do, you'll introduce everyone you know to it and get them addicted as well. But don't feel bad about helping to bring them to the dark side; you've simply helped them discover something no one should ever have to live without. Here are some wise words from evil Kermit.