Instagram has taken the millennial generation by storm. Everywhere we see hashtags and handles for companies, products or your #ootd. Many do not realize is how revolutionary social media has become for people to show their voice like supermodel @GigiHadid showing her personality off the runway or political candidates building relationships with their younger supporters. Anyone can create an account, and each have the chance to be major influencers.

I met five young local Boston women who took their Instagram accounts and turn them into influential followings where they showcase their love of fashion, make up and sketching. They've shared their stories of how they turned a common social network to money making machines while they follow their passions. They also have developed blogs showcasing their personal style and bring attention to young designers.They range from 2.5k followers to as many as 130k followers! Let's meet our Boston Fashion mavens!


Meet Samantha Crompton a.k.a. @fenwayfashionista - 2.5k Followers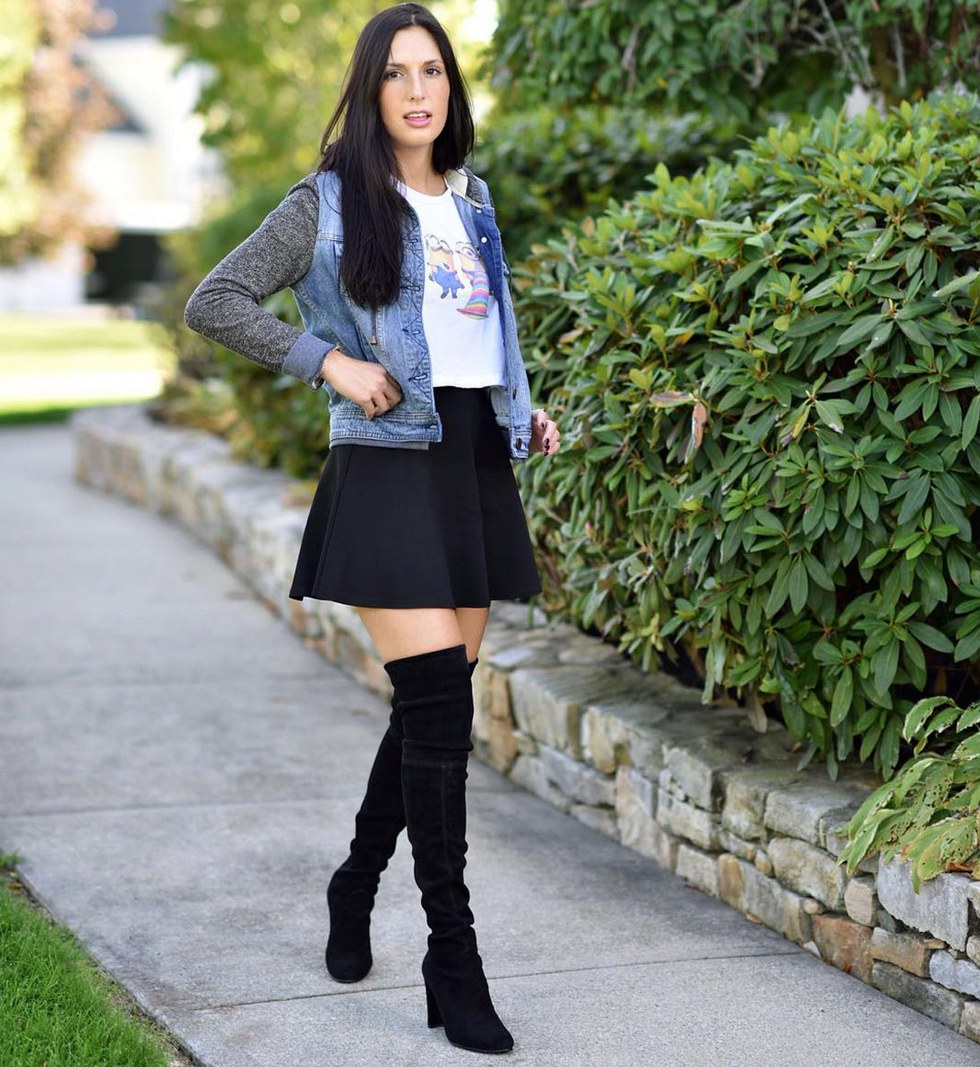 Samantha started her blog a year ago to document her favorite trends as well as her lifestyle, beauty and travel. She showcases everything from what you can wear on the streets right now to what models are strutting down the runways.
What does the name Fenway Fashionista mean to you?
Boston is my home base and fashion is my lifestyle, it is encompassed all around us not just in our clothing. Fenway is near and dear to my heart, no matter where my life takes me Boston will always be my home plate.
What inspired you to choose Fenway out of all of Boston for your handle name?
Fenway is iconic to Boston. When people hear "Fenway Fashionista" I want them to instantly think Boston.
What was a moment after you began blogging that made you realize you really wanted to make something of your blog/Instagram?
My first New York Fashion Week I was reassured that this was the path I want to continue on. Each time a show started I had a moment of euphoria.
If we could take a peek inside your purse, what would be there?
My iPhone in a Romero Britto case, a cranberry color Marc Jacobs lipstick (tis the season), a Kitson bag filled with small knick knacks and everyday essentials and of course my Prada sunnies.
What is something that defines your style or sets it apart from other bloggers?
That I have the luxury of dressing for all four seasons and changing my taste in clothing as quickly as Boston weather changes. I don't have a set style; I experiment with all different types of style. That's the great thing about fashion, there are no rules.
Growing up what were some of your favorite stores compared to your favorite stores now?
Growing up I followed the trends and wore what was "in style." In middle school you could find me at Abercrombie. Freshman year of high school I started working at a small boutique and I started setting trends instead of following them. I wanted to own things that no one else did. Now you can find me at the nearest Nordstrom.
How does fashion in Boston compare to fashion in other cities or countries?
Boston fashion is evolving everyday. The trends in Boston are very conservative, which I am not but it's cool to see how Boston is taking on the new trends and expanding into the fashion world.
Who is someone who inspires your style currently?
Sarah Jessica Parker and other bloggers inspire my style specifically Negin Mirsalehi, Chiara Ferragni, Aimee Song, Julia Engel and Amber Fillerup.
When you're running late, but still want to feel put together, what are some of your go-to items?
Boyfriend jeans, an over-sized sweater, pumps, and a poppy lip color.
Finally, you have to tell us about the outfit you're wearing right now!
I am currently wearing my rag & bone jeans with flannel patches and a black slouchy tee with black Frye booties.
Meet Elissa Garza a.k.a. @style_wire - 4.5k Followers

Elissa is a Boston blogger as well as a manager at Frank & Oak. She is an Emerson College graduate from Texas. She describes herself as a proud Latina and always ready to work with the help of her degree, camera and pocket change.
What does this name mean to you?
I really just sat down and brainstormed different names I felt were representative of my passion for style but still generic enough to grow with me as my career and style changed.
When and why did you start this account?
At the time I launched my blog I was working in finance and sitting at a desk for 8 hours and just wanted a way to stay connected to the fashion world and have an outlet for my creative side.
What was a moment after you began blogging that made you realize you really wanted to make something of your blog/Instagram?
I went into blogging with high hopes and really high expectations for myself. My goal has never been to strike it rich or fill my closet, it's always been about networking, meeting people, developing who I am, and sharing my personal style. I've achieved that a hundred times over. I've met so many people through blogging and I'm lucky enough to have made some incredible friends along the way.
If the airline lost your luggage for a week, what is one item you would HAVE to have with you?
Oh my gosh, this is my worst fear!! When I'm travelling I don't always think comfort-- If I'm travelling with my favorite shoes like my Kate Spade Taxi flats or Manolo Blahnik heels, I'll wear those on the plane. I would die if they got lost! I also always bring my make up (most is under three ounces) in my carry-on because replacing an entire cosmetics bag is ridiculously expensive.
If you had to pick only one favorite post, which would it be?
I recently collaborated with The Verb Hotel for an Indian Summer themed shoot featuring product from some of my favorite brands including Primark. It was a blast! They have such a beautiful, modern space with a vintage rock and roll influence. It was a lot of fun styling looks for the shoot. You can see photos from the shoot on the blog.
If someone asked you to curate a store, what are some brands or items you would have to have in it?
I love classic, minimal brands like Rag & Bone, Phillip Lim, and menswear shop Frank & Oak (where I'm a manager) but I also love really creative brands and designers like Kate Spade, Prada, and Alexander McQueen. It would definitely be a lot of minimal, neutral pieces curated around a few statement pieces.
What is one trend right now that you love and one that you hate?
I love fringe! I have two fringe handbags that are currently on heavy rotation at the moment.However, I hate the nineties. Some nineties trends I'll gladly welcome back like flannel but the rest of it should probably stay in the archives -- like tattoo chokers, acid wash, and poor fitting denim.
If we could see into your planner right now, what are some things on it that will affect your blog?
My schedule is jam packed. I'm constantly hitting a networking event, restaurant opening, store opening, shopping party, or trying to see my friends when I'm not at work. And all of that affects the blog from the look I'm going for, the time I post, or the times and locations I'm able to schedule shoots. A lot of these events dictate what I'm wearing during the day at work and thus what appears on the blog.
Who is someone who inspires your style currently?
Miuccia Prada is my style icon. She's not only incredibly creative, daring, and intelligent, but she's a strong-minded business woman who constantly inspires me with her work and career.
Finally, you have to tell us about the outfit you're wearing right now!
Currently, I'm wearing a black jersey knit shirt dress from Old Navy, a grey wool cardigan from Uniqlo, and grey Converse All Star's. Very much my standard work uniform for my day job as a retail manager. Comfort is key! Hence why I almost always have a pair of shoes in my bag, you never know where the day will take you!


Meet Savath a.k.a. @citystylescene - 46K Followers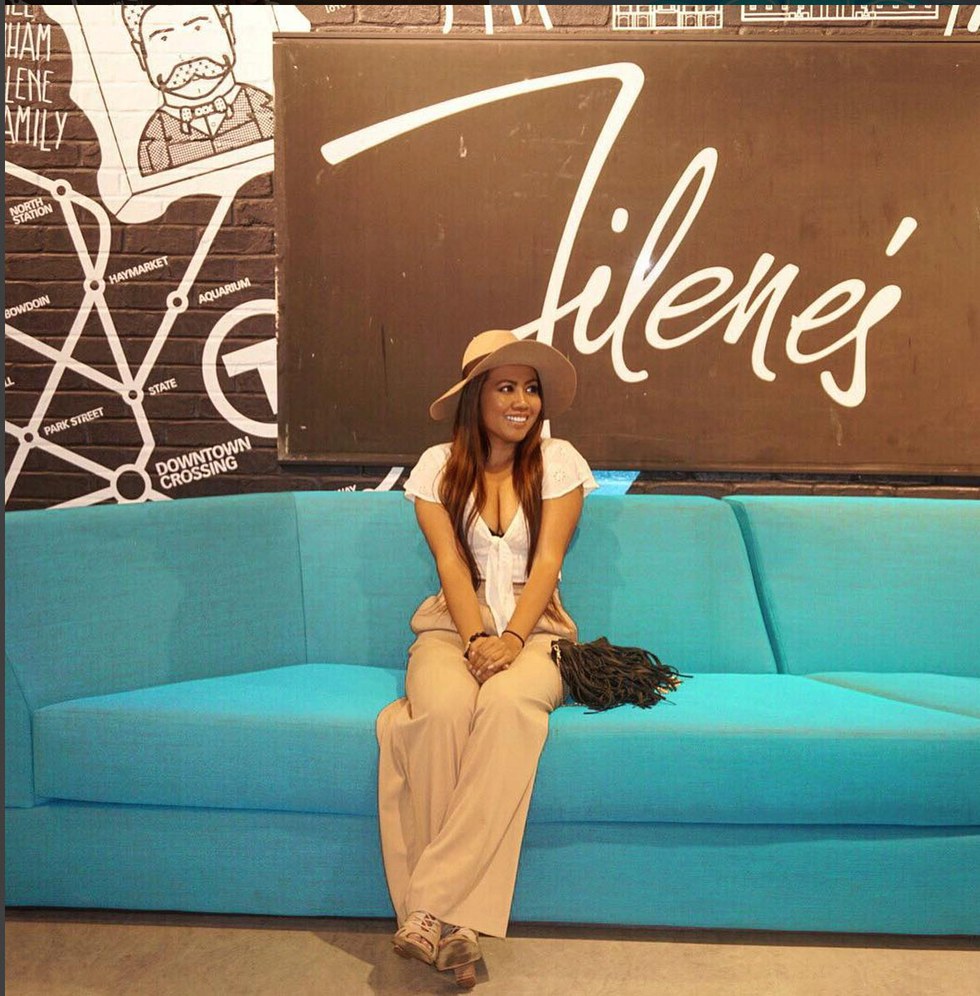 Savath is a makeup artist and freelance writer. She received an education in journalism and public relations and now blogs focusing on her makeup, but also fashion, travels, lifestyle and occasionally her dog named Bambi.
What does this name mean to you?
I love traveling and being in a different city every month and I'm obsessed with all things beauty and fashion and everything happening in that scene.
When and why did you start this account?
I've been a makeup artist and stylist for years and my clients were always asking me questions on beauty and outfit ideas so I decided to combine everything in one place, where they can refer to if they need any outfit or makeup inspiration. I started my blog last year but did not actively start posting until six months ago because of all the jobs I was juggling. Luckily, I've been fortunate enough to blog full-time now.
What was a moment after you began blogging that made you realize you really wanted to make something of your blog/Instagram?
After my followers started thanking me for recommending beauty products that worked for them and after I started getting fashion week invites and offers from brands I've respected and admired.
If you could only pack one carry on for a long trip, what would you have to have inside of it?
A dress, strappy heels, bikini, a cover up, a romper, heels, wedges, my comfy 7 for All Mankind jeans and a chic t-shirt and tank tops and of course my gladiator sandals and Chucks.
How often do you feel you work on the blog in a week?
Not as often as I like, but I will definitely start posting on the site more but I make sure to update daily on my Instagram.
What is something that defines your style or sets it apart from other bloggers?
I'm not afraid to look chic and sexy. I dress according to my mood. Some days, I love to be all glammed up and other days I'm perfectly happy in my Patriots gear and Uggs.
What is one of your favorite and one of your least favorite outfits that you've seen on the red carpet?
My favorite dress was Kerry Washington in Marc Jacobs at the Emmy's. So fabulous and different. My least favorite is anything plain and boring.
What is one of your future goals for your style and blog?
My online store is in the works and definitely my YouTube channel will be up soon featuring makeup and styling tutorials.
What are some of your go-to stores for a good deal and current trends?
Asos, Zara, Primark, H&M, NastyGal, Revolve clothing, Urban Outfitters and yes, Forever 21
Finally, you have to tell us about the outfit you're wearing right now!
My comfy PJs from Adore Me.


Meet Kerrie Burke a.k.a. @KerrieMBurke - 52.5k Followers




Kerrie, originally from Galway, Ireland, now resides here in Boston working at a local boutique and is a constant freelance writer for local publications and sites. Kerrie's wearing a green dress is from Primark, Stuart Weitzman shoes, and a Chanel bag.
What's your blogs name and what does this name mean to you?RarelyTakenSeriously.com - When I first started blogging I really didn't imagine it would take off for me like it did. Some of the ladies I admired most at the time (and still do!) were Emily of Cupcakes & Cashmere and Jacey of Damsel in Dior. Looking at their accounts and how much they had achieved inspired me but also made me laugh. I mean, here I was this little Irish girl who lived twenty miles from the nearest town, did I ever think I could be like them or that anyone would really take me seriously? Hells no! It was all a bit of a joke I guess!
When and why did you start this account?
Started almost two years ago. I've always been passionate about blogging and had been reading some of my favorites for years when I first moved to the US and discovered that (don, don, don!) I wasn't actually allowed to work for a few months! There's nothing I hate more than being bored so I thought why not take the opportunity to try something new, to create a job for myself. Of course it was never really something I thought had the potential to become a job in the traditional sense (I hoped more so than believed really) but I guess that's how some of the best things in life come about – you've got to love a happy accident!!!

What was a moment after you began blogging that made you realize you really wanted to make something of your blog/Instagram?

Honestly, I don't do anything unless I really want to do it. There was never one specific moment that motivated me, I was motivated from the start. That being said, I see some girls out there who'd put my hustle to shame – serious shame! I so admire (and envy!) that!
What are three essential items on your desk right now for your blog?

The Simplified Planner by Emily Ley – seriously, I can't survive without this thing. The month-at-a-glance feature really helps me to stay on track when it comes to publishing posts on time, attending events, etc.
Le Pen – so technically I have 20 of these colorful pens on my desk but who's counting? I've always been a big stationery person and I love these pens because the felt tip makes my writing look prettier (seriously it does!) the different colors help me to stay organized (there is a system) and they don't bleed through the page I happen to be writing on. The cherry on top? They're so bright and beautiful sitting on my desk that they always manage to put a smile on my face and as everyone knows you work harder when you're surrounded by cuteness!
My KSNY business card holder: I love meeting new people but I'm pretty shy by nature so when I attend events or am formally introduced I have a tendency to get a little nervous which means I easily forget really important things people's names or that of their websites (eek!) Exchanging cards and working to keep them organized is the only way I can keep on top of all this and ensure that I'm sending follow up emails and thank yous in good time.
Growing up how would you have described your style compared to now?
Horrendous! Haha! I grew up in Ireland and lived there (and for some time in London) until late 2013 so naturally I was pretty heavily influenced by that. Coming not only from Ireland but such a small town in Ireland even just wearing a dress during the day was enough to garner about 15,000 comments/questions. And heels? Don't even get me started! As you can probably guess I was pretty low-key and almost intimidated by all things style related when I was younger.
As soon as I hit my mid-late teens however I did manage to break out of my comfort zone and from there it was all about experimenting with fashion. I can't even begin to tell you how many phases I went through (little known fact; I was once a goth who listened to nothing but Manson and Nirvana!) and while I'm sure I looked ridiculous in most of these I'm so happy I learned to play with and embrace style.

What are some of your go-to stores for a good deal and current trends?

J.Crew. J.Crew will always be a favorite of mine. Lately they've been having a pretty difficult time and it seems almost popular to hate on them but with every new collection you find something that manages to marry both the timeless and the trendy, how can you not love that? And if patient about shopping here you'll always get a fab deal!
Primark. It's hard to explain but back home Primark is more than a store, it's almost a part of life itself. You, your brother and everyone you know shops there (thankfully there's enough of a selection that you don't see the same pieces everywhere though – phew) Until about the age of 18 I'd say I hit Primark every single Saturday without fail. For me it's the perfect place to shop the trends as it's constantly switching up stock and the pricepoint is incredible – let's be honest, no one wants to invest a lot of money in something that could be hot today and not tomorrow!
Zara. It's the store that never fails you. What I really love about Zara is the fact that you can walk out of there with a piece that looks and feels so much more expensive that it actually is. Style it a certain way and it looks more like you're rocking a little Alexander Wang as opposed to the highstreet.
What is one of your future goals for your style and blog?
I find myself saying this a lot which makes me laugh given the name of my blog (what an unfortunate choice – LOL!) but I really want to be taken seriously as a blogger. Few people realize just how much hard work, time, effort (and money!) we invest in our blogs and I'd love for that to be more widely recognized than it currently is – for myself and the industry as a whole. Also, when you're working to take your blog to the next level it's no longer a hobby, it's a business and I want women out there to realize that's ok. So many bloggers feel guilty about saying they want to make this their career, that they want to make money off of it. Why's that such a bad thing? Aren't we told to make our passion our paycheck? Certainly that's what I'd love to achieve and I'm so in support of anyone who chases their dreams like this!

What is the most worn thing in your closet?
Probably my nude pointed toe pumps with the glittery sole. They're Miu Miu, one of my first designer purchases ever and if we're talking cost-per-wear they were a straight up steal. They go with everything, that unexpected pop of sparkle lends a little sass (and a total conversation maker by the way) and they're honestly so comfortable I can run in them – not that I'd ever recommend running! LOL!


Meet Holly Nichols a.k.a. @hnicholsillustration - 130k Followers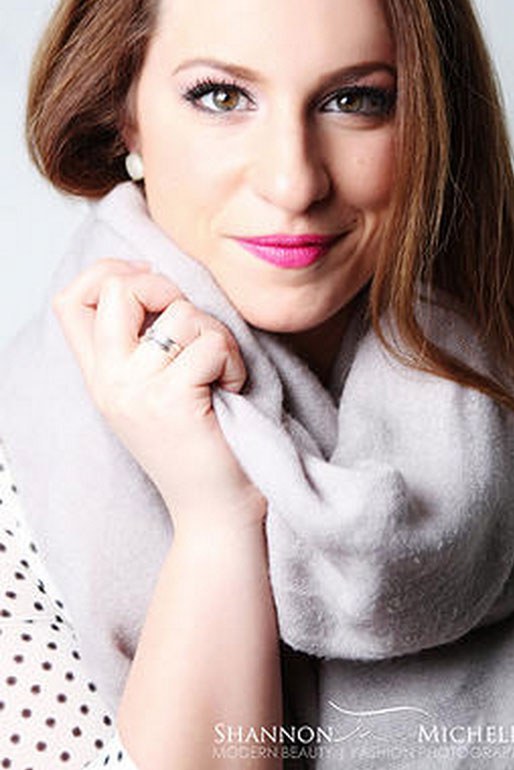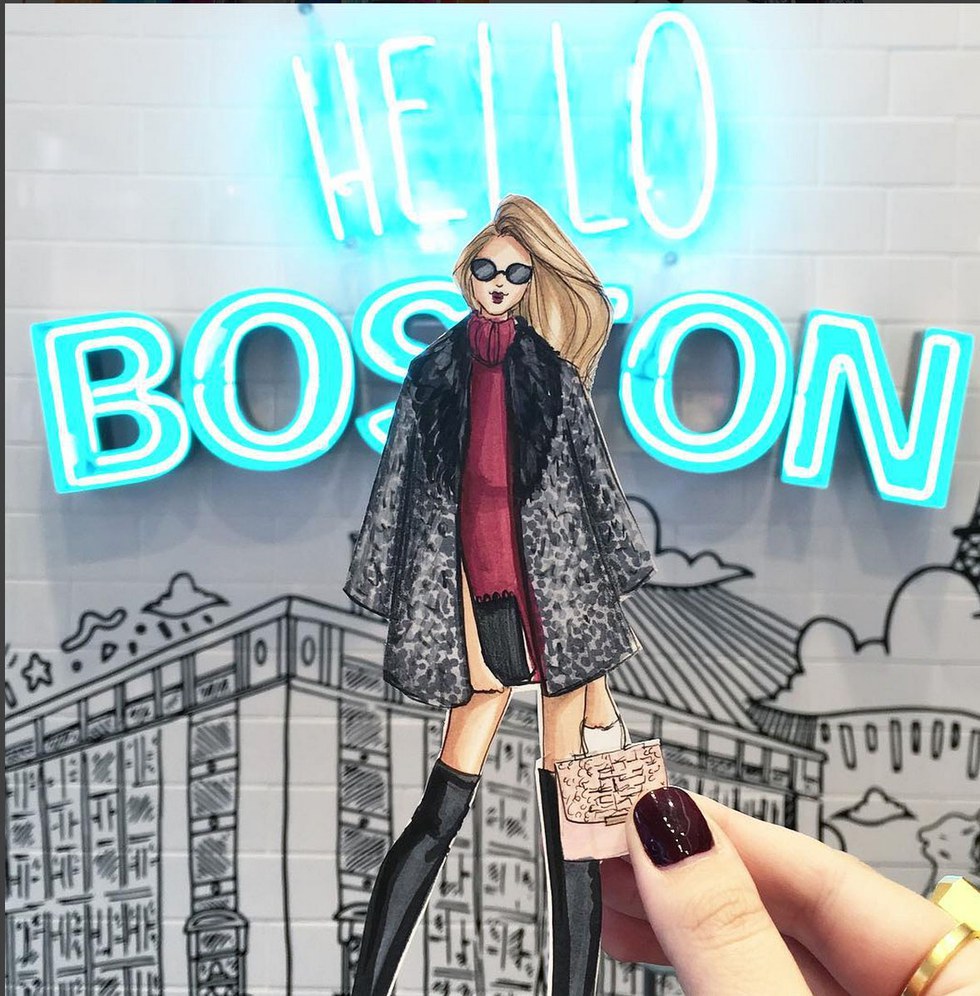 Holly Nichols is an artist who graduated from Endicott College after studying studio art. She began sketching on anything she could find and people quickly started praising her fashion sketches. She is now working all around the world with celebrities, bloggers, designers and celebrities.
How did you end up using your name for your blog and business name?
When I started my social media account, I didn't know it would become a business, so it was simply the way I signed all my paintings and drawings at the time, "H. Nichols"!
When and why did you start this account?
I started my account in November 2013 as a way to share my art. I wasn't really interested in attracting a large audience. I was more interested in getting feedback from friends and family about the work I was doing.
What was a moment after you began blogging that made you realize you really wanted to make something of your blog/Instagram?
I realized I had a business on my hands when my work was being posted by high profile designers like Elie Saab, Monique Lhuillier, Carolina Herrera, and Zuhair Murad. I began getting inundated with custom illustration requests from the public to the point where I was able to quit my two jobs (as a paraprofessional in a special education classroom as well as an art educator) to become a full time fashion illustrator. Now that I have the demand, I can be selective with the brands I work with, and I've been lucky enough to encounter opportunities that I never could have dreamed of two years ago!
What are three essential items on your desk right now for your blog?
My beloved marker collection, my iMac, and my backup drive which stores countless Photoshop files and archives digital copies of my original sketches.
Who is someone who inspired you to start sketching fashion bloggers and how has your work changed since you started?
Though I don't really sketch bloggers that often, it's fun to follow them for my own personal style (which no one really sees because I hide behind my art!). When I started, I was sketching for brides, small businesses, and a few people who needed website headers. Now that I built up more experience I have moved over from that type of work to working exclusively with brands and creative directors.
How has your technique and style changed over time with your art?
I used to be a painter. I worked with watercolors, acrylics, and oils. My work was very whimsical and colorful, and very loose. Growing up I had always sketched outfits for fun, but never really practiced it heavily in my main body of work. During my freshman year of college back in 2009, I became very interested in fashion illustration and started working more and more with inks and markers. I haven't stopped since!
What are some of your go-to stores for a good deal and current trends?
I am so happy Primark has come to Boston. I had never traveled anywhere where a Primark was located, so I was like a kid in a candy store shopping there for the first time. I've always loved Anthropologie (I also worked there briefly) and try to keep my eye on items I like then purchase them when they go on sale. I really adore what Banana Republic has been doing. I used to wear all my cousin's hand-me-down Banana Republic even in middle school. I like that they adapt classic cuts and pieces for modern trends.
How do you show your personal style in what you wear in the office and how you style the office?
My studio is similar to the way I described my fashion- simple with fun accents. The only time people see me on a regular day is when I go from my house, to the coffee shop, to my studio, and back, so I usually am in jeans and a sweater or leggings and an oversized top. I guess that's not too exciting but I can't concentrate on my art if I'm not comfortable!
What is one of your favorite you've gotten to sketch and why?
I got to sketch a piece for an exhibit coming this October with the Society of Illustrators in NYC representing Winsor and Newton to reflect the theme "Colour Your City." It was a fashion sketch with elements of Boston in it. I was happy to represent fashion in Boston.
Finally, you have to tell us about the outfit you're wearing right now!
I'm wearing a Lou and Grey pullover sweater with my signature leopard scarf draped over my shoulders, distressed jeans from Old Navy, and black booties from Primark! For accessories I'm wearing my Ringly (a Bluetooth ring that syncs to your phone and lights up and vibrates with notifications) a handmade ring from Greece, and a monogrammed necklace.
--------
As you can see, these five amazing girls all come from different degrees, background and lifestyles and that is what makes the new generation of fashion an amazing one. Anyone with a vision and a voice can sit down and just by using a blog or an Instagram they can go on to inspire thousands of people that relate to them in one way or another. We can see this influencing high fashion now with so many designers turning to street style for inspiration and finally using models that do not fit the stereotypical profile. This may not have all started because of Instagram, but it is clear the industry and the current trends are evolving rapidly.