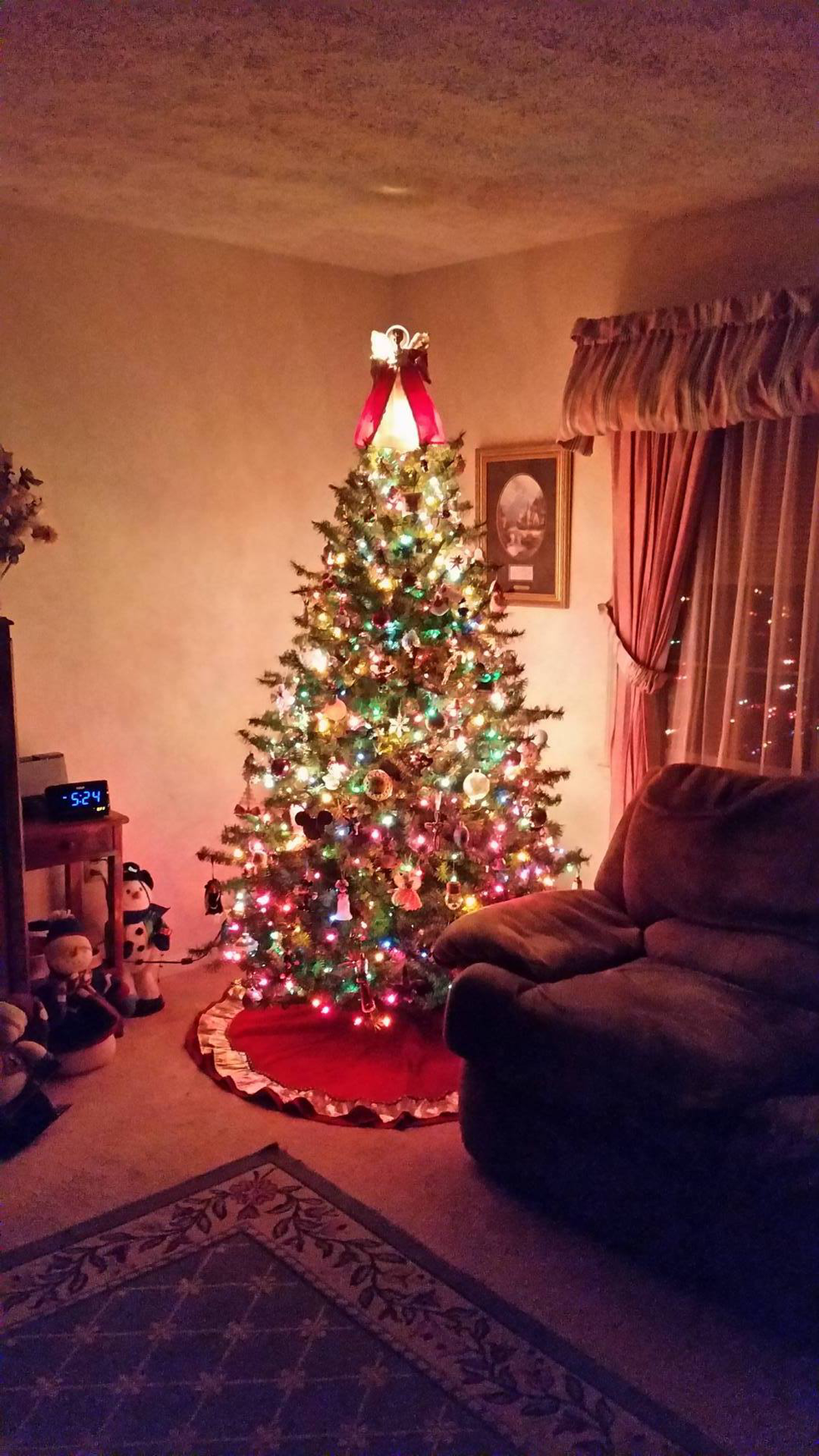 Christmas is one of my favorite times of the year. All of the houses are all decked out with Christmas lights and everything is almost always covered in a thin layer of snow. One of my favorite things to do during Christmas is decorating our Christmas tree. Even though I wasn't home when our tree was being decorated, I still enjoy looking at all the various ornaments that we have acquired throughout the years. Here are some of my favorite Christmas tree ornaments and why they are my favorite.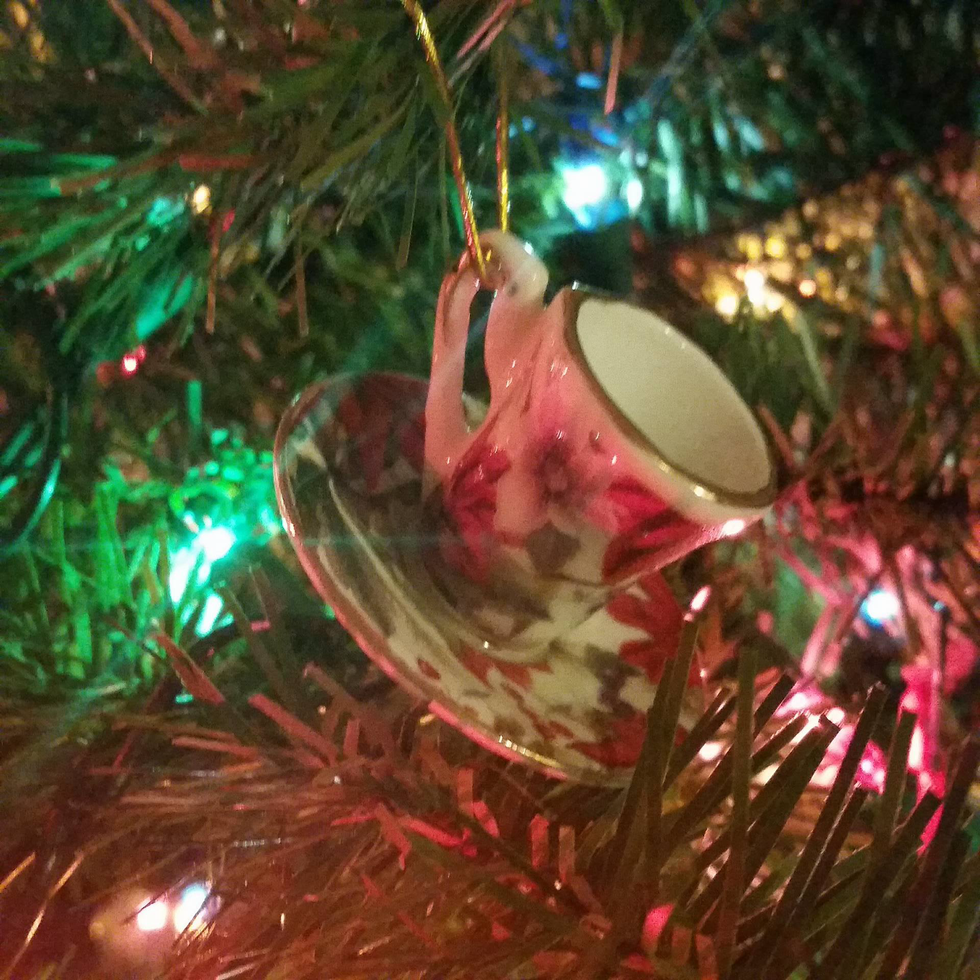 1.) My Teacup Ornament
This little teacup has so many different memories attached to it. I first bought this ornament as a party favor for all of the girls who attended my fifteenth birthday party. It was at a tea house during the holidays, so I thought that it was the perfect little gift to give to each of them. (Of course I had to keep one for myself!)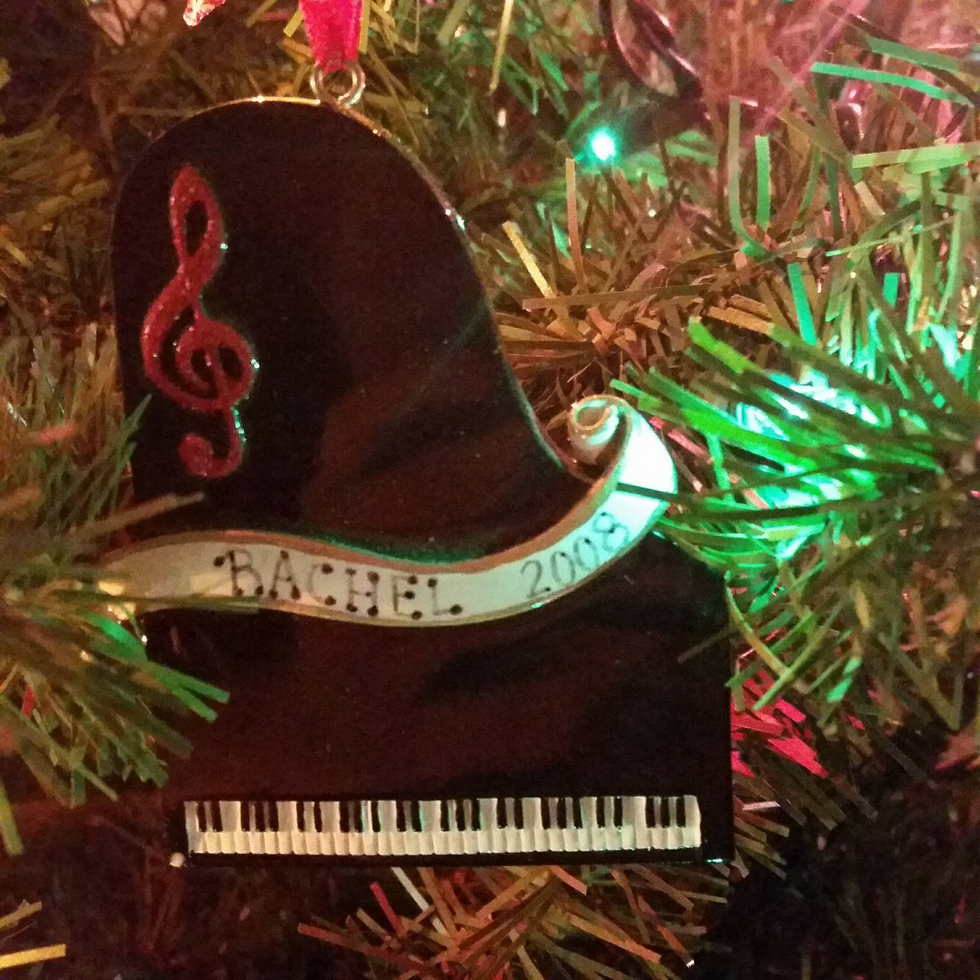 2.) My Piano Ornament
Ahhhhh.....my piano ornament. I got this ornament when I was eleven years old. This was the time when I was obsessed with the piano and everything that had to do with music. I still love playing the piano and listening to music, but I have certainly calmed down quite a bit! This will always be one of my favorite ornaments to look at because it reminds me of how incredibly blessed I am to have gotten the opportunity to learn how to play this beautiful instrument.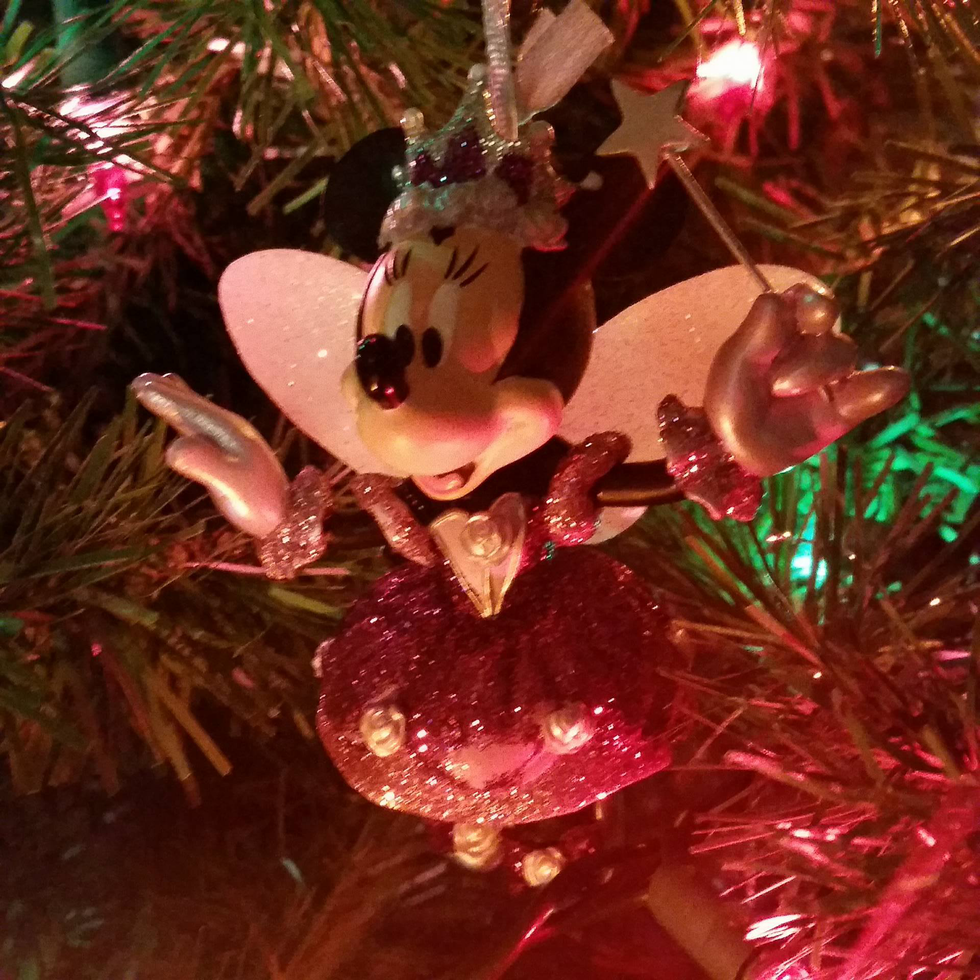 3.) My Disney Ornament
I have always been obsessed with Disney. Anyone who knows me on a personal level is aware of this. Although I am the proud owner of many different Disney ornaments, this particular Minnie ornament was purchased during my sweet sixteen trip to Disney World. That was, by far, my favorite trip to Disney. I got to spend time with my whole family (that's very rare). The best part was when all of the male staff called me "Your highness" or "Your majesty"!! Now that is an experience that I will never forget!!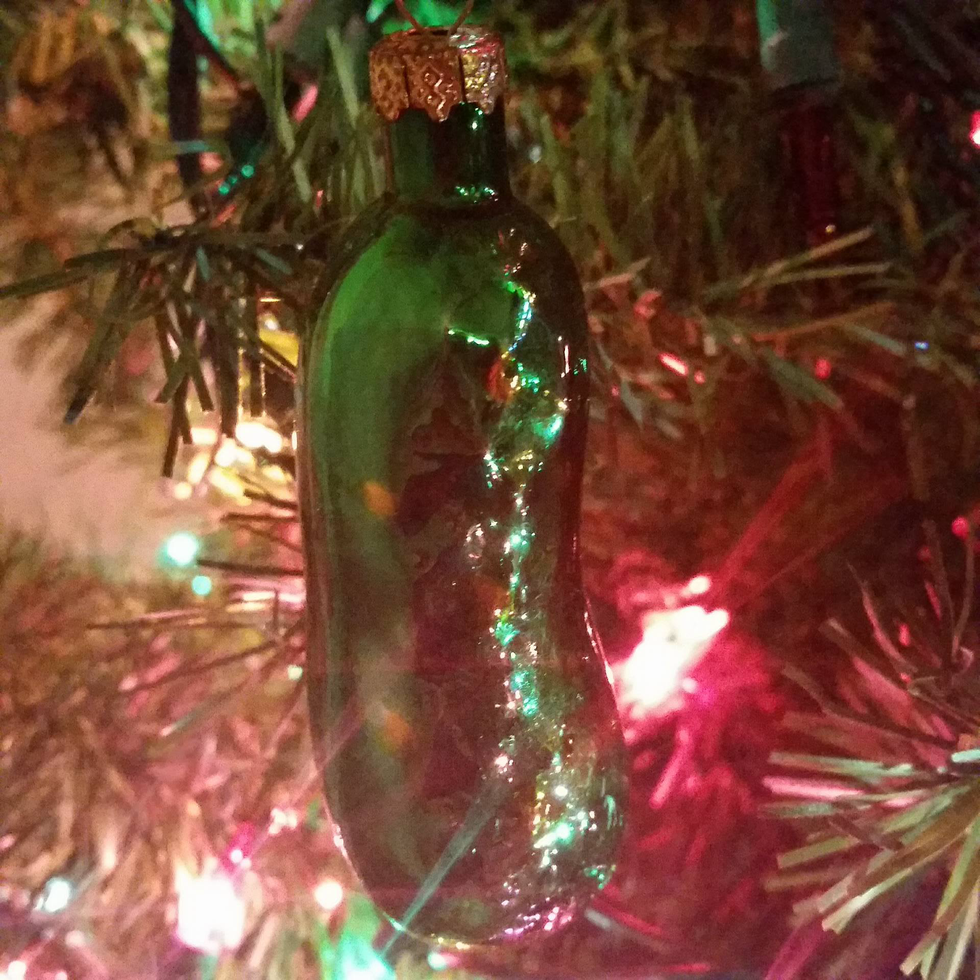 4.) The Christmas Pickle
This ornament has been in my family for many years. The Christmas Pickle is a German tradition that my family uses to decide who gets to open the first present on Christmas morning. When I was a little girl, my brother and I loved this iconic tradition. We used to throw elbows when we were searching the tree for this ornament. It was quite comical actually.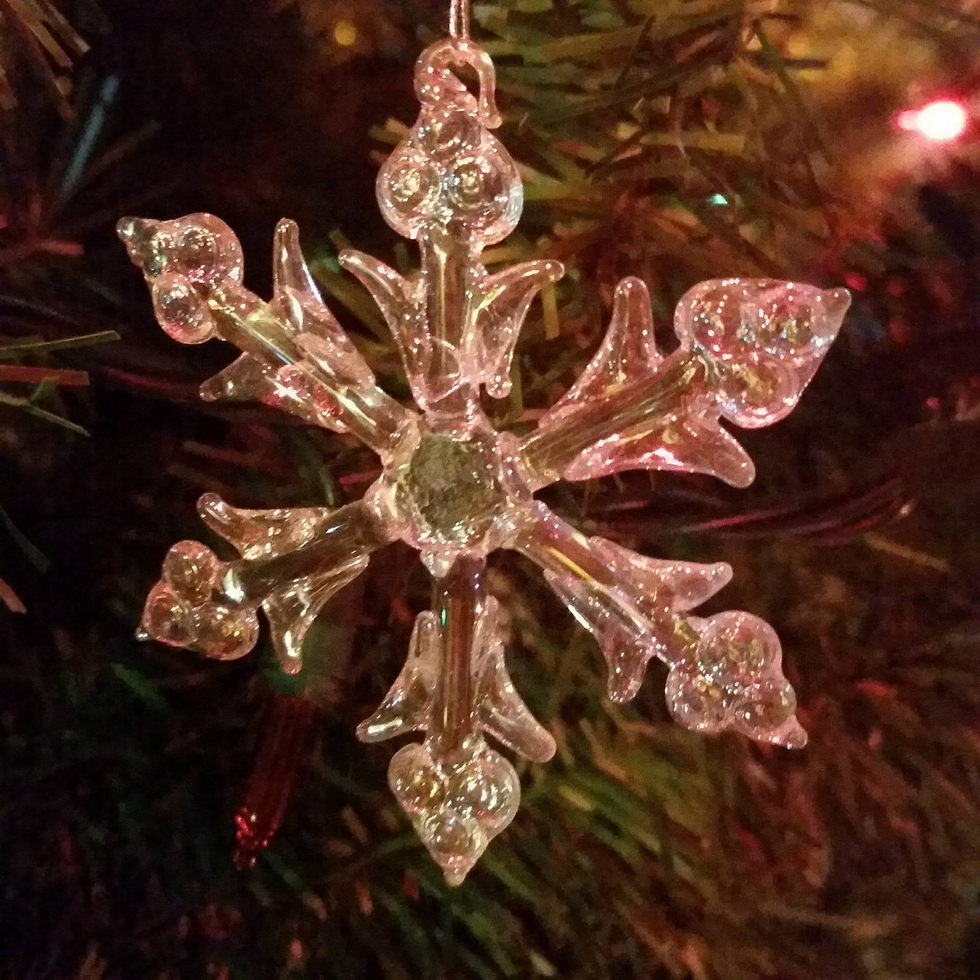 5.) The Snowflake Ornament
I absolutely love this ornament!! I love how the lights on the tree reflect off of the glass. It is probably one of the prettiest ornaments that we have on our tree right now (at least in my opinion)! This ornament also reminds me of how beautiful the snow really is. Yeah, it causes some troubles here and there, but all in all, it is one of my favorite types of weather there can be. It wouldn't be Christmas is there wasn't any snow!!