Independence Day, the Fourth of July, the day of fireworks: America's birthday. It's one of the happiest days in the U.S. It is my favorite holiday because it is simply blissful. Everyone is in a good mood, the weather is barely ever short of beautiful. The day is overloaded with sunshine, corn hole, carnivals, lake days, beach-bumming and picnicking. The percentages of the amount of people that attend cookouts, firework display shows, and how many hotdogs are consumed in America on this one day of the year is obscene. History.com created a concise chart to display all this info that I find beyond fascinating.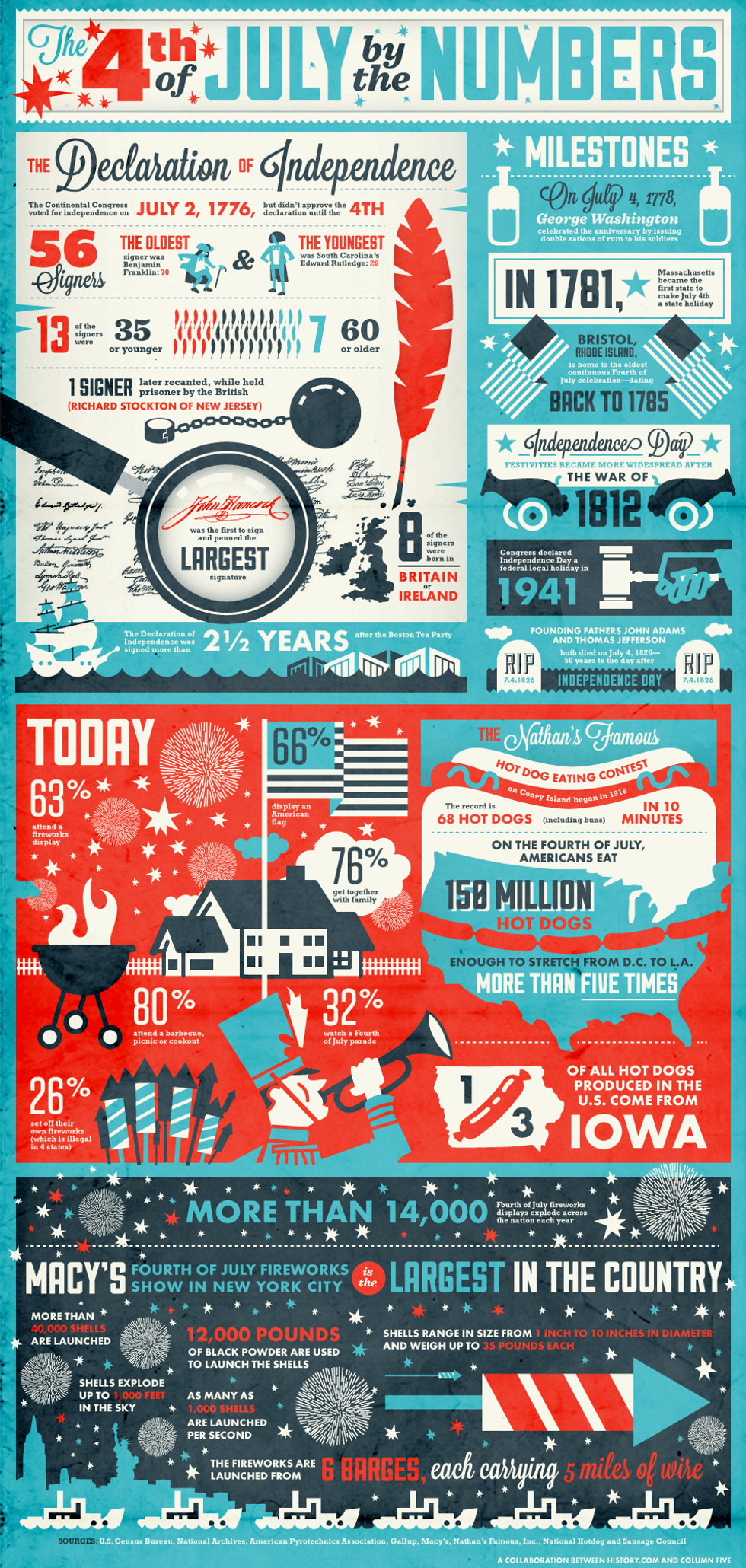 Americans eat more than 150 million hotdogs on one day...that is disgusting, really. Just imagine if all those hotdogs were on one picnic table — how big of a table would that have to be? And the fact that a single person could consume 68 hotdogs with buns in 10 minutes without dying is remarkable. How didn't they choke on the hotdog? I picture an anatomy photograph of the diagram of a stomach, stacked with entire hotdogs on top of each other. (And who knew Iowa was the third biggest consumer of all hotdogs?)
Also, there're never bad 4th of July pics. Sparkler photos to large group pics in front of a boat to a family pyramid stack picture to matching red, white and blue bikinis with your girlies — all those are such "basic" posts on this day of the year, but always great and so fun to take. The whole month is full of photos like these. The smiles are as pure as they come; hair is sun-bleaching and skin is bronzing. Life is good in these moments.
In general, July is the happiest of months. It is the middle of summer and most people have at least some vacation time July. High school athletes finally have their dead week without scheduled practices. County fairs happen in this month. It's some great folks' birthday month (like mine). And overall, it is simply a happy month. The energy and positivity in this month normally soars.
Enjoy July, enjoy the fourth, and love, love, love July.