Everyone warned us. They said it would be cold. But who knew it would be this cold, this fast. Being it is my first time experiencing the Ann Arbor winter, I came in prepared, but not knowing how low the temperatures would actually be. Here are 4 things everyone sees around campus that signify that winter is coming.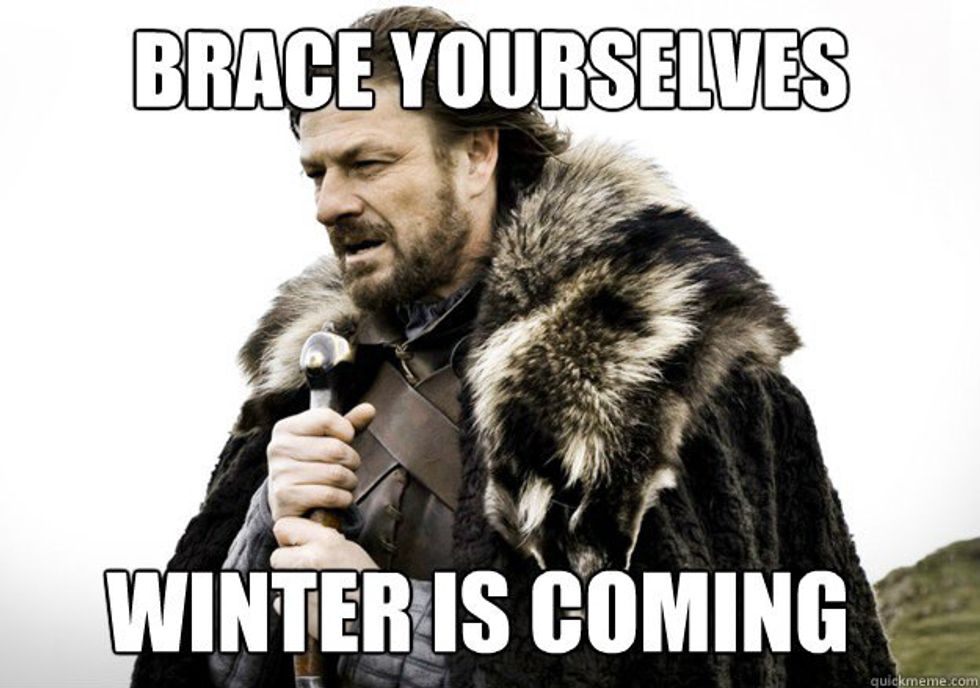 1. Canada Goose Jacket
You literally cannot walk more than 4 steps without seeing that red logo on the sleeve of legitimately anyone at this school. The fur hood is also a clear give away. You'll definitely see people huddled up in their coat with their hands in their pockets desperately trying to stay warm. Disclaimer: It may be hard to recognize who is under the big fluffy coat and it honestly could be anyone, so good luck trying to figure that out.
2. Timberlands
Although these started out at the ultimate tailgate shoes, they are now essential for surviving a snowy winter in Michigan. Whether you have the regular pair, or the kind that has the fur, I recommend investing in these. They go with any outfit and anyone can wear them. Even though boys tend to think these are the perfect going out shoes, I'm gonna stick to just wearing them in the snow.
3. Hats With the Giant Pom Pom
If you're asking me, I live for hat season. It is genuinely one of my favorite times of the year. I'm sure many of you can agree with me. Maybe it's your favorite blue hate with a yellow block M, or if you're a girl, there's a high possibility it's a regular plain colored hat with a pom pom. You can't walk through the Diag on a cold day without seeing at least 6 of these hats. I would say they are a winter must have, and honestly don't see them ever going out of style.
4. No One Outside or Out of Their Dorms
So if it's really cold, theres a high possibility you don't see any of this. Although I have yet to experience it, I know that this kind of day is coming. The kind of day where it is too cold to get out of bed, out of pajamas, or even leave your dorm. The only exception to getting out of bed is for class, and even then you won't see anyone walking, #uber.