For the last two years, I've been pushing myself to try new restaurants, coffee shops, tea houses, and other establishments because I've spent so much of my life going to the same few in my hometown. After launching and completing my "17 Things To Do in 2017" list, I successfully visited 49 new places last year alone.

Coffee shops can be found on just about every corner in a college town, and Ypsilanti, although it is not the traditional college town, is no different. What does stand out among these particular shops is not only the grade of coffee, but the individuals who drink, live, work, and play in the community created within these unique spaces is what makes them all #ypsireal.
Below is a short list of my favorite coffee shops within walking distance of Eastern Michigan University.
*Authors note: All of the following shops have wheelchair accessible entrances.
1. Cross Street Coffee
317 W. Cross Street (Midtown)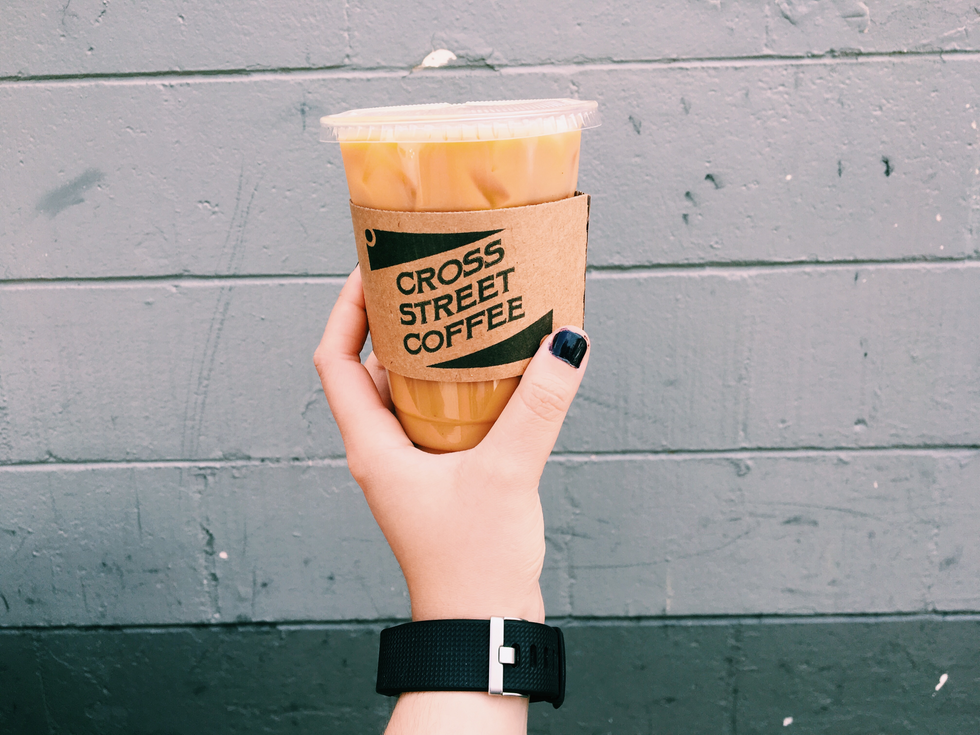 Formerly known as the Ugly Mug Cafe and Roastery, this campus favorite is known for its chill coffeehouse vibes, kind baristas, small-batch brewing, ever-changing quirky Wi-Fi passwords, and local art showings. Recently remodeled, with the name change in January of 2017, this cozy shop features small tables, modern meets rustic decor, and window seats with a view.
May's featured artist is Jim Cherewick. Pop in, grab a cup and take a look around.
Distance: 0.7 miles / 13 minutes
Favorite Brewed Coffee: Favorite Speciality Drink: Iced Vanilla Rose Latte with almond milk
Bonus: Try one of their breakfast bagel sandwiches! My personal favorite is the Big Breakfast (without American cheese, add vegan cream cheese)!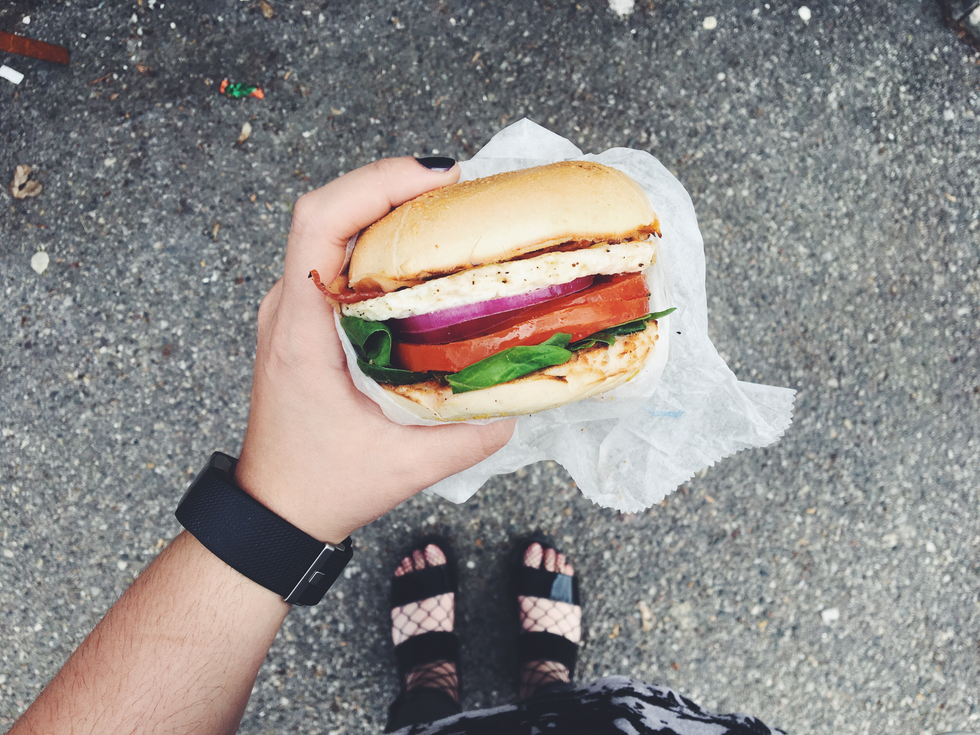 Hours: Monday through Friday 7:00 AM-8:00 PM, Saturday & Sunday 8:00 AM-9:00 PM
Bonus: Within walking distance and view of the famous Ypsilanti Water Tower!
See more on their Instagram here.
2. Hyperion Coffee Company
306 N. River Street (Depot Town)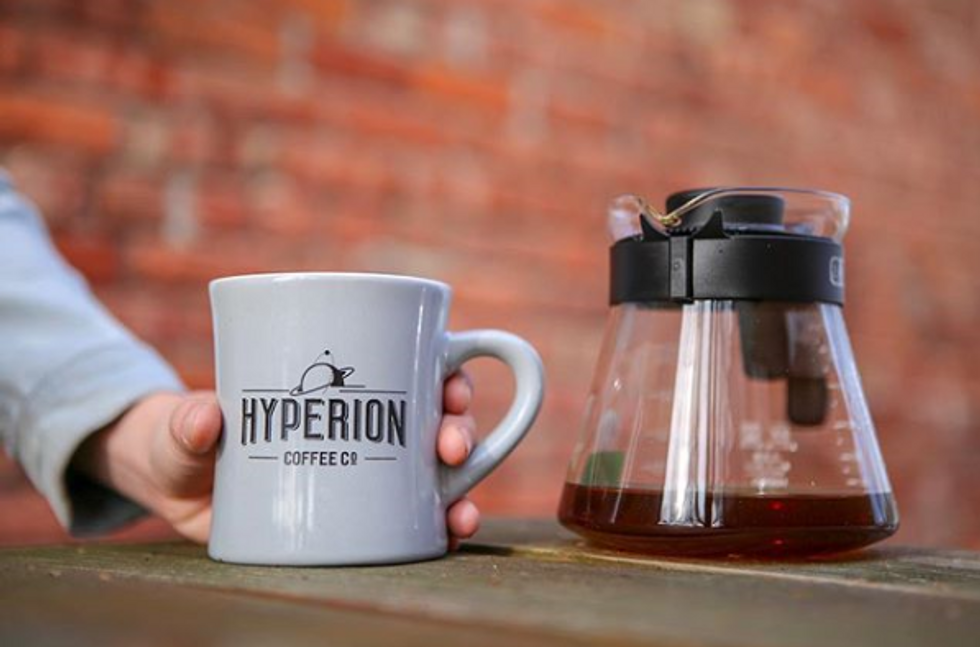 Hyperion is a skip, hop and a jump away, tucked just a walk down the street from the Ypsilanti Automotive Heritage Museum. This coffee shop gives off cozy, casual, and historic vibes all at once with fast service and a great coffee and tea selection. Seating at this location is a bit limited, with a long bar and one large table.
Keep an eye out for interesting events at this quaint shop including the Latte Art Throwdown, an event in which the proceeds were donated to a local non-profit, Ypsilanti Pride.

Distance: 1.2 miles / 23 minutes
Favorite Brewed Coffee: Helios House Blend
Hours: Sunday through Saturday 8:00 AM-7:00 PM
See more on their Instagram here.
3. Cultivate Coffee & Tap House
307 N. River Street (Depot Town)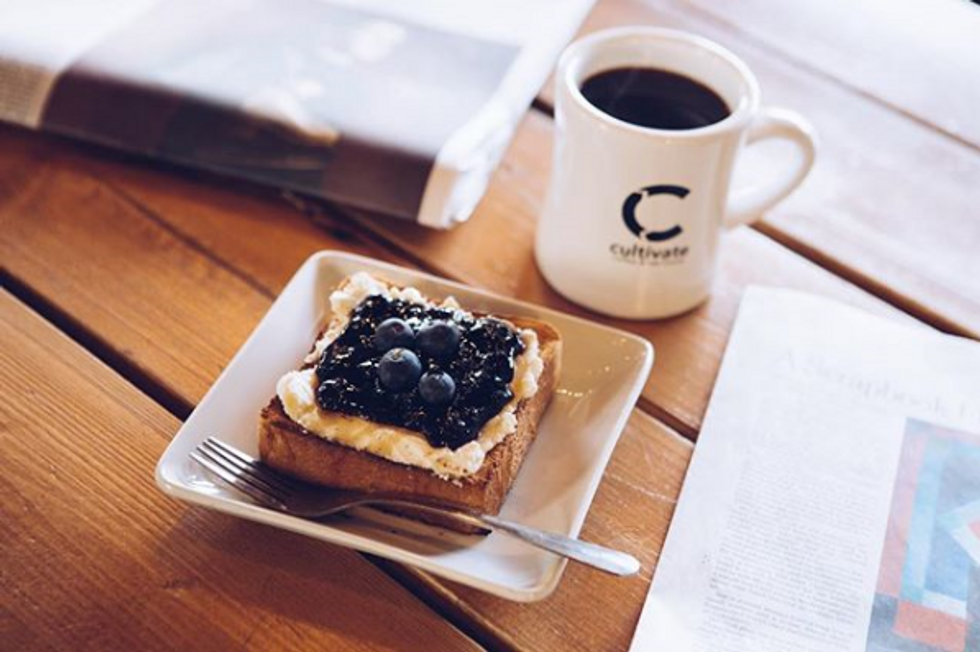 This amazing non-profit coffee and tap house is located just across the street from the Ypsilanti Food Co-Op & Hyperion Coffee Company in Depot Town. Cultivate is one of my favorite coffee shops I have ever had the opportunity to visit. Not only does this space provide an incredible space for inspiring ideas, support, and advocacy, but they are also committed to ending hunger by the year 2030.
Take a step into their door and be greeted by several kind and hardworking souls willing to make you a high-quality coffee drink. 21 or older? Ask them to pull you a beer on tap from their specially curated selection. Once you've gotten your drink, take a seat at one of the long wooden tables and co-work with the folks around you. When you're finished, take a wander through the shop and out the back door into their beer garden. There you will find beautiful outdoor seating, accompanied by twelve raised beds full of vegetables and flowers that provide fresh produce to the surrounding community.
Take a peek at their upcoming events as hosted in Cultivate by a number of different focus groups including: Tuesday Game Night, Thursday Coffee with Creatives Co-Work, and Sunday Toast & Times. For a full list of events, check out their event page on Facebook here or more on their Instagram here.
I cannot say enough about how much I love Cultivate and cannot encourage you more to wander on over for yourself and give it a try. Tell Becca - Riss sent you!

Distance: 1.1 miles / 22 minutes
Favorite Brewed Coffee: Kenya
Favorite Drink: Rosie Grey Tea Latte with almond milk
Bonus: Find a coffee you love? Cultivate recently started roasting, so snag a bag to bring home! Additionally, pair your favorite drink with one of their many menu options, my favorites include the yogurt with berries or a gingersnap cookie!
Hours: Monday through Thursday 8AM-11PM, Friday & Saturday 8AM-12AM, Sunday 9AM-10PM
___________________________________________
Next time you find yourself with an itch for coffee, lace up your shoes and take a wander. Explore your town, open your eyes to new ideas, and stop at any of these shops for your caffeine fix. Not only do you have the opportunity to drink from three spectacular roasters, you also have the ability to support local businesses!
Shop small. Keep Ypsi caffeinated.