Ah, summertime. The best (and easiest) season to find plenty of vegetarian-friendly foods is summer. There are tons of fruits and vegetables that are in season and are all nutritious and delicious - the possibilities are endless! Although the produce is bountiful, I am also very lazy - I don't like to spend all day in the kitchen baking one meal. So, here are 22 recipes that are quick, easy, and oh so delicious!
1. Huevos Rancheros.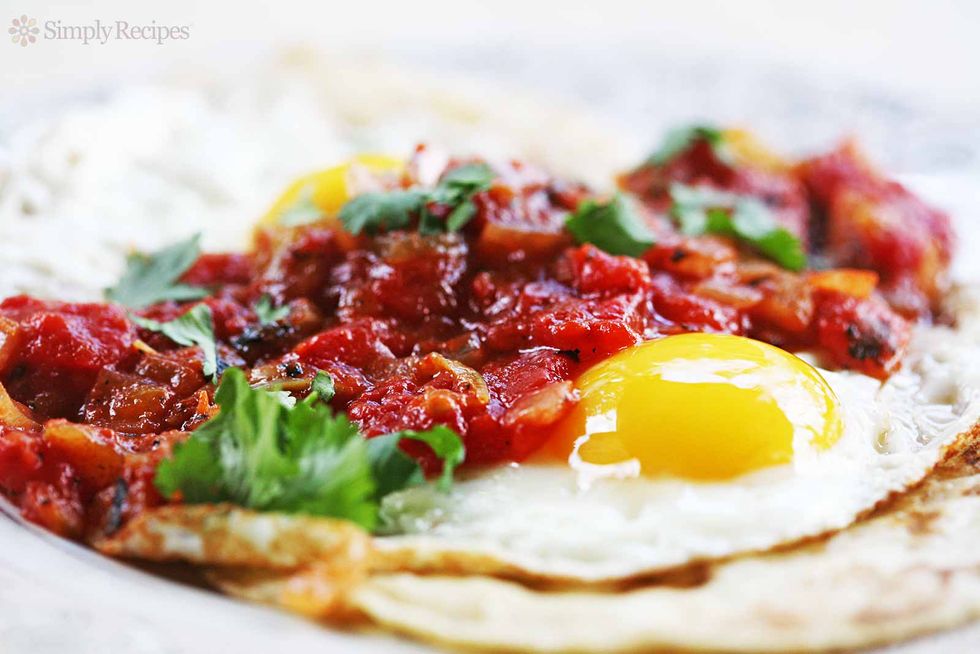 Mexican food is one of the easiest things for vegetarians to eat - and my personal favorite. Huevos rancheros is the ideal vegetarian meal, with eggs, corn tortillas, salsa, and lots of beans. The summer months allow for fresh vegetables, and makes this meal perfect for vegetarians and meat eaters alike during the summer!
You can find the recipe here.
2. Breakfast quesadillas with scrambles eggs, spinach, and black beans.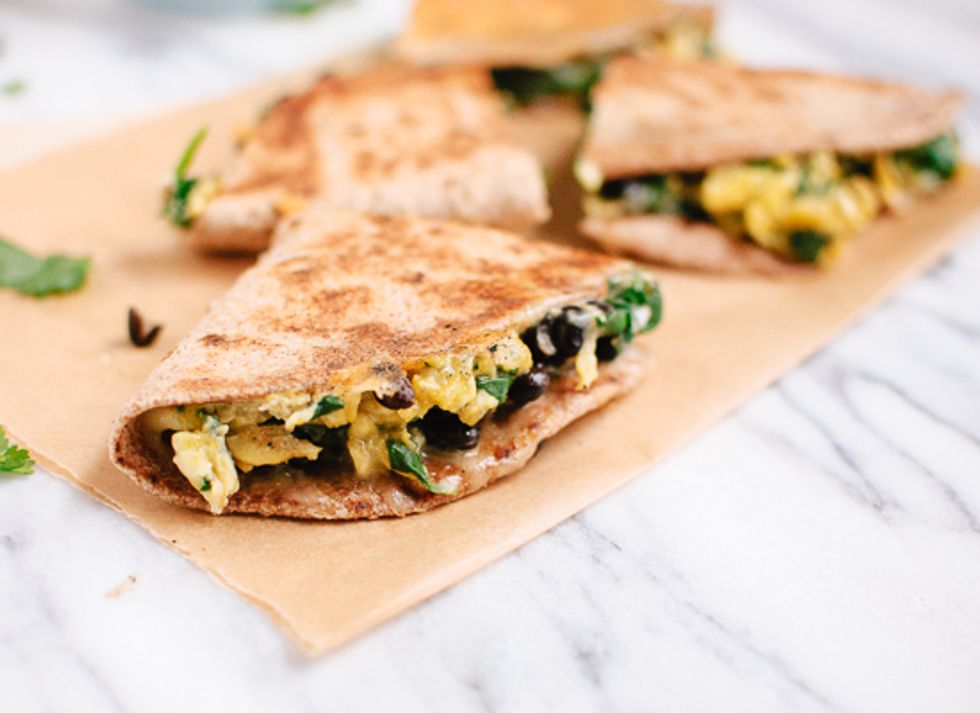 Again - Mexican food is a stable. Quesadillas are incredibly easy to make, and adding these ingredients adds a lot of protein in a vegetarian diet, not to mention it's delicious! Serve these quesadillas with a side of salsa, guacamole, or just hot sauce for a perfect addition to this cheesy delicious meal.
You can find the recipe here.
3. Banana almond smoothie.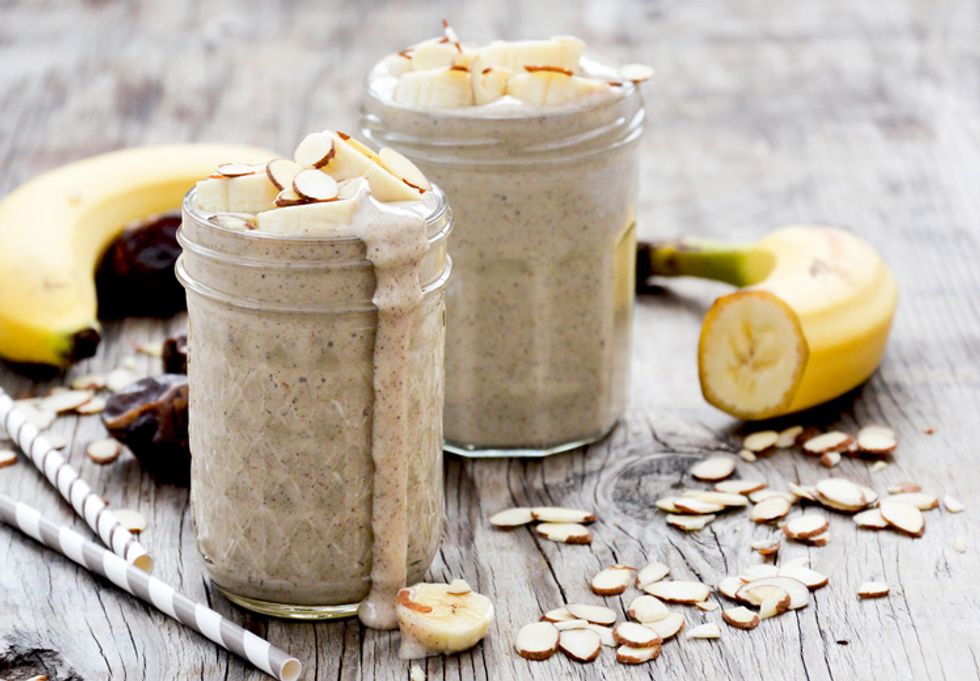 Not in the mood for a heavy, Mexican breakfast? Look no further! This smoothie is a delicious blend of banana goodness and packed full of vitamins and protein. Just throw all the ingredients together in a blender and enjoy! This smoothie is perfect on those hot summer mornings when you're running late or just need a pick me up on the way to the pool.
You can find the recipe here.
4. Californian sandwich.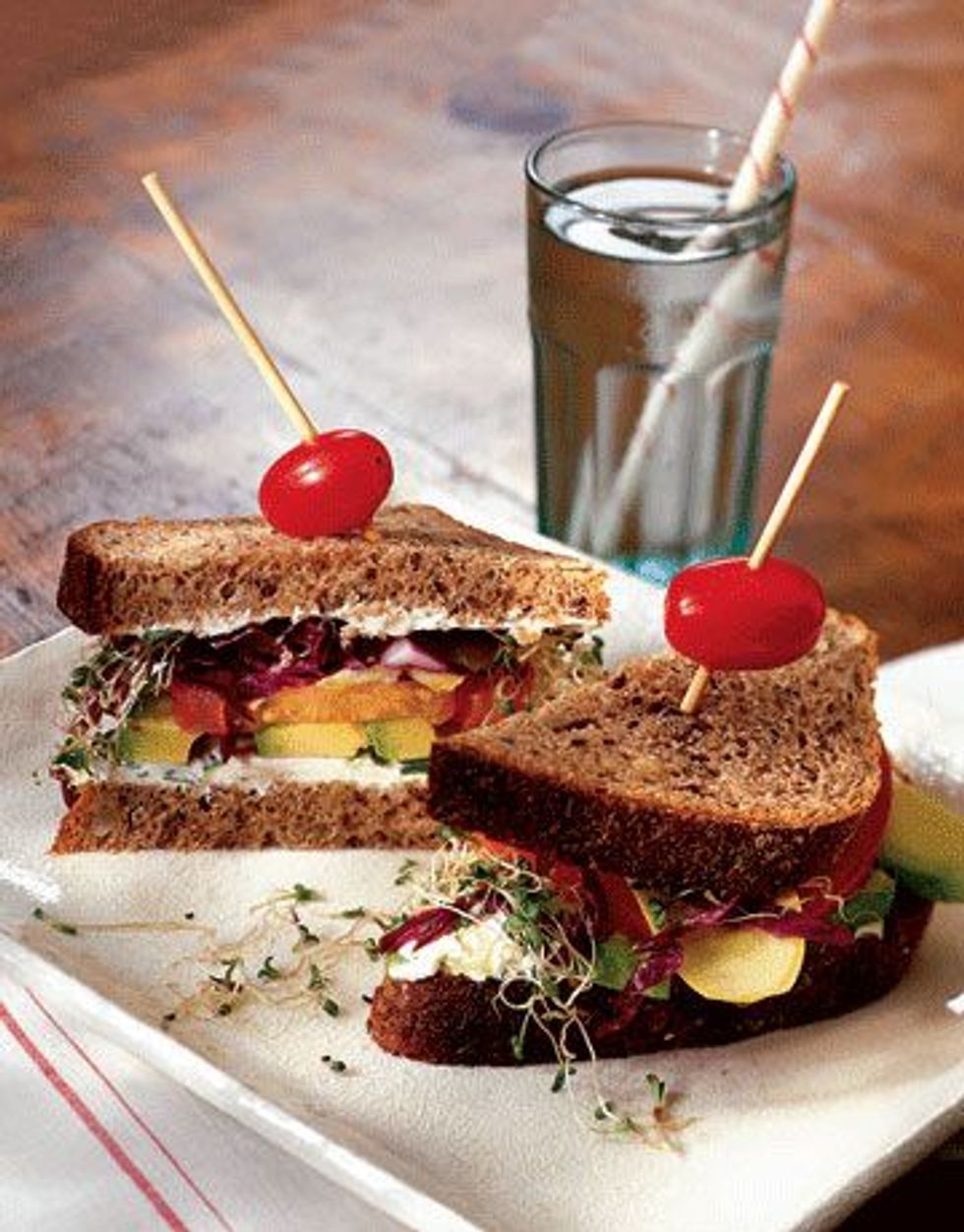 This meal is the perfect blend of cheese and fresh, summer vegetables. Sandwich recipes are great because you can add anything you want to them or take out things you don't like - but with this recipe, you won't want to change a thing. This cold sandwich is the perfect lunch to take on a picnic in the park, a family trip to the beach, a day by the pool, or even just relaxing at the house.
You can find the recipe here.
5. Tomato jam and mozzarella panini.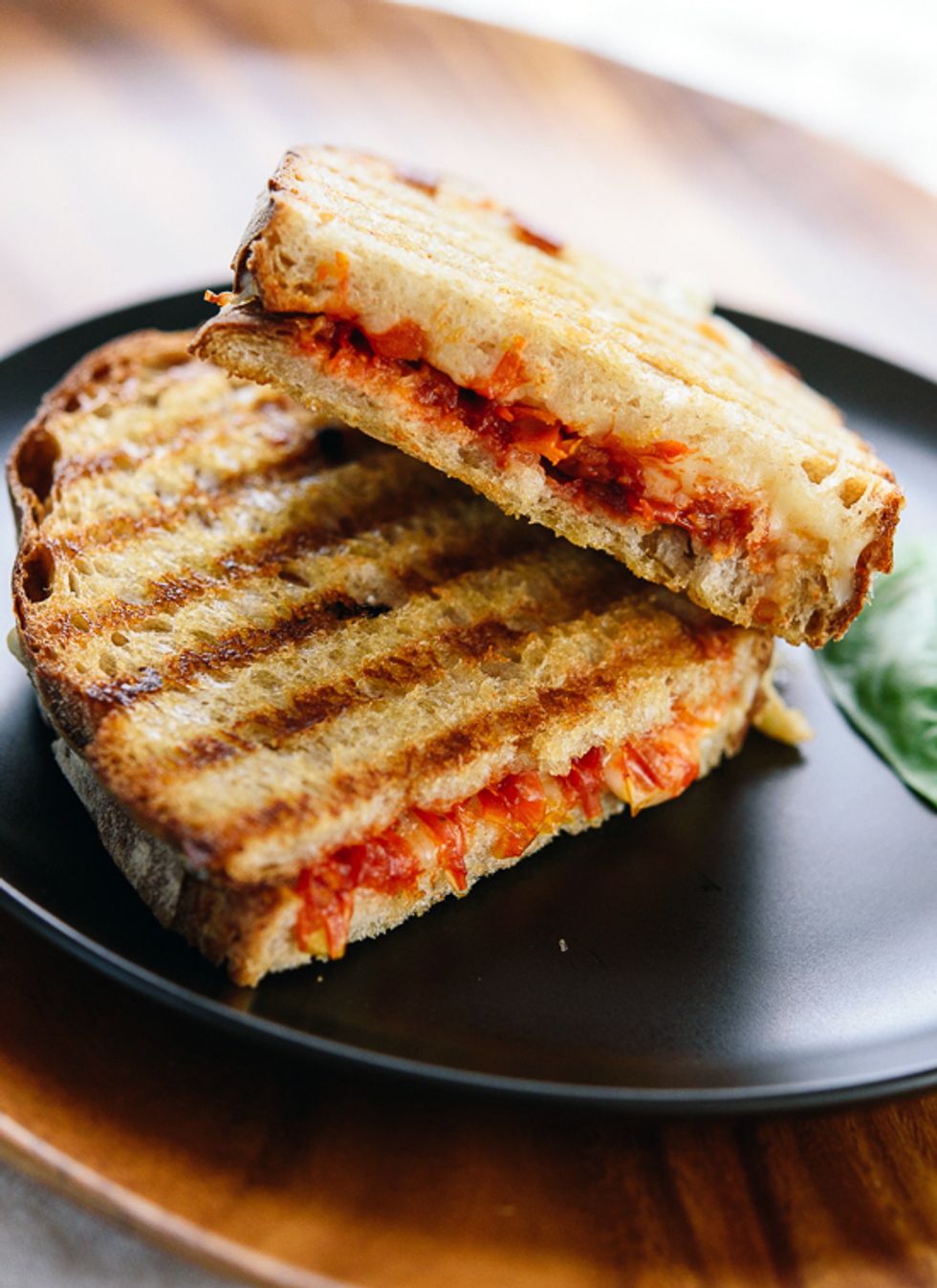 Tomatoes and mozzarella are a perfect pair and are just meant to end up on a grilled sandwich together. The jam in this recipe does require a lot of tomatoes, but trust me- it's worth it. The basil topping off this sandwich completes this meal in the most perfect way that meat eaters won't even realize there's not meat in this sandwich.
You can find the recipe here.
6. Mini portobello burgers.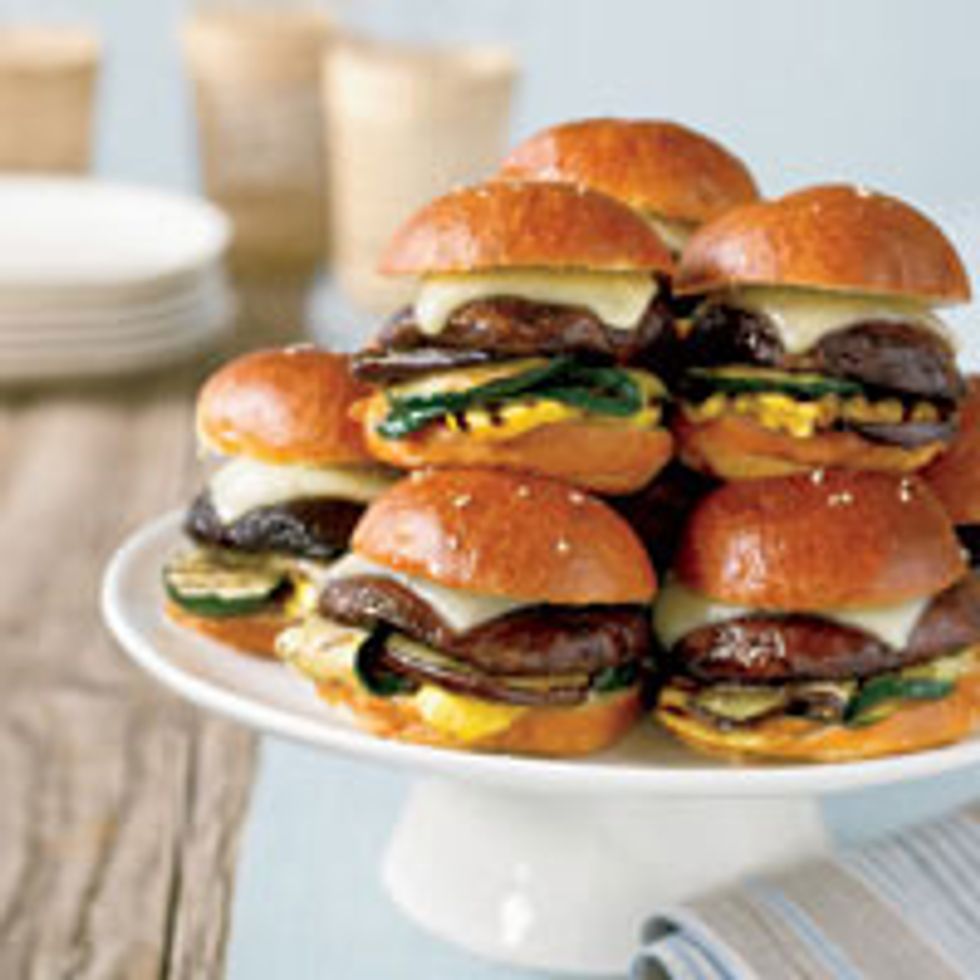 Portobello mushrooms are a vegetarian's main food group. The mushroom can substitute meat on any meal plan, and these "burgers" are a prime example of that delicious substitution, with grilled mushrooms, squash, zucchini, and eggplants. These burgers may just replace your summer grilling out meal - and you won't regret it one bit.

You can find the recipe here.
7. Stuffed Baked Tomatoes.
Fresh garden tomatoes are what I live for. They are by far the best part of summer! This easy to make recipe includes tomatoes, cheese, herbs, and bread crumbs to make the perfect summer side dish.
You can find the recipe here.
8. Slow cooker vegetarian gumbo.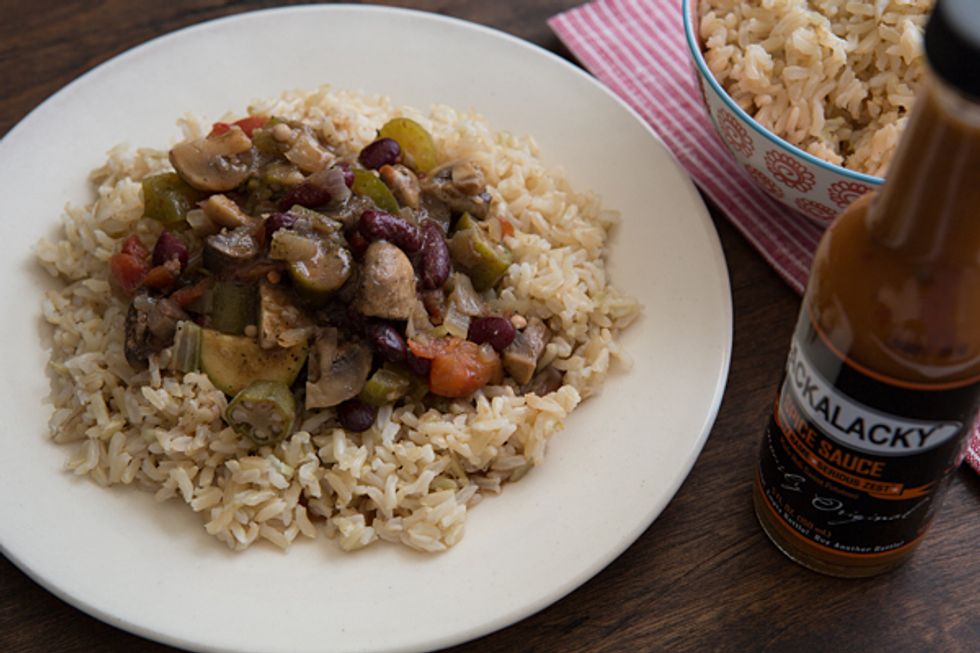 Cajun food is one of my favorite types of food, and this recipe allows me to enjoy Cajun while staying away from meat. Once you cook the veggies, all you have to do is throw the ingredients together in a crock pot and let it sit for a couple of hours. This recipe over a bed of rice is perfect for a rainy summer day, and you won't even notice the lack of meat!
You can find the recipe here.
9. Portobello and poblano pepper fajitas.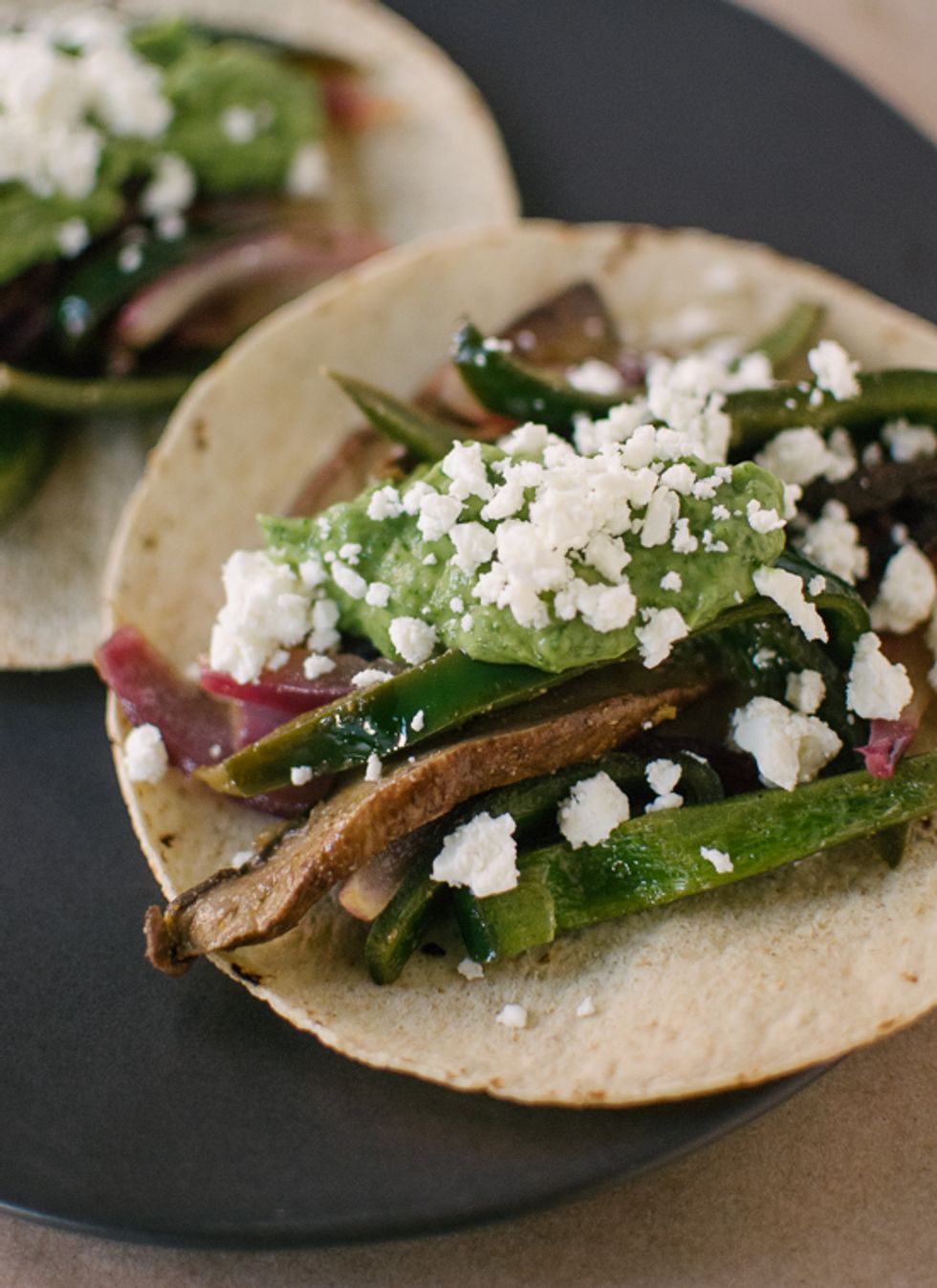 This simple to make meal is perfect for vegetarians and meat eaters alike. After the mushrooms marinate and cook, they have an almost-meaty texture, and you'll be asking for seconds (and even thirds) on this delicious Mexican meal. Topped off with a summery avocado sauce, this meal is perfect for everyone.
You can find the recipe here.
10. Spinach-artichoke Deep-dish pizza.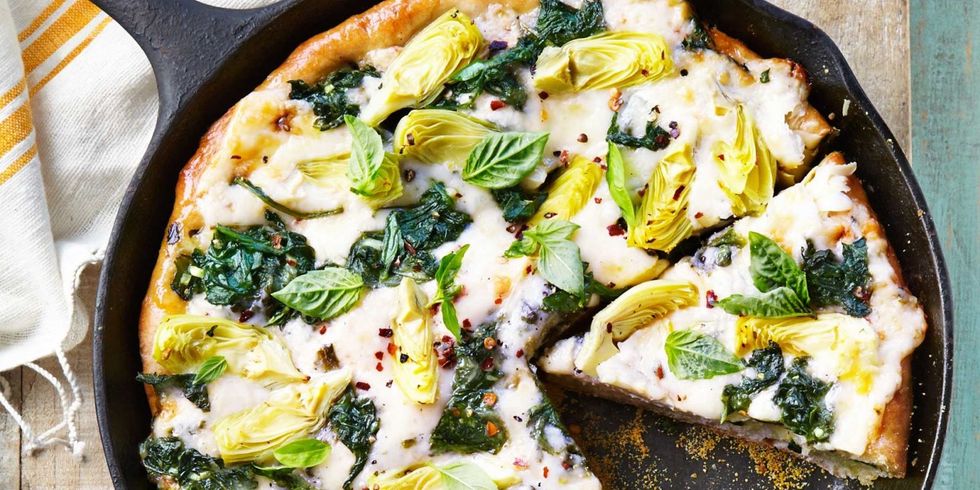 Want a pizza, but don't want to feel terrible about eating pizza? Well, this recipe is perfect for you. This recipe is super easy to make and contains plenty of veggies. Plus, who doesn't love spinach and artichokes with cheese? I rest my case.
You can find the recipe here.
11. Five layer dip.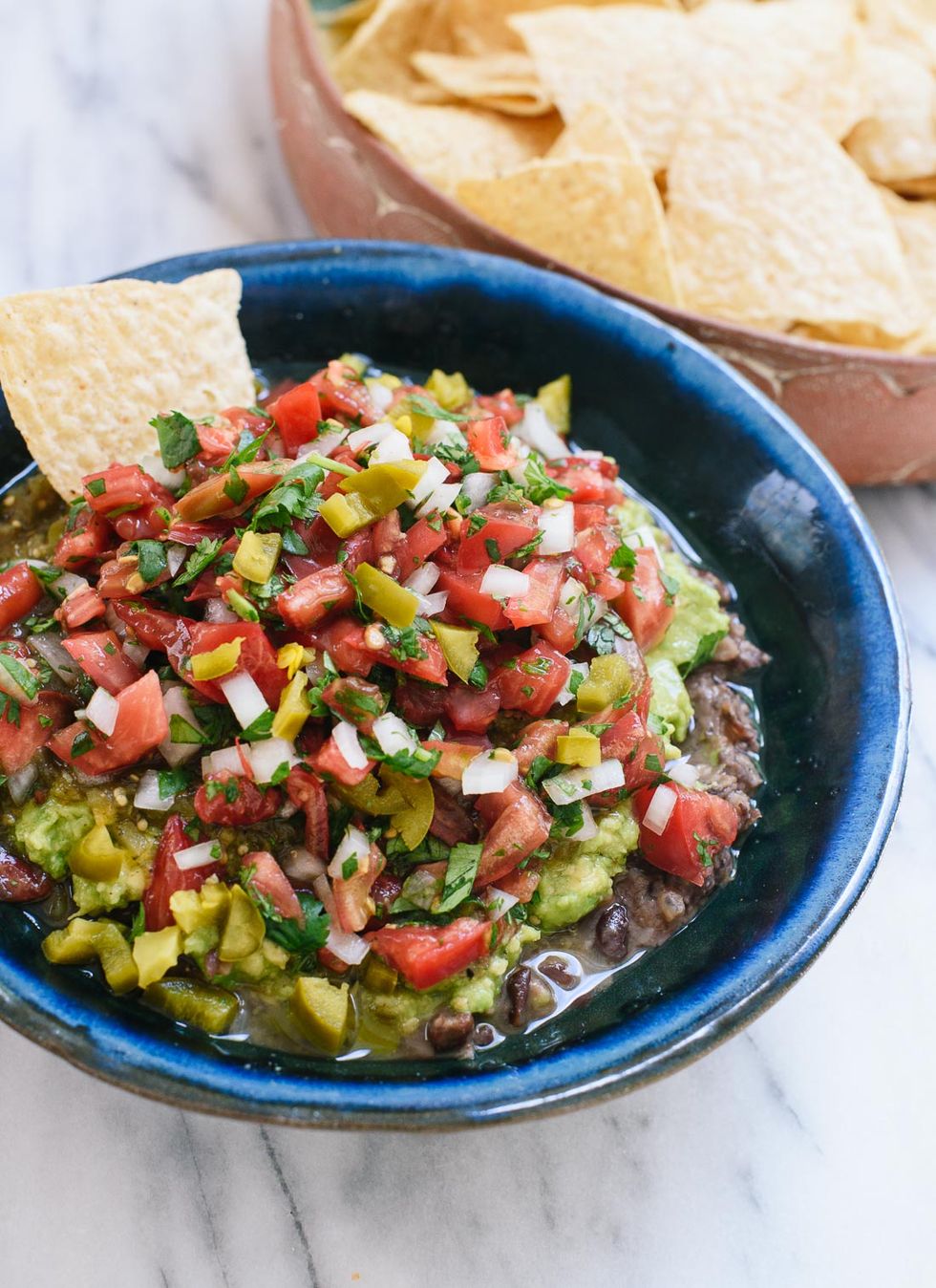 God, I love chips and dip. This recipe combines refried beans, guacamole, salsa Verda, Pico de gallo, and pickled jalapeños. If desired, you can add sour cream and cheese to make it a complete seven layer dip. The best part of this recipe is you can make it your own. Dips are super easy to customize and make however you prefer!
You can find the recipe here.
12. Two-bite loaded baked potatoes.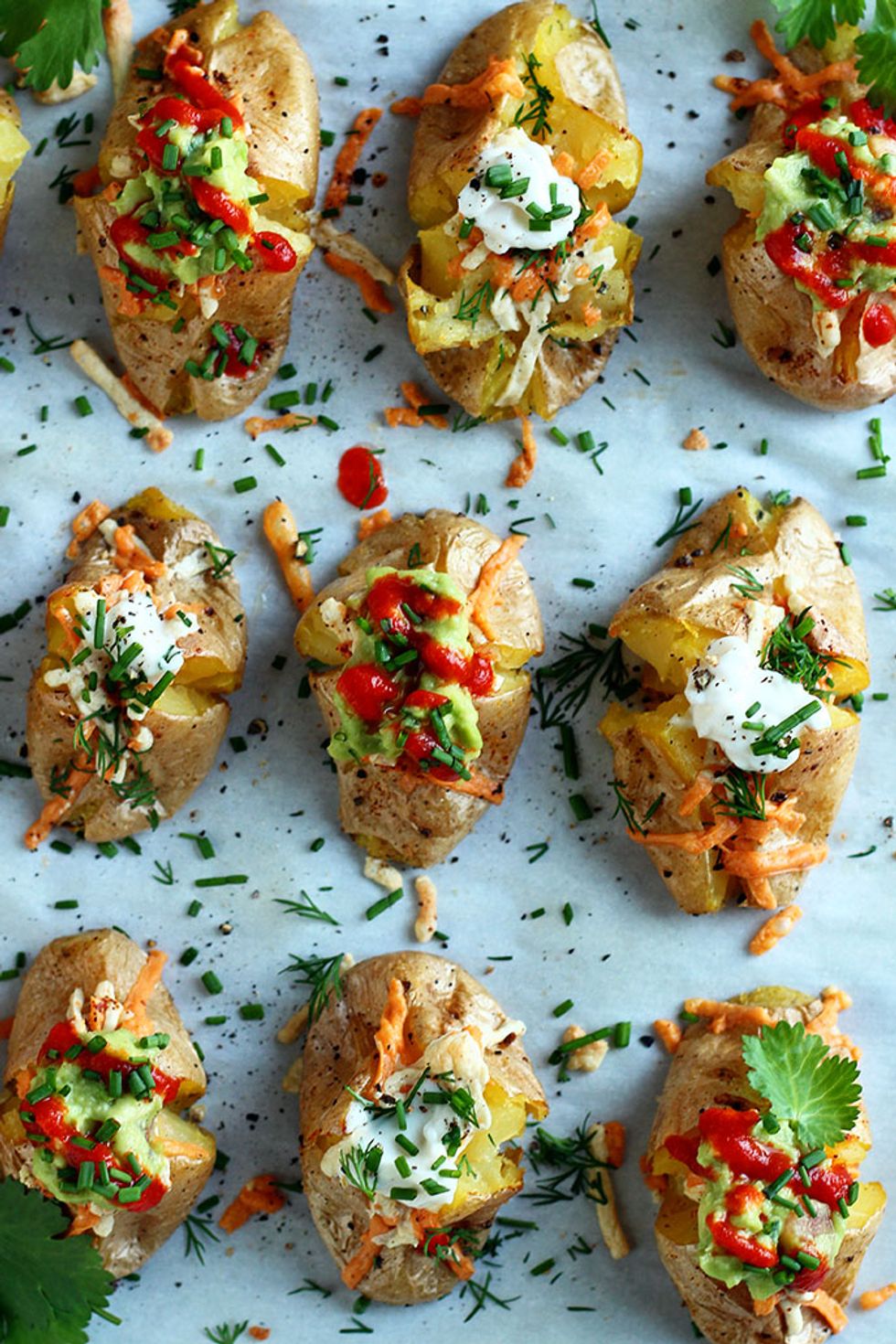 Potatoes are delicious and wholesome and whoever says not can personally come talk to me. These pieces of heaven aren't just vegetarian - they're completely vegan! These easy to make baked potatoes haven no meat and are so small that you won't feel the least bit guilty for eating eight. You're welcome.
You can find the recipe here.
13. Grilled veggie taco bowl.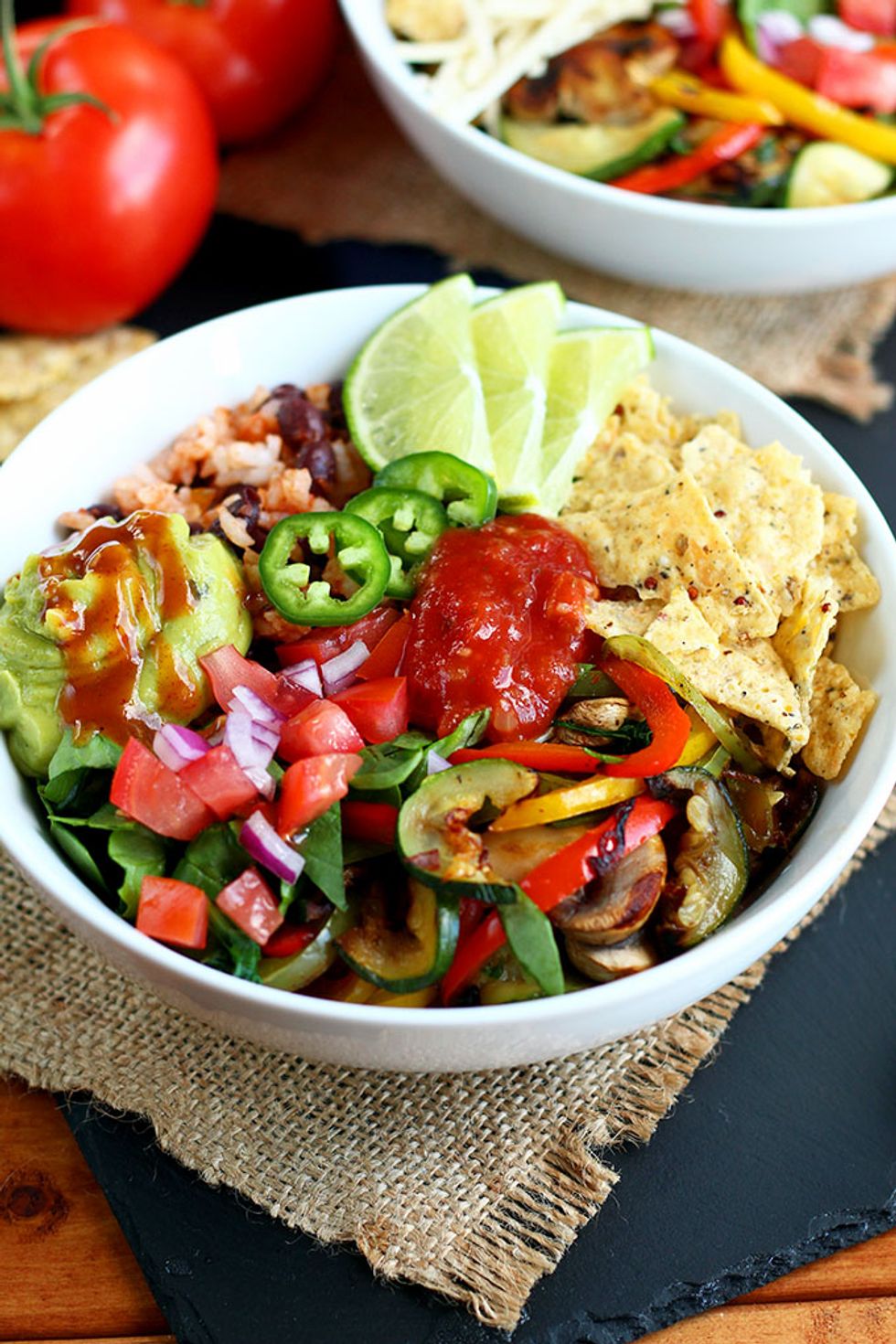 Yeah, if you don't like Mexican food half of these recipes aren't going to appeal to you. Thankfully, most of us actually like Mexican food. This taco bowl is VEGAN and super easy to make - not to mention has tons of veggies, making this dish a healthy alternative to heavier Mexican dinners. Like many of these recipes, you can customize this dish and only add things you like - get creative!
You can find the recipe here.
14. Veggie lo mein.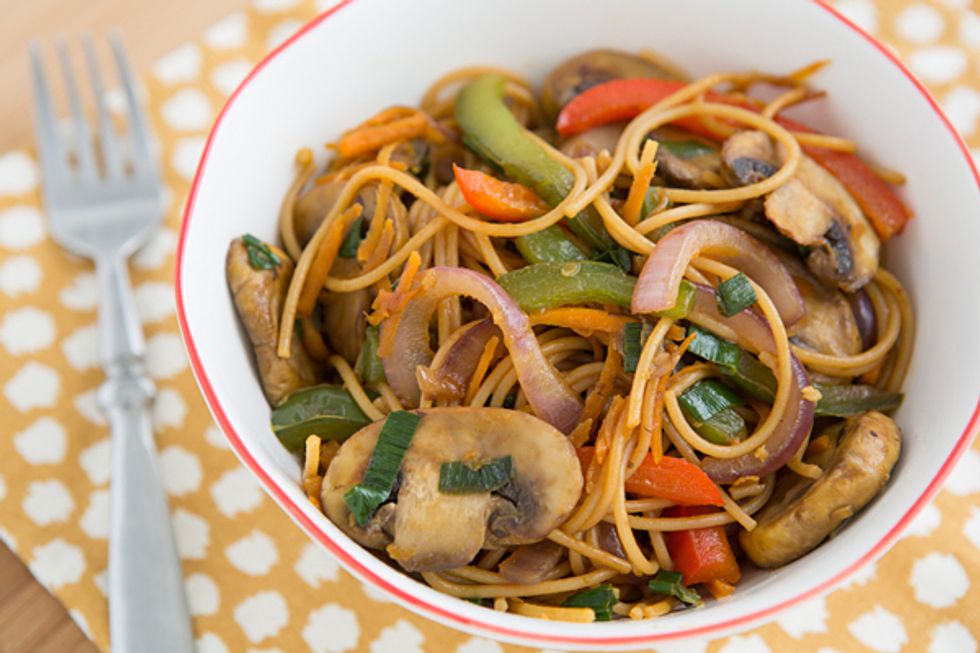 You know what is easy? Ordering Chinese food. You know what is even easier and healthier? This recipe. This lo mein is packed full of vegetables and protein, making it a perfect meal for vegetarians (and meat eaters- it's delicious!)
You can find the recipe here.
15. Cauliflower mac 'n cheese.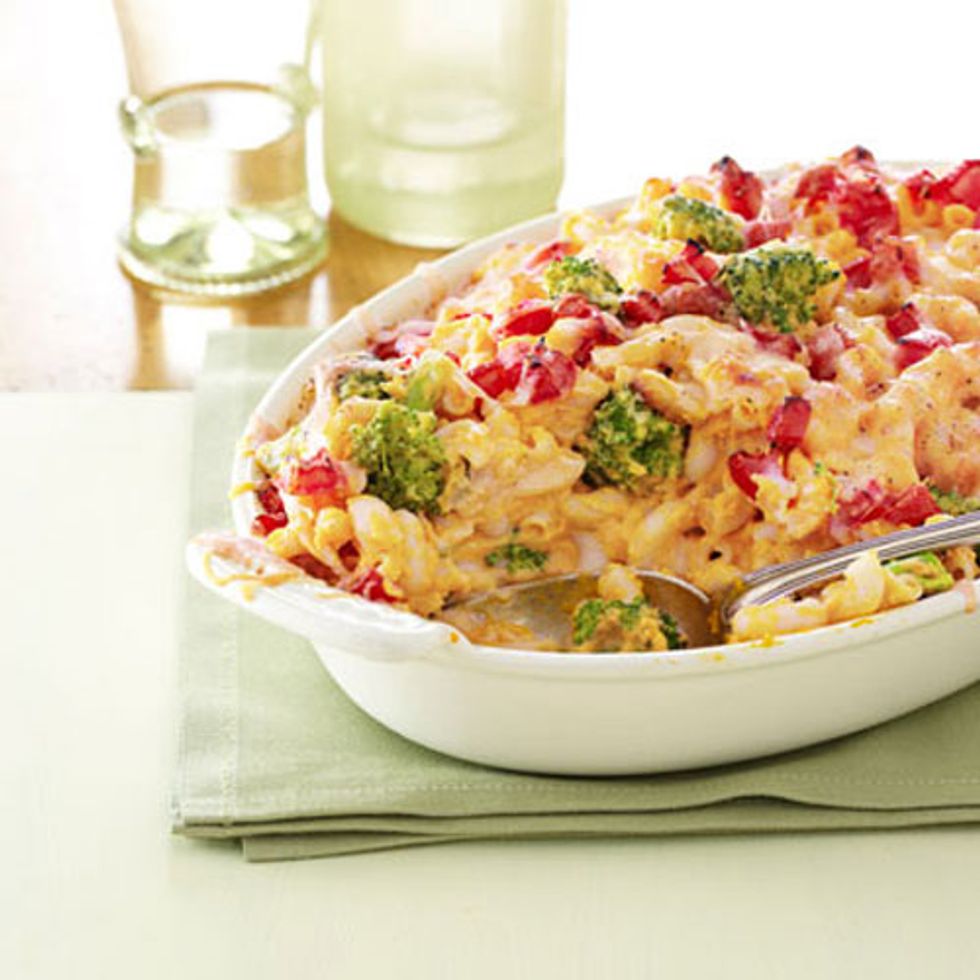 Who doesn't love creamy, cheesy, mac 'n cheese? This recipe packs the classic mac and cheese full of vegetables, but hides most of them - making it the perfect meal for picky eaters!
You can find the recipe here.
16. Veggie pasta.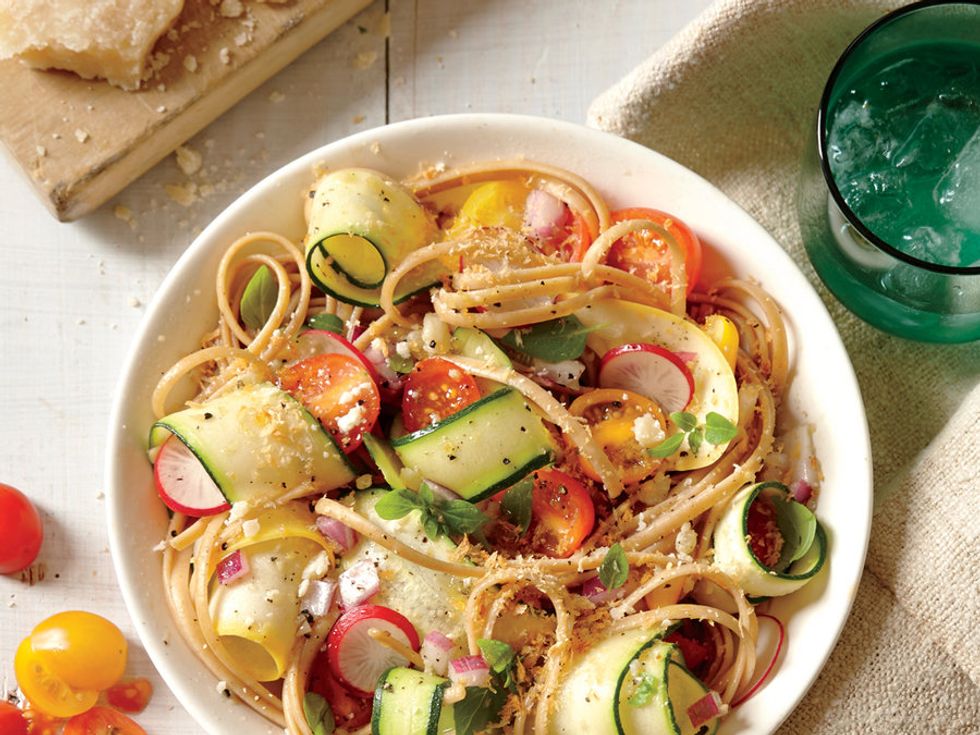 Whole grain linguine plus fresh summer vegetables make this recipe extra delicious and extra healthy. This easy to cook dish is refreshing and perfect for all! This recipe makes it easy to add any vegetables that you enjoy - or dismiss any vegetables you don't like. It's up to you!
You can find the recipe here.
17. Tomato, corn, and jalapeño pesto pasta salad.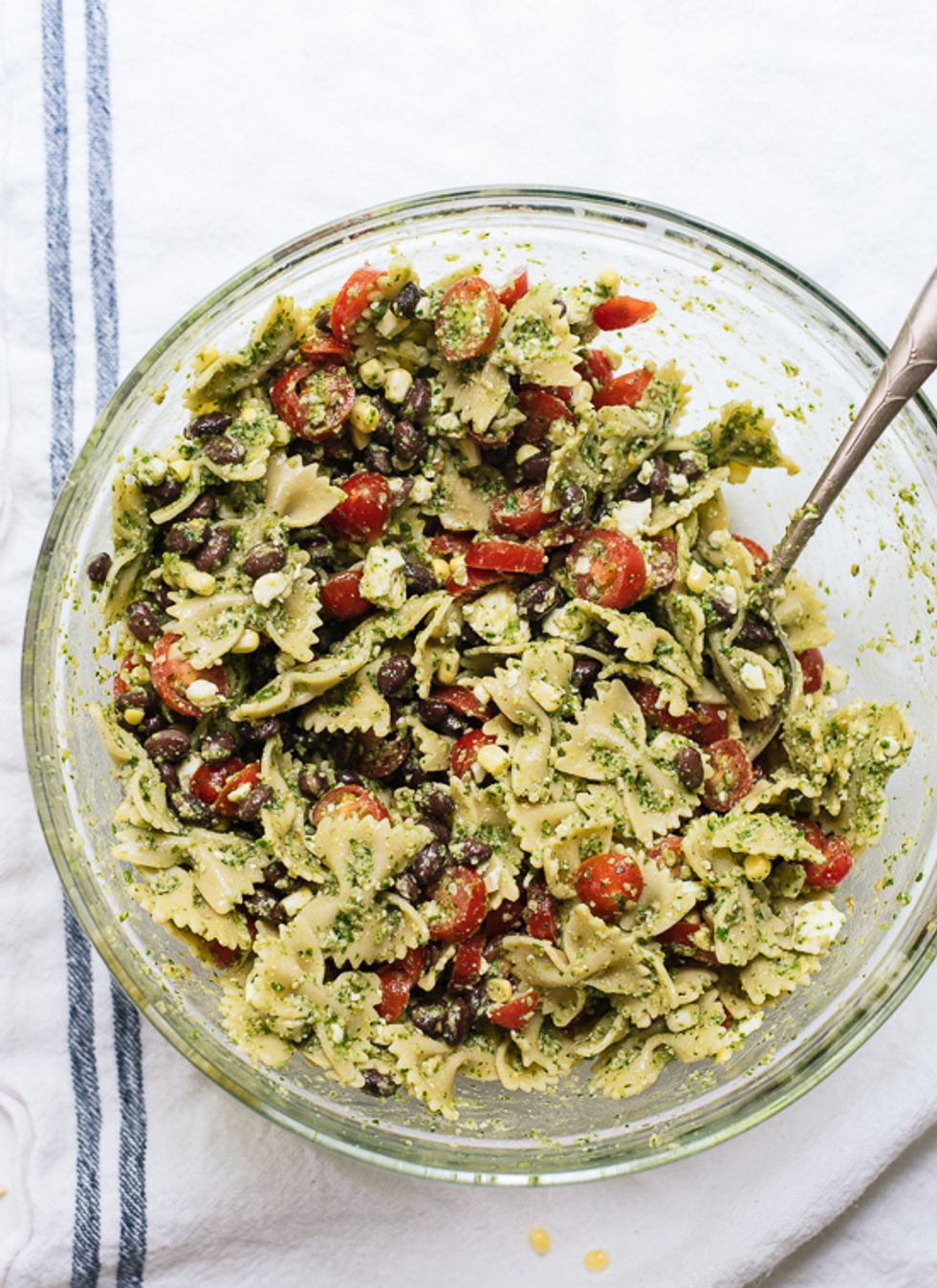 This pasta salad is perfect for any summer day. You can change up a few of the ingredients to make it vegan, to get rid of some ingredients in the fridge, or just for personal preference. The black beans add a ton of protein to this dish, making it the perfect side dish for summer barbecues, family reunions, and potlucks galore!
You can find the recipe here.
18. Herbed red potato salad.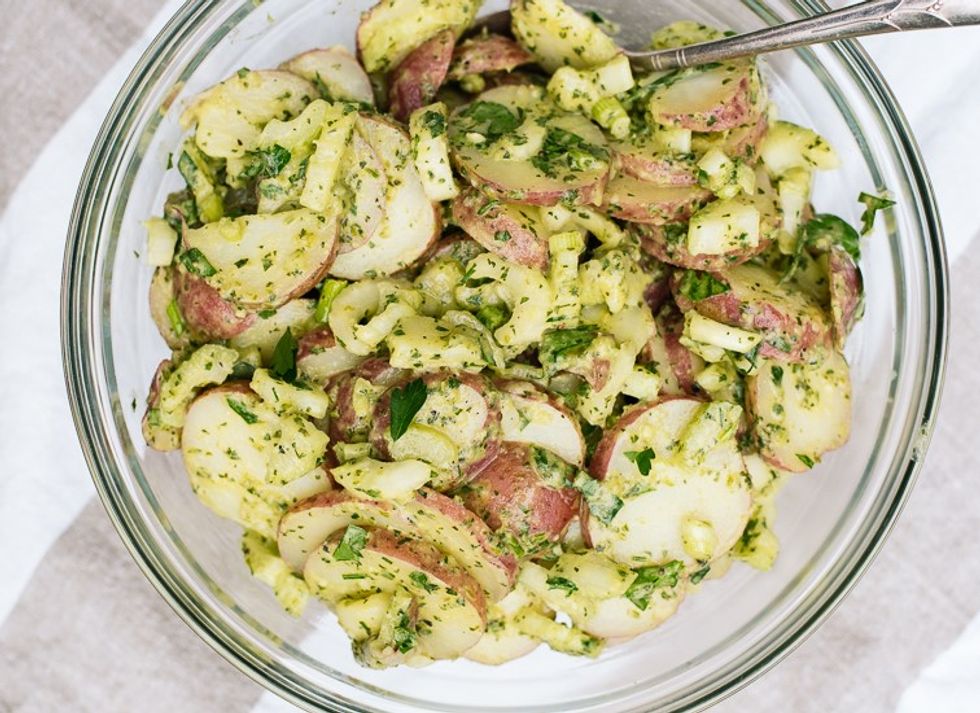 Like potato and potato salad but hate mayo? This is the recipe for you! This fresh potato salad is easy to make and has lots of herbs and flavor. This recipe includes tips to make the best non-mayo potato salad. This dish is a perfect side to any meal, especially mini portobello burgers!
You can find the recipe here.
19. Sun-dried tomato Caesar salad.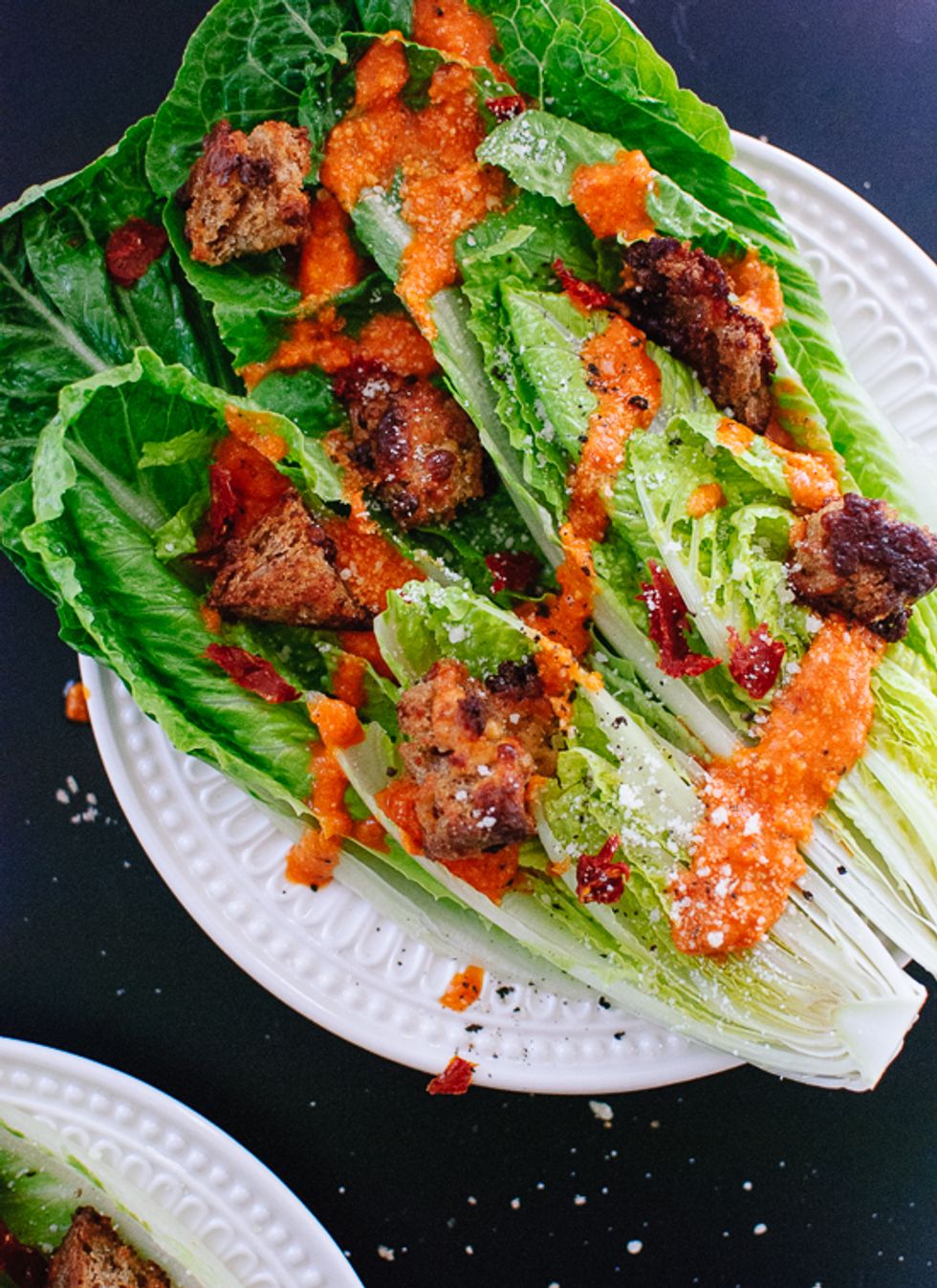 Although most salads are vegetarian, and vegetarians are probably sick of salad's, this recipe is different. This salad is super delicious and has tons of cheese (#blessed). This salad is a perfect starter for any meal - vegetarian or not!
You can find the recipe here.
20. Summertime fruit salad.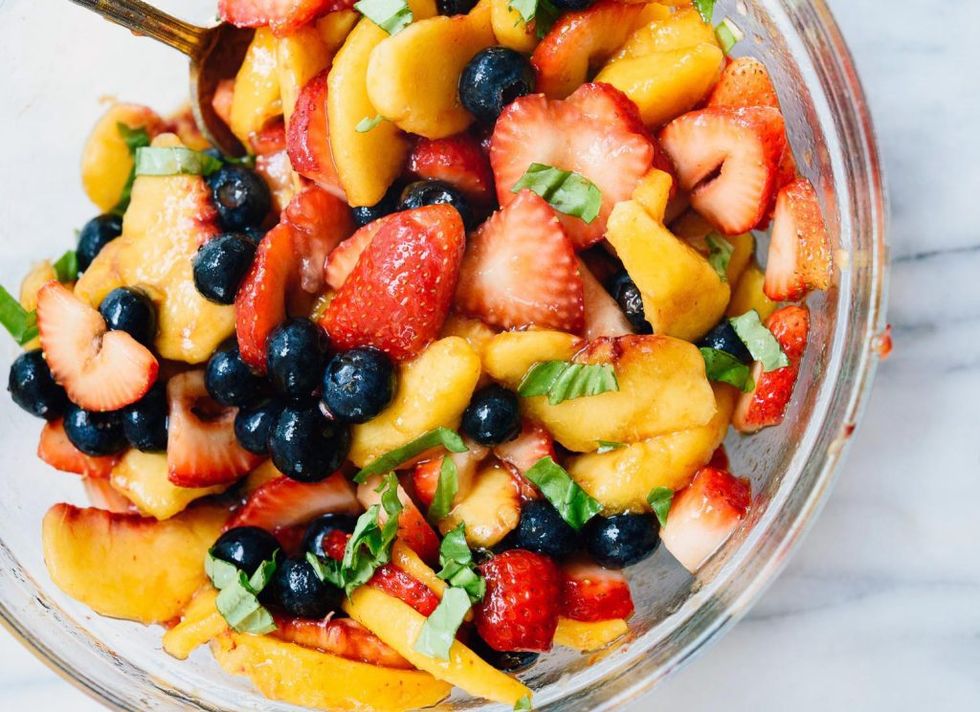 Summer fruit is the best. This recipe adds a twist to the typical fruit salad - and you'll keep going back for another bowl. With summer peaches, strawberries, and blueberries, you'll definitely get your daily serving of fruit with this salad - if not more!
You can find the recipe here.
21. Slow cooker peach cobbler.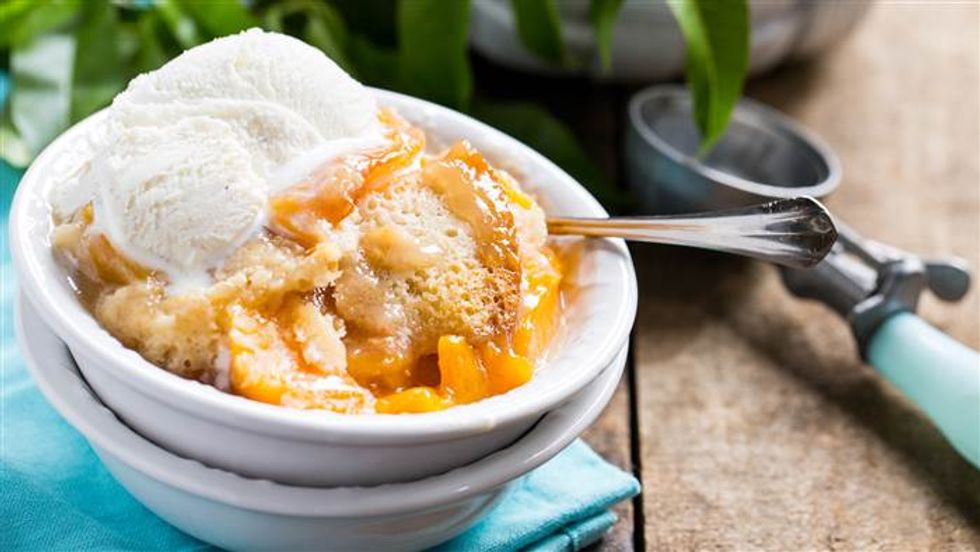 What's better than a warm peach cobbler with ice cream? SLOW COOKER RECIPES. You just dump it and forget it. Summertime is the perfect season for fresh, ripe, delicious peaches, and this recipe makes peaches the shining star. This recipe is easy, delicious, and definitely, worth the time it takes to cook!
You can find the recipe here.
22. S'mores cookies.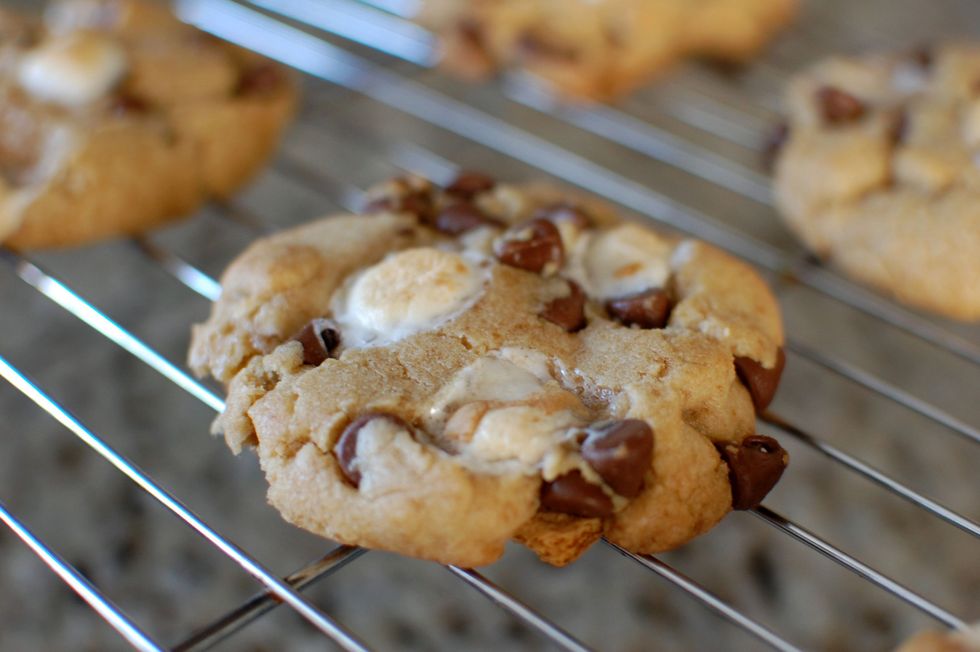 When I think of summertime, I think of campfires in the backyard. And when I think of campfires, I think of, you guessed it, s'mores. S'mores include the deliciousness of roasted marshmallows with the sweetness of chocolate and the crunch of graham cracker. This recipe has all of that IN A COOKIE. Again, YOU'RE WELCOME.
You can find the recipe here.