In January, I had the opportunity to see "Dear Evan Hansen." If you haven't heard of the show, you will soon. Starring Ben Platt ("Pitch Perfect") and Laura Dreyfuss ("Glee"), the musical made its Broadway debut on December 4, 2016. It features the music of Benj Pasek and Justin Paul and a book by Steven Levenson.
The story is incredible and takes you on an emotional roller coaster that millennials and parents alike are falling in love with. After all, it debuted at No. 8 on the Billboard chart, making it the highest ranked soundtrack release since Camelot in 1961. Here's why everyone is raving about the story of Evan Hansen.
1. It is a story about a high schooler who feels incredibly alone.
Relatable? Probably.
2. Ben Platt
He is going to win a Tony for this role.
3. "Waving Through a Window"
This song describes everyone at some point in our lives. It describes that first day of school, and the first day of your new job. It describes that moment where we feel incredibly vulnerable. It describes the self-doubt we have in those moments. It describes how I feel regularly.
4. It is hysterical
[No GIF will properly convey this.]
It is actually really hilarious which is very confusing. There were moments when I was laughing but I still had tears in my eyes.
5. The theme of the show
The main message of the show is that no one deserves to be forgotten. The truth in this message is so prevalent now more than ever with minority groups being pushed aside, women still getting paid less than men and transgender members of society not being able to use the bathroom of their choice. Not to mention a failing school system that puts people in a box and does not cater to those that are not academically inclined.
6. Ben Platt singing in "You Will Be Found"
7. The conversation happening in "You Will Be Found"
8. All the comments being spoken out loud in "You Will Be Found"
9. The positive feeling that you are not alone when you listen to "You Will Be Found"
Go ahead and listen if you have not.
10. Laura Dreyfuss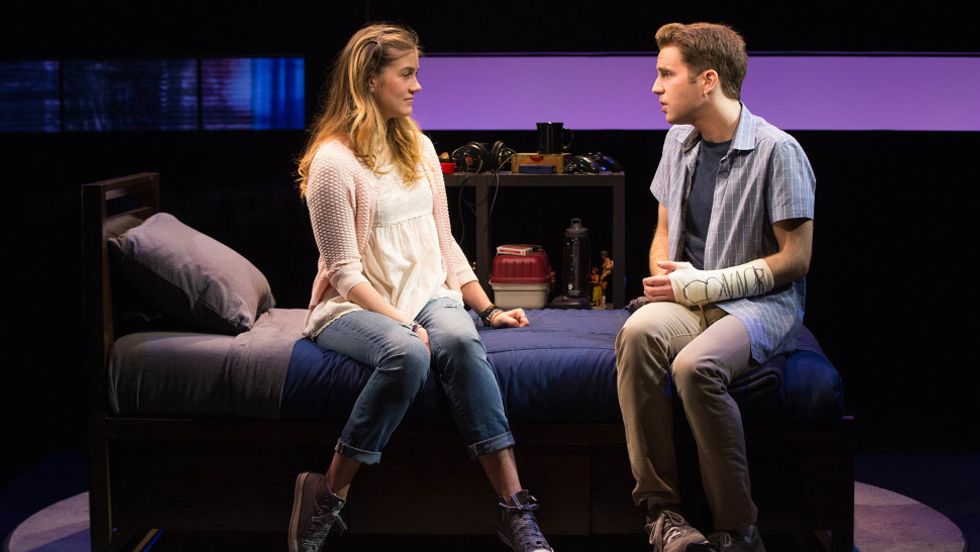 When I was watching the show, I had no idea who this girl was. Then she started singing and I instantly perked up. "I know that voice from somewhere," I thought, but I just had no idea. Then when I looked at my Playbill, I realized it was Laura from "Glee" and it all came back to me. She slays in the song "Requiem."
11. The character of Evan Hansen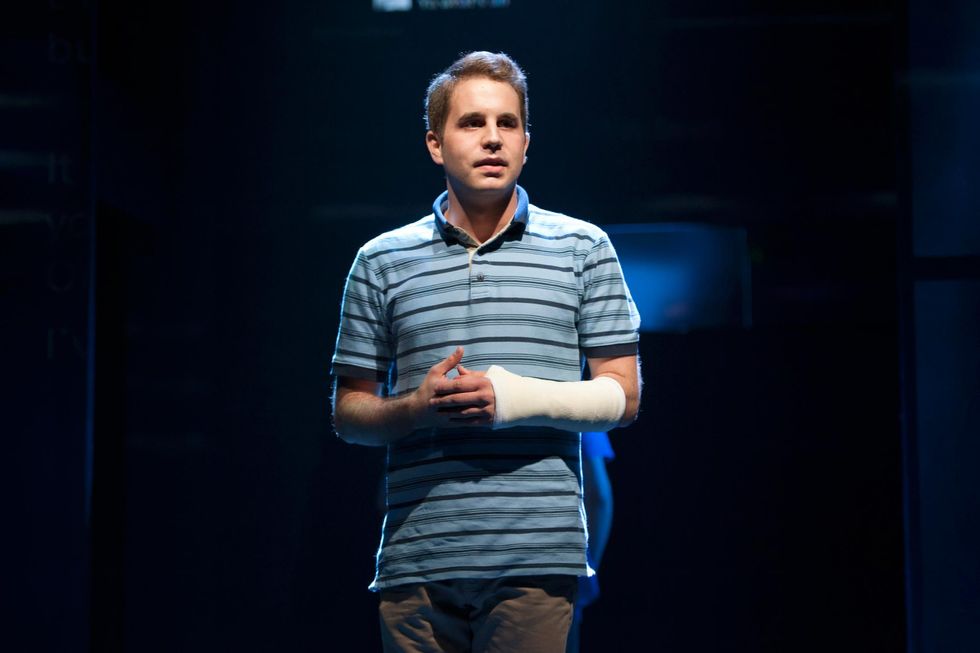 This character is alone and depressed and struggling with high school and has no friends and pretends to be something he is not and is relatable. We live in a world where it is hard to be yourself because there are stereotypes and stigmas and barriers and societal pressures. It is hard, and Evan shows us that we are good enough being ourselves.
12. These lyrics
"I guess I wanted to believe, because if I just believe, then I don't have to see what's really there. No, I'd rather pretend I'm something better than these broken parts, pretend I'm something other than this mess that I am. Cause then I don't have to look at him, and no one gets to look at him. No, no one can really see, cause I've learned to slam on the breaks before I even turn the key, before I make a mistake, before I lead with the worst of me. I never let them see the worst of me."
13. The meaning of those lyrics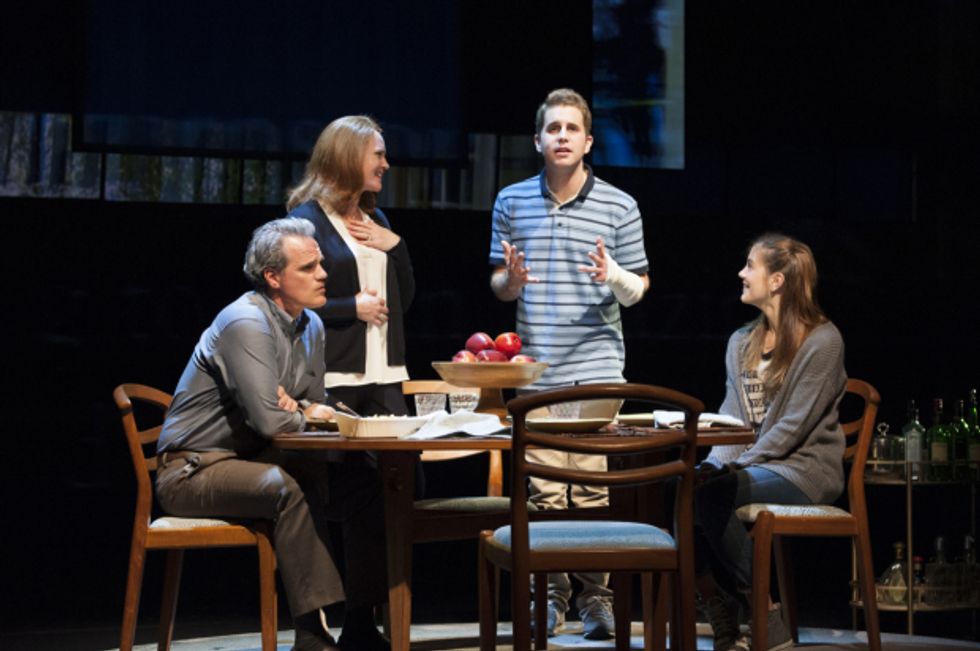 Don't we all just feel broken sometimes? Like we need to put on a show for those around us? For those we do not know? It is amazing how easily we can see ourselves as damaged or ugly or having some unrelatable baggage. Reality check: we all feel like this.
14. Suicide awareness
It sheds light on the fact that suicide in millennials is exceedingly high. Countless lives lost before they have even begun, and then no one says anything about it publically. We all have to take the time to realize that this is an issue.
15. Depression awareness
I think we all are very aware that depression is another growing epidemic in today's society. Most people assume that it will just go away with medication. However, that is not the solution for every single person out there. The path of fighting depression is different depending on the person, and this story shares that.
16. That feeling you get when you see the show or listen to the lyrics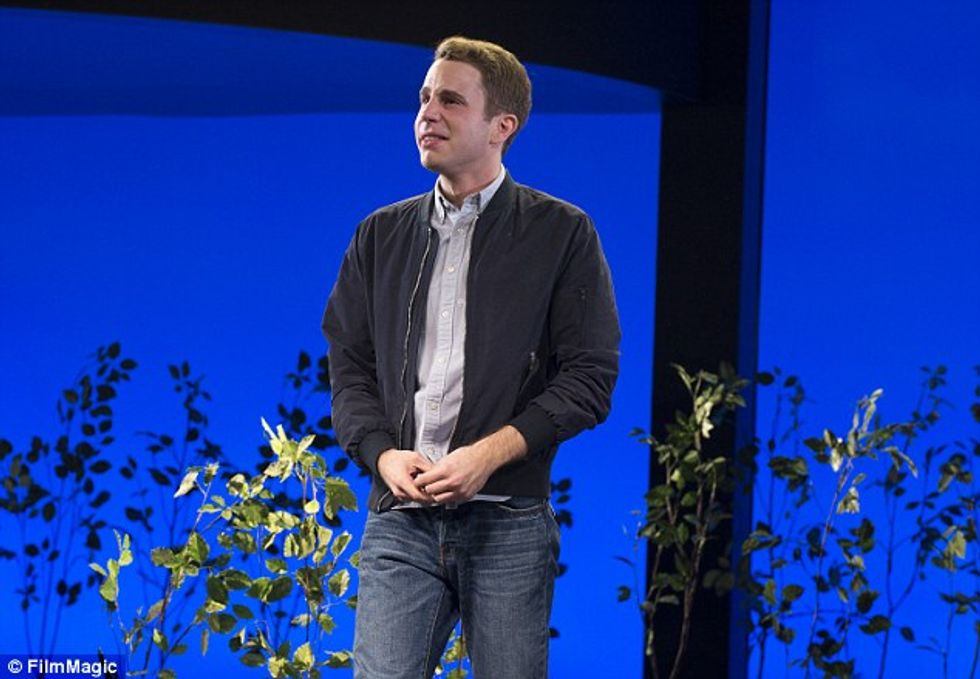 This show will touch you. And at the end of the day, we all just want to feel connected and know that someone understands us.
17. The show has been approved by Zac Efron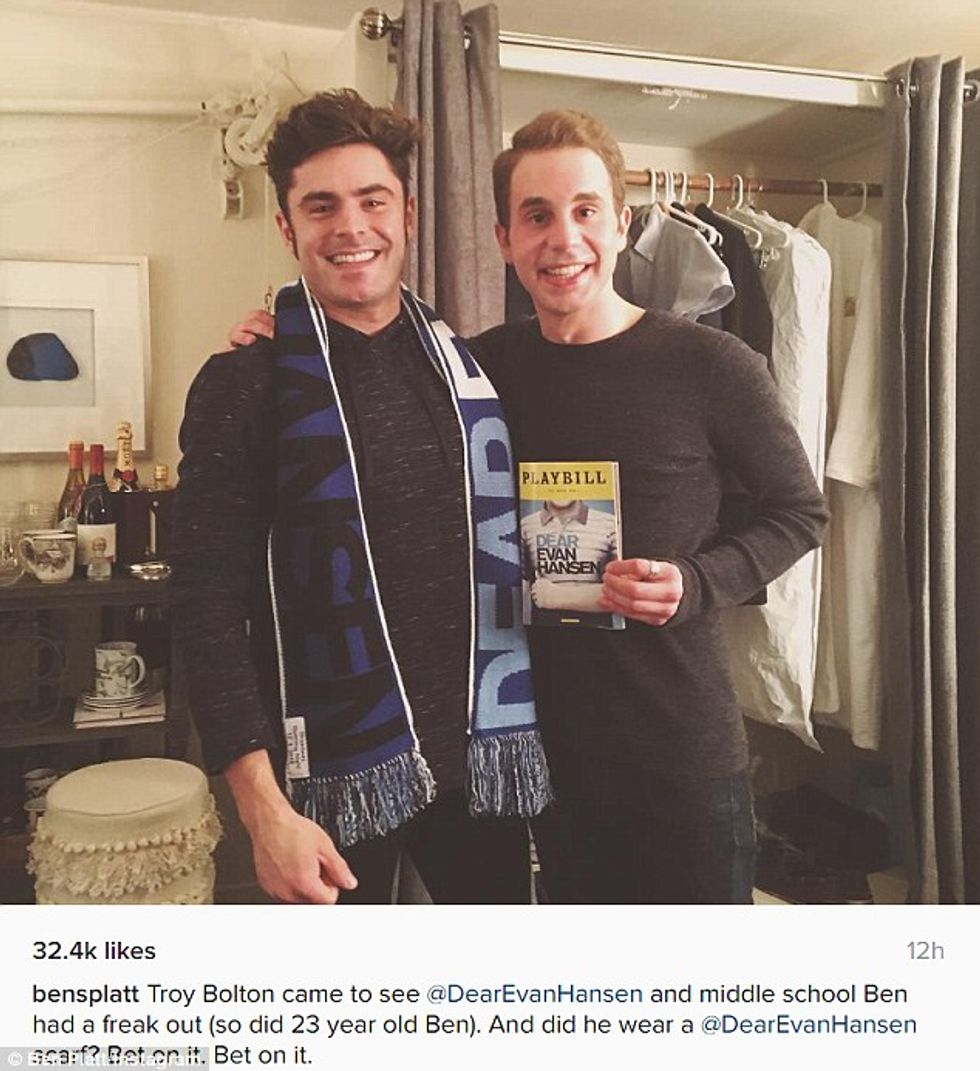 When the star of High School Musical comes to see your new musical and loves it.