It is so important for people to be able to see themselves represented in the media they consume. It is especially important for young people to see themselves represented; sometimes that representation can let them grow up feeling less alone, less alienated.
One area that is doing pretty well with LGBTQ+ representation in particular is YA literature. There are so many books nowadays that feature openly LGBTQ+ characters. The best thing about them is that they are aimed at teenagers. They are aimed at a group of people who frequently struggle with their sexuality and gender, and it shows them that it's okay to be gay, lesbian, bisexual, transgender, queer, etc., or even to just be questioning.
Here is a short (yes, short) list of books I have read featuring LGBTQ+ characters.
1. Simon vs the Homosapiens Agenda - Becky Albertalli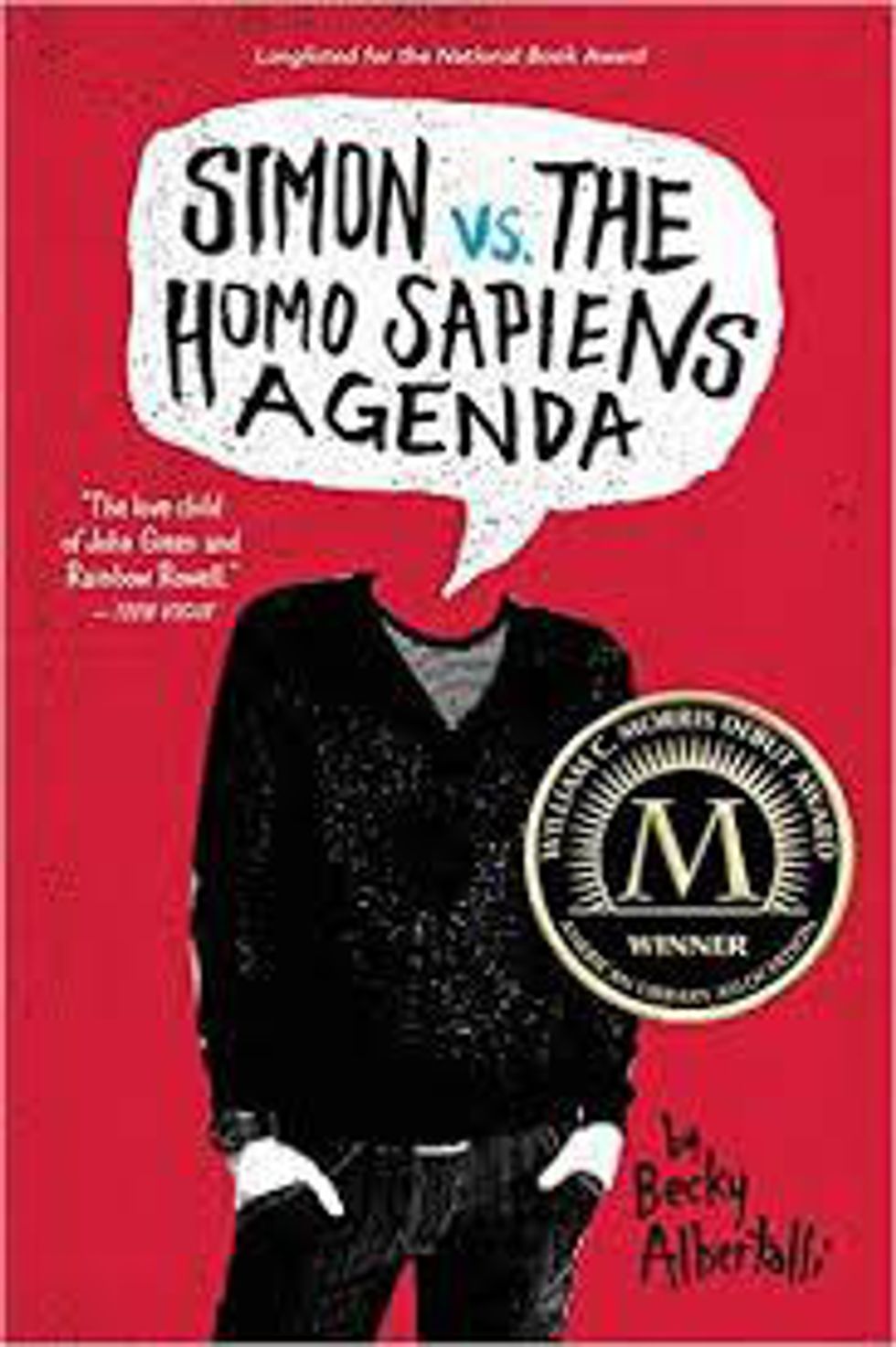 Simon is a 16 year old boy kind of deep in the closet, though there is this boy Blue who he keeps emailing. But when the major school bully finds out about these emails, he tries blackmailing Simon, threatening to out Simon if he doesn't help the bully ask out Simon's friend. Meanwhile, Simon tries to figure out Blue's real identity. This wonderful, cute, funny book is a really sweet story about the dangers of high school gossip, being true to yourself, and gaining the courage to ask out that cute person you like. It's a coming-of-age, coming-out kind of story. Light, funny, and adorable, I loved it to pieces, and read it in a day (and then two more times after that. It's wonderful).
2. Fun Home - Alison Bechdel

You've probably heard of the Tony award winning musical, but have you read the graphic novel? This is a memoir of sorts about Bechdel's life growing up. It jumps back and forth to different moments in her life, all centered around her relationship with her father, specifically his sexuality and his suicide. Told through beautiful pictures and poignant prose, Bechdel's story about coming to terms with her father and her own sexuality comes to life in all the best ways. It's a very unique kind of memoir, and, while not exactly a light-hearted story, it brings up a lot of questions about how your relationship with your parents can affect you, and how growing up can be really hard.
3. Every Day - David Levithan

This book is less obviously LGBTQ+ than others in this list, but I assure you it was meant to be. This wonderful and truly unique story follows the life of A, a person who wakes up in a different body every day. Every day, A takes over the body of a random person, waking up in their bed with their body, and tries to go about their day. The only consistency is that the person seems to be the same age A is. Gender and ethnicity don't matter. It's a difficult life - until they inhabit the body of Justin, boyfriend to the intriguing Rhiannon. In a fit of irrationality, A breaks their pattern of trying to blend in by taking Rhiannon on a completely out of character for Justin trip to the sea. After that, A can't stop thinking about her. It's a wonderful story with a LGBTQ+ main character that doesn't focus on their gender or sexuality. I can honestly say I have never read another book like it.
4. Every Cassandra Clare book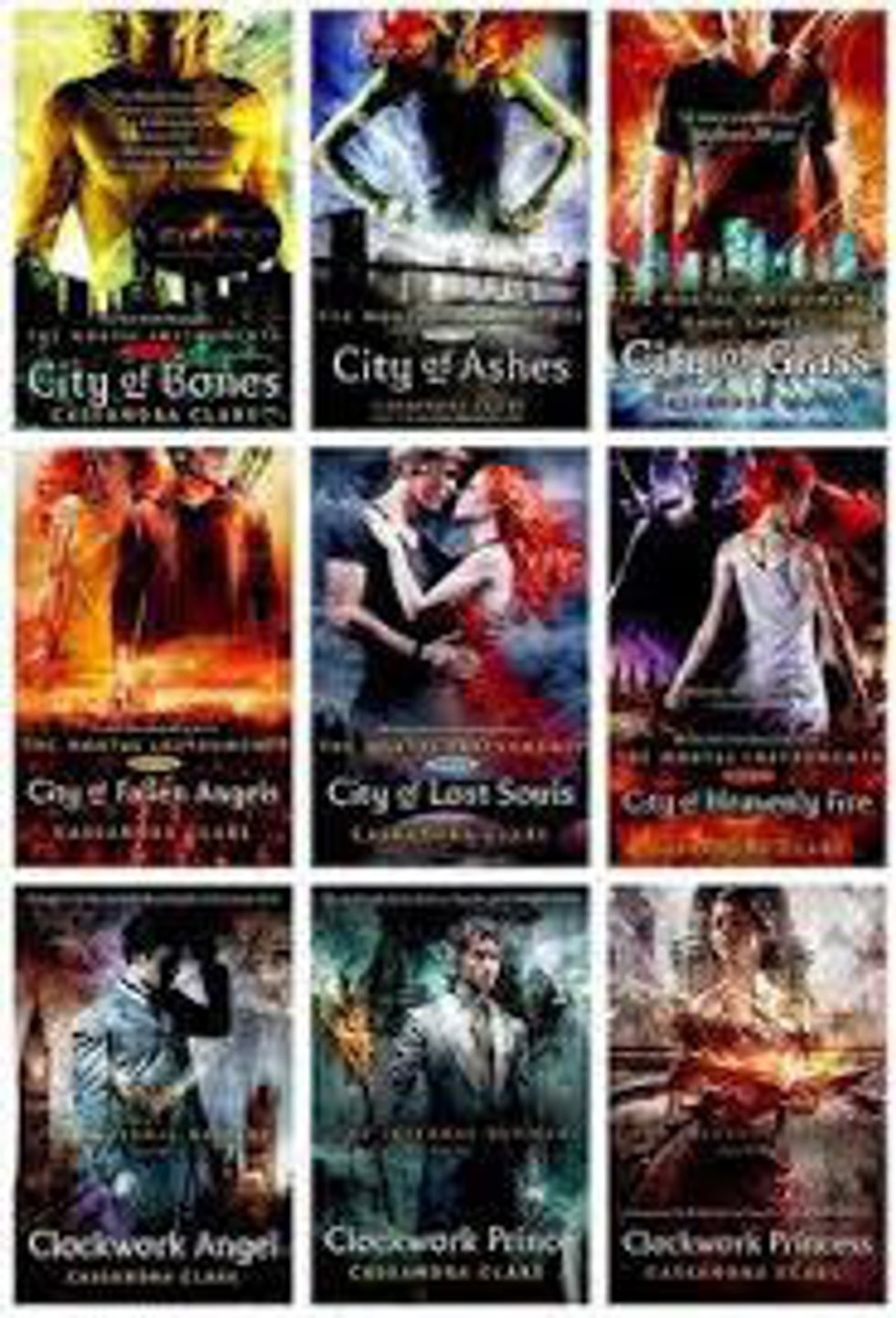 Seriously. Every book I've ever read by this woman - which all take place in the same universe - has an LGBTQ+ character in it, even if the only LGBTQ+ character in the book is one Magnus Bane, a "freewheeling bisexual", as he calls himself, who appears in pretty much every story. Let's not forget his boyfriend throughout The Mortal Instruments series, Alec Lightwood. Or his many lovers through the ages in his short story collection The Bane Chronicles. Or the openly bisexual Mark Blackthorn in Clare's new series The Dark Artifices. Two of her minor characters are a lesbian couple as well, and Cassandra has openly said she is planning on including a transgender and a genderqueer character in The Dark Artifices. This kind of representation set on a backdrop of demon hunters, magic, and fantasy galore is truly a mighty feat. I love these books so much.
5. The Song of Achilles - Madeline Miller

Based on the epic characters from Homer's The Illiad, this story is so beautifully written I cried multiple times at parts that weren't even supposed to be sad (and cried even harder at the parts that were). Told from the perspective of Achilles' lifelong companion and lover Patroclus, The Song of Achilles details their lives together, from when Patroclus was sent to live in Achilles' father's household to when they are sent to the battlefield together and beyond. It is heartbreaking, uplifting, gorgeous, and all together wonderful. The love between these two young men is so poignant and pure, it's hard not to fall in love with each of them yourself. I recommend this book to absolutely everyone.
6. Perks of Being a Wallflower - Stephen Chbosky

This is one of the very few instances you will hear me say the movie is just as good as the book (if not better in some cases). While the main character in this story is not gay, one of his best friends is, and I believe that earns it a spot on this list. This is another story that is absolutely heartbreaking and made me cry. Written in letter form, this book details the story of high school freshman Charlie, who has gone through some serious trauma and is trying to renegotiate life. He meets the wonderfully weird Sam and her equally ostentatious brother Patrick, both seniors, who easily take Charlie into their friend group. Another coming-of-age kind of story, this one holds a special place in my heart.
7. The Rest of Us Just Live Here - Patrick Ness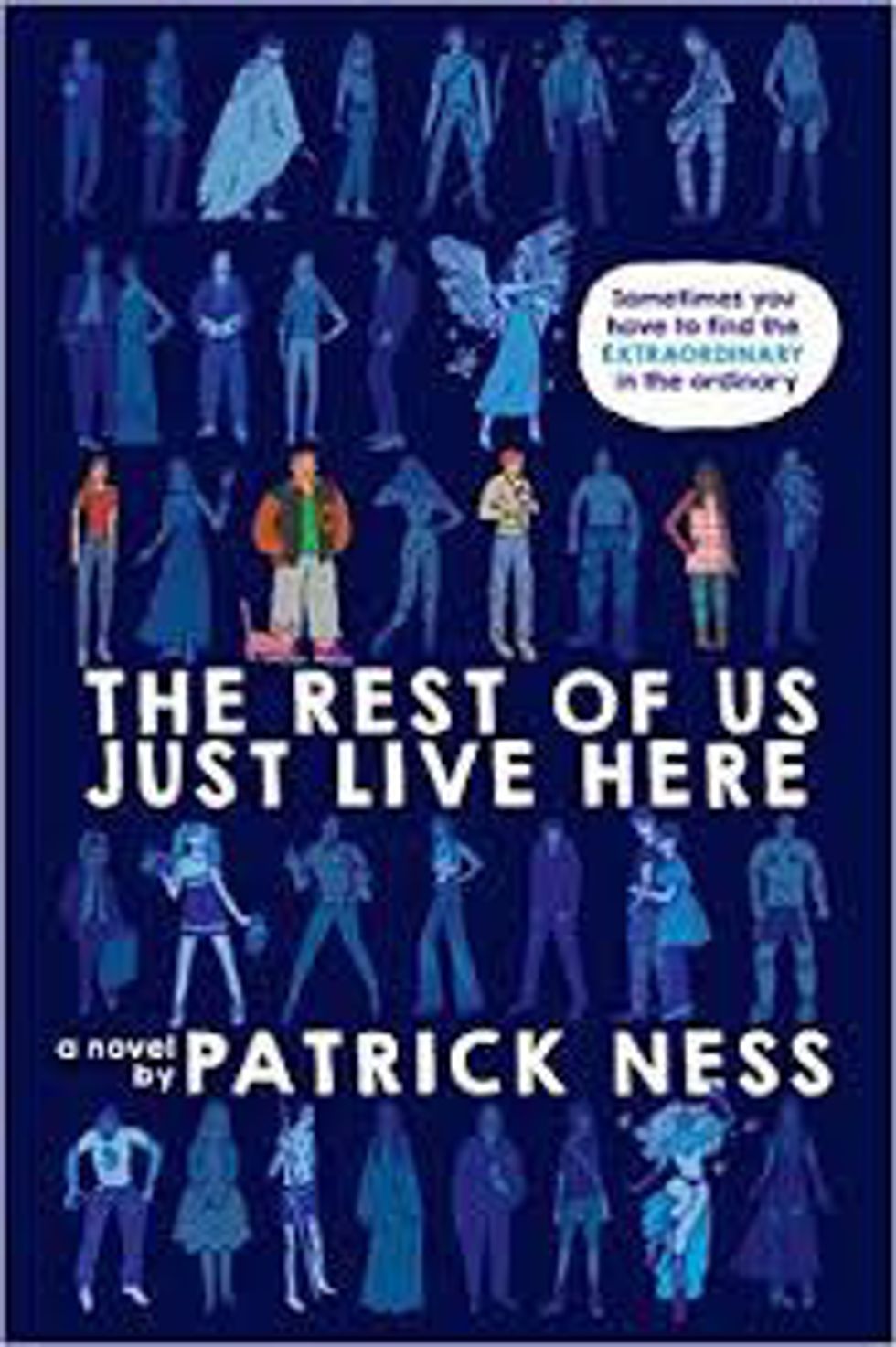 Another one with a gay character who isn't necessarily the protagonist, this book is truly unique in the kind of story it chooses to tell. In so many stories, the main character is the Chosen One, the person destined to defeat the evil and save the day. But what if you're one of the people who happens to go to school with the Chosen One, but aren't Chosen yourself? What is your life like? How do you cope with the constant weirdness and danger without being the one destined to stop it? This book explores those people and their lives, and it's a truly wonderful story (and if you've ever read anything by Patrick Ness, you know you're in for a doozy of emotions).
8. I Am J - Cris Beam

What I love about this story is how, while J does struggle with his gender, he never once refers to himself as anything other than a boy. He knows who he is; he just needs to learn how to navigate through the uncertain terrain of life with that knowledge. Without anyone to initially help him through this struggle, J tries to come up with his own ways to deal with his transgender identity, such as trying to make himself invisible and covering up the body he hates with multiple layers and an ace bandage. Eventually, he meets people like him, people who can teach him how to make his outsides look and feel like his insides (such as showing him how to bind correctly; seriously, kids, don't use ace bandages. It's terribly unsafe). A nice, compact story about a boy trying to be himself.
9. The Trials of Apollo: The Hidden Oracle - Rick Riordan



Riordan is another author who, like Clare, is really good about including diversity into his stories, though Riordan doesn't just deal with gender and sexuality, he also deals with race and disabilities, and isn't afraid to make those parts of his characters obvious and vital to who they are. In this book in particular, the main character, the Greek god Apollo, openly says his gender and sexuality are both very fluid. While I find him a pretty awful person, I think this representation is still kind of revolutionary, as Riordan's books are all aimed at a younger, middle school audience. Seriously, all his books have such diversity in them, such as most of the characters having dyslexia and ADHD, characters who are blind or deaf, characters with other physical disabilities, characters of every race, color, and size. It's truly amazing. Just go read all his books.
10. Nimona - Noelle Stevenson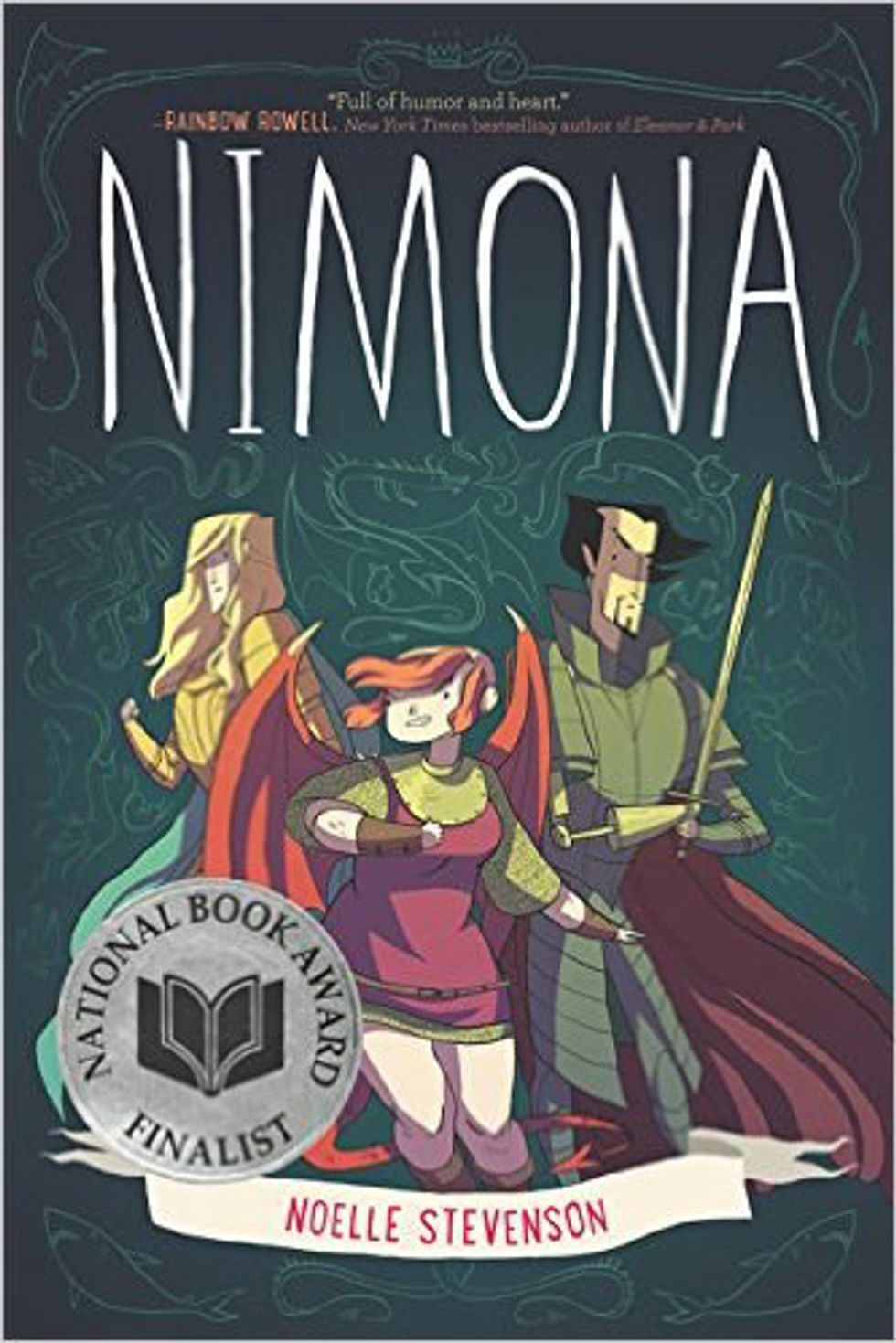 I love this book. Truly. It's fun, it's quirky, and the art style is a great representation of the kind of story it tells. It's a fantasy story like none other, with emotional poignancy and adorable characters. While none of the characters openly describe themselves as being queer, many people in the LGBTQ+ community have identified with them in that way. For example, the titular character, scrappy young shapeshifter Nimona, doesn't have any qualms about shifting from one gender to the other, and doesn't make a big deal about her own gender, either. The other two main characters, Goldenloin and Blackheart, both have pretty strong homosexual vibes, and the story hints pretty heavily at the two of them having had a romantic relationship in the past. Whether or not any of this is true, this story about a young sidekick teaming up with the old villain to try and take down the seemingly perfect hero is a true joy to read.
11. The Art of Being Normal - Lisa Williamson



Another wonderfully told story about trans youth David, who has told only two people in his life that he wants to be a girl. It isn't really until he meets Leo Denton, a boy with his own secret who just wants to be invisible, that David truly begins to see that what he wants can become a reality, if he's only brave enough to stand up for himself and his new friend. Another coming-out kind of story, but told in a new, refreshing way.
12. I'll Give You the Sun - Jandy Nelson

This is another truly beautiful book that made me cry like a baby late into the night. I read it in a day; that's how good it is. It goes back and forth between the perspectives of twins Jude and Noah, but Jude is telling it from them at 16, and Noah is telling it from them at 13. I thought this was a very unique way to tell the story of a young boy struggling with his crush on the boy next door and a teenage girl trying to find herself while struggling with her own relationship drama. Their stories intertwine in such beautiful ways, you almost forget it isn't the same story. I absolutely adored this book.
13. Carry On - Rainbow Rowell

I love Rainbow Rowell. I've read everything she's written. One of my favorite is Fangirl, the details of which don't matter to this article. But in Fangirl, the main character is in love with a Harry Potter-esque book series about this boy Simon Snow and his surly roommate Baz. When I heard that Rowell was going to write Simon's and Baz's story in her own words, I freaked out - and the book did not disappoint. You kind of have a feeling from reading Fangirl about how Simon's and Baz's story is going to play out, but there are so many twists and turns along the way that it still kept me on my toes. It's Simon's final year at Watford School of Magicks, and he is the Chosen One destined to do battle with the Insidious Humdrum. Problem is, Simon is a terrible Chosen One, with no discernible control over his powers, and a propensity to pick fights with his roommate Baz, who has secrets he tries desperately to hide. Sweet, fun, and full of plot twists, this is my favorite Rainbow Rowell story.
14. Symptoms of Being Human - Jeff Garvin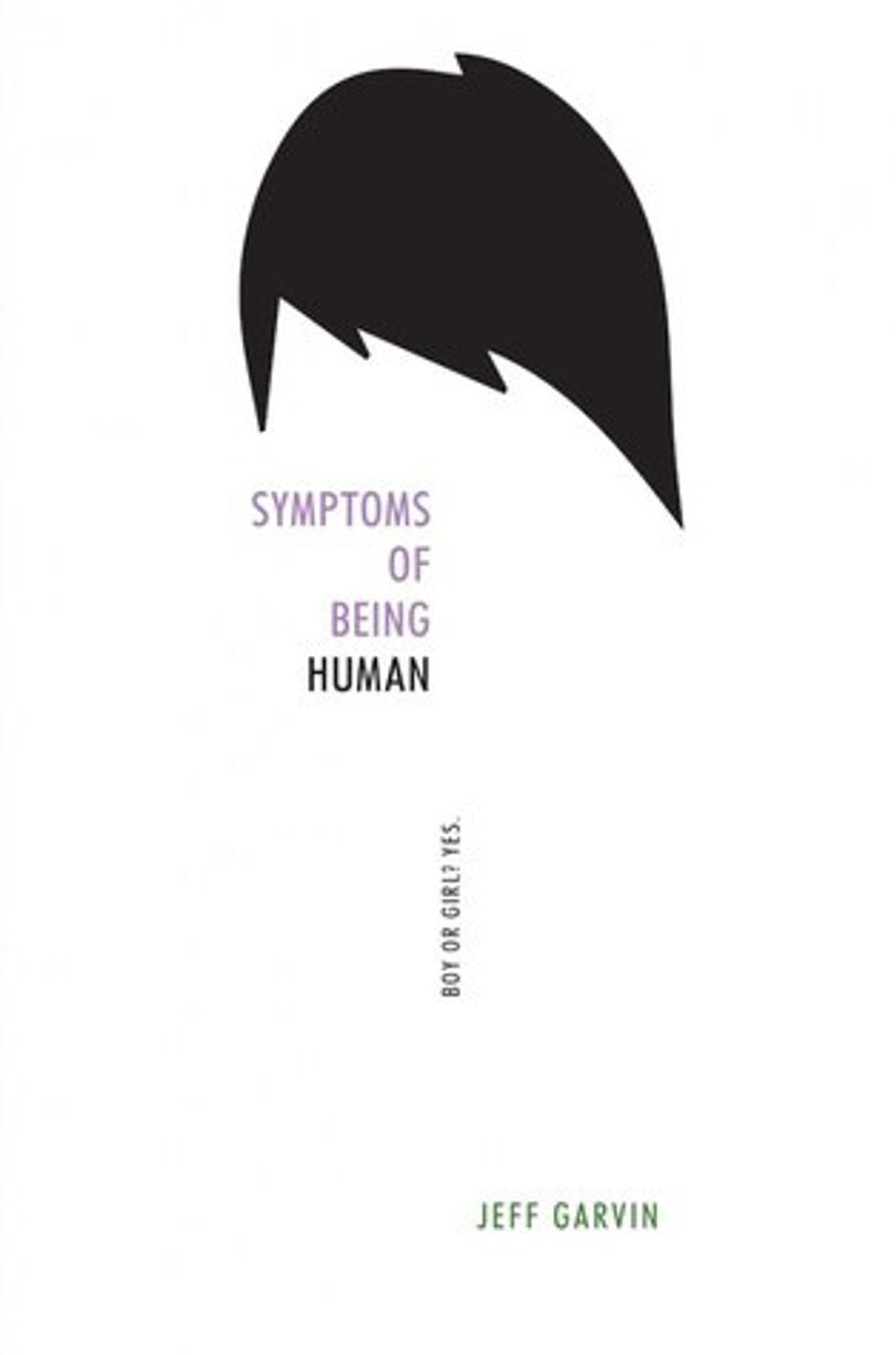 This book is a really interesting look at the life of Riley Cavanaugh, a genderfluid child of a prominent U.S. congressman. Riley starts a blog about what being genderfluid is like, and it's going pretty well - until the blog goes viral and everything is thrown out of whack. Before long, everyone wants to meet the mysterious author behind this groundbreaking blog. Riley struggles to work through not only high school and the finnicky gender binary, but also the stress of coming out. What's interesting about this book to me is that it never reveals the gender Riley was assigned at birth. In most stories of this kind, something about the story tends to give it away. But not here. That's because, in the end, it doesn't matter what everyone else thinks of Riley; what matters is what Riley thinks of Riley.
15. Two Boys Kissing - David Levithan
This book is truly, truly unique and powerful, and I mean that in all of the best ways. For starters, the narration is something I've never seen done before, where the narrator is not one person, but a chorus of voices, the voices of all the queer men who came before, who died of AIDs, and who look down at the boys in this story with love, affection, and pride. The story itself is also unique, with the intertwining of different stories that all connect by one event - two boys trying to break the world record for longest kiss. The side stories around this main one are equally as important, and equally as moving. This book is amazing and sends a very powerful message through the voices of those who loved and lost.
16. Aristotle and Dante Discover the Secrets of the Universe - Benjamin Alire Saenz

This is one of my favorite stories of all time, if only because the writing and the story are so beautiful that I read this story in a day, cried over it for three, and then immediately picked it up again. I am still having a crisis over how good this book was, and I can't even say why it struck such a strong chord with me. It is the simple but breathtaking story about Aristotle Mendoza and Dante Quintana, two Mexican-American boys who meet unexpectedly one summer and develop a slow but immensely satisfying relationship, conjuring up feelings neither of them can fully put into words, and asking questions about who they are. Ari especially has a lot of trouble as he comes to terms with his race, his sexuality, and his family dynamics. It's a beautiful coming-of-age story that is written so brilliantly, with such a breathtakingly simple story that cuts through all the bullshit in something that can only be described as prose poetry. These two boys will always have a place in my heart.
There are many, many more stories out there with LGBTQ+ characters and themes. Sometimes they hide behind the best-sellers; sometimes they are the best-sellers. But if you feel alone, or lost, or scared, or confused, and need someone to turn to, just know that there are characters like you out there; you just have to go and find them. Keep reading, keep living, and keep loving both others and yourself to the best of your ability.