Talk to anyone about Seychelles and they will start going on about how it is a honeymoon paradise and oh, so expensive. They will also tell you that it is a completely inappropriate place for solo travelers and one should only visit here with a lover or a significant other.
Well, I recently went to this gorgeous island and I would like to burst the myth of this honeymoon paradise. Yes, Seychelles is slightly expensive, but only if you are looking to stay in resorts or hotels. If not, then you can easily explore this beautiful place on a decent budget. Also, this place is a goldmine for backpackers and solo travelers because there is so much to do. You are bound to meet so many beautiful solo travelers or locals on the way which wouldn't even make you feel the need to travel with a partner.
Want to travel out to this place alone? Here are a few pictures of ways you can dodge the hefty prices and have a great time.
1. Opt For Couch-surfing or Self-Catering Apartment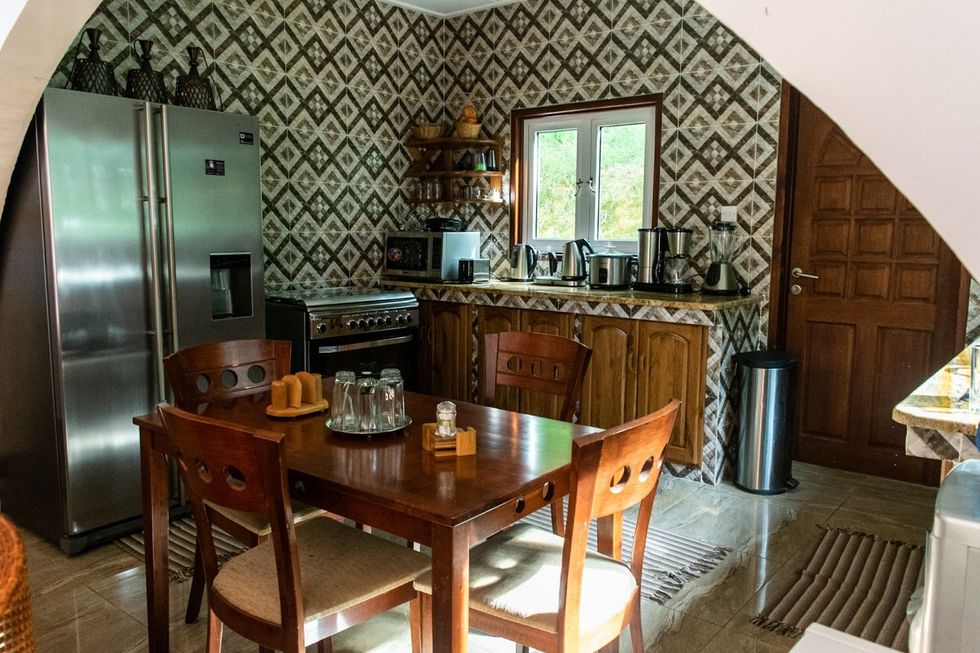 Self-Catering Apartment in La Digue
If you truly want to experience the true Seychelles feel then you have to stay in a self-catering apartment or find a couch-surfing host for yourself. This will allow you to interact with the locals and learn more about this beautiful country. While finding a host might pose a difficulty for you, you will easily find self-catering apartments which will be quite economical and comfortable too.
2. Try the Local Creole Cuisine at Takeaways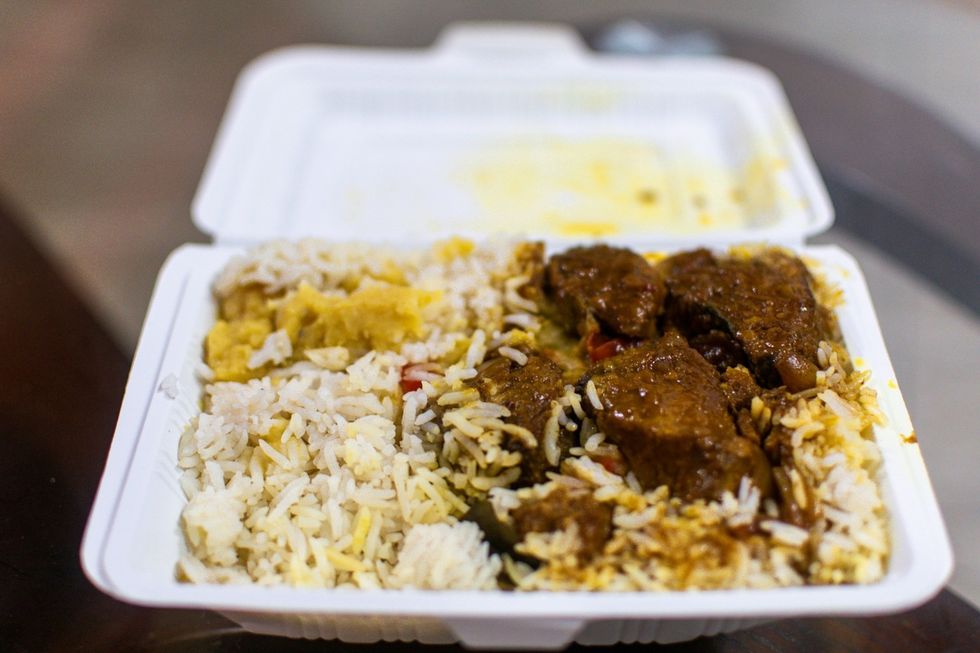 Creole Takeaway
Visiting Seychelles without exploring the local food cuisine is a big mistake because, trust me, their food is delicious. You will fall in love with their curries and seafood and would never want to stop eating it. What's more, most of these food items are cheap, especially if you purchase it from a takeaway shop so you don't have to worry about your budget too.
3. Be Open to Meet New People and Travel with Them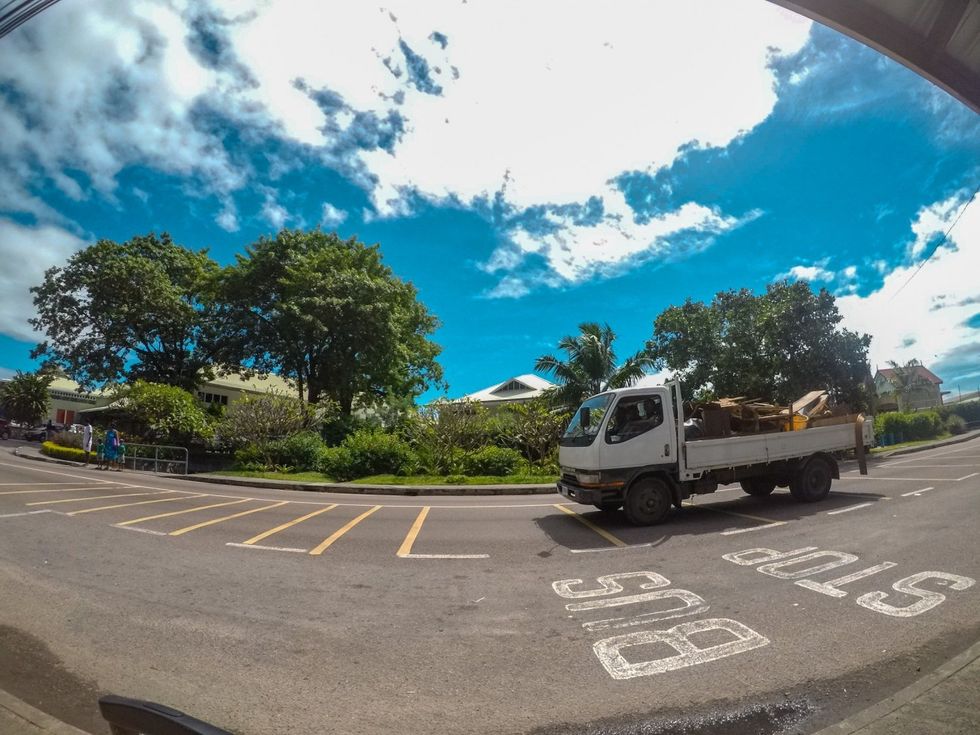 Hitchhiking in Seychelles
Seychelles is a friendly country where people are really kind and helpful. If you have any trouble or confusion about a route or a place, simply ask a passerby and they will gladly help you out. You might also come across a few beautiful souls who would drop you off to a place if they see you stranded on the road.
So, don't hesitate to take help and do try hitchhiking here. Trust me, people are really helpful and kind here and won't leave you stranded in the middle of an empty road.
4. Explore the Islands Using the Public Transport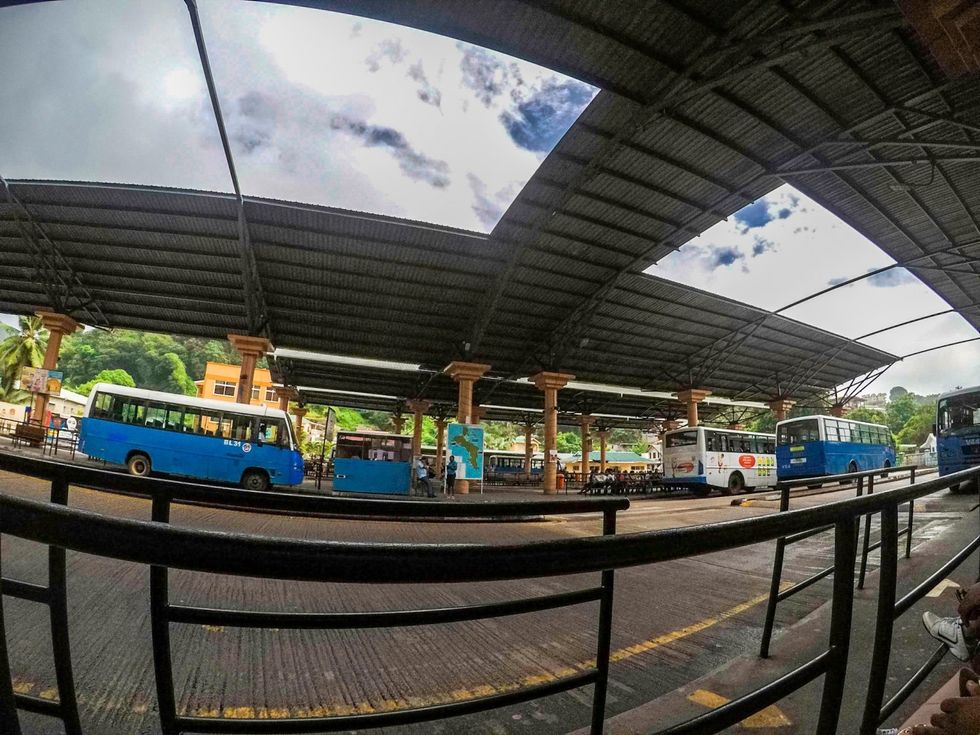 Victoria Bus Terminal
One of the best things about Seychelles is that it has an affordable and well-connected bus network. So, be sure to use it. You will also find bus timings and routes available on SPTC website, which makes it easier for you to travel and the cost is just 7 Seychellois Rupees for all stops.
Yes, you heard me right. Get down at any stop, you just have to pay 7 Seychellois Rupees which is extremely cheap.
5. Cycle the Island During the Night Time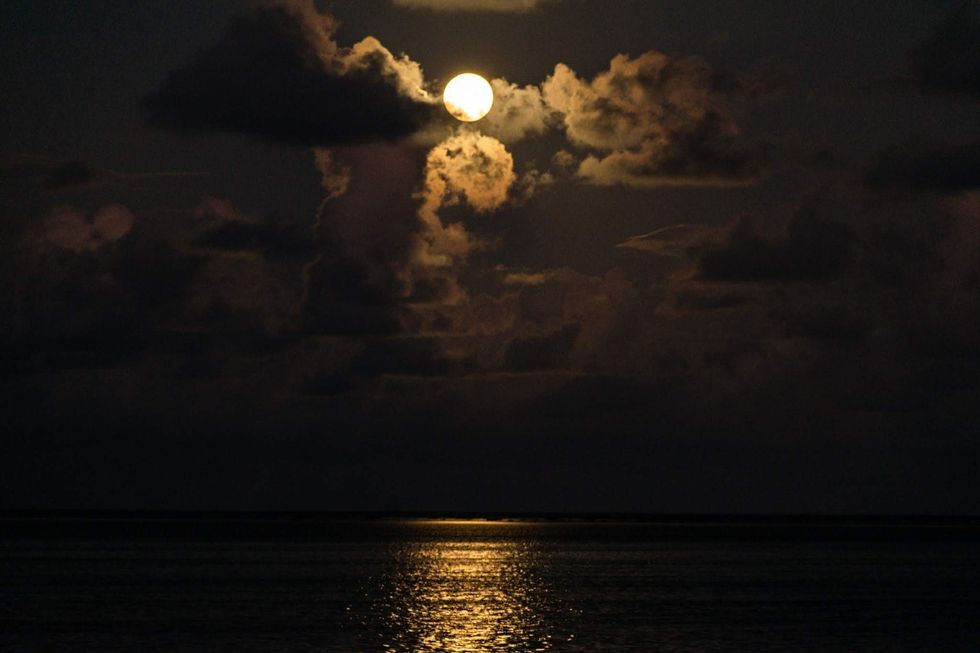 If you haven't cycled in La Digue during the night then you have truly missed out on one of the most beautiful experiences ever. The roads are silent at night and cycling on these roads can be quite exciting. Especially, if you see the moon is reflected in the ocean when you pass a beach on the way.
*Sigh*
It is truly a magical feeling and guess what, you don't need a partner for this!!
6. Take Your Scuba Diving or Snorkeling Gear to Experience the Water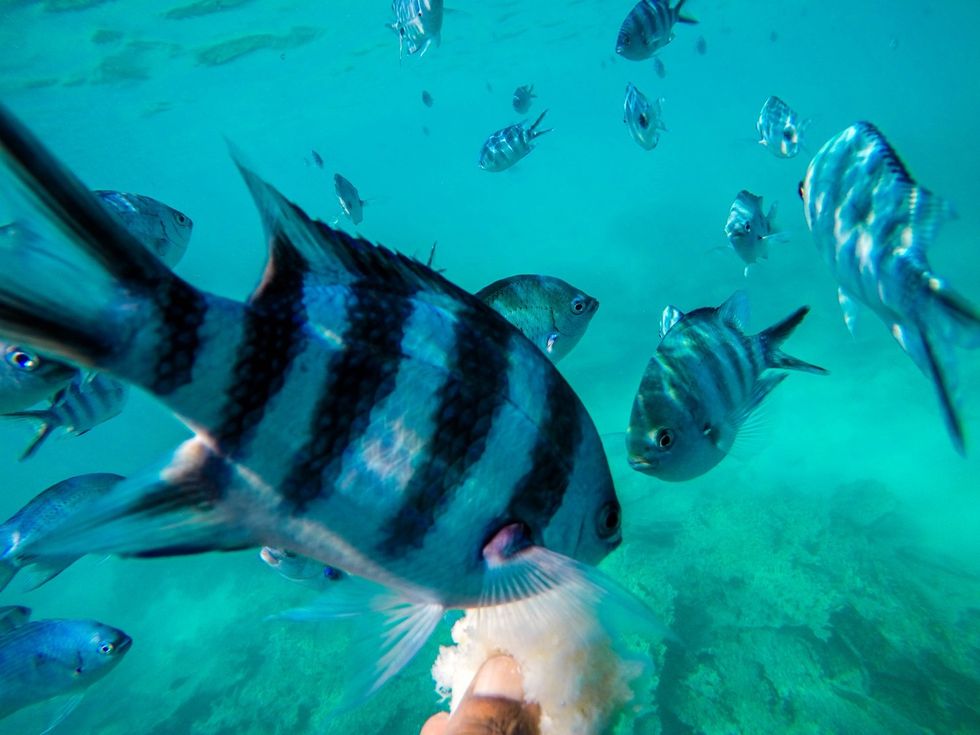 Snorkeling in Seychelles
Seychelles is known for its turquoise blue waters and the plethora of gorgeous corals found inside the Indian ocean. This is why it is said to be one of the best places for snorkeling or scuba diving. If you have always wanted to experience a beautiful underwater adventure then get your scuba/snorkeling gears on and get out in the water.
You can also take fun dives or Snorkeling sessions here through the various Scuba Diving centers available here.
7. Explore the Beautiful Beaches around Here
I am not exaggerating when I say that this place has one of the most gorgeous beaches ever. I mean, seriously, the beaches here are going to leave you spell-bounded and will make you wish that only if you could stay here forever.
A few beaches that I would definitely recommend you to visit are the Anse Georgette (Praslin), Anse Source D'Argent (La Digue), and Sunset Beach (Mahe). Trust me, these beaches are perfect for relaxing and enjoy the beach view!
8. Go For Hiking Alone or With Other Travelers
You might not have expected this, but there are several hiking trails on the islands of Seychelles that you could embark on for a beautiful view. You can go on these solo or group up with other travelers and have an adventurous time here.
Most of the hiking trails are easy here and can be done without any expertise. If you are in Mahe, then be sure to go for the Morne Blanc trail which will lead you to the highest view point of the island. On La Digue, the hike to Anse Cocos is definitely a recommended one.
9. Interact With Locals and Learn about the Culture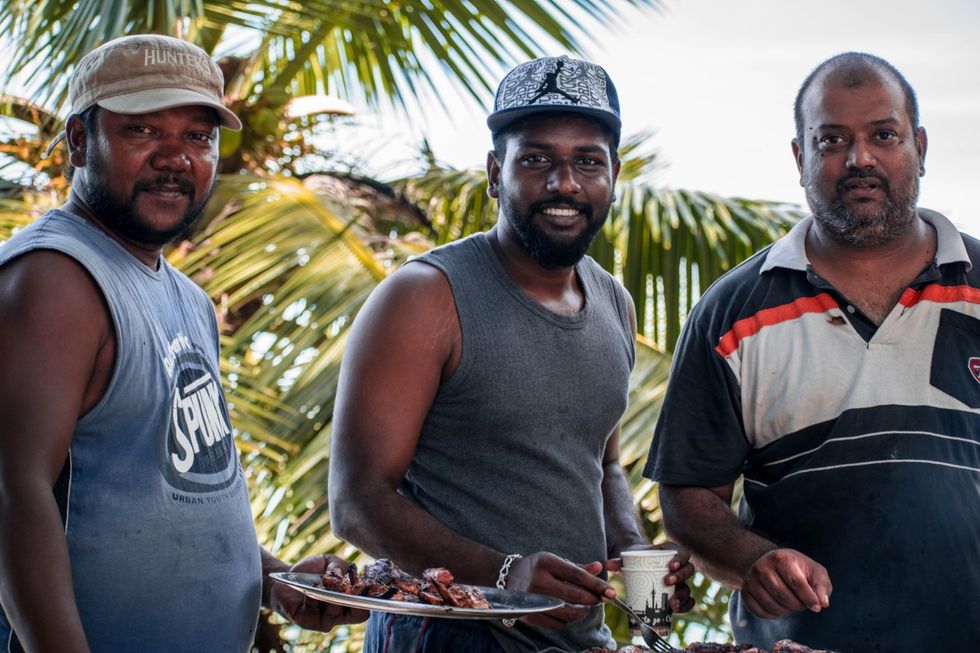 Barbecue Party at the Beach
If you truly want to know the best secrets of Seychelles then be sure to talk to the locals here. They will paint such a wonderful picture of this place and how it feels to live here.
Life on these islands is simple yet satisfactory and a perfect fit for people who want some solitude. Everyone is helpful and knows each other so it often resembles a large close-knit family. Learn how the French colonized the island, how it got its freedom and how this beautiful country ensures its law and order to maintain a safe environment for both tourists and locals.
10. Feed the Giant Turtles on La Digue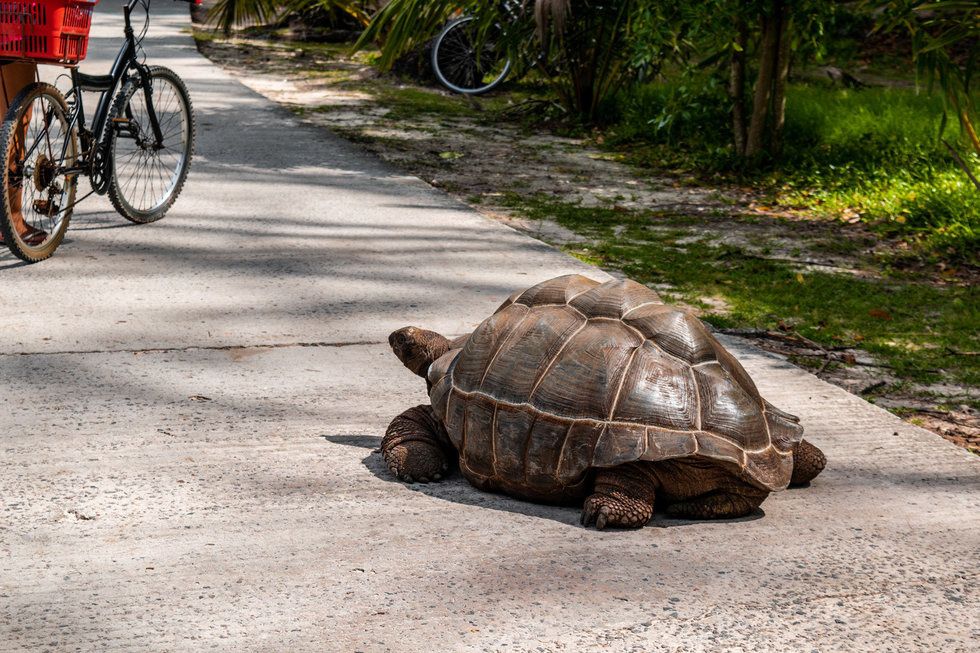 Giant Turtles in La Digue
Apart from the culture and food of Seychelles, another important thing that you should definitely do here is to feed the Turtles. You will find huge turtles here, on all the three islands and a separate turtle island which will be just amazing to watch.
While going to the Turtle island might turn out to be a little expensive, you can always experience this activity on La Digue. Here, you will find turtles moving about on the road and a properly established turtle farm where you can feed them leaves too.
11. Watch a Gorgeous Sunset at the Beaches
I have a particular weakness for beach sunsets and Seychelles is one of the best places to watch the most gorgeous sunsets ever. I can't even explain how truly beautiful it was to just sit on the beaches and watch the sun being engulfed inside the ocean.
The colors, the feeling, everything was just magical.
12. Observe the Unique Flora and Fauna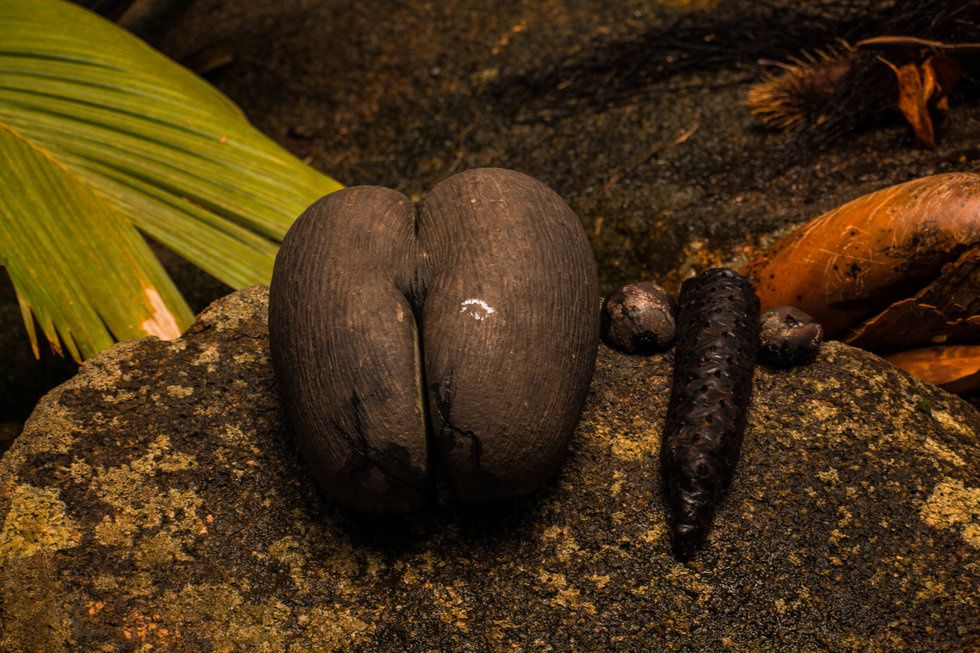 Coco De Mer - National Fruit of Seychelles
Seychelles is a unique country which is why it is only fair that it has a unique Flora and Fauna too. Coco De Mer is the national fruit of this tropical country and you will be just mesmerised by its structure and working. Apart from the different coconut breeds found here, you will also find a variety of birds, insects, and other interesting creatures here.
So, make sure that you make the most of it.

And guess what? You can experience all of these above activities without anyone accompanying you. So, make the most of your solo Seychelles trip and break the norm.