Reign is probably one of my all-time favorite television series, and while it's relatively new, it already has three seasons out (two of which are on Netflix) and it doesn't show signs of stopping. It is, however, a show stopper. Here are 13 reasons you should be watching Reign too.
1. It is Loosely Based on Real Events.
The fashion isn't exactly accurate, and no one has the correct accent or dialect, but it does follow the historical events and lives of Mary Queen of Scots and Francis, dauphin of France. It isn't a documentary for sure, and it's definitely an entertainment drama, but you can actually learn a lot about France and Scotland's history along the way!
2. The Actors are Fantastic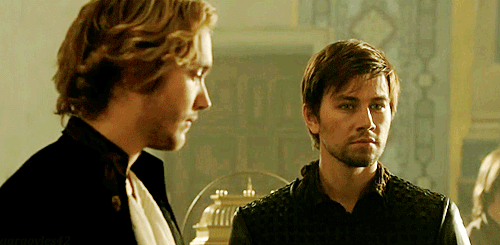 This is one of the best cast shows out there. Sometimes the script can be a little cheesy, but it is acted out beautifully and everyone on the show plays their part perfectly.
3. It Sends a Strong Message About Female Power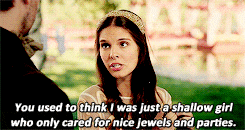 I mean, the show is about a Queen battling her love for her husband and love for her country. It's a difficult choice sometimes. The other female leads are also constantly standing up to the very real oppression women in 1600s Europe faced. It shows their struggle for independence and power in a world dominated by patriarchy with death as a consequence of speaking out.
4. It Has Plot Twists Galore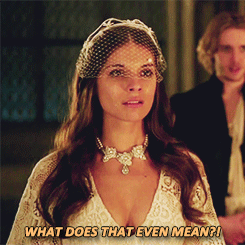 It is slow to start, but once it does, it really goes. It also leaves you on the edge of your seat at every episode, especially near the end. There is always a plot twist that you'll never see coming.
5. The Fashion is Incredible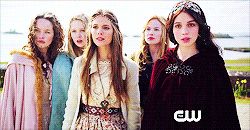 Like I said, it isn't necessarily historically accurate, but it is always on point for the female characters. The four female leads are always wearing extremely elaborate and delicate dresses that brilliantly reflect the tone of the episode or most recent plot point. Unfortunately, not much exciting happens for the male leads in the way of fashion, but there are definitely some interesting jackets thrown in, especially on the king.
6. Sarcasm and Sass are Abundant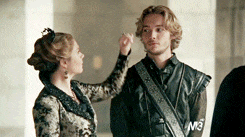 These characters aren't all serious or brooding over kingdoms 24/7. They are funny and ironic and give major side eye when it's needed. It's also a pretty comical show given the heavy material it's based on.
7. It Shows Us That Relationships Aren't Perfect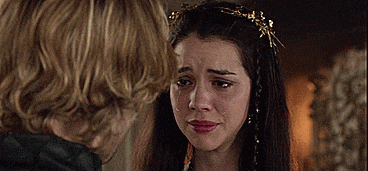 The main love story is a fantastic one, and if you don't tear up at some of the gooey lines between Mary and Francis, you probably hate puppies as well. But, it also shows their relationship at its worst moments and in times of extreme tension. It will give you a realistic view of what it means to stand by someone's side through thick and thin. I mean, if they can hold it together and run two countries, you can hold a twenty-first century relationship together.
8. It Has Just Enough Gore and Conflict to Please Everyone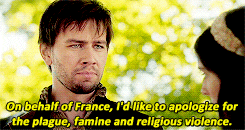 Yes, it is a drama, and yes, it is mainly about a romantic relationship, but it also has death, torture, war, famine, conflict, disease, and sword fighting with a hint of gore that will keep the less tender-hearted viewers entranced just as much as the hopeless romantics.
9. It Teaches You to Follow Your Heart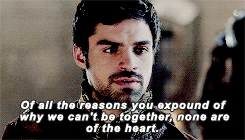 There are a lot of moments that will make you want to scream at the television in anger, but as the plot moves forward, you see the motives for the characters' actions, and realize that they were all just trying to follow their hearts and do what they thought best, which isn't a bad way to live, and we could all probably learn a thing or two from it.
10. It isn't Afraid to Tackle the Uncomfortable Issues
There are some very serious and traumatizing things that happen to the characters, but the show deals with them delicately, not shying away from them, but not trampling them either. It instead aims to provide comfort and understanding for the tough issues without being judgmental or taking a side.
11. It Has a Lot of Episodes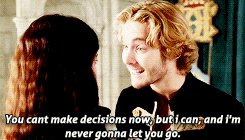 Each episode is about 40 minutes, and there are around 22 episodes per season, so you do the math. That's a lot of procrastinating school work you can do. And, trust me, you won't want to quit this show.
12. It Has the Best Show Soundtrack of Any Show, Maybe Ever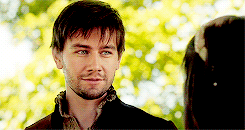 From Lorde to Mumford and Sons, the music in this show is really incredible. There are even entire youtube channels dedicated to the music featured on the series. It blends modern music with 1600s history in a truly exquisite blend of cultures.
13. It Reminds You That Even Queens Can Have Fun

Mary definitely isn't a traditional queen, and her energy as a character is always having fun and doing 'un-queen-like' things, from playing ball and climbing trees to taking hershoes off and dancing at fancy castle parties. It reminds us that if the Queen of Scotland didn't take life too seriously, neither should we!