I have always been a HUGE reader, and am one of those people who carries around a book with them wherever they go. However, in college, I haven't had the time to read much other than my textbooks, and have had to force myself to find time to read. Some of my friends have asked me what books to recommend for someone who hasn't gotten to read in awhile, unfortunately my taste in literature is a bit bland for most people my age. (Apparently Heart of Darkness and This Side of Paradise isn't everyone's cup of tea)

Luckily, over winter break, I've had the opportunity to read more, and read books outside of just the AP curriculum list. These books are captivating, and allowed me to get back into reading more than I've been able.
Here are 12 books that you should check out if you too are looking to get back into reading. (In no particular order)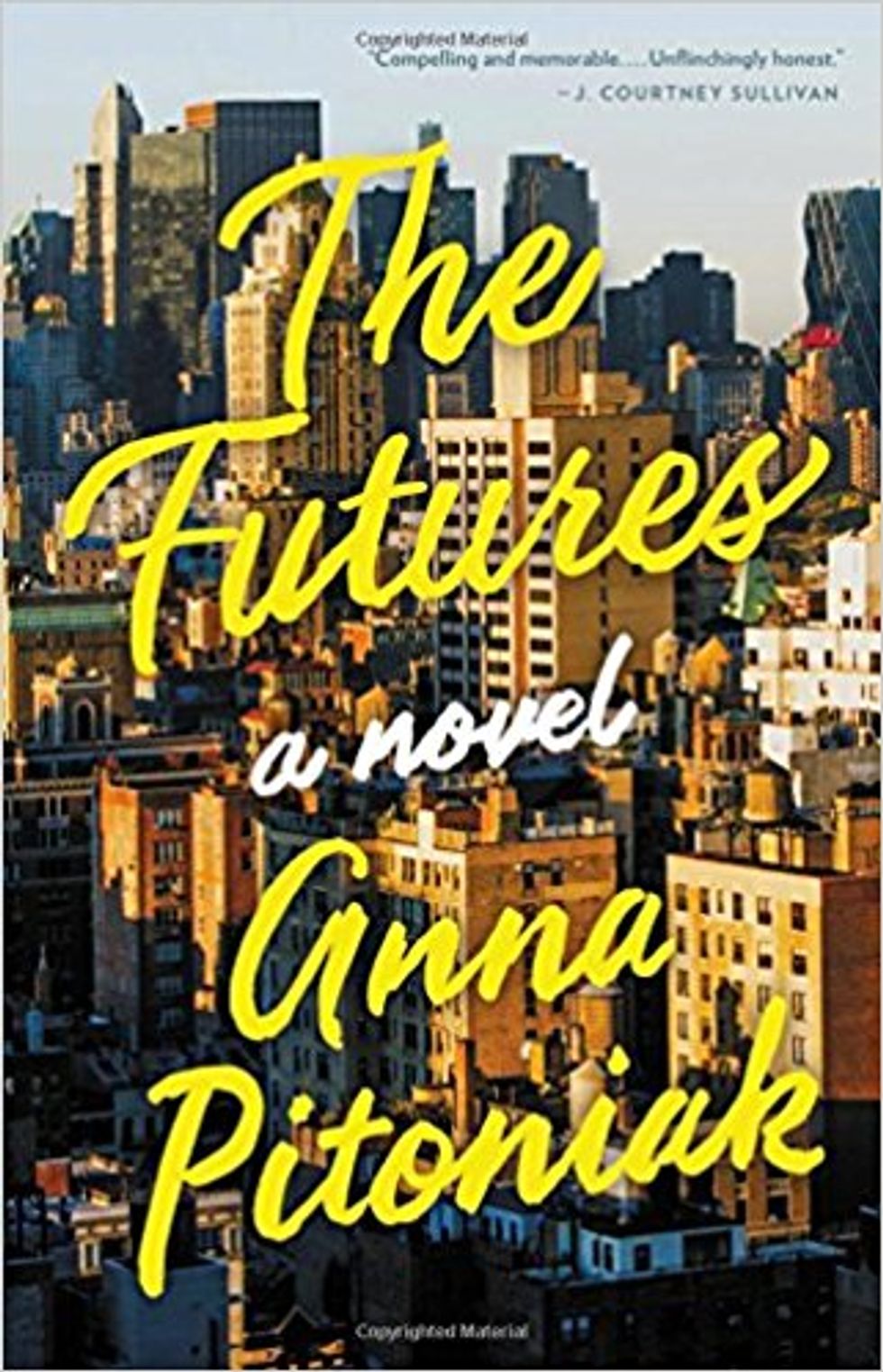 The Futures follows young couple Evan and Julia after the graduate from Yale and begin to figure out who they are, and what it means to be thrown in to the real world. It switches between perspectives as Evan and Julia ponder if what they have is what they really want in life. Evan is from a rural town in Canada, and has envisioned a future for himself where he is 'successful' and all of the pieces of his life fall into place. After college, he lands a competitive job at a hedge fund, and gets involved in a risky business deal, making him question his idea of success. Julia comes from a wealthy family and graduates with an art history degree, and no idea what she wants to do in life. This novel focuses on two opposite ends of life after college: having everything figured out, and having no idea what you want out of life.

Quote from book: "It's so tempting. Being told: this is who you are. This is how your life will go. This is what will make you happy. You will go to the right school, find the right job, marry the right man. You'll do those things, and even if they feel wrong, you'll keep doing them. Even if it breaks your heart, this is the way it's done."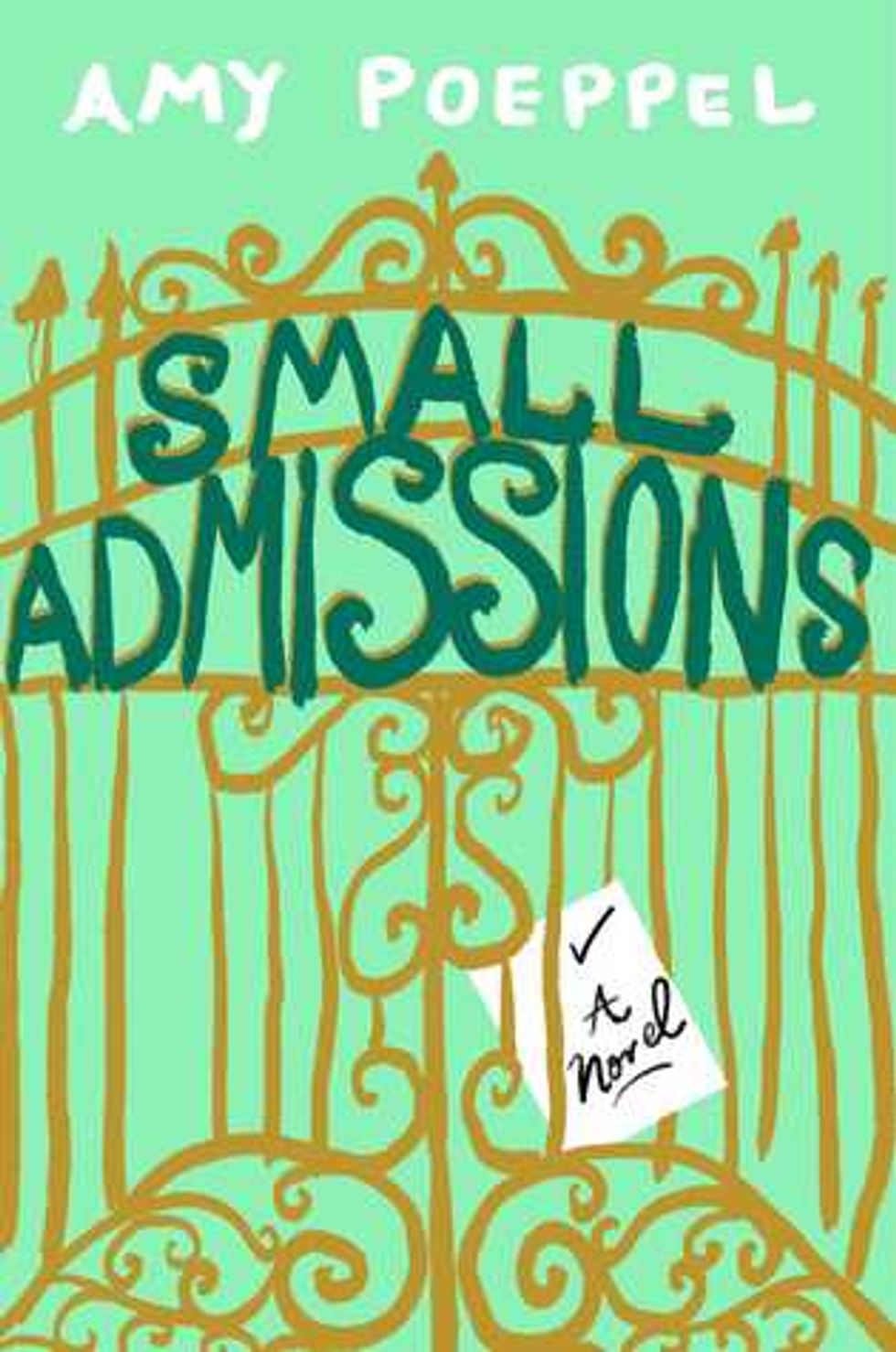 The protagonist, Kate, does not deal well after quitting graduate school to live with her boyfriend in Paris, and then being broken up with by her 'almost fiancee' and finds herself unable to do much of anything, other than be an occasional dog walker. Kate's friends and family all have different ideas of how to help her- all while fostering secrets of their own. Eventually, Kate is forced to go on a job interview at a private school as the head of admissions, and somehow lands it, even though it went seemingly poorly. She interviews a variety of different students, and learns a lot about herself and others in the process. This book manages to be lighthearted and comedic, while dealing with drama and betrayal.
*I couldn't find quotes online for this, and I turned in the book to the library already, but I promise - IT IS SO GOOD. It's light hearted, funny, and perfectly describes getting out of a funk.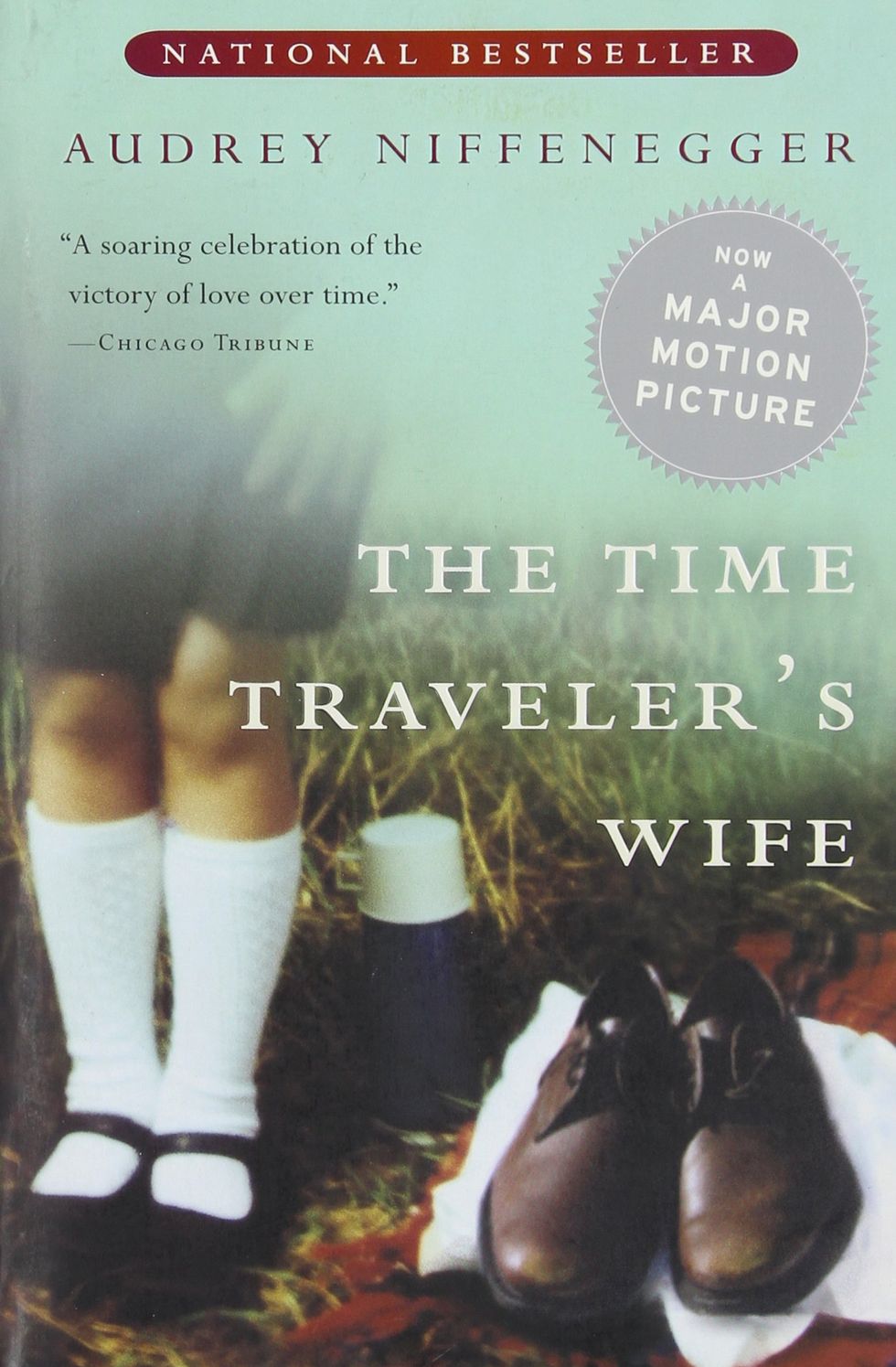 Preface: This one is a bit more controversial as if it ranks as a 'good' book or not. Personally, I absolutely LOVED this book. I first read this book when I was maybe 14 (It's a little 'adult' for a 14 year old, but I read it anyway), and thought the foreshadowing was extremely well done and intriguing. I also happen to find the concept of time travel exciting, and I liked how it was done. There are only two issues I have with this book, if you decide to read it: 1. The female protagonist's name is spelled "Clare" and I spell my name "Claire," so I had some issues adjusting to the different spelling of my own name. and 2. There's a bit of name dropping, and references that are really pretentious, so it can be a bit off putting if you're easily annoyed by things like that.
Synopsis: The Time Traveler's Wife follows Henry (the time traveler) and Clare, who meet for the first time twice: when Clare is six and Henry is thirty six and time traveling, and in real time: when Clare is twenty, and Henry is twenty eight. When Henry is young, he begins to time-travel, and frequently finds himself in different places/times in a blink of an eye. Clare is born into a wealthy family, and first meets Henry when she is six years old, and he time travels into her family's meadow. Henry is thirty six at this time, and gives Clare a list of dates that he will return to the Meadow in the future. This sets up a story where all of Clare's memories of Henry are in the past when she meets him for the first time, yet all of his memories of her are in the future. (As he hasn't traveled to the Meadow to meet her yet, at twenty eight) This book depicts the nature of their relationship, and how it has all been intertwined with Henry's time travel. It deals with them striving to lead a normal life, yet understanding the inevitability of their life ever being normal. (I probably did a really bad job explaining this, but it's a complex novel.) (This is also a movie, but the book is SO MUCH BETTER.)
Quote from book: CLARE: "Long ago, men went to sea, and women waited for them, standing on the edge of the water, scanning the horizon for the tiny ship. Now I wait for Henry. He vanishes unwillingly, without warning. I wait for him. Each moment that I wait feels like a year, an eternity. Each moment is as slow and transparent as glass. Through each moment I can see infinite moments lined up, waiting. Why has he gone where I cannot follow?"
HENRY (on the same topic) : "I hate to be where she is not, when she is not. And yet, I am always going, and she cannot follow."
4. Fangirl by Rainbow Rowell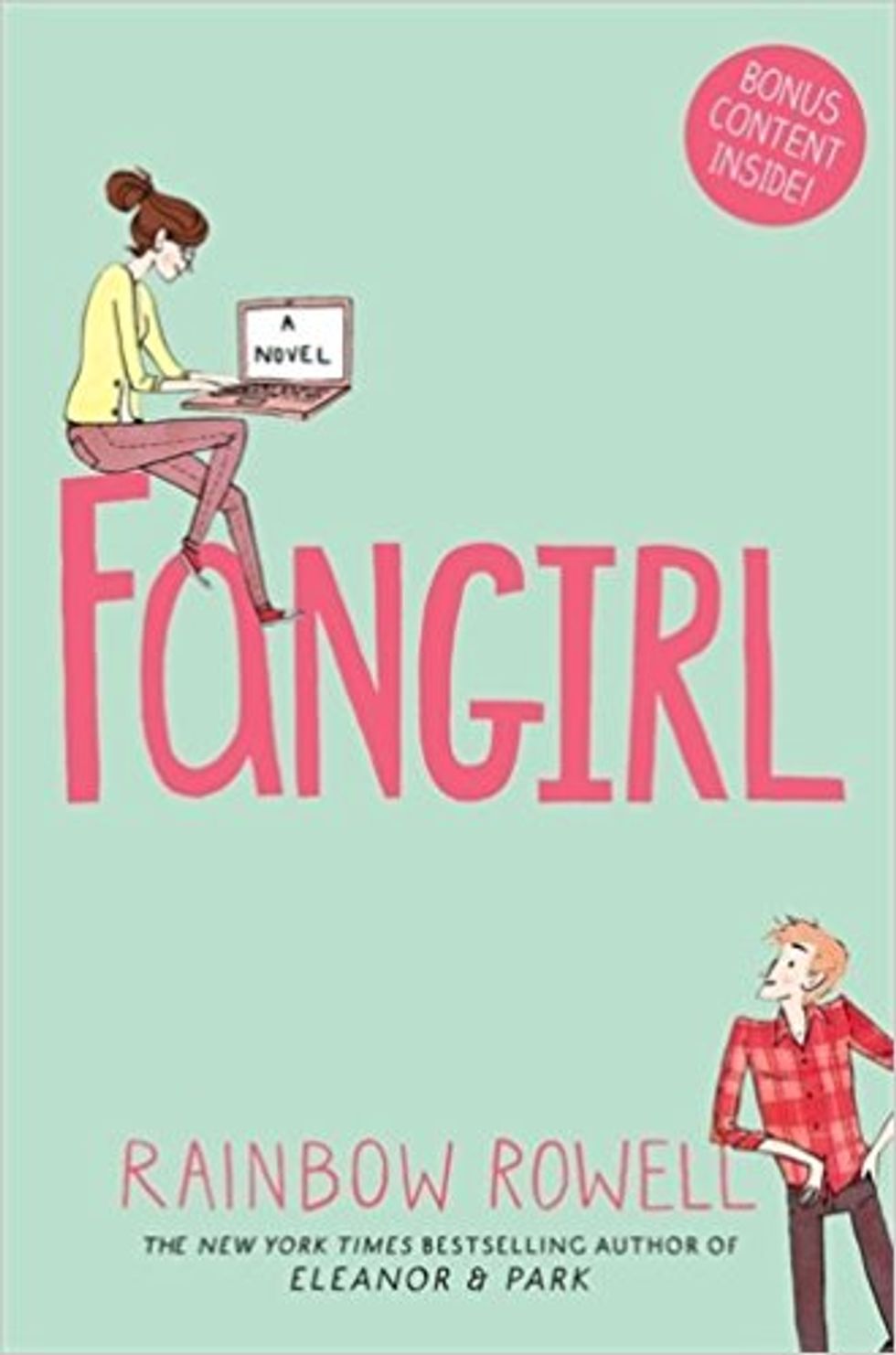 Cath and Wren have always been joined at the hip, they're identical twin sisters after all. Cath and Wren both decide to attend UNL (University of Nebraska- Lincoln- GO HUSKERS!) however do not room together, as Wren decides they both need to branch out. Cath decides to lose herself in the world of Simon Snow, a book series that she and Wren both loved, instead of figure out who she is in college. (The Simon Snow series reads a lot like the Harry Potter series). Introverted Cath isn't quite sure what to do about several things she's been faced with since arriving to college: her roommate's lanky boyfriend that always seems to be around, her English professor who won't allow her to write Simon Snow fanfiction for assignments, or her father who has always depended on the girls since their mother left. Cath is also unsure if she can face the future of growing up, especially if it means she has to leave behind her fanfiction characters.
Quote from book: "Real life was something happening in her peripheral vision."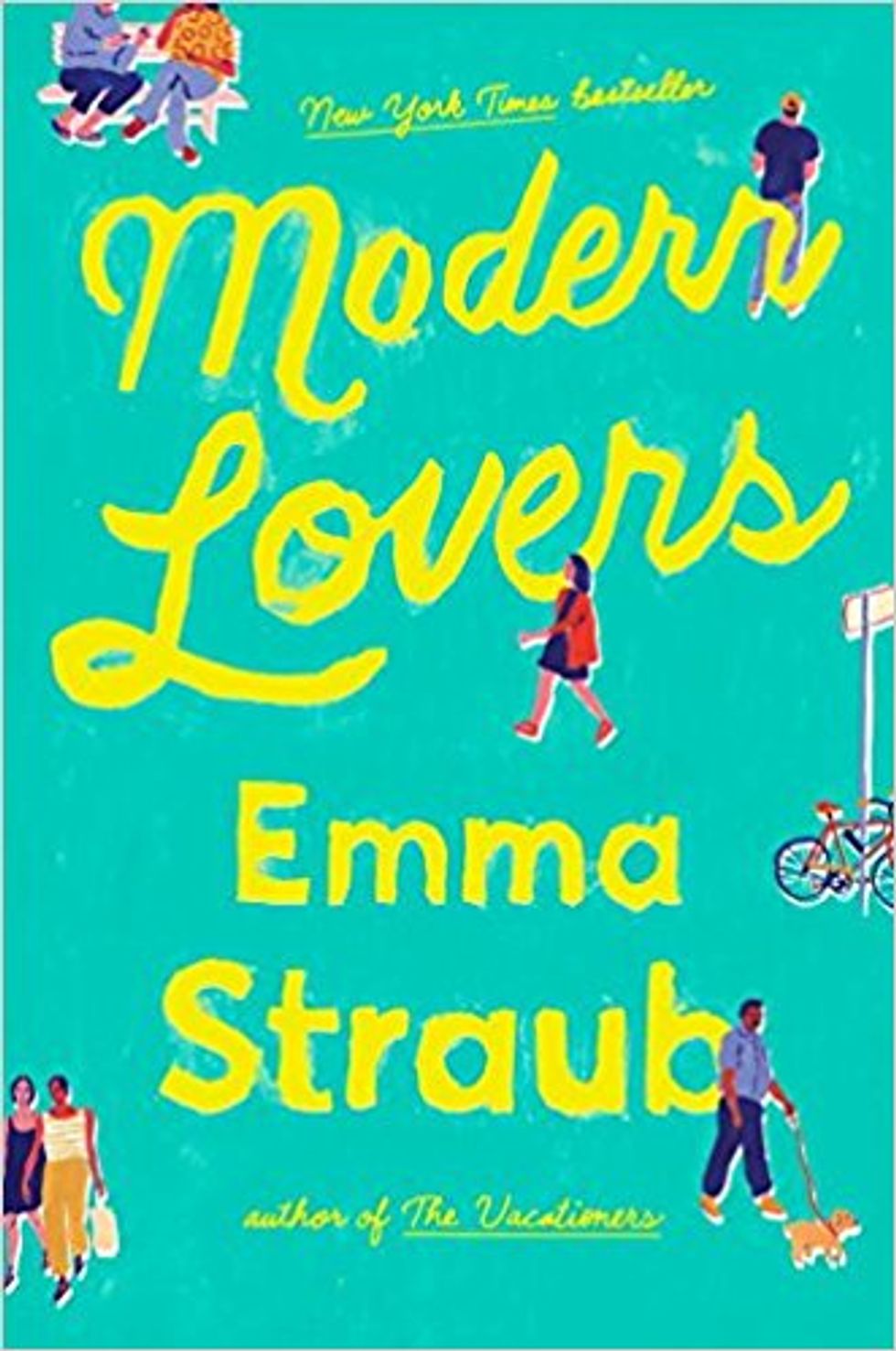 Modern Lovers follows former bandmates Andrew, Zoe, and Elizabeth after they've grown up and moved into Ditmas Park, a now gentrified Brooklyn neighborhood. Life has gone pretty well for the bandmates since their more rebellious days, at least until their children start to become adults, and they realize they may have some more growing up to do themselves. Faced with the upcoming documentary about their deceased former bandmate, life forces them to evaluate the decisions they made in the past, as well as cling to secrets from the past. This novel switches perspectives, and allows an insight into many different lives within one neighborhood.

Quote: "Choices were easy to make, until you realized how long life can be."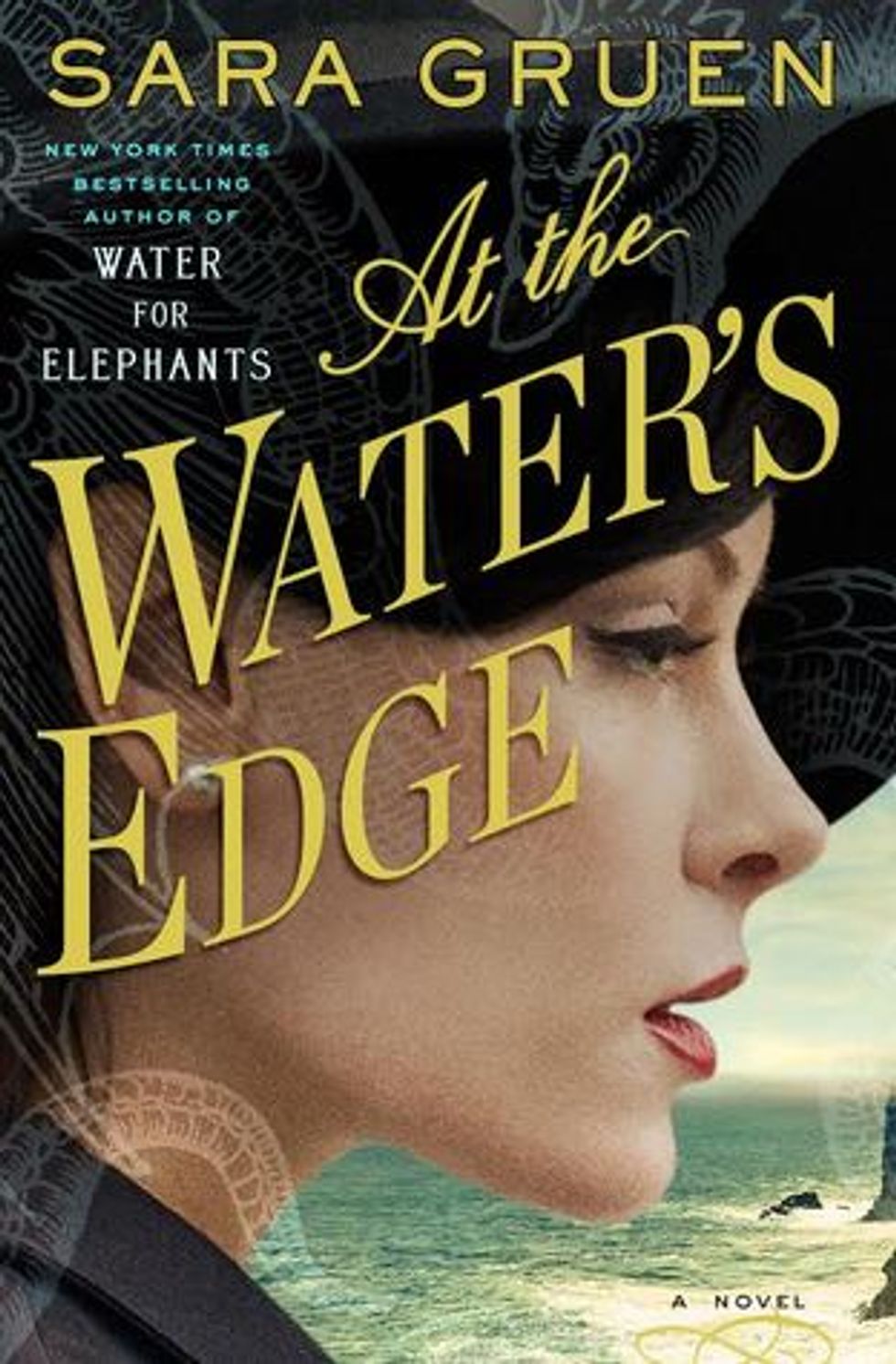 Maddie and Ellis Hyde are financially cut off by Ellis's father after making a drunken scene at a 1942 New Year's Eve Party. Ellis's father is a retired army colonel who harbors a dislike for his son after Ellis discovered he was colorblind, making him unable to serve in WWII. Ellis decides that the only way to regain his father's approval is to succeed in finding the Loch Ness Monster: a venture his father very publicly failed at. This being decided, Ellis drags Maddie, and his wealthy friend Hank to Scotland during wartime. Every day, the men decide to look for the Loch Ness Monster while leaving Maddie in the company of the people running the hotel. While forming these relationships, Maddie becomes more socially aware and begins to question everything she has known about her life with Ellis, and the life she has become accustomed to in America.
Quote: "Life. There it was. In all its beautiful, tragic fragility, there was still life, and those of us who'd been lucky enough to survive opened our arms wide and embraced it."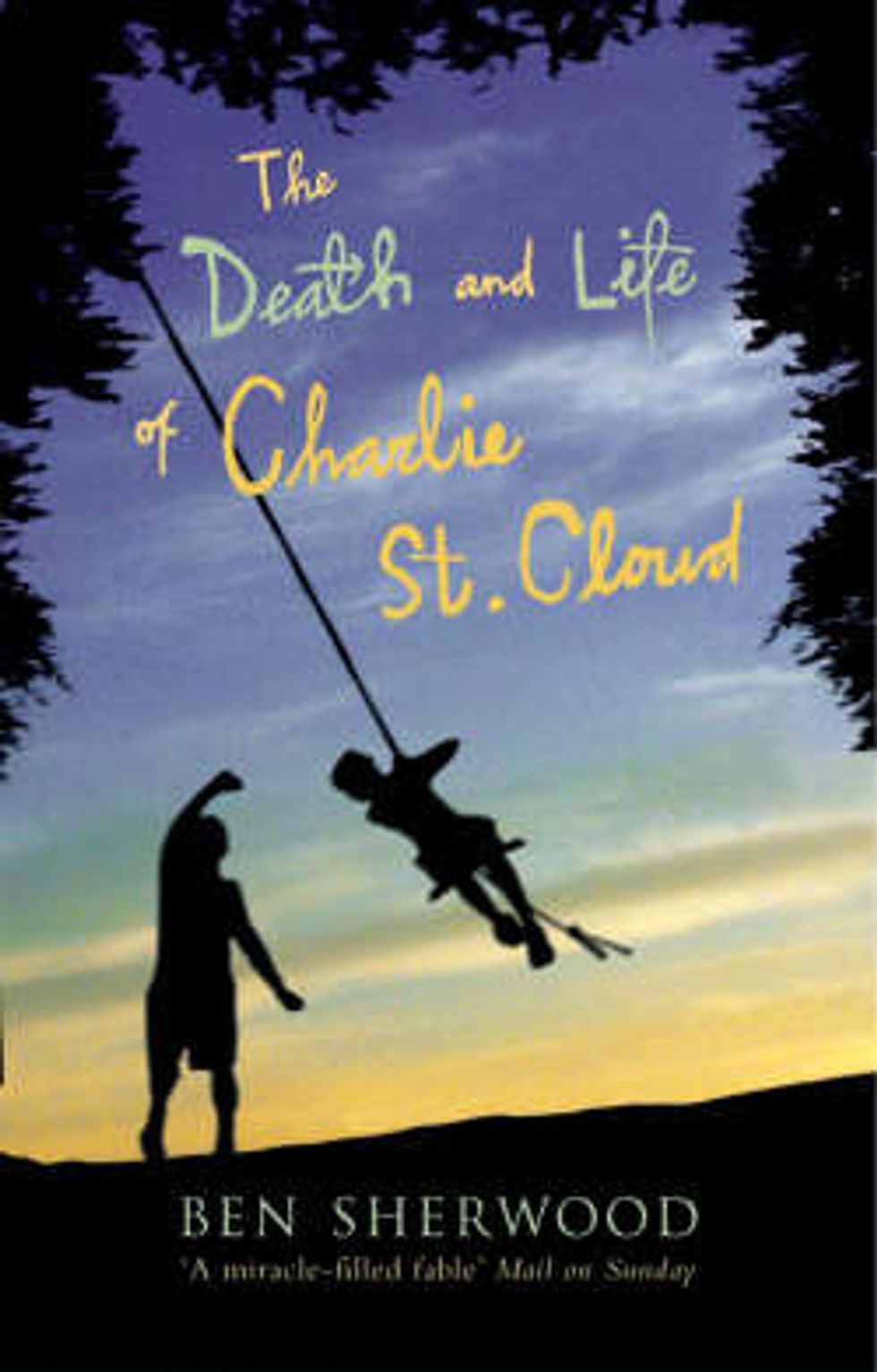 Charlie St. Cloud is lucky to survive the horrible car wreck that killed his brother, Sam. However, this near death experience leaves him with an ability to still see those who have died, including Sam, who he plays catch with every day. Charlie's life is shaken with the arrival of Tess Carrol, a woman he went to high school with, whose re-entrance into his life drags him out of his usual routine. Tess forces him to evaluate the line between life and death, and holding on to the past or letting go.
Quote: "Most of all, I miss that feeling when you go to sleep at night and when you wake up in the morning. It's that feeling that everything is all right in the world. You know, that amazing feeling that you're whole, that you've got everything you want, that you aren't missing anything. Sometimes when I wake up, I get it for just a moment. It lasts a few seconds, but then I remember what happened, and how nothing has been the same since"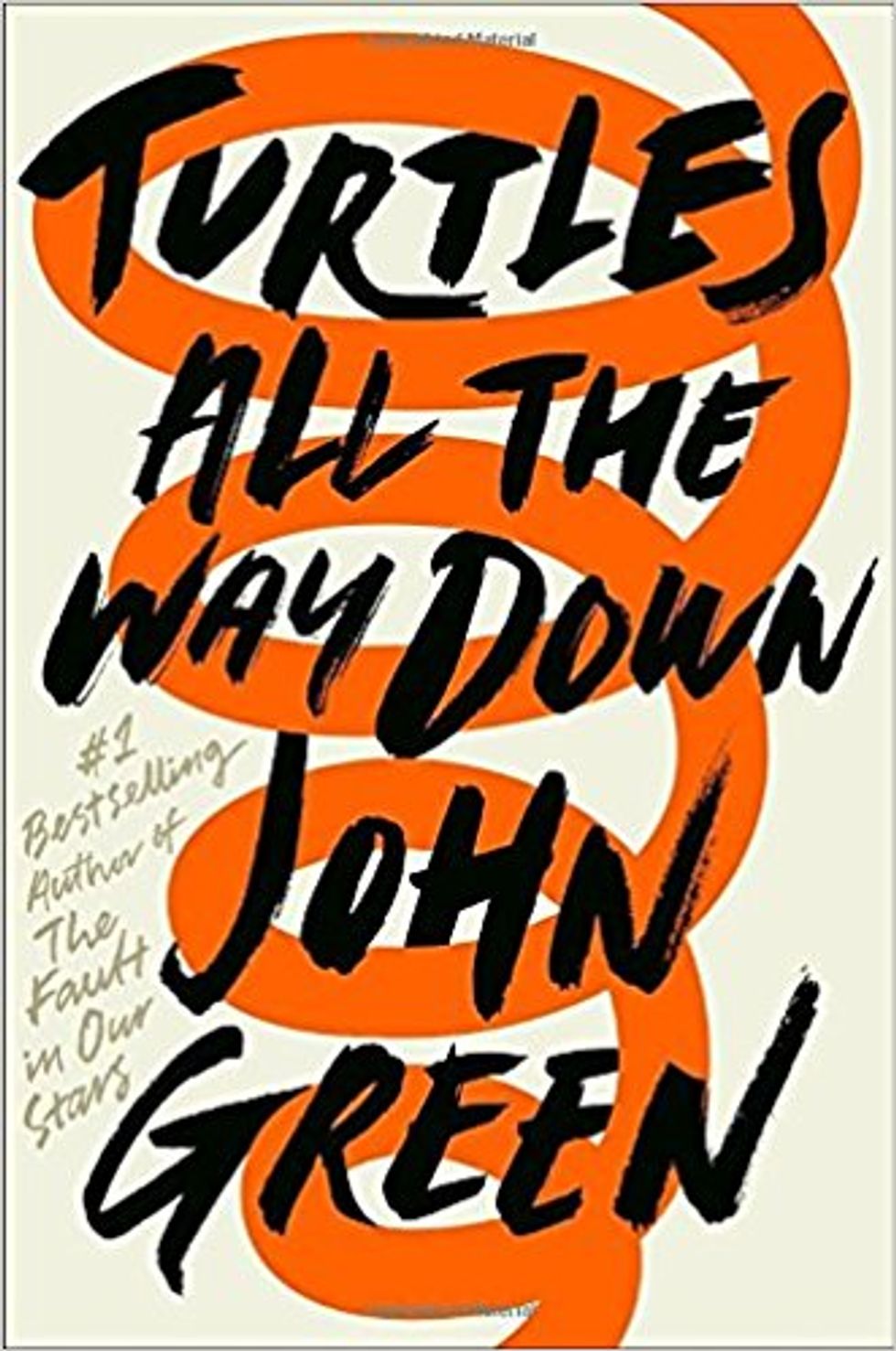 Aza, a sixteen year old with multiple anxiety disorders, is forced by her best friend Daisy to start investigating the disappearance of billionaire Russell Pickett, whose discovery has a reward of $100,000.00. While investigating, Aza reunites with a childhood friend: Davis Pickett, the son of the man missing. This relationship develops, and kindles Aza's fear that she may be unable to ever have an actual relationship due to her anxieties. Aza works to uncover the whereabouts of Russell Pickett, the inner thoughts of Davis, as well as the reasoning behind her own anxieties.This book is written by John Green, author of the popular The Fault in our Stars, and though is deemed 'Young Adult' has applications that any person of any age with anxiety can relate to.
Quote: "You're both the fire and the water that extinguishes it. You're the narrator, the protagonist, and the sidekick. You're the storyteller and the story told. You are somebody's something, but you are also your you."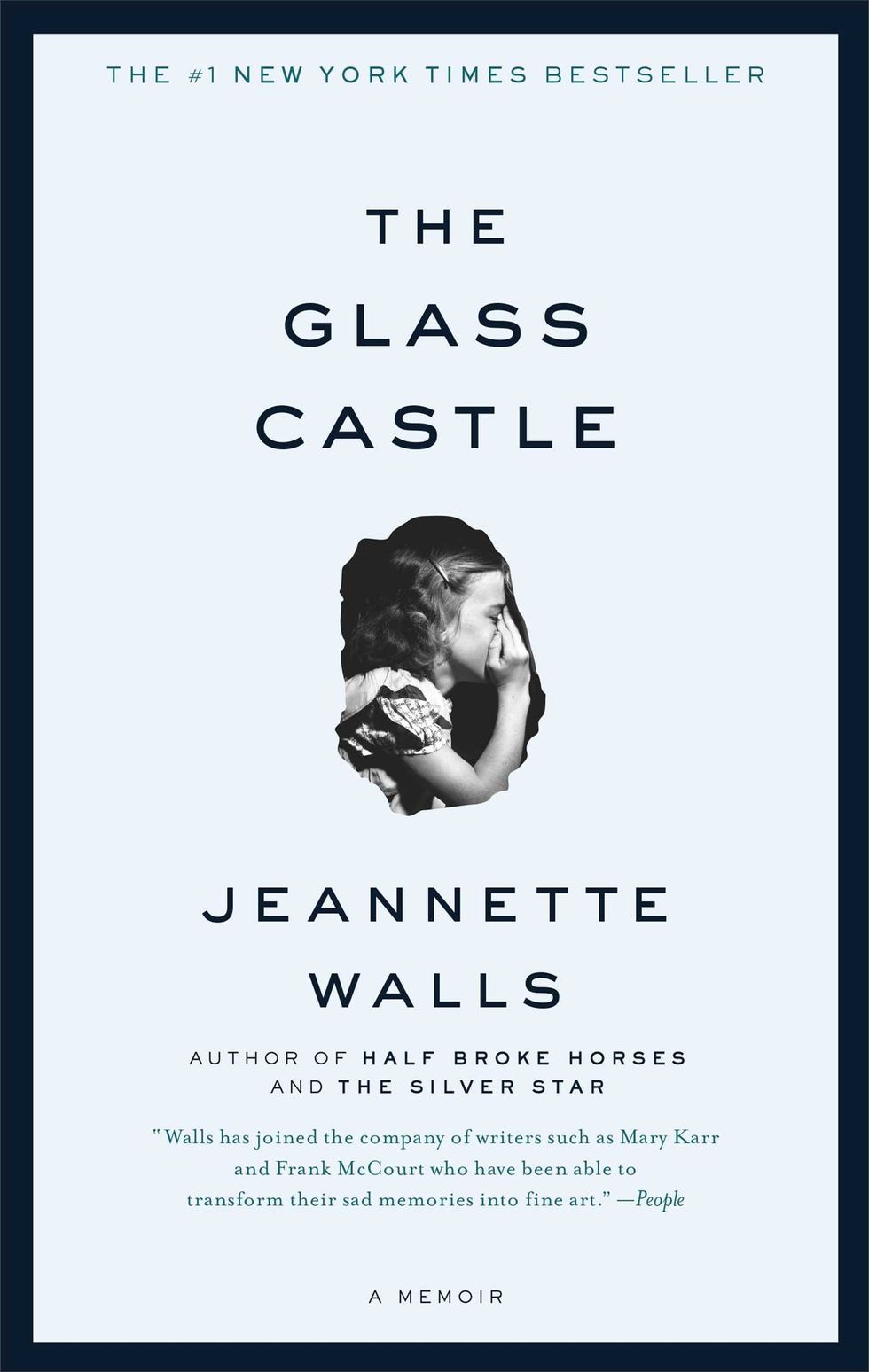 This memoir recounts the unusual upbringing Jeannette and her siblings endured due to their parent's non-conformity to usual ideas. For the beginning of her life, they roamed to several different towns, and Jeannette never had a place to call home. This life was fine for a while - her father, when sober, proved to be an intelligent man, and her mother's artistic ideals made life interesting and exciting. However, when their family's money starts to dwindle, the Walls take up residence in a dismal town, and her father drinks and disappears for several days at a time. The siblings have to fend for themselves, and rely on each other to try to find a way out of their lifestyle.
Quote: "I lived in a world that at any moment could erupt into fire. It was the sort of knowledge that kept you on your toes."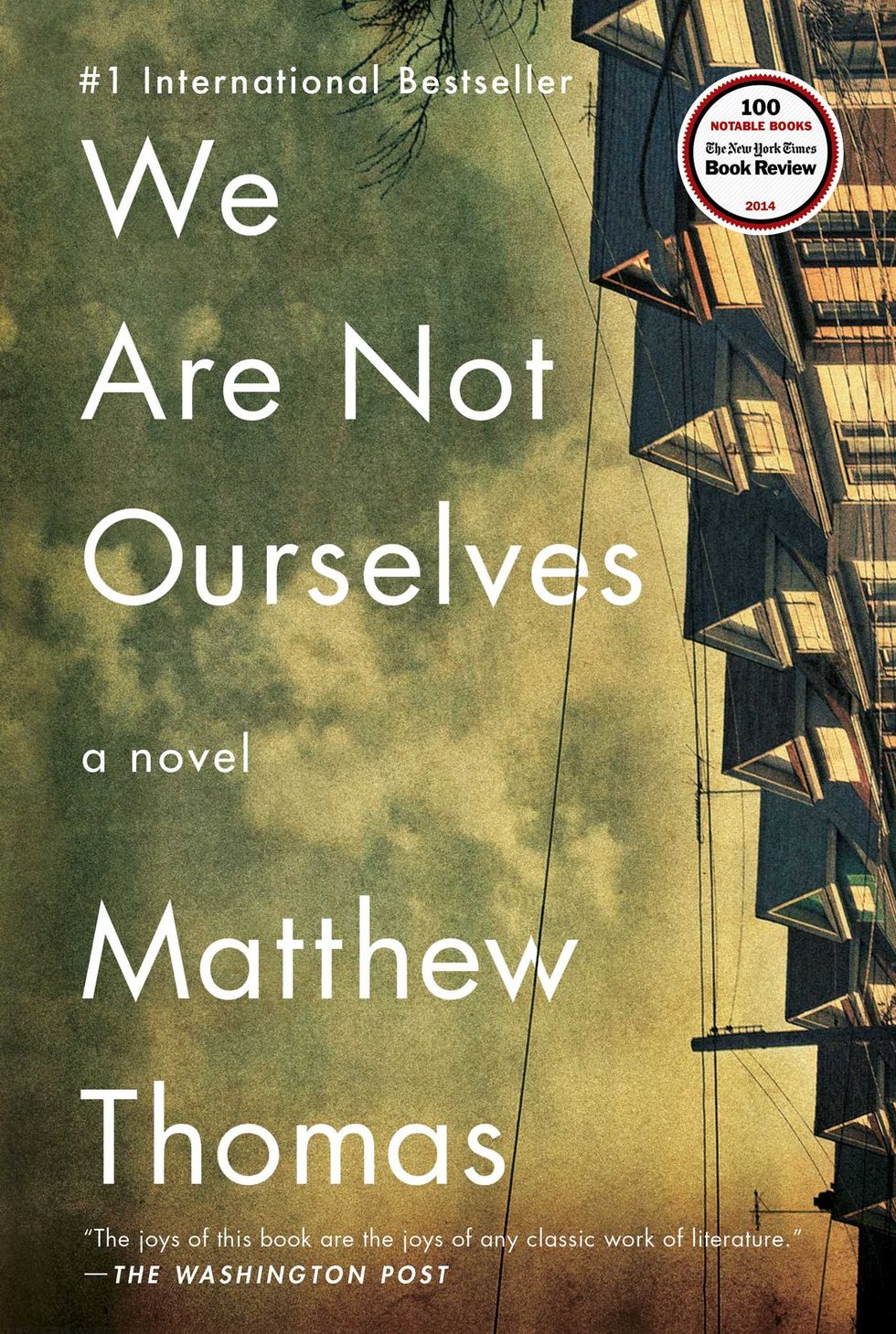 Eileen is born in 1941, and is raised by Irish immigrant parents in a household that is either wonderful or terrible, depending on what company the parents are keeping or in what neighborhood they reside. Eventually, Eileen meets Ed- a scientist who is nothing like any of the men she's ever met. Soon, Eileen marries Ed, however realizes that Ed does not have the same 'American Dream' ideals that she possesses. She pushes him to want more, but soon realizes that he may never want the same things she will, and she has to become accustomed to the life he has. After their son begins to grow, Ed begins to drift from the man Eileen knew, and the man he knew himself to be. They cling together in hopes to reclaim the life they once knew, and develop the understanding that there is no such thing as a perfect life.
Quote: "She wondered if she'd taken the first step on the road away from her dreams. What scared her was how easy it had been to do it."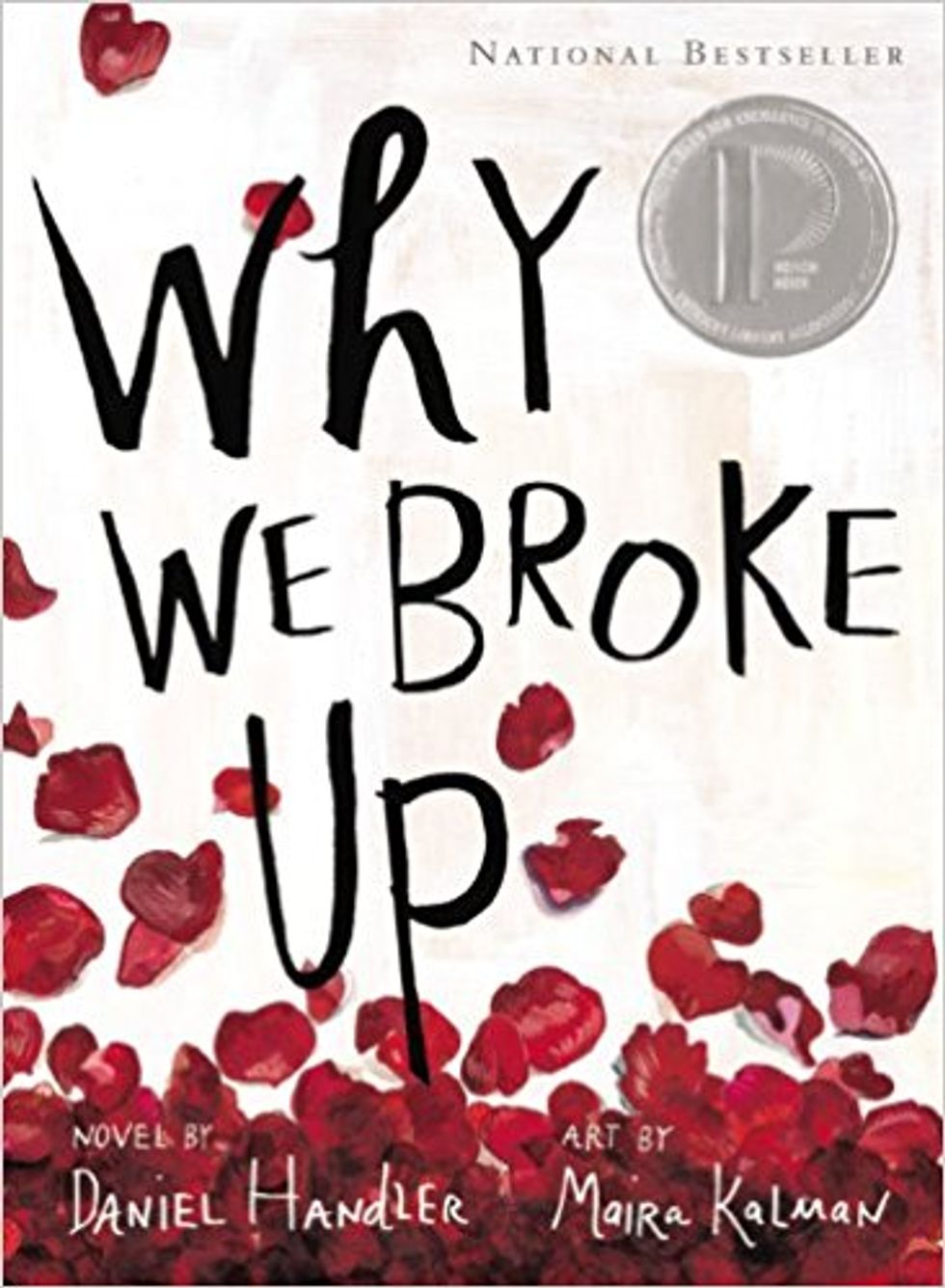 This is also a YA novel, but I REALLY enjoyed it. Also, Daniel Handler ALSO writes under the name 'Lemony Snicket.' (A Series of Unfortunate Events.)
Why We Broke Up tells the story of Min, a high school girl who aspires to be a filmmaker, and dates the football star, Ed. The story takes form of a letter that Min is writing to Ed, after they've broken up, to tell him why exactly it happened. She gives him a box with mementos of their time together, and the book has pictures of the accompanying items drawn by Maira Kalman.

Quote: "Ed, it was everything, those nights on the phone, everything we said until late became later and then later and very late and finally to go to bed with my ear warm and worn and red from holding the phone close close close so as not to miss a word of what it was, because who cared how tired I was in the humdrum slave drive of our days without each other. I'd ruin any day, all my days, for those long nights with you, and I did. But that's why right there it was doomed. We couldn't only have the magic nights buzzing through the wires. We had to have the days, too, the bright impatient days spoiling everything with their unavoidable schedules, their mandatory times that don't overlap, their loyal friends who don't get along, the unforgiven travesties torn from the wall no matter what promises are uttered past midnight, and that's why we broke up."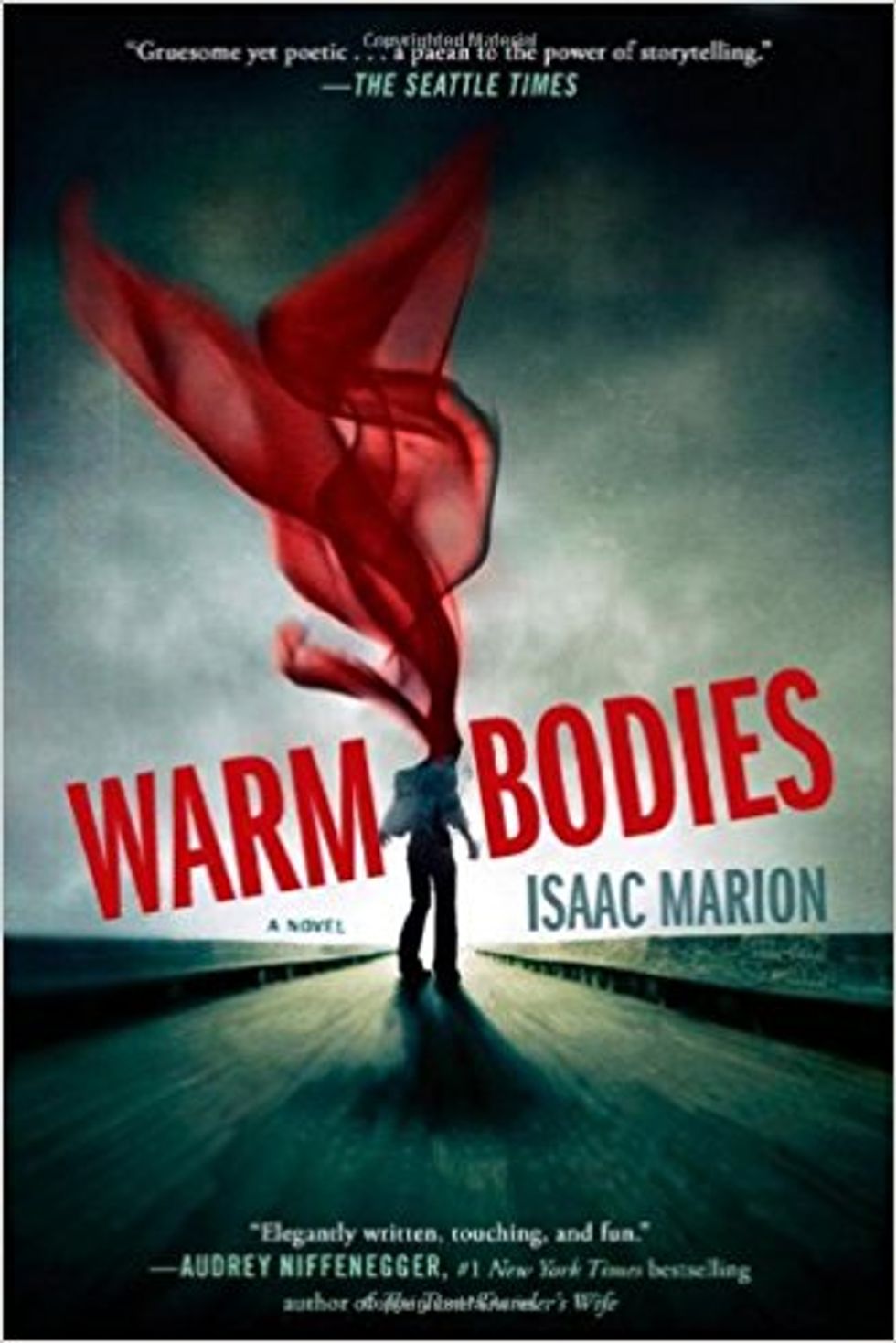 R is a zombie. No pulse, no memories, no identity- at least until he meets Julie. R and his friends go on a hunting mission, but R decides to save Julie, and keep her in his place of residence- a 747 in an abandoned airport tarmac. She eventually warms to him, after realizing he doesn't want to eat her, and they begin an unlikely friendship. However, Julie begins to get restless, and R understands that 'if you love something, you have to set it free.' After Julie returns to the city, R's friends begin to notice a change in R and themselves, and they'll have to fight to get back to normal.
Quote: "But it does make me sad that we've forgotten our names. Out of everything, this seems to me the most tragic. I miss my own and I mourn for everyone else's, because I'd like to love them, but I don't know who they are."
Note: As an Amazon Associate, Odyssey may earn a portion of qualifying sales.