I really tried to cook, I really did.
The first night I moved into my new apartment, I was woken up by the deafening screech of the fire alarm—a silly, high-pitched voice shrieking "Fire! Fire!" I rushed out of my room in practically nothing but underwear, trying to brush my hair out of my eyes, when I saw my roommate standing in the kitchen sheepishly, surrounded by a faint layer of white smoke, holding a frying pan on which several pieces of what appeared to be bacon gently fizzed and bubbled. According to him, he was inspired by my enormous consumption of bacon over the past few days, and also wanted to contribute to the consumption level of cholesterol in the apartment.
Yet nothing prepared me for the horror of my own cooking. As I pathetically attempt to navigate adulthood on a tight budget, while trying hard not to accidentally set my sublet on fire, I accidentally produced some of the most cringe-worthy and horrific organic matters in history that might as well have been accidents from crossbreeding experiments between creatures from every imaginable genre of science fiction and fan fiction. Frankenstein x every angel from Evangelion? I've produced all of them. Every night was horror movie night as ingredients abandon the script and improvise and everything goes horribly, horribly wrong. After I season whatever mush I produced with my own salty tears, I contemplate how grateful I must be for everything else in life—or rather, all the times when I did not have to eat the food I cook for myself. The best part is always washing the horrors down with even more salty tears, as my roommate munches on his pasta and observes whatever substance on my plate with a look of horrified fascination.
Fortunately, with practice came moderate improvement, and I can now reminisce about my terrible cooking skills with a smile on my face, although not without minor accidents in the kitchen. With that, I present to you, some of my worst creations.
1. Face-paralysis Omurice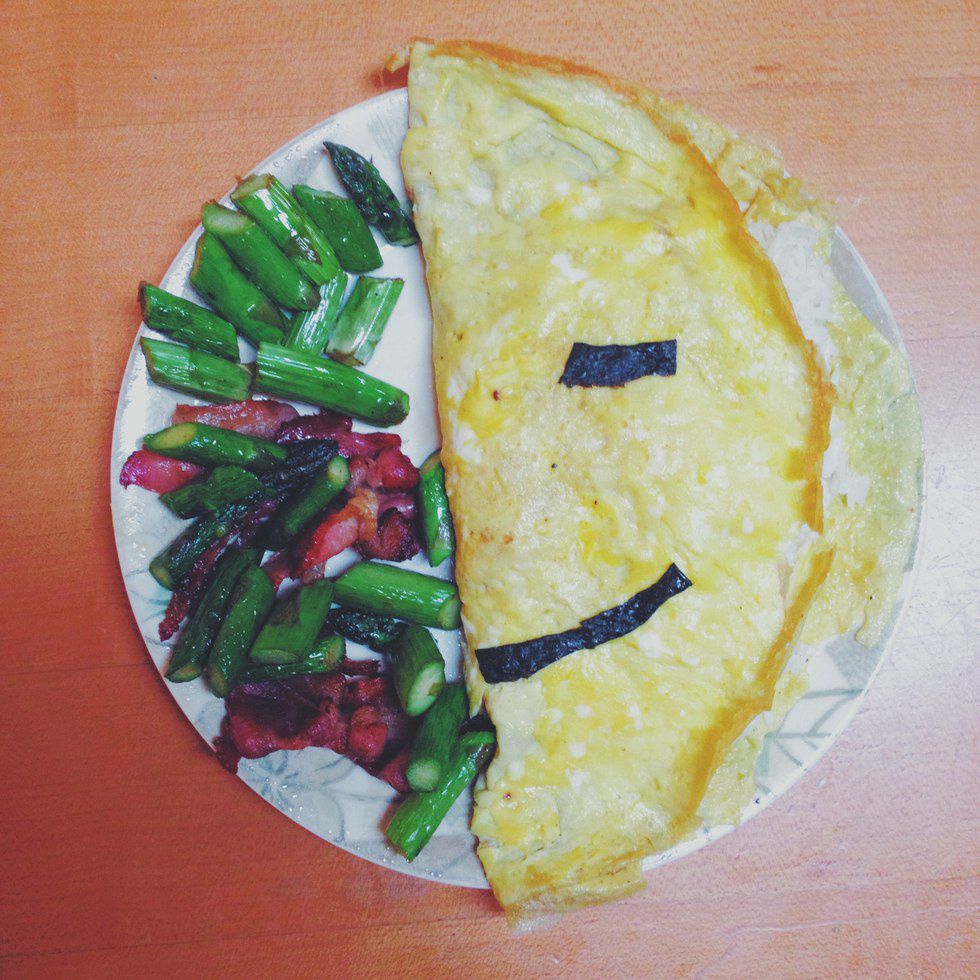 Somebody please tell me who the F I is.

I don't know what I was thinking; please don't ask me what I was thinking. Everything went fine; I was even able to make the super thin egg skin without breaking it, which I was impressed about. Everything was fine until I tried to copy that one Instagram post and make my omurice look happy by cutting out patterns in nori (seaweed). What happened next is that both Picasso and Salvador Dali seized my consciousness simultaneously, and I was left with this. What's on your mind? Are you smiling or grimacing? Where's your nose?
2. Yin-Yang Curry Rice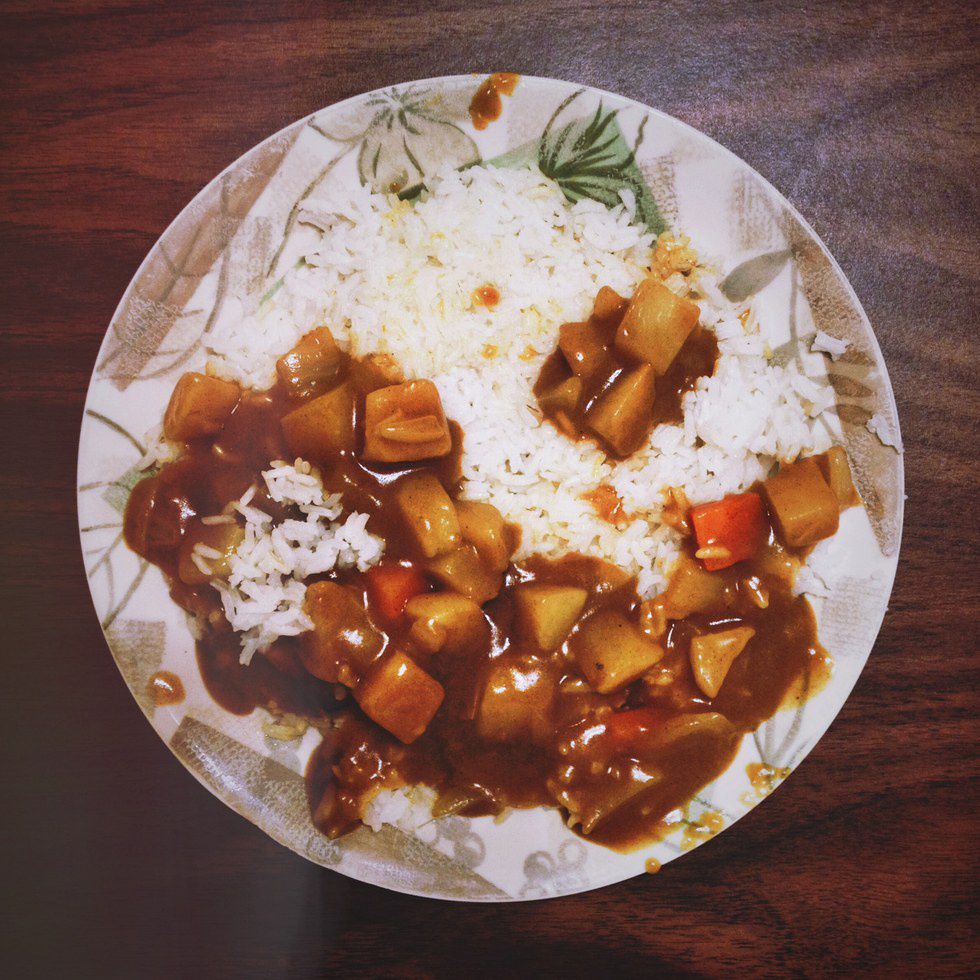 Losing my inner balance.

Was I trying to be artistic? Was I trying to hail back to my Chinese roots in a Japanese dish? Was I reminding myself of balance between spice and blandness? Was there a little bit of blandness in every kind of spiciness, and vice versa? I don't quite understand, but this happened. The food itself tasted fairly delicious, but, looking back, I honestly have no idea what I was thinking when I poured curry on rice to make this pattern.
3. Buy Two Cholesterol, Get One Indigestion Free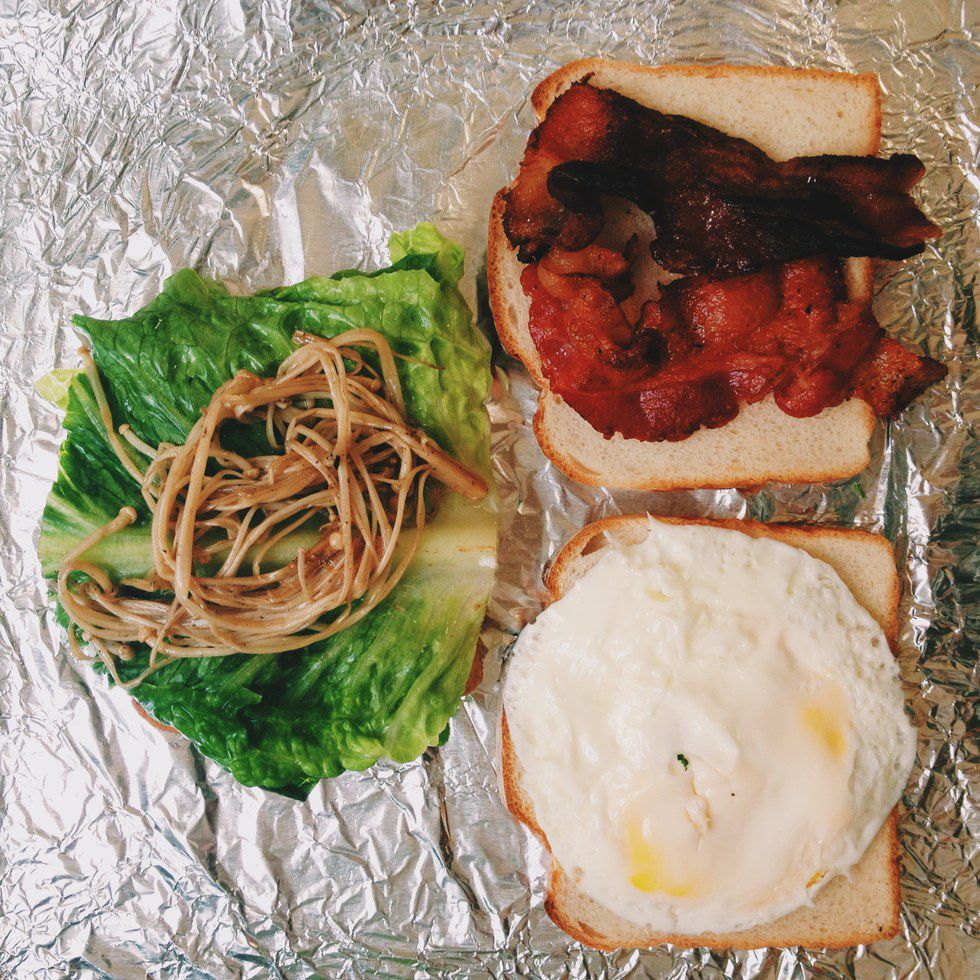 A balanced diet.

Nice sandwich, huh? Pretty tasty too, except that it was extremely unhealthy, considering that I cooked the bacon, then cooked everything else with the lard from the bacon…this was also my first time seeing solidified lard, and I was screaming silently with tears flowing down my cheek as I struggled to scrape off the soft, fatty, white substance. After my sandwich I felt my blood thickening and my blood vessels gradually getting congested.
4. Tic-Tac-Toe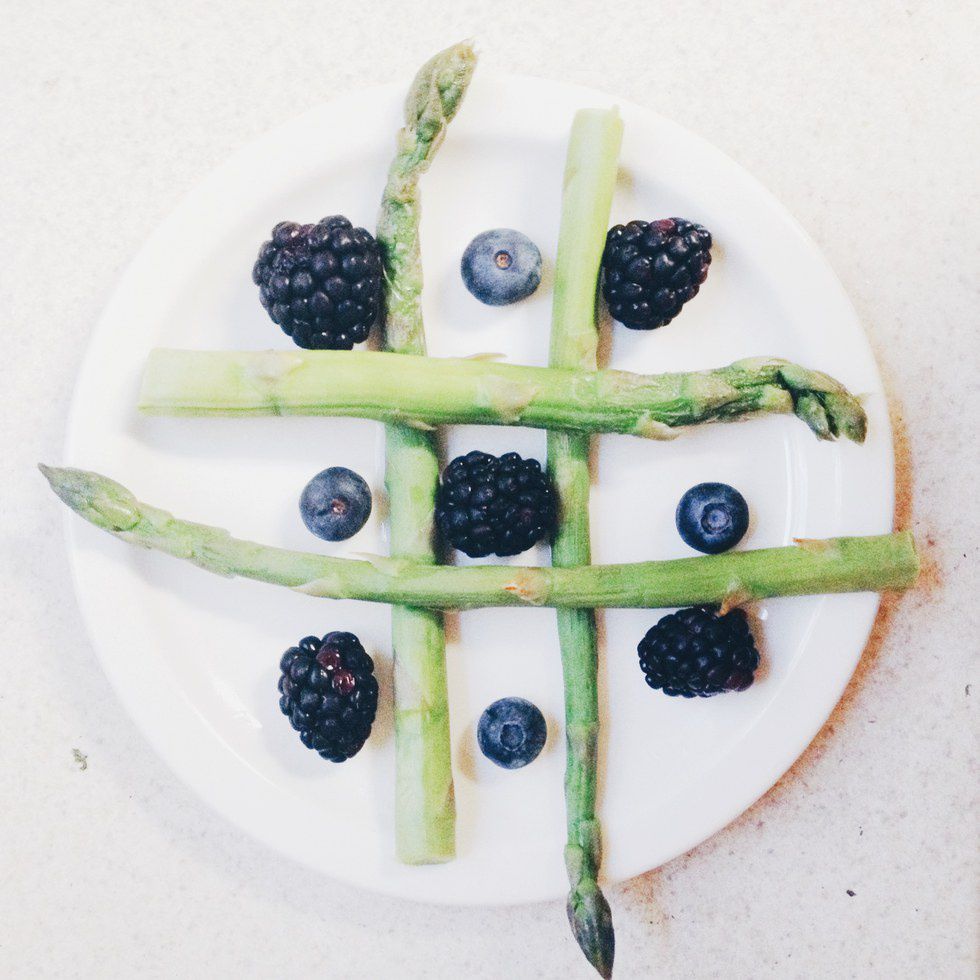 Team Blueberries did not even try.

Team Blackberries won. Twice.
5. Tom x Jerry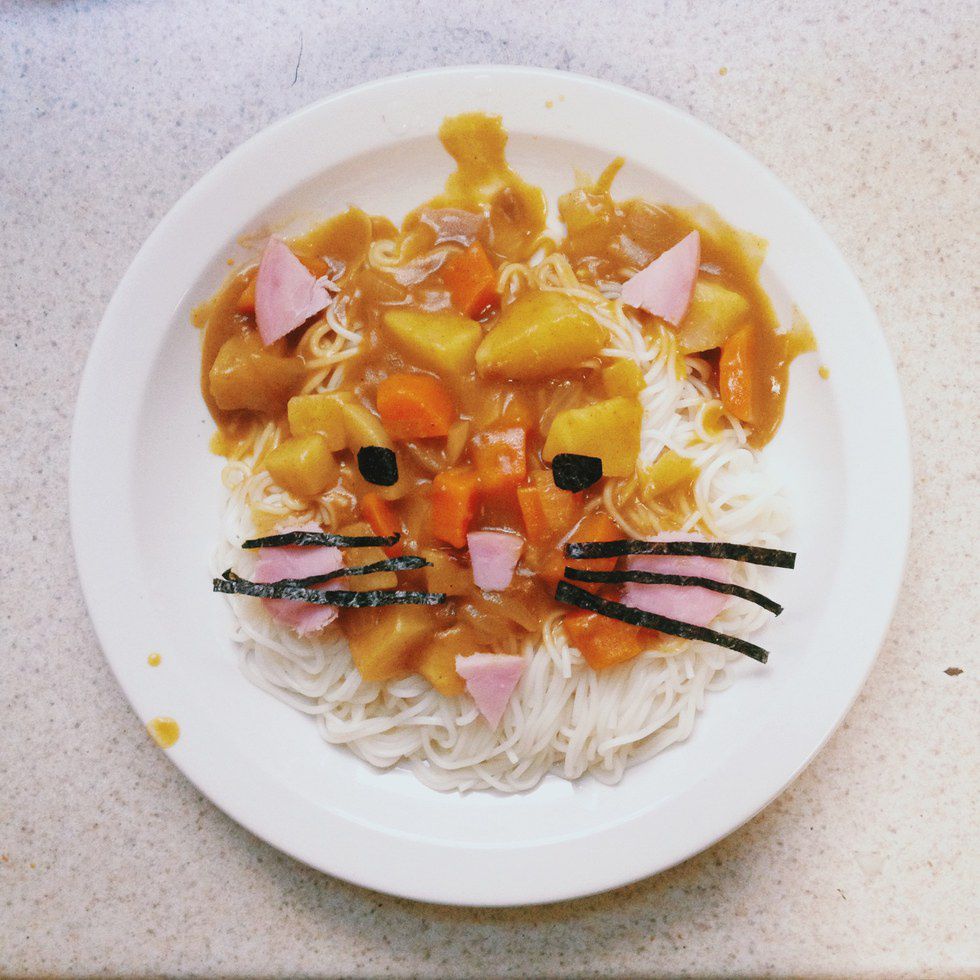 Childhood ruined.

If this sounds like the worst fan fiction, then try to imagine my horror as I visualized that worst fan fiction in front of my eyes. Curry and noodles, nothing wrong with this, right? Except that it looks like a hybrid of a cat and a mouse, having a bad hair day and about to throw up. Gazing into its dark, hollow, soulless eyes, I wept as I became overwhelmed with sorrow and regret.
6. Sunny Side Up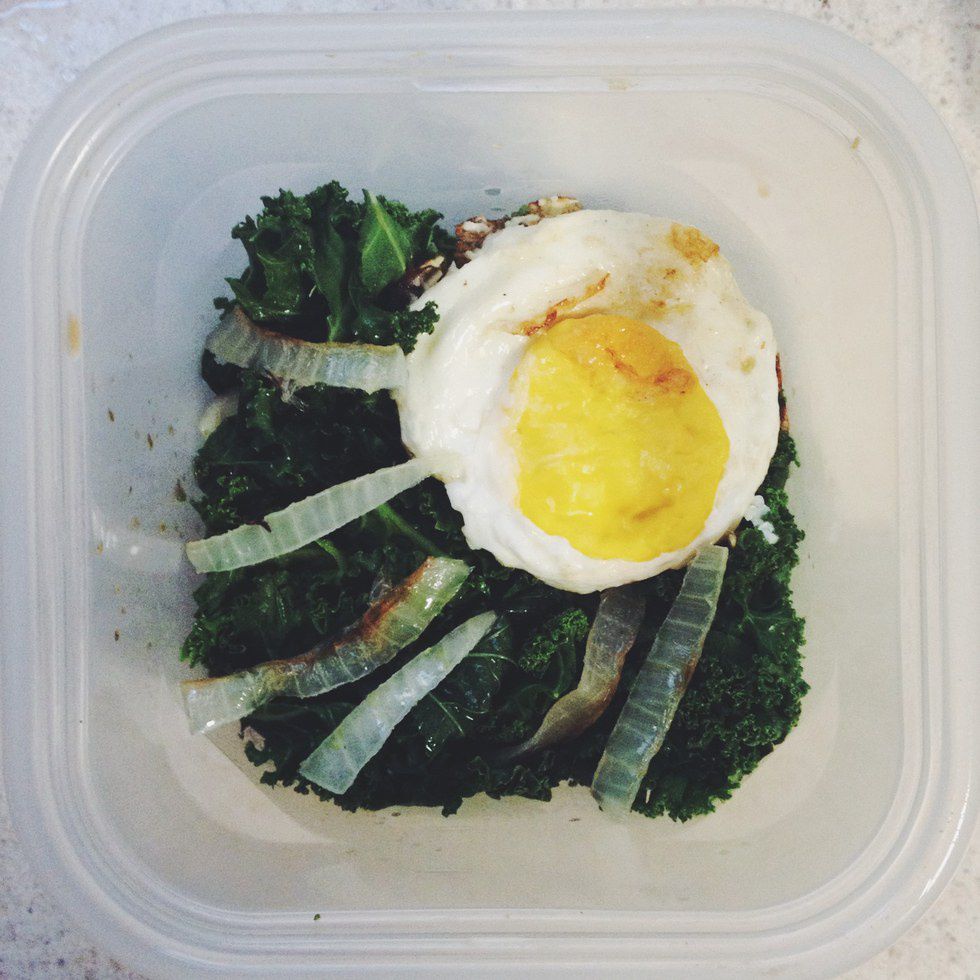 Make kale salads, not nuclear weapons.

This is my artistic interpretation of what Earth would look like after a nuclear apocalypse. Dark dust cloud the air as the sun rays feebly loom over the ruins. Also, the sun would look like a giant egg.
7. Silmang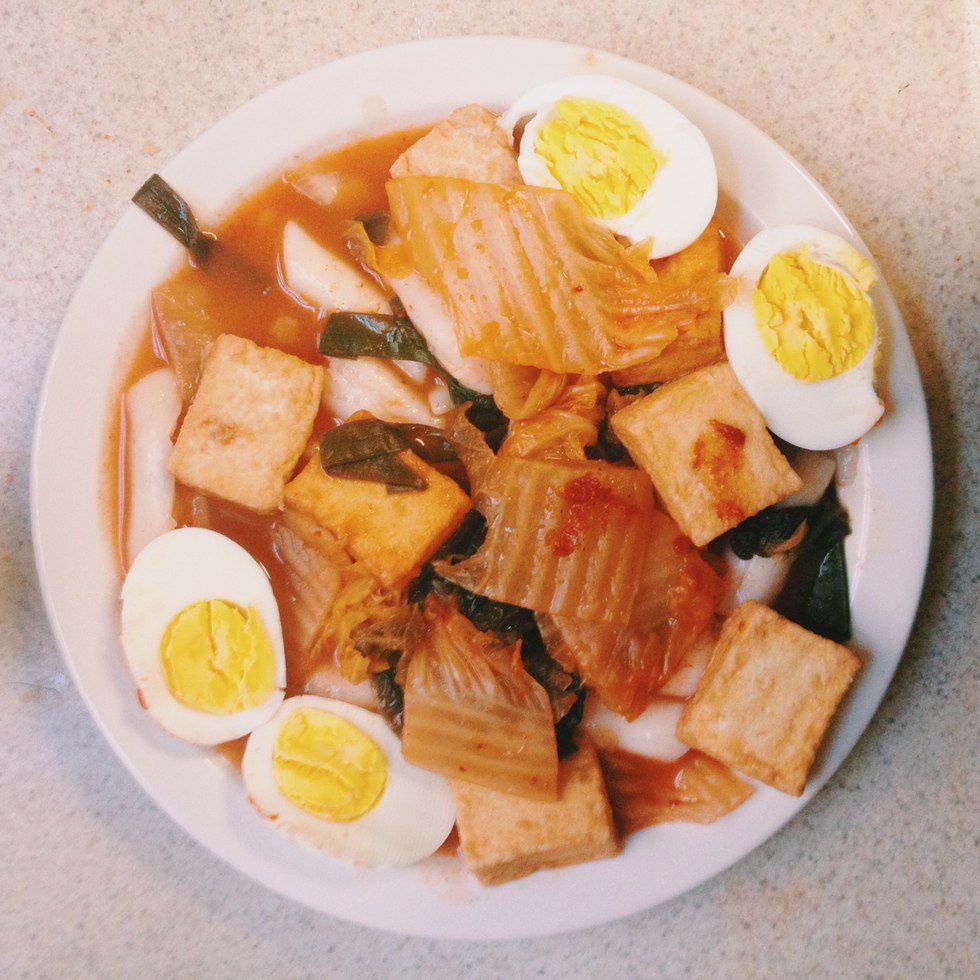 Catastrophic.

To all my Korean friends—I'm sorry, I truly am. I understand that your culinary traditions must have suffered greatly under capitalism and neocolonialism but I'm fairly certain no one has butchered your cuisine quite as I have last weekend. The rice cake was too soft, there was not enough hot sauce added and I haven't the faintest idea why I put the leek in there. Luckily my roommate wasn't home for dinner so I washed this piece of disappointment down with my salty tears alone.
8. Disappointment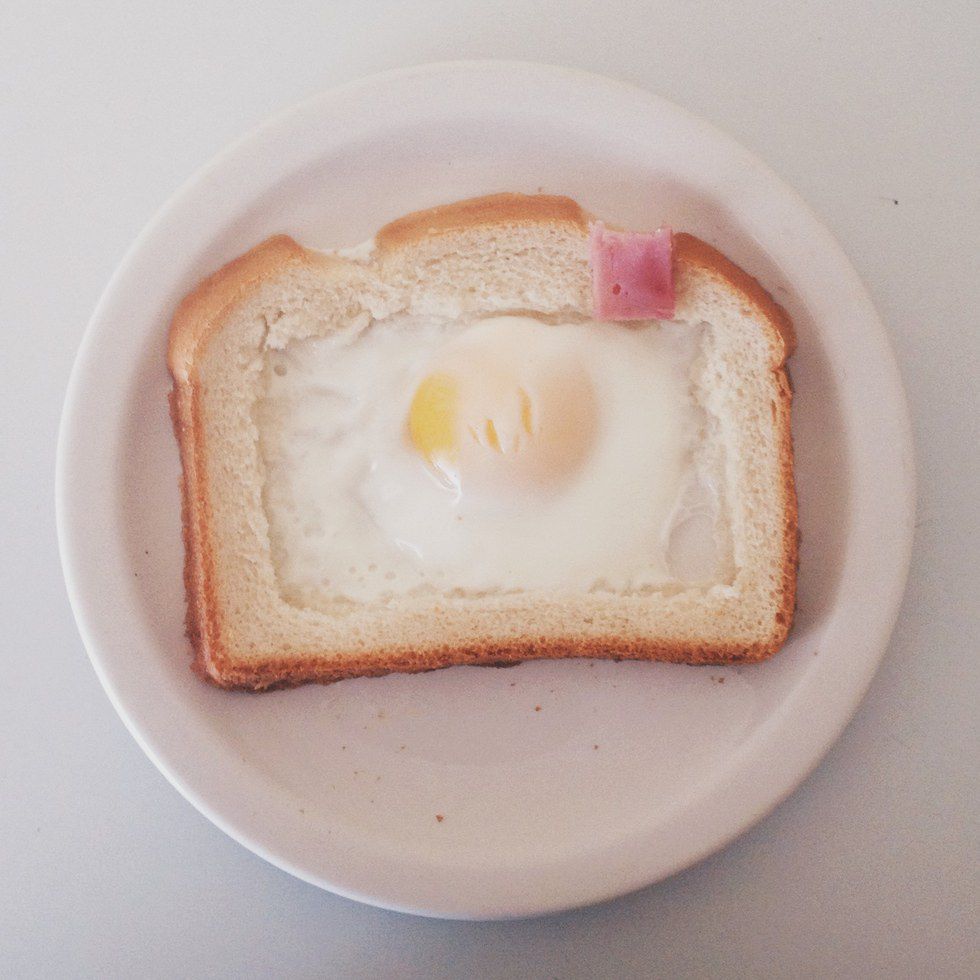 I think I broke the lens.

I made an Instagram sandwich; this was after my first attempt where the bread literally carbonized into black powder. If you cross your eyes and try not to focus on a particular spot eventually you will be able to see the resemblance between this…object and the Instagram logo. However, I propose that even this is still more aesthetically pleasing than the new Instagram logo, whose color scheme came from the default background in Microsoft PowerPoint 2003.
9. Get in the Robot, Shinji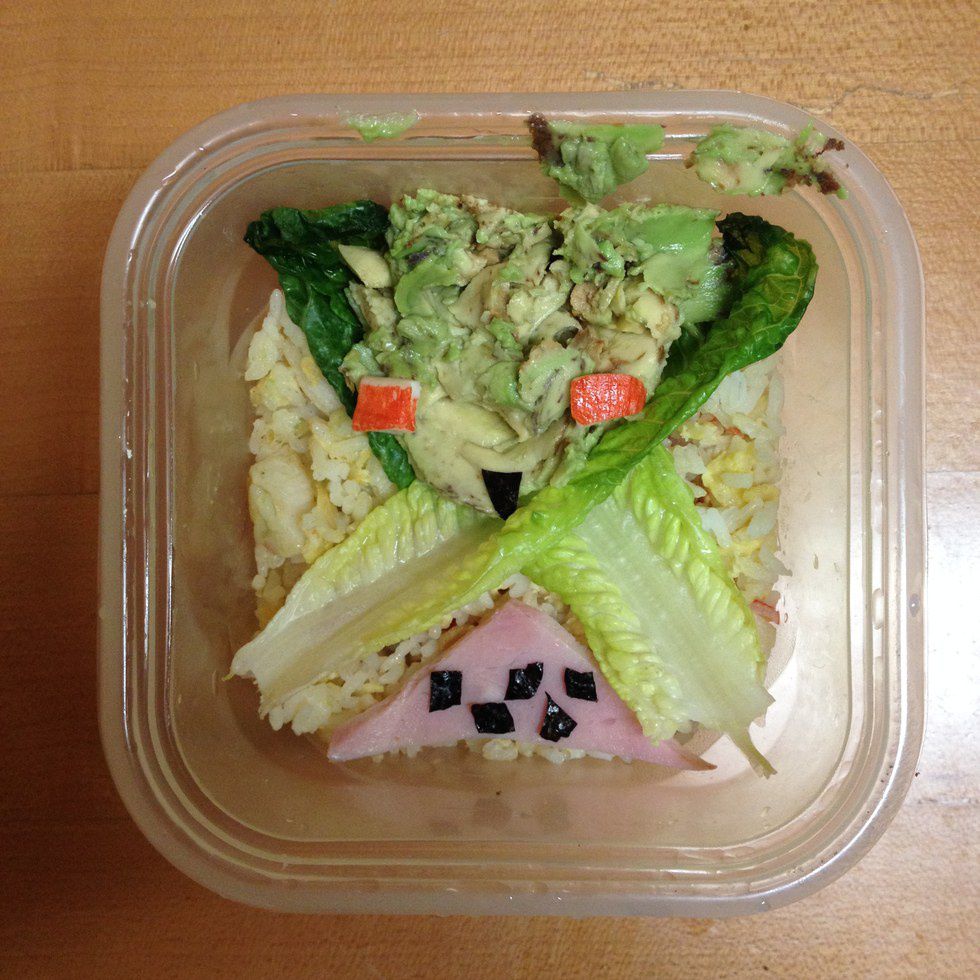 Modern Art.

I have no comments for this one; I think the sheer barbaric brutality speaks for itself.
10. Yin-Yang Salad Greens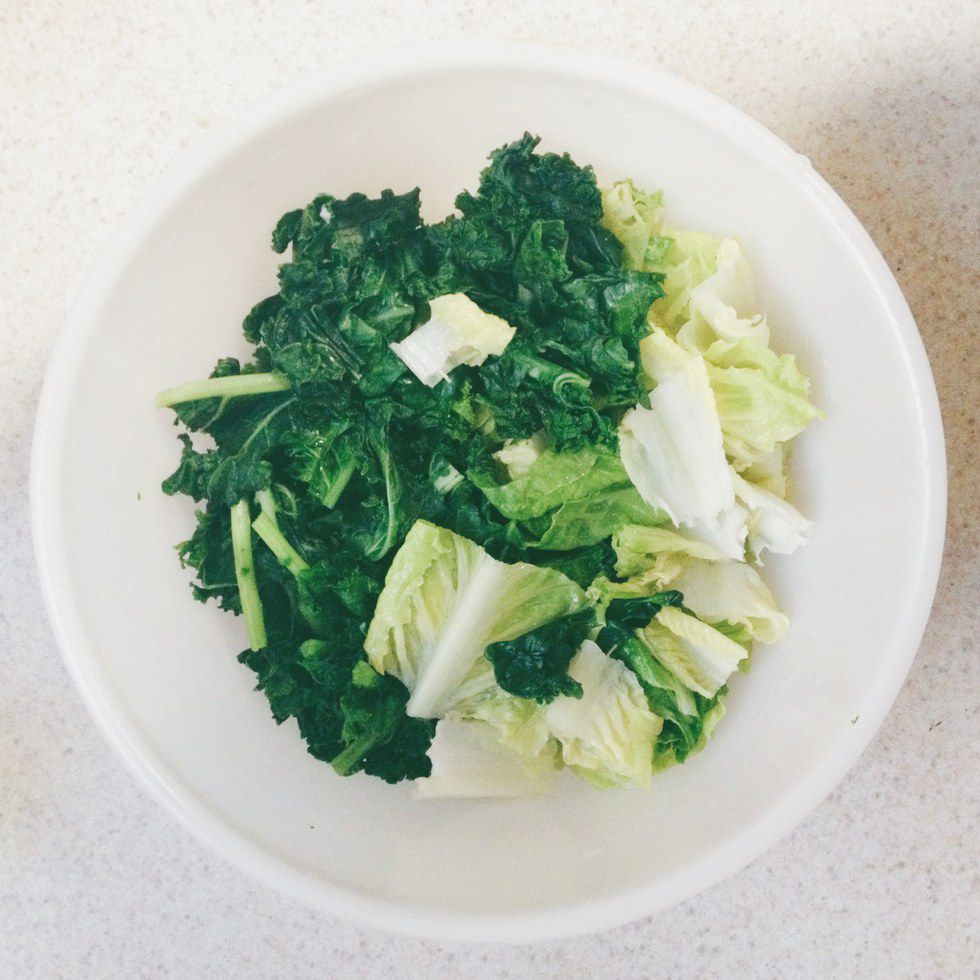 Kale + bastardization of East Asian symbolism = every hipster's dream

When in doubt, arrange your food into a yin-yang pattern and make some pseudo-philosophic observations. Don't forget to slap on a thousand filters!
11. Crepe Je-sais-pas-ce-que-je-fais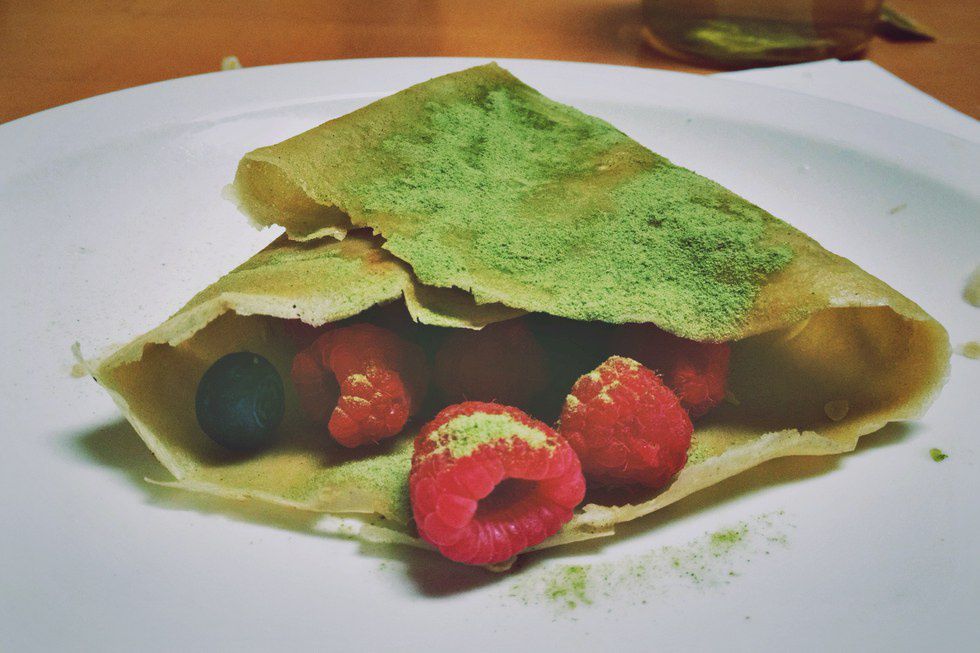 Oui, oui. Ouh la lah. Omelette du fromage.

It's a beautiful matcha crepe filled with fresh fruit. It seems OK, except that just outside of this photo there were huge puddles of oil, milk, flour, egg and their mixtures; when sinking my teeth into the cute little crepe, I reflected upon what a perfect metaphor this is for the irony of the social media age. I thought about similar disasters happening in kitchens all across the world, and as I tried to picture soot-covered bread crumbs and cat-mouse hybrid curries and mountains of cholesterol just outside of everyone's aesthetic Instagram posts, I smile. I smile, that is, before I have to witness the horrors of my own cooking again.