Theatre news has been swarming our computer screens this past week. Every show is getting in their last minute premiere to be Tony-eligible. Tony nominations will be read this year by the wonderful Christopher Jackson and Jane Krakowski. And we finally got a Tonys host with only a couple weeks away!
Amidst all this buzz, a recent Facebook trend also began to spread where everyone was making known their taste for musicals. From best to worst, underrated to overrated, people were coming in strong in terms of what they thought was all that jazz and what didn't make the cut. Because of this, I decided to reflect on my own choices:
1. Musicals I Love: "West Side Story", "Follies"

I love nothing more than some good old fashioned Sondheim. Both of these works are a pinnacle in terms of engaging storytelling, gorgeous showstopping numbers, and reflecting on some tragic times in the most beautiful and poetic ways possible. Can't go wrong with either of these as they are both masterpieces.
2. Underrated Musicals: "Merrily We Roll Along", "Dogfight"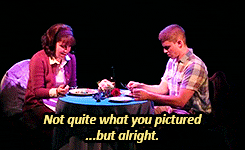 Both shows with scores that were taken for granted at their time and still now. "Merrily We Roll Along" is one of my favorite shows as well as scores. A score that showcases Sondheim's best from his innate need for speed without also using a reprise of the originally sad song to be even sadder later. "Dogfight" is also just as memorable. It seems so simple but proves that a love story you root for doesn't have to be extravagant to be mesmerizing.
3. Overrated Musicals: "Legally Blonde", "Fiddler on the Roof", "Wicked"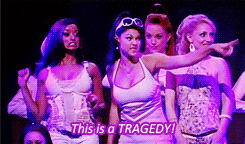 Let's just face it guys, "Legally Blonde" was never that great a musical. It was cute, a good laugh, but at the end of the day is much better regarded over time as a movie. "Fiddler on the Roof" while acclaimed a classic staple in musical theater I just never got on board with. It's tediously long and aside from a few numbers is pretty forgettable. And "Wicked"? "Wicked" is pretty self-explanatory if you're a legitimate theater fan.
4. Musicals I Hate: "Cats", "Love Never Dies"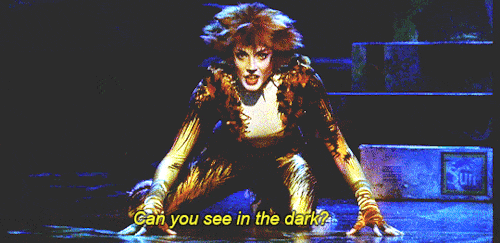 Mr. Andrew Lloyd Webber, I understand you have done a lot for the theater community and I thank you. But what happened here? You really dropped the ball, my friend. No matter what anyone says a musical about cats was never a good idea. I don't care if produced "Memory" or had any acclaim, With "Love Never Dies", I mean no musical can ever top its predecessor. Plus, Christine never would have gone with the Phantom let's be for real. Leave the Angel of Music where he belongs sir.
5. Guilty Pleasure Musicals: "Phantom of the Opera", "Rent"

Aside from my previous disdain for Webber, I'm no monster. "The Phantom of the Opera" is the guiltiest of pleasures to belt out to when you're feeling sad or dramatic as a prima donna. "Rent" is always a good time. Though it may be stereotypical to adore, it will always have a special place in my heart. No day but today y'all.
6. Musicals I Am Most Excited To See: "Anastasia", "Dear Evan Hansen"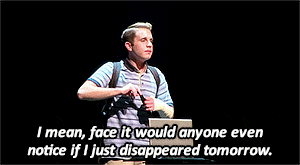 Though the chances are slim, I would do anything to be able to see these. "Anastasia" was a cornerstone of my childhood and to see that magic come to life would be phenomenal. Especially because of the changes they have made from screen to stage to actually make it more successful! "Dear Evan Hansen" already has great acclaim and I would love to be able to see the show whose soundtrack I can't stop listening to!
7. Musicals I Cherish: "Man of La Mancha", "Into the Woods", "Next to Normal"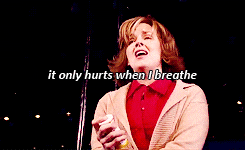 These are the musicals I hold dearest in my heart. "Man of La Mancha" is such a surprisingly twist on the epic tale of Don Quixote that balances between past and present of what it means to dream. "Into the Woods" centers on how our lives contain both light and darkness making them all the more worthwhile. "Next to Normal" is an epic that takes the typical family drama to a whole new level making us realize how we have no idea what could be going on next door.
8. Musicals I Sob Through: "Les Miserables", "Once"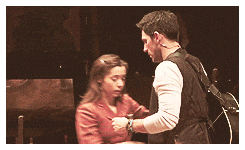 "Les Miserables" is an epic and long-ass book for a reason, solely written by Hugo to produce tears. Death after death just gets worse and it feels like a time where justice doesn't prevail, but ultimately it proves to be a story of how you can be redeemed and achieve salvation. "Once" though may seem simple, it proves how the ordinariness of life can be the most beautiful as we just fail to notice it.
9. Gamechanger Musicals: "Rent", "Natasha, Pierre, and the Great Comet of 1812"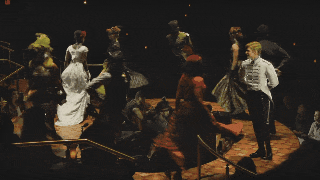 Yes, it gets a second mention on this list because "Rent" truly changed musical theater. Way before "Hamilton" or "Spongebob" or anything, "Rent" was the shit that turned Broadway upside down. It will never not be noted how impactful its inception and reception was as a revolutionary work of musical theater. On the other end of that spectrum is "Natasha, Pierre, and the Great Comet of 1812", a work that is ambitious in a completely different way. Dealing with 19th century Russia, a techno-pop-rock opera and everything under the moon score and adding aspects of immersiveness and diversity to a classic tale. Could not appreciate it more!
10. Musicals Whose Songs I Skip: "The Book of Mormon", "Bye Bye Birdie"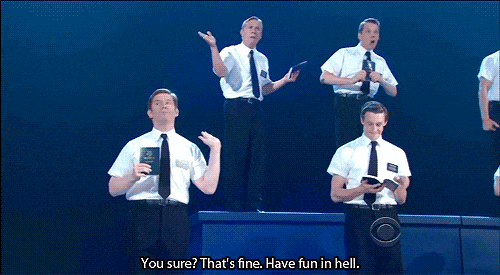 Though "The Book of Mormon" had its due, it's not one of those shows I really find myself listening to as a cast album. So much of the enjoyment of that show is in watching it, and the score just seems like not enough as a stand alone to keep me hanging on. "Bye Bye Birdie" is just so incessantly overbearing with its peppy teens and adults who can't seem to grow up. I skip the dial whenever I hear it in my vicinity.
11. Musicals I Could Listen to On Repeat: "The Last Five Years", "Waitress"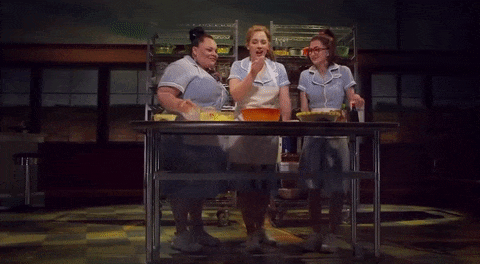 "The Last Five Years" is a musical that I could listen to a thousand times and find something different every time. It's also a story that's universal being able to transcend its setting only becoming more resonant as times goes on "Waitress" is also stellar in terms of a score that can be on shuffle all day. Sara Bareilles is as catchy and sentimental as ever making you want to belt out your heart as well as cry into your pillow over love, life, and the struggle for self-acceptance.