We've all see it in the movies, or even witnessed it in real life. (Who says that life can't imitate film?) It's that one trope that we knew growing up, but couldn't exactly put our finger on it because we weren't sure what to call it. However, we recognized that it was quirky, eccentric and it is interesting and kind of . . . endearing in a way. But what was it? Today, the stigma has become more seemingly popular than ever - especially on the internet - leaving audiences intrigued and hilariously confused at the same time. Okay, I should probably get to the point, huh? What is this magical role, you ask? Let me tell you . . . Manic Pixie Dream Girl. Let me rephrase that: The Majestic Manic Pixie Dream Girl.
Have you heard of it? I'm guessing that most of you out there have.
I'm not going to lie, I've been personally fascinated with this stock character for about a year now. I honestly don't know what it is. Maybe it's my weird fascination with different roles in stories and movies, or in life in general. Maybe it's because The Manic Pixie Dream Girl relates to sexism, feminism and how the world sometimes portrays women - that is, if you wanna get into all that fun stuff. Either way, I'm not going to make this article about the serious concept of the lovely MPDG. I'm going to fill you in on how you can tell when someone is a Manic Pixie Dream Girl. Sounds exciting, right? With these following signs, you can go out and look for your own Manic Pixie to teach you the meaning of life, to help you forget about the troubles in your world and to go frolicking in a cool unknown record store while playing a ukulele. So hey, let's start.
1, The way that they dress.

So this is an important one. The way a Manic Pixie Dream girl dresses is crucial. Not all the time, but most of the time you can catch the MPDG wearing something vintage, retro, or all in all cutesy. However, I believe that there are two specific categories of the MPDG style: punk and girly. Take for example Ramona Flowers from Scott Pilgrim Vs. The World. She would fall into more of the punk MPDG category, due to her constantly dyed hair (from blue, to pink, to green, etc.) her bright colored leggings matched with her jean shorts, her bad ass leather jacket, topped off with her star-bag. She stands out because she's different, she has that "I don't care, I'm going to do my own thing" attitude and her style amplifies that. She's obviously unique. On the other hand, there is Indie darling Zooey Deschanel, who definitely lands in the vintage category. This one is a given. Have you seen (500) Days of Summer? Her entire wardrobe is pretty much Mod Cloth. From the lacy dresses, the hair bow accessories, and her bangs . . . YES BANGS, The Manic Pixie Dream Girl has her eccentric look locked down.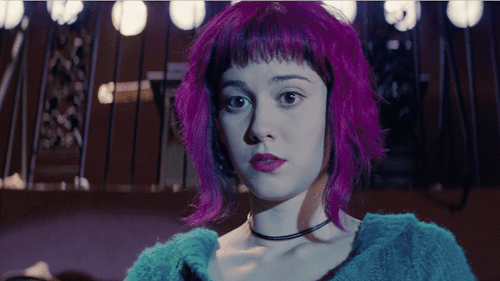 2. The music that they listen to and the films they watch.

One word. Okay, four words: Underground. Indie. Alternative. Obscure. You'll know that they're at least a little bit of an MPDG if they listen to bands like The Shins, The Unicorns, The Smiths, The Submarines, The Pixies, Camera Obscura or Death Cab For Cutie. At least ... just a little bit. Especially when they constantly quoting song lyrics for said bands and use them in multiple situations in life, like there is some weird, ironic sort of connection that will make life seem like it makes a lot of sense. Oh, and concerts. Concerts are their thing. And trust me, they will make it known. As for film, The Manic Pixie Dream Girl is usually interested in French foreign films, or foreign films in general. (Ha ha, I'm getting so specific) They also like independent based films that have a deeper meaning over something really simple.

3. Their "mystifying" life.

Oddly enough, you don't really know much about them. Sure, they might talk about how they lost their virginity at camp when they were fifteen, but do you really know their lives? They're like this fickle little creature who likes to talk about the little details that have happened to them - the exciting and weird things - but they leave out most of the big picture, like their family, where they actually grew up. They might have a tendency of over exaggerating and bending the truth just to sound that much more interesting. Everything is seemingly simple. We have to wonder what their backstory truly is, but it is sadly never revealed, now is it?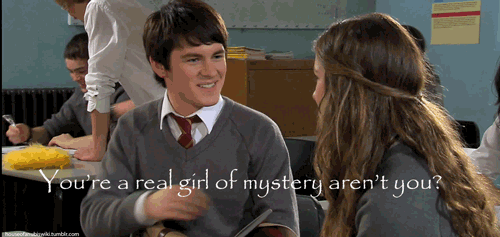 4. They have seem complicated ... and they like to make that known.

It's just something that they seem to thrive in, and through the pain and agony, they make it work. What is so attractive and appealing about being confusing and complicated is beyond me. It's like their issues are something that makes them totally endearing and it's kind of annoying and frustrating. And for some weird reason, guys absolutely love it. Like, love it. And then we end up feeling sorry for the guy because he looks really pathetic. But theeeen we feel bad because we know that we would probably find it adorable as well.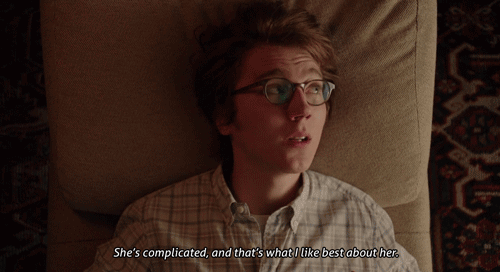 5. They're spontaneous.

Manic Pixie Dream Girls cannot sit still. Their life is a non stop en-devour after the other. Life can never ever be boring. Maybe they'll change up their style, skip town without telling friends or family, spend the night in a hotel room three states away, take a boat over to the next country . . . or maybe more simpler things like dying their hair hot pink, adopting a stray cat, or deciding one day that they want to pick up a new hobby, like antique collecting. I don't know - you get the picture. Never ever dull. 6. They're just plain adorable.

Do I really have to delve into this one? Every single film we have seen that portrays the Manic Pixie Dream Girl has accentuated absolute and utter cuteness. Summer Finn, Ruby Sparks, Sam from Garden State, Claire from Elizabethtown, even Holly Golightly from Breakfast At Tiffany's is adorable. Either way, they have those trademark quirks that make men go weak in the knees.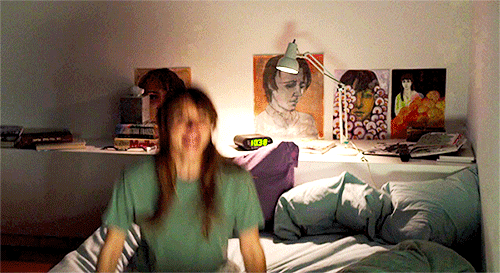 7. They make you feel "alive" and life is worth living.

Life is one big adventure after the next and there is never a dull moment - not for the Manic Pixie Dream Girl. A moment with this girl is everything. You feel excited about EVERYTHING. It's literally never boring, even through small conversations over coffee in the morning. She makes you really ponder stuff, things that you never noticed before. Before you met her, you were brooding and wallowing in your self loathing. But then, she came along on her vintage bicycle and practically everything around you is sunshine and rainbows. What is this madness!? You're smiling at the mean guy at work who almost got you fired, and you're making complimenting your boss. You're not complaining one bit, but it's like your life has been turned upside down over night. There is nothing but pure optimism and motivation in your veins.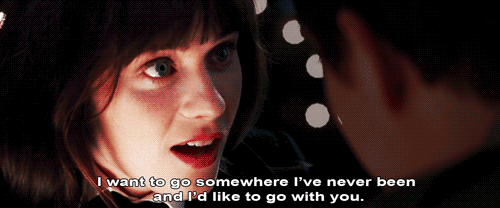 8. They're always dorky or clutzy, and they seemingly make that known...

They always have to make their quirks known, as if they aren't high lighted enough already. Maybe she sings and dances in public bathrooms and act like "they totally didn't know someone could walk in." Suuuure. They soooo wanted to get caught and feel cute in that moment. The Manic Pixie Dream Girl like to make up music videos in their own situation. I mean, I know most people do that already, but MPDGs like to skip down the street in their lacy dress from ModCloth.com and feel like they're some small town girl stuck in a boring city - filled with absolute wanderlust and they just don't belong. They say things like "I pay the cab driver with buttons" or "I make music inside of my head" or other painfully adorable things that make you want to stab yourself in the eyes because it's just. so. damn. cute. AGH. Yes. You're cute. WE GET IT.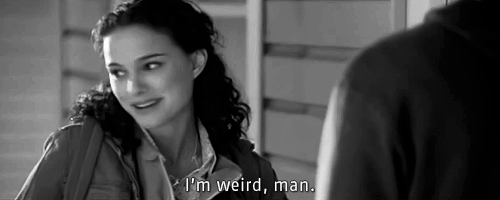 9. They're usually creative in one way or another.

And they have interesting hobbies, that are actually pretty cool. Either they're a painter, a freelance writer, a poet, a photographer or a musician and they love to read. But again, that is the stereotype of the Manic Pixie Dream Girl. However, these hobbies and/or occupations make them seem like the perfect partner because they're so full of wisdom, wit, knowledge and creativity. The brooding boy wants that in his life because he wants that creative void in his life to be filled. I mean . . . I kind of don't blame him. Creative, artsy girls rock.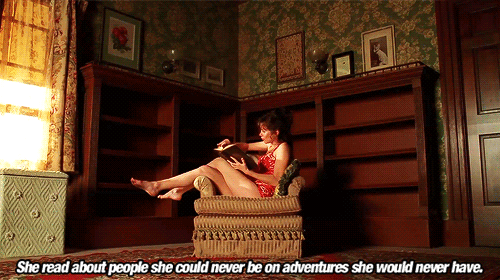 10. They're kind of unattainable.

This kind of sucks for the brooding boy. He's come so far trying to win her heart, to escape the "friend zone" (though many people believe that the friend zone is non existent.) There is something much more irresistible about something that you can't have - especially this kind of girl! In the film (500) Days of Summer, the character Summer Finn is Tom Hanson's object of desire, and when she tells him that she isn't looking for anything serious (sorry for the spoiler for those who haven't seen the movie) his desire for her becomes stronger in that he wants to hold onto her even more. What's up MPDG? You have to be so perfect, yet so hard to obtain.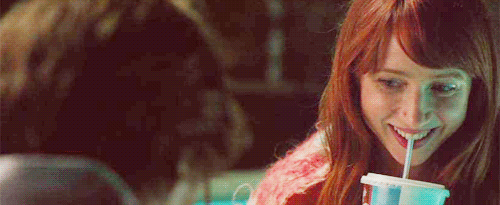 The most important thing to keep in mind, is that The Manic Pixie Dream Girl is merely a figment of your imagination at the whole. They're people, just like you ... with backstories, just like you. They're created from the figment of your imagination, but that doesn't make them any less realistic. The qualities listed above were for entertainment purposes, however, these attributes do actually exist. Aren't tropes interesting or what??