I have always been a lover of books and reading. As a child, some of my favorite memories are from my weekly visits to Border's Books with my mom and picking out something new to read. Actually, the news of Border's closing was extremely upsetting for me, and still is. Even now, with a busy college and work schedule, I will make time to read a book not required for class. I'll even spend birthday and holiday money on new books, without thinking twice. Nowadays, I feel as though so many people make excuses to not to read, or feel as though they would be wasting their free time reading when they could be doing something else, and far too many kids from my generation and younger don't even like reading. This honestly breaks my heart. For those of you who still enjoy curling up with a good book, here is a short list of just a few of my favorite reads that I highly recommend on a daily basis, in no particular order:
1. It's Kind of a Funny Story by Ned Vizzini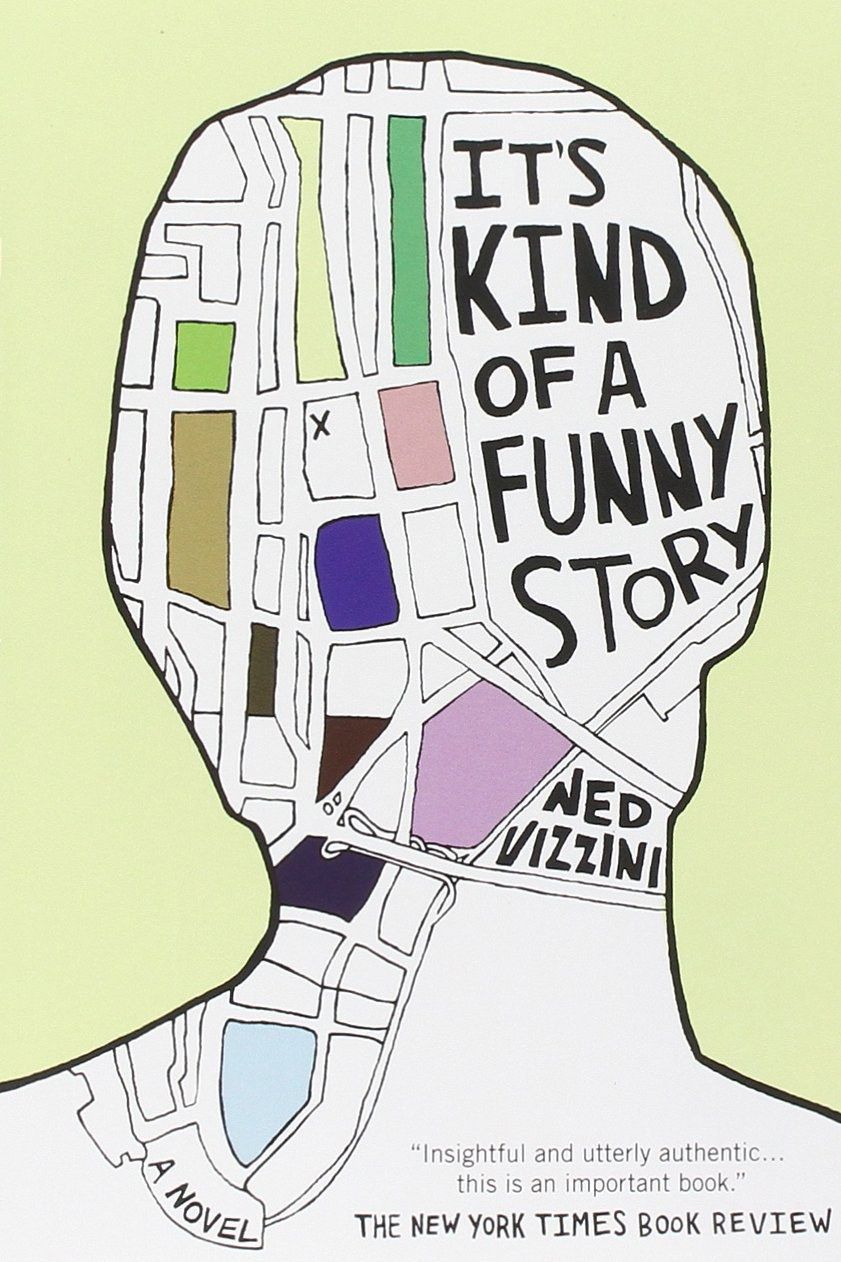 This book is truly amazing and will most likely leave you an emotional wreck if you can relate to the main character in anyway at all. If you've seen the movie but haven't read this book, I guarantee you'll find the movie to be disappointing after finishing the book, which isn't surprising. In a summary from Amazon.com, "Craig Gilner sees entry into Manhattan's Executive Pre-Professional High School as the ticket to his future. [...] That's when things start to get crazy. At his new school, Craig realizes that he isn't brilliant compared to the other kids; he's just average, and maybe not even that [...] The stress becomes unbearable and Craig stops eating and sleeping-until, one night, he nearly kills himself. Craig's suicidal episode gets him checked into a mental hospital, where his new neighbors include a transsexual sex addict, a girl who has scarred her own face with scissors, and the self-elected President Armelio. There, isolated from the crushing pressures of school and friends, Craig is finally able to confront the sources of his anxiety." Author, Ned Vizzini, struggled with depression himself, and did check himself into a mental hospital at one point. Unfortunately, in 2013, Vizzini took his life. He left behind an incredible legacy, and sharing his battles helped so many conquer their own.
2. The Things They Carried by Tim O'Brien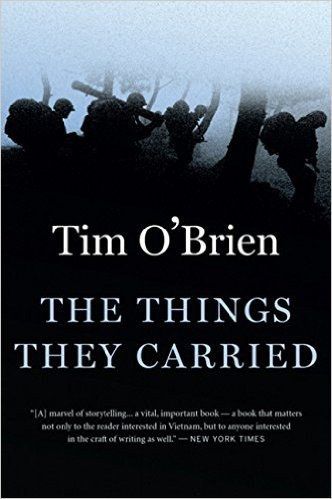 This is another book that will probably leave you in tears. It was one of my required readings for my tenth grade English class (shout out to Stu Guthrie, if you're reading this. Thank you for picking one of many awesome books). In a summary on Wikipedia,
The Things They
Carried is "a collection of linked short stories [...] about a platoon of American soldiers in the Vietnam War. His third book about the war, it is based upon his experiences as a soldier in the 23rd Infantry Division. O'Brien prefers to refrain from political debate and discourse regarding the Vietnam War, but has become jaded regarding the ignorance he perceives from the denizens of his home town toward the world." The book is metafiction, so the reader goes through each vignette not knowing what is entirely true and what is made up, but each story feels so real and puts you right in the middle of all the action. What's cool about this book is that it's not comprised of chapters, but of vignettes, so you really do not have to read it in order. Some of my favorite stories include "The Sweetheart of the Song Tra Bong," "Stockings," and "The Lives of the Dead."
3. The Glass Castle by Jeannette Walls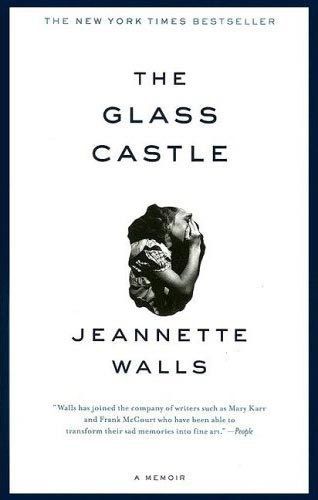 Oh look, another book that will leave you crying. I was actually assigned this book for summer reading in high school, and wasn't too sure about how much I would enjoy it, but I was quickly proven wrong. As you're reading this both incredibly heartbreaking and heartwarming story, it's almost hard to believe it's all true. In the summary from Wikipedia, "The book recounts the unconventional, poverty-stricken upbringing Walls and her siblings had at the hands of their deeply dysfunctional parents" to put it simply. This isn't your typical memoir; it's one you'll probably love forever.

4. Me Talk Pretty One Day by David Sedaris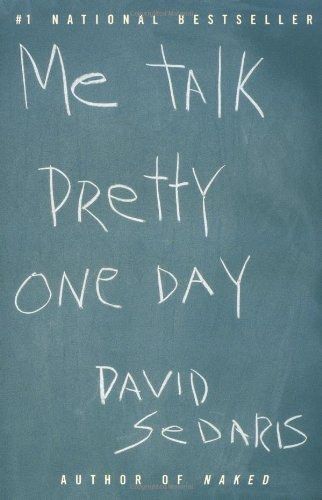 This book was given to me as a high school graduation president from two of my favorite teachers (Katie Defrancesco and Stu Guthrie, if you're reading this, thank you again for such a wonderful gift). I immediately started reading it the day it was given to me, and didn't put it down until it was finished. In an ediotrial review from Amazon.com, "Welcome to the curious mind of David Sedaris, where dogs outrank children, guitars have breasts, and French toddlers unmask the inadequacies of the American male. Sedaris inhabits this world as a misanthrope chronicling all things petty and small. In
Me Talk Pretty One Day
Sedaris is as determined as ever to be nobody's hero--he never triumphs, he never conquers--and somehow, with each failure, he inadvertently becomes everybody's favorite underdog. The world's most eloquent malcontent, Sedaris has turned self-deprecation into a celebrated art form--one that is perhaps best experienced in audio." This book will have you laughing until you cry, and crying until you laugh. Defnitely a book I could read over and over.
5. Silver Linings Playbook by Matthew Quick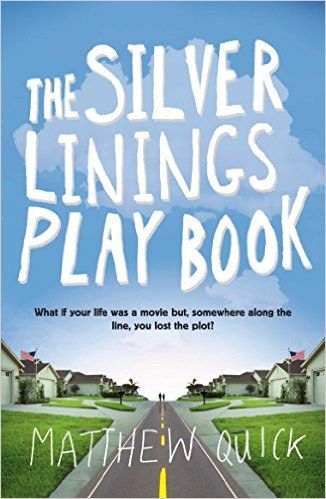 Yet another book that is so much better than the movie. I will admit that this movie was actually pretty well done, in my opinion, and didn't stray too far from the book. But let's face it, the book is always better. For those of you who have seen the movie, or even just heard about it, you know what the book is about. For those who don't know about Silver Linings, here is a summary from Wikipedia, "The book is narrated through the eyes of Pat Peoples, a former history teacher who has moved back to his childhood home in Collingswood, New Jersey, after spending time in a Baltimore psychiatric hospital. Pat believes he has only been away a few months, but soon realizes it has been years, and struggles to piece together his lost memories and what has become of his wife, Nikki. He has a theory that life is a film created by God and that its "silver lining" will be the end of 'Apart Time' with Nikki. Pat embarks on a plan of self-improvement in order to win Nikki back. At a dinner with his friend Ronnie and his wife Veronica, Pat is introduced to Tiffany Webster, who has also moved back home after losing her job after her husband's death." This book accurately depicts what PTSD is like, and Bradly Cooper was very proactive in raising awareness about the issue when the movie was released.
6. Shiver (The Wolves of Mercy Falls, Series) by Maggie Stiefvater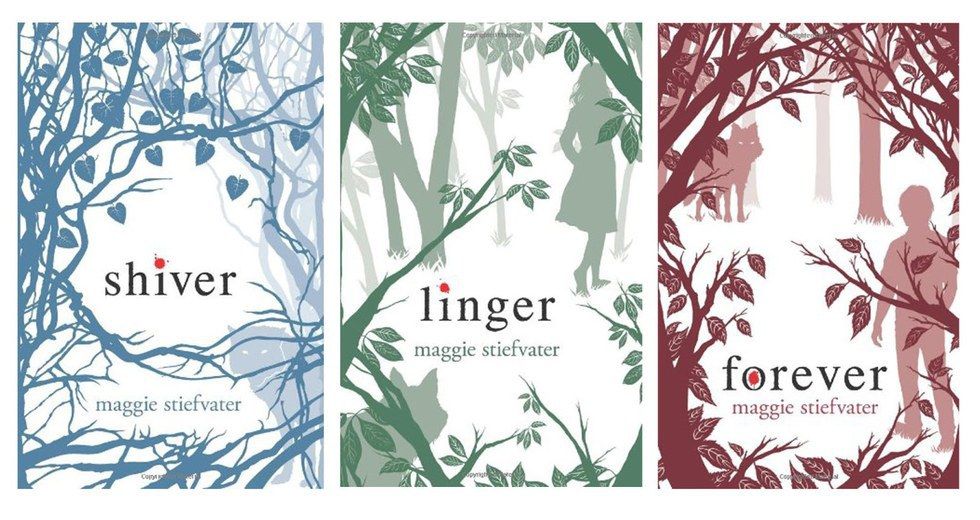 The Wolves of Mercy Falls
series is awesome for any readers that are into the mythical creature/werewolf type read. I suppose you could say it's along the lines of
Twilight,
but it's so so so so much better. I actually got to meet Maggie Stiefvater at my local library a few years back and not only was she funny, but she was incredibly friendly. Maggie is also pretty awesome because she does all of her own artwork for her books, and is also the best at fan interactions on social media. In the summary on Goodreads.com, "For years, Grace has watched the wolves in the woods behind her house. One yellow-eyed wolf—her wolf—is a chilling presence she can't seem to live without. Meanwhile, Sam has lived two lives: In winter, the frozen woods, the protection of the pack, and the silent company of a fearless girl. In summer, a few precious months of being human…until the cold makes him shift back again. Now, Grace meets a yellow-eyed boy whose familiarity takes her breath away. It's her wolf. It has to be. But as winter nears, Sam must fight to stay human—or risk losing himself, and Grace, forever." It sounds corny, and maybe it is, but the series will suck you in, in the best ways possible.




7. The House on Mango Street by Sandra Cisneros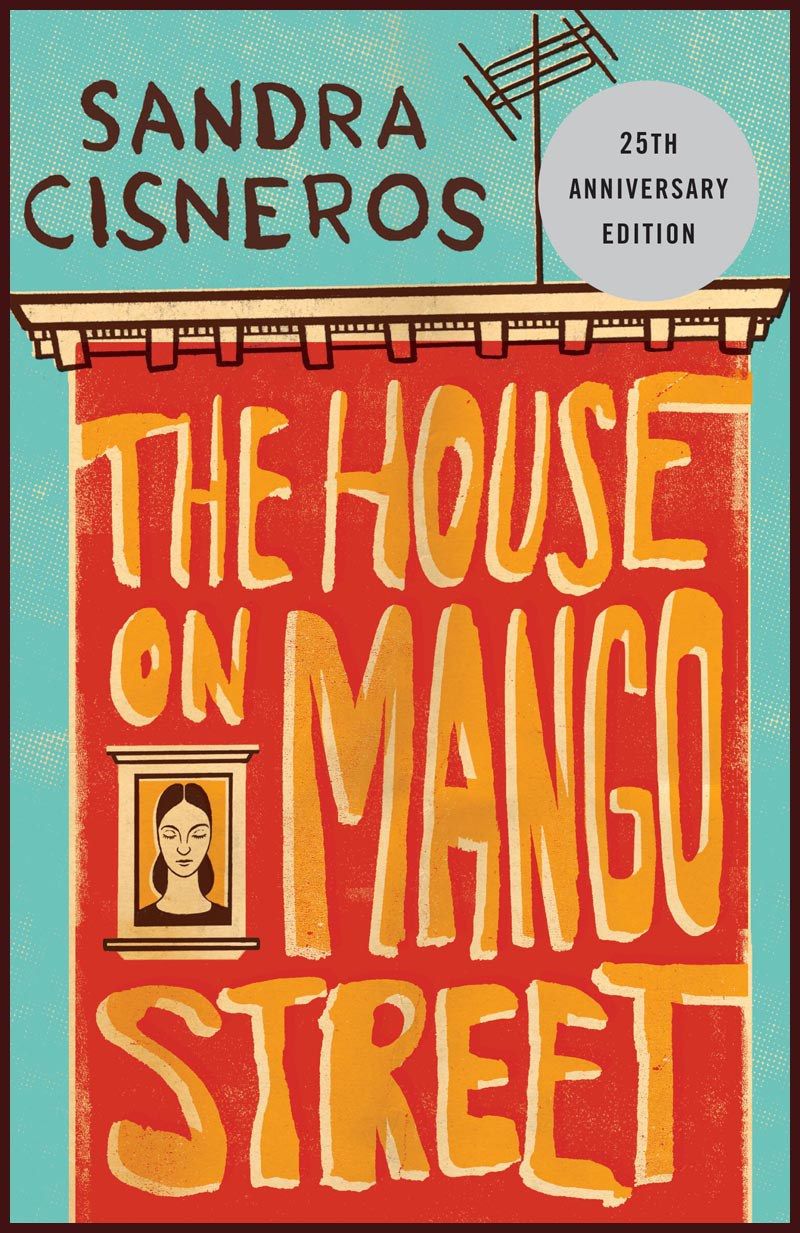 This was one of the required books for my eighth grade English class, and very quickly became one of my all time favorites (so quick shout out to my awesome teacher, Dave Vibert, if you're reading this, for picking an awesome book). This book is similar to
The Things They Carried
in it's format, where the book is a series of vignettes.
Mango Street
is a fantastic coming-of-age story that will stick by you forever. Wikipedia summarizes it as a book that "deals with Esperanza Cordero, a young Latina girl, and her life growing up in Chicago with Chicanos and Puerto Ricans. Esperanza is determined to "say goodbye" to her impoverished Latino neighborhood by turning to a life on the streets. Major themes include her quest for a better life and the importance of her promise to come back for "the ones [she] left behind"." Some of my favorite vignettes are "Boys and Girls," "Marin," Darius and the Clouds," "Hips," and "A House of My Own."




8. milk and honey by Rapi Kaur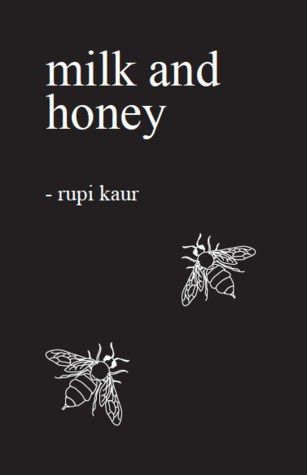 This book of poetry is absolutely beautiful and empowering. Every woman should own a copy. Rupi Kaur is beyond genius and her words will strike a chord in your heart. According to Goodreads.com,
milk and honey
is, "a collection of poetry and prose about survival. It is about the experience of violence, abuse, love, loss, and femininity. It is split into four chapters, and each chapter serves a different purpose, deals with a different pain, heals a different heartache.
milk and honey
takes readers through a journey of the most bitter moments in life and finds sweetness in them because there is sweetness everywhere if you are just willing to look." Even if you're not the biggest fan of poetry, I promise you'll find at least one poem in here that gives you life. Read it, and see for yourself
9. One Flew Over the Cuckoo's Nest by Ken Kesey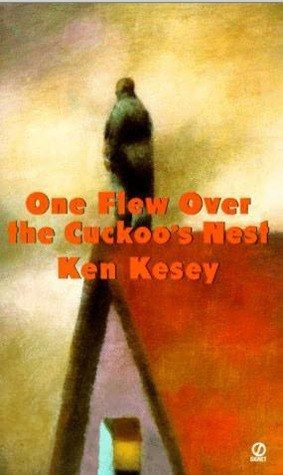 This book is a classic, in my eyes, just like the movie. Of course, this movie was very well done, but the book is still better. For those who haven't seen the movie, in a summary on Wikipedia, Cuckoo's Nest, "Set in an Oregon psychiatric hospital, the narrative serves as a study of the institutional processes and the human mind as well as a critique of behaviorism and a celebration of humanistic principles [...] Randle Patrick McMurphy, who faked insanity to serve his sentence for battery and gambling in the hospital rather than in prison. The head administrative nurse, Mildred Ratched, rules the ward with an iron fist and with little medical oversight." The book is a must-read, and the movie is a must-see.

10. A Streetcar Named Desire by Tennessee Williams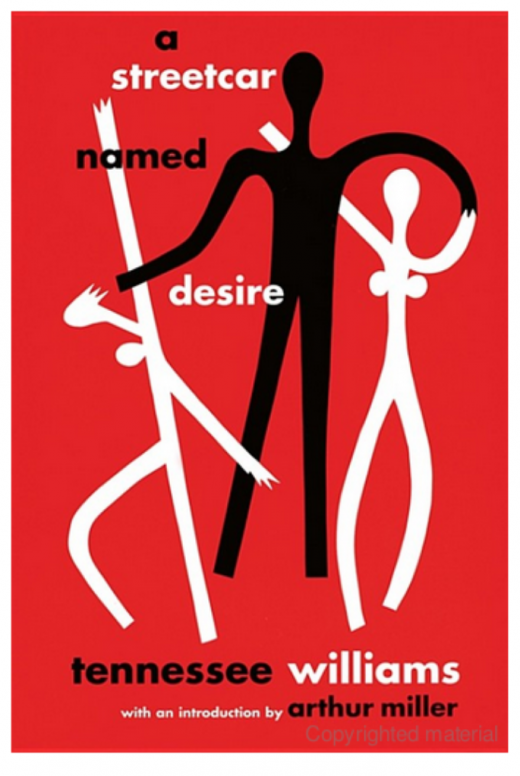 For those of you who appreciate a great play, this is definitely one to pick up (another shout out to Stu for picking out another great read). This play is nothing shy of entertaining, and will have you hooked by Blanche's massive web of lies. Streetcar was made into a great movie, starring none other than Marlon Brando as Stanley. In the Wikipedia summary, "After the loss of her family home, [...] Blanche DuBois travels from the small town of Laurel, Mississippi, to the New Orleans French Quarter to live with her younger, married sister, Stella, and brother-in-law, Stanley Kowalski. Blanche is in her thirties, and with no money, she has nowhere else to go. Blanche tells Stella that she has taken a leave of absence from her English teaching position because of her nerves. Blanche laments the shabbiness of her sister's two-room flat. She finds Stanley loud and rough, eventually referring to him as "common". Stanley, in return, does not care for Blanche's manners and dislikes her presence." It is a fantastic drama that will keep you on your toes, while also having an unfortunate love/hate relationship with Stanley.
So swing by your local bookstore and check some of these great books out! I promise, you won't regret it.