I don't know if it's just me but I love planning things, from small things like parties and holidays, and to big things like my future. And I always think it's all up to me to figure it out and carry out the plan. BUT ITS NOT. My future is not up to me, its not in my hands, and the decisions are not resting on my shoulders. Thank goodness for that.
My future is in the hands of the Lord, and I only need to obey what He is telling me to do. And if you are a believer and have put your life in His hands that is what you do too. Just, obey. It sounds simple, but sometimes it isn't.
A lot of the time I feel like if I personally haven't planned something then it is wrong. How dumb is that?? There is no way I know what is best for me and my future, only He does. And if I only want to please Him and bring His kingdom glory, then I have to let Him have the control. There is no way that I could even begin to plan out my life with my finite understanding of the world and everything in it.
So, it's nice to have a list of verses from the Bible that the Lord has given us to be able to look back on, and to remind ourselves that He is in control. Here are 10 Bible verses for you to look at when you feel like your life is going the wrong way, or just to remind you who is in control.
1. Daniel 2:21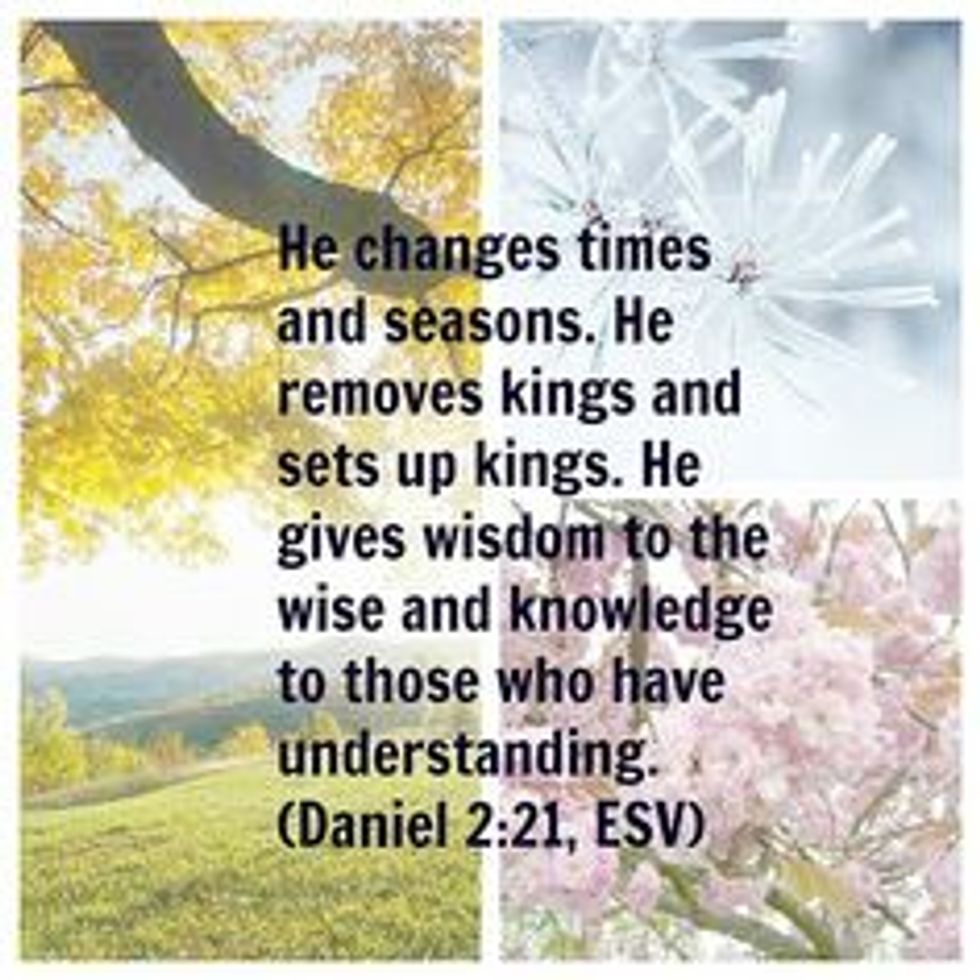 "He changes times and seasons; he removes kings and sets up kings; he gives wisdom to the wise and knowledge to those who have understanding."
This verse reminds us that the Lord decides everything, even what king/president is charge at a certain moment.
2. Proverbs 19:21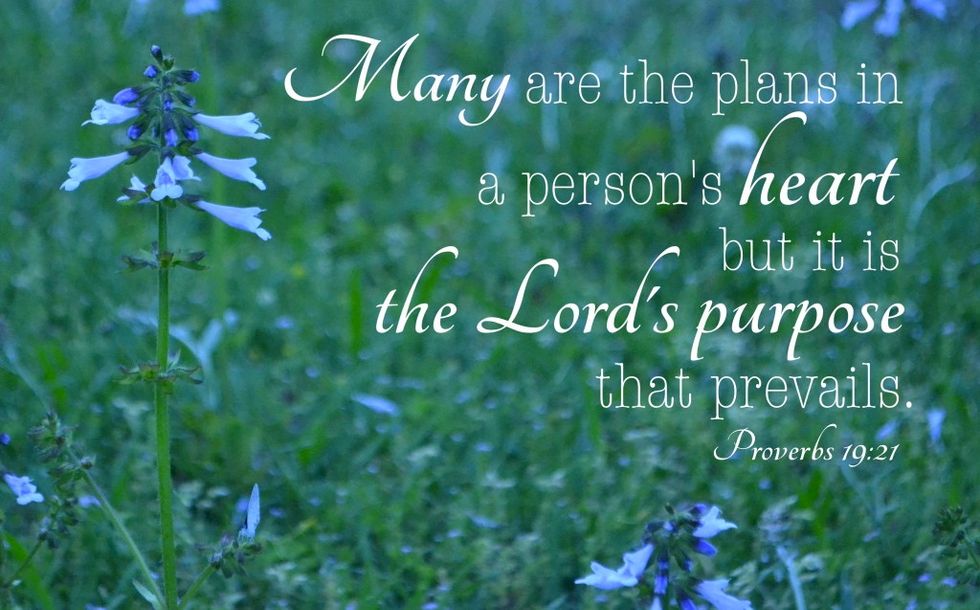 "Many are the plans in the mind of a man, but it is the purpose of the Lord that will stand."
This verse is a kind of reality check for me, it helps me realize and remember where I am. When I decided to follow Jesus, I was taken out of the 'head spot' in my life, and He was put in. I no longer live for me, but for Him. So obviously I am not the not making decisions for my life, He is.
3. Proverbs 21:1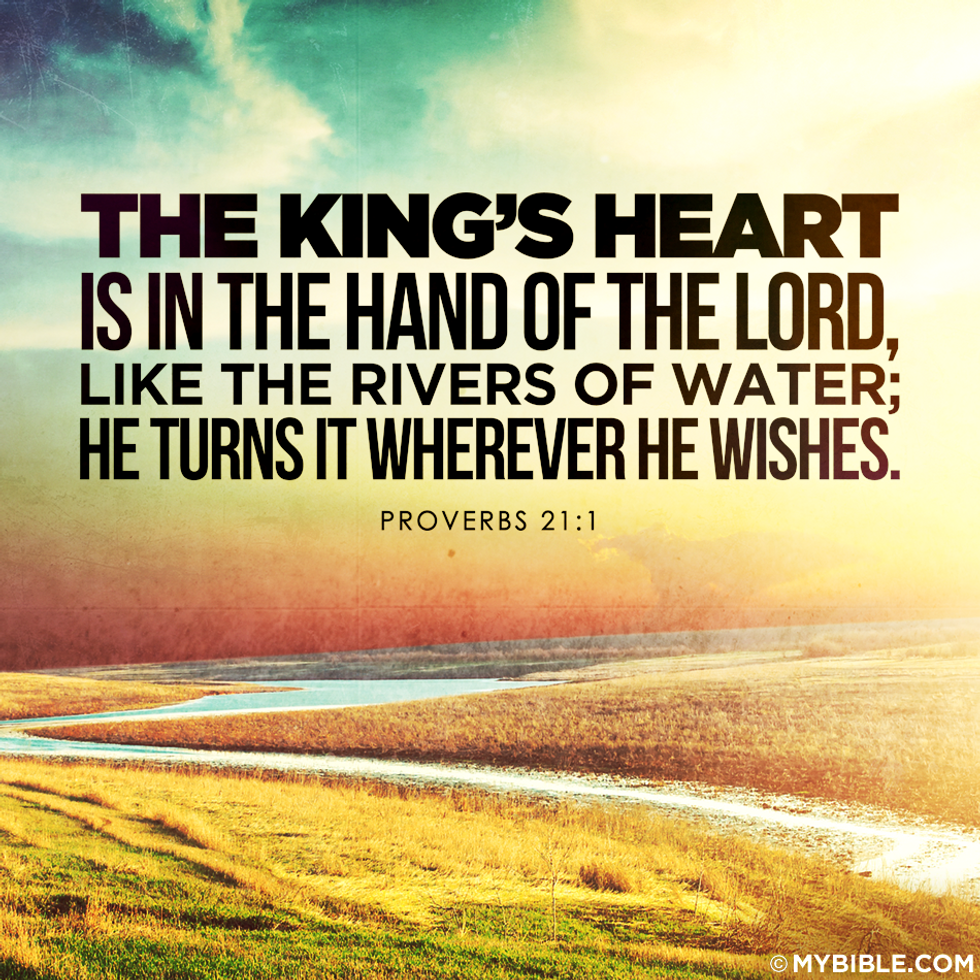 "The king's heart is a stream of water in the hand of the Lord; he turns it wherever he will."
This verse is similar to the one before. But it just emphasizes to me that even someone as powerful as a king does not decide his path. The Lord does.
4. Psalm 139:5-6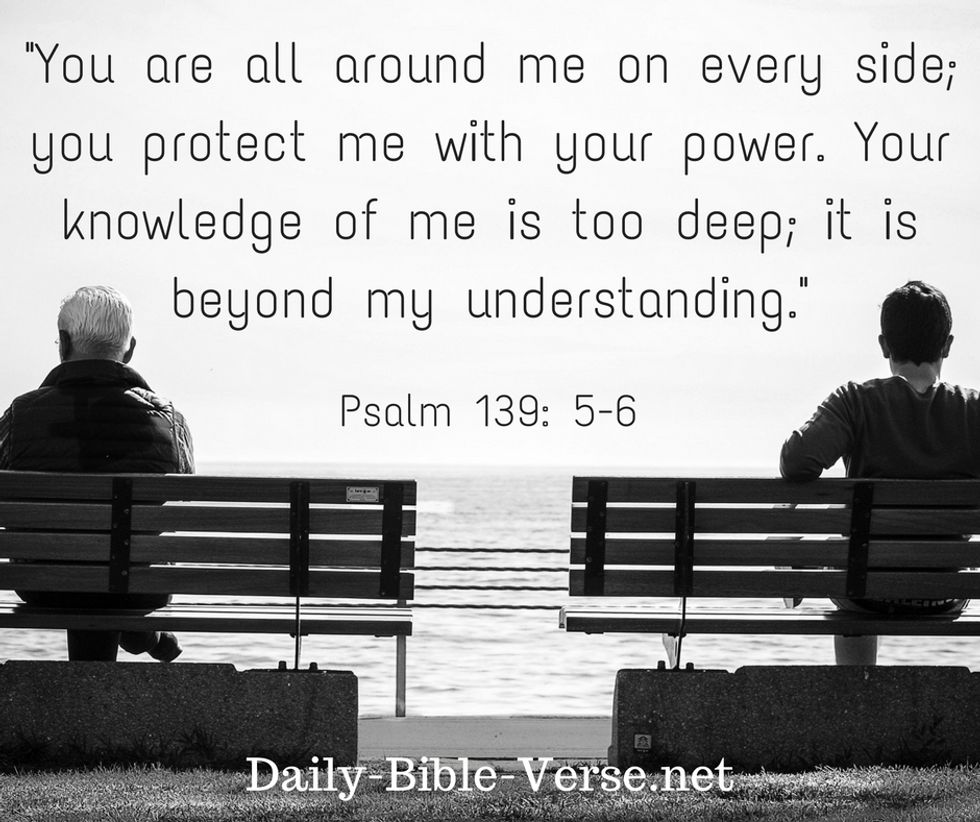 "You are all around me on every side; you protect me with your power. Your knowledge of me is too deep; it is beyond my understanding."
This verse reminds me that when I feel like my life is crumbling or going the wrong way, that He is all around me, protecting me. It also reminds me that the Lords understanding of things and wisdom is SO much greater than mine. And that comforts me to know that the one who made me and holds my life is knows everything and is infinitely wise.
5. Isaiah 43:2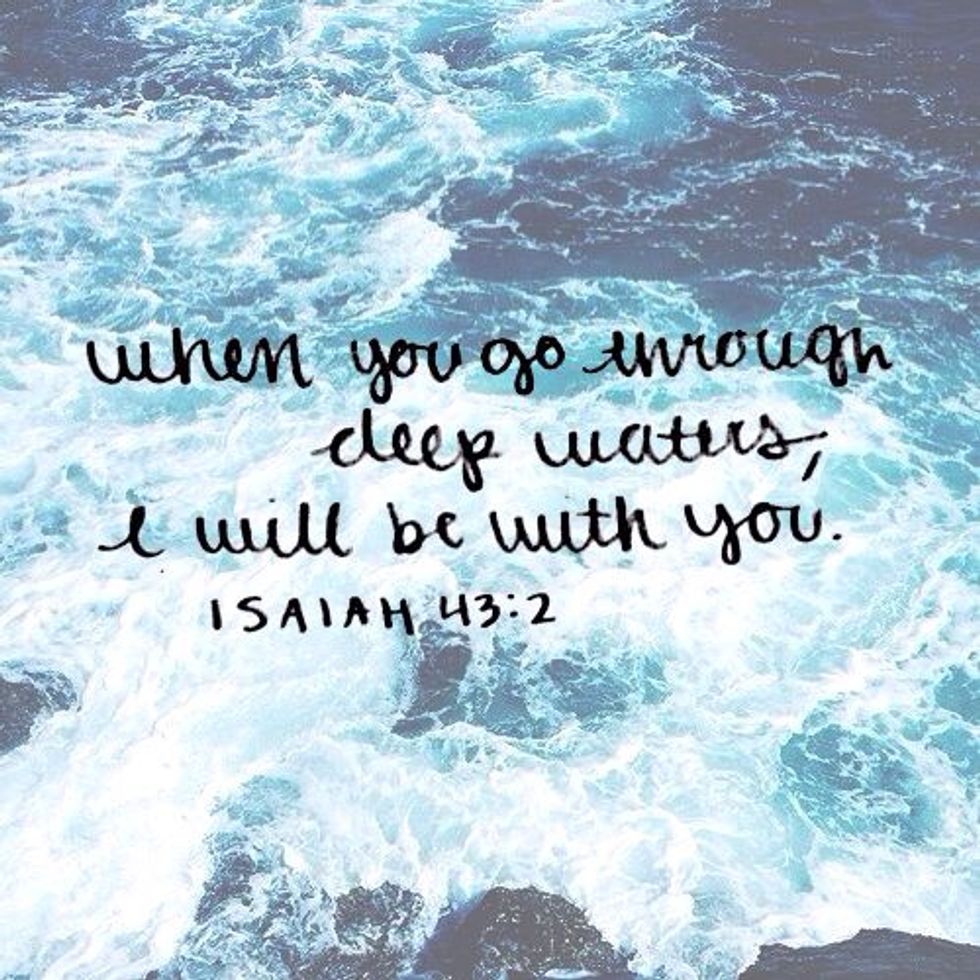 "When you pass through the waters, I will be with you; and when you pass through the rivers, they will not sweep over you. When you walk through the fire, you will not be burned; the flames will not set you ablaze."
This verse comforts me so much. Just to know that whatever I go through, the Lord will be with me. Whether it's deep waters or fire, He's there.
6. Romans 8:38-39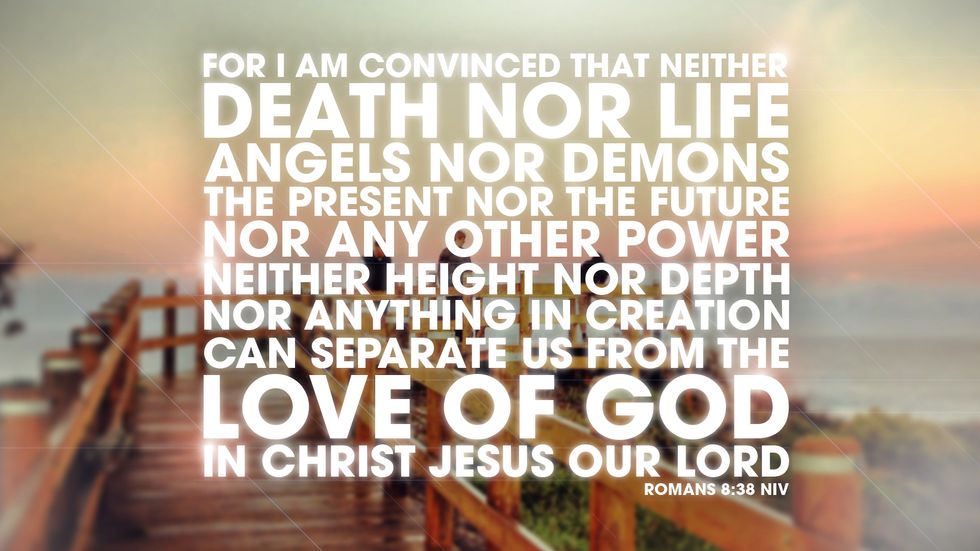 "For I am convinced that neither death nor life, neither angels nor demons, neither the present nor the future, nor any powers, neither height nor depth, nor anything else in all creation, will be able to separate us from the love of God that is in Christ Jesus our Lord."
These verses again remind me that no matter what happens, or what I do, or what other people/powers do, I am the Lords, and I can never be separated from Him and His love.
7. John 13:7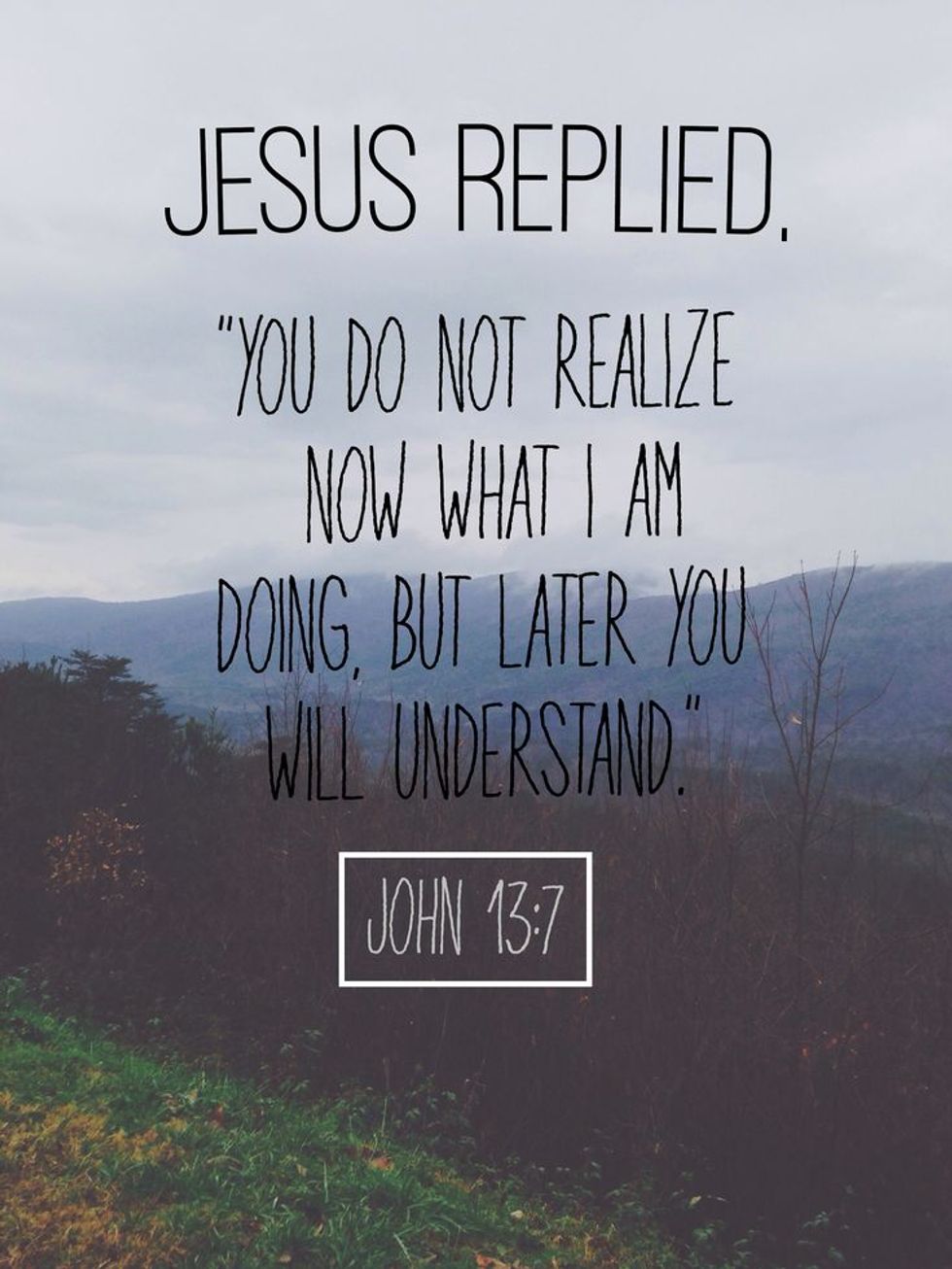 "Jesus replied, 'You do not realize now what I am doing, but later you will understand.'"
Just as Simon Peter did not understand, at first, what Jesus was doing in that moment, we don't understand the Lord's plan at first, and sometimes at all. But that's not our job. Our job is to obey Him, not understand His every move.
8. Jeremiah 29:11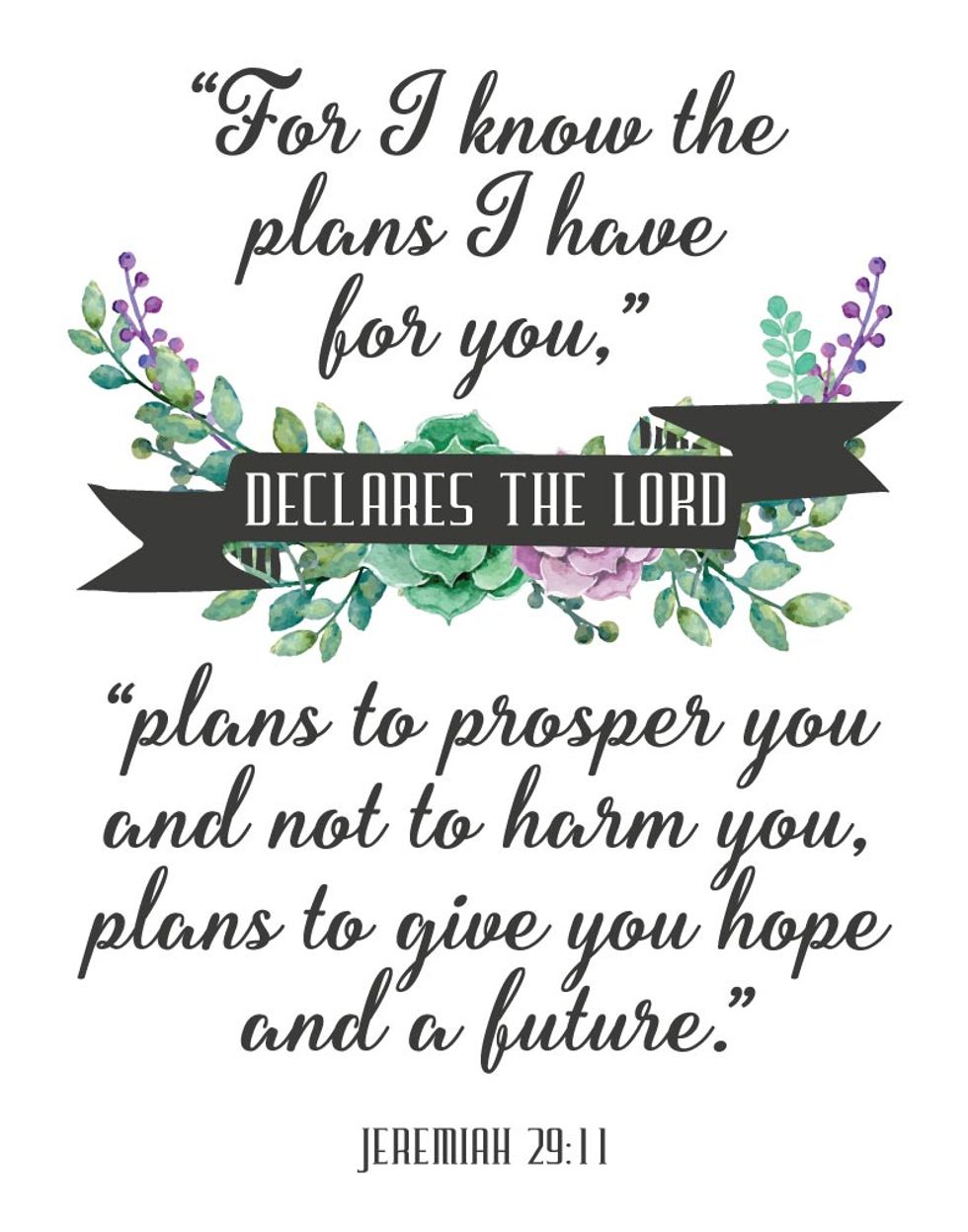 "'For I know the plans I have for you,' declares the LORD, 'plans to prosper you and not to harm you, plans to give you hope and a future.'"
He has a plan for us guys. He does.
9. Genesis 1:1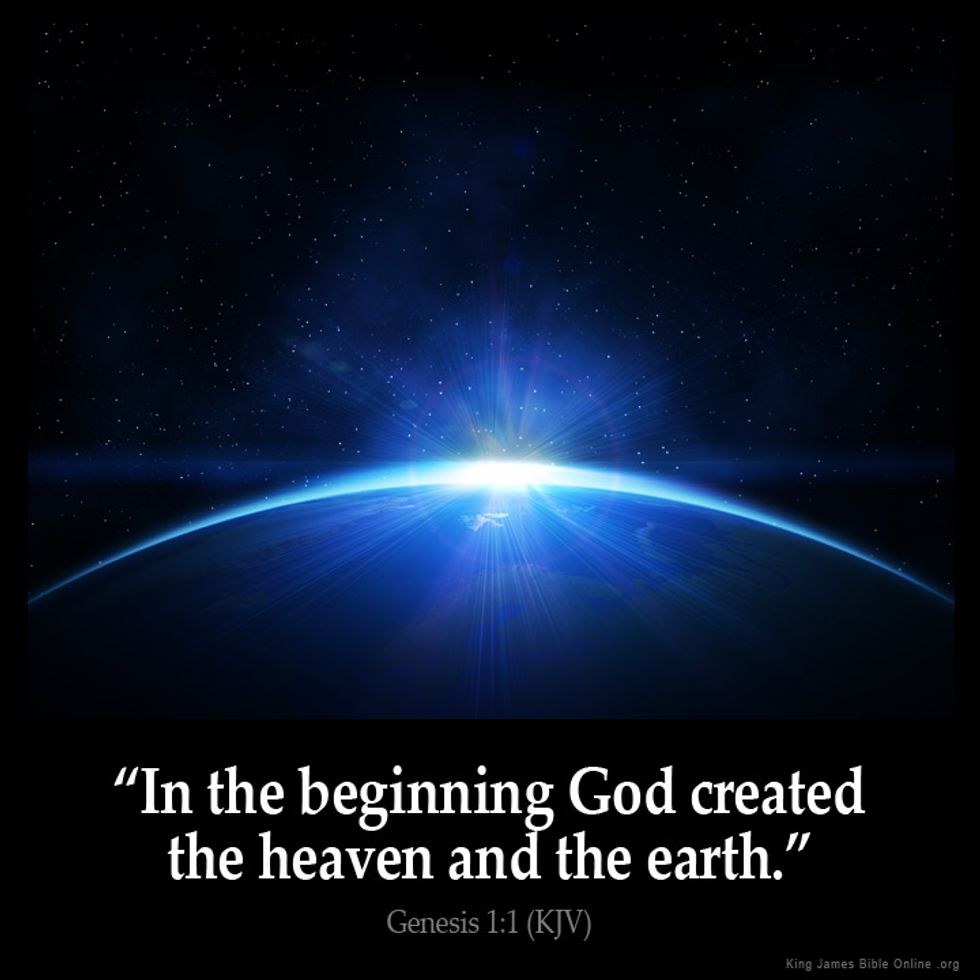 "In the beginning, God created the heavens and the earth."
This whole first chapter of Genesis is so cool and helpful to read when you feel worried about your future, or want to control it. Just read this chapter and you will instantly be reminded that the Lord created the whole world, so He can most definitely take care of you and your future.
10. Isaiah 46:9-10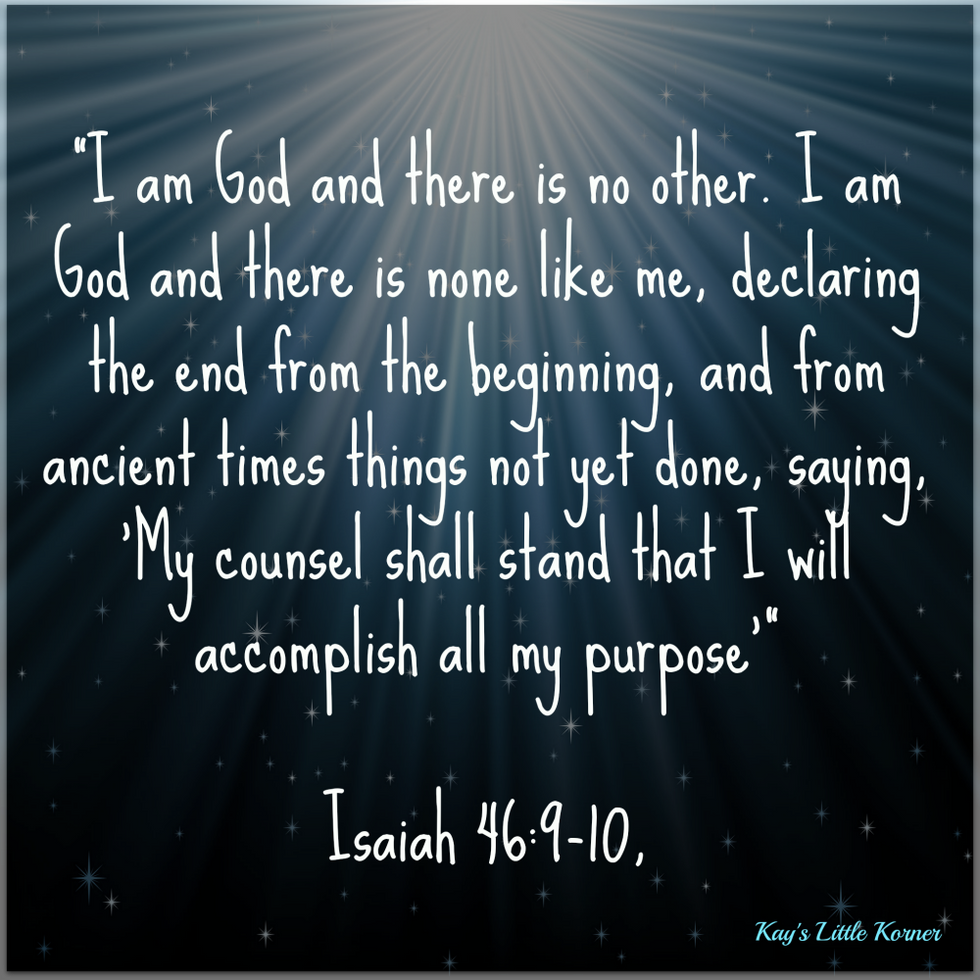 "Remember the former things of old; for I am God, and there is no other; I am God, and there is none like me, declaring the end from the beginning and from ancient times things not yet done, saying, 'My counsel shall stand, and I will accomplish all my purpose.'"
This reminds me that the Lord is in control of everything and that His plan will be accomplished, because He says He is the only God.
Remember He is in control!