Wristbands come in many different shapes and styles. Metal, plastic, fabric, rope, beaded, even a few colored rubber bands would do the trick. Some I wore more than others and all were unique in their own way, but most of them became trendy fads.
Unless someone else wears them ironically, somehow they just aren't "cool" to wear anymore. Zox makes a more flexible fashion statement.
Zox is a clothing brand from Los Angeles, California, created by the Kuipers brothers, Jason, Brandon, and Jordan. Their hobby for collecting as kids turned into a personalized business.
Their products support artists and their one-of-a-kind designs, like Threadless does with their shirts. Zox currently creates four types of products: Straps, Imperials, Imperial Hoodies, and Strings.
Straps are their original, startup product and the most popular wristband. These come in one size only but can be stretched for comfort. Imperial Hoodies come in lunar grey and black and are accessorized by Strings which are extended Imperials.
My video review is for the Imperial wristbands ahead.
The Happy Trees and Trapezium Imperials are a size medium and feel smooth. Each product is made of an elastic fabric that comes in small, medium, and large (to find out your size click here).
On each side, there is a work of art and a positive message for you to showcase to the world. A production number shows you which number was made and received and serves as a label of authenticity and for collecting.
At both ends are interlocking magnetic clips for easy wear and removal. These magnets are strong but not the strongest, so it is easy for them to come undone with a quick shake.
The wristbands are very comfortable, durable, and do not slide over your arm in a distracting way. Water is no issue but it goes without saying exposing magnets to water could rust or corrode their attraction.
Cases come with an inspirational quote on the inside and the convenient size and magnetic lid make it great for reusable storage.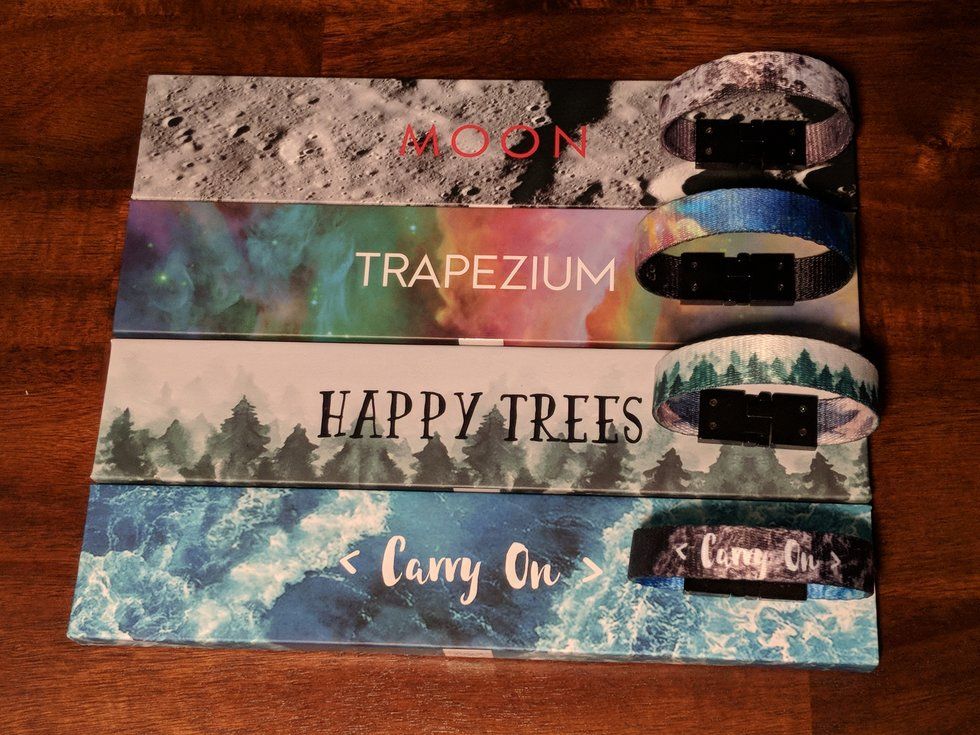 Zox wristbands are unique for their limited and exclusive creation. Only 3,000 wristbands are made for one design and when they're all sold, they're gone for good. Collecting and trading is big part of the Zox brand; it made me buy an Imperial in a size small.
Don't worry though, if you're looking for a product you missed or couldn't get the size of like me, you can join Zoxlist, a Facebook group of fellow Zoxers selling and trading discontinued Zox products.
For those subscription box junkies, check out the ZOXBOX or the optional monthly Mystery Club to start a collection of your own.
Zox has made a caring, creative, and changing brand that feels fresh every time, and no doubt will stay fresh thanks to its community. The brothers are always looking for new ways to reinvent their products, they even have a Zox Imperial Backpack in the works.
Zox is understated but that's how it gets noticed, because Zox wears its heart on your sleeve.
---
Follow Zox on Twitter, Facebook, YouTube, and Snapchat or visit the Zox Shop today.
Cover Image Credit: Brent M. Wiggins