Released on March 16, 2018, XXXTentacion, X, gave the world an album that will hopefully not be forgotten anytime soon. His sophomore album, "?," — yes, it actually is just a question mark for the title–is, overall, receiving really good press, leaving many impressed with the 20-year-old rapper from Florida and the maturity he's shown with his first two albums.
It seems the days of X's distorted rap sound with abrasive lyrics are gone, and this new version of XXXTentacion is here to stay. Here's everything you need to know about his new album, "?," and why you should consider giving it a listen.
Anyone who knows me, whether it's in person or through my articles, knows I am very tough when it comes to music. I have high expectations with most music, sometimes even higher ones depending on the artist, because music can truly allow a person to escape their physical reality and run off into a much more spiritual journey that feels almost therapeutic if you find the right artist or song.
That being said, X is one of those guys that I have developed a very high interest in over the last year and a half or so after hearing his first album, "17," and a few songs he released prior to that album. I was never a fan of his distorted sound but there was a level of maturity on "17" and those couple of songs that, to me, created a stunningly beautiful chaos that came in all sounds.
I was instantly hooked on this artist, leaving me almost positive that this man could go on to become one of the most influential artists of our time if he can keep himself out of trouble.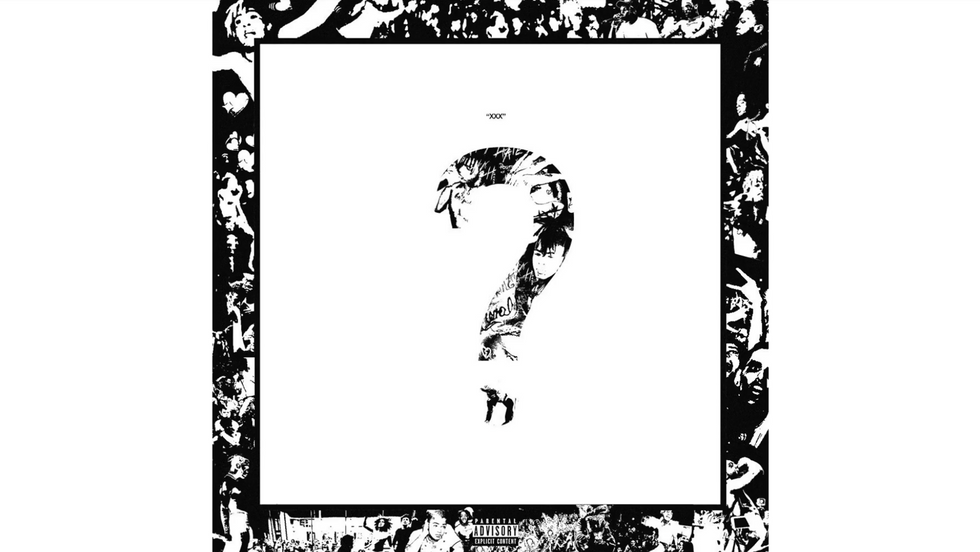 To kick off the album — which, by the way, has pretty cool cover art — X gives us almost a full two minutes worth of just talking. I know it sounds bad or boring, but it's not.
In this raw introduction, X breaks the fourth wall to talk to you, the viewer, about the album, what to expect, what it contained and a few small things about its making. These "instructions" will give you a quick preview at the madness that is the mind of XXXTentacion and if you listen closely enough, you'll hear something that will sound very familiar if you have heard X's freshman album, "17."
"To find, to find the exact words, to find the perfect words, to say less, but to say more, was ideal with this project, and till my energy and mind be felt, in a less aggressive way, but a more passive and genius way was ideal with this album, to show the versatility and to show th- to open minds in itself was the goal of this album, and to acquire a large amount of passion, and love and appreciation for myself was the goal of this album; loyalty to myself was the goal of this album. So, I'll offer this warning and set of instructions; if you are not open-minded before you listen to this album, open your mind. If you don't listen to the alternative sound and you've never been into the alternative sound and have not been open to trying different things; open your mind before you listen to this album. You can listen to it anywhere, preferably your room, your car, but it can be played anywhere. This album is far different, far more versatile, far more uplifting than the last. It's something you can find comfort in, it's very comforting, but discomforting at the same time. So, with this project, again, you're entering my mind, feeling my insanity, feeling my genius, my energy. Enjoy."
2. "ALONE, PART 3"
The third part of an ongoing series, X gives us a slow, melancholy vibe that is almost to die for. He makes it so easy to feel his pain on this track, which is something you'll notice he accomplishes throughout this entire album with the exception of two songs — you'll know the two as soon as you hear them but I'll tell you down below anyway!
"Alone part 1" was a lost track that made its way to the public once it resurfaced on XXXTentacion's Reddit page and "Alone part 2," which was released back in 2014, is considered to be much darker than part 1 and one of X's darkest, most violent songs to date.
3. "Moonlight"
A trippy song with a hefty amount of that pop style sound, "Moonlight" is one of the hottest tracks of the year–not just going by the numbers! On "Moonlight," you'll get such a great combination of sounds to create one hell of a vibe. As of March 20, it is the No. 2 song on Genius and has been for a few days in a row, trailing only one song, "SAD!," also by XXXTentacion.
4. "SAD!"
A song that I covered on a previous article when it was still a single, "SAD!" has been dominating the charts since its release and, once you hear it, it's easy to understand why.
"SAD!" is the perfect kind of style for any fan of hip-hop to enjoy because the lyrics are relatively dark and sad but the song's instrumental is much more upbeat, making it sound like a great song for dancing to rather than crying–though, you can do either! I won't judge!
5. "the remedy for a broken heart (why am i so in love)"
Probably a top three favorite song of mine off of "?," X gives us yet another awesome blend of sounds. The instrumental is an acoustic guitar riff with X coming in singing low and sounding full of pain, then is greeted by enough percussion to make the guitar riff more of a rap beat for X to rap over.
He then takes it back to singing as he nears the end of the song, and the percussions fade out, leaving only X's voice and the sound of the guitar to really capture the emotion in the song.
6. "Floor 555"
The transition from "remedy" to "Floor 555" is sick and demonic–and I love it! You've heard of heavy metal rock music before right? Well, "Floor 555" is a mix of that and rap music: Heavy metal rap. This is somewhat of a sound that's similar to his older distortion style but it's not actually distorted, at least not enough to make it fall into the same category.
"Floor 555" is a very hard rap song over a dark, emo/alternative rap beat and at the end, the beat drops a little more and you hear X screaming in a rhythm that's similar to how he did on his song, "King." You may not like its intensity if you don't like when he screams, but if you do, then you'll love this track.
There are so many times where I wish XXXTentacion made his songs longer than two minutes, but I'm sure a lot of people used to say that about Edgar Allan Poe's stories and look what his legacy turned out to be!
7. "NUMB"
"NUMB" may just be my favorite song on the entire album– it's sort of a toss-up between three songs–and it's undeniably a work of art. Primarily made up of a slow riff from an electric guitar that builds into the hook, XXXTentacion takes his artistry to an entirely new level on "NUMB" (something that he does throughout all of "?" but more here than almost any other track).
This song is so beautifully sad and messed up that using the term "beautiful" to describe "NUMB" doesn't even come close to cutting it! There are hardly any words to explain the feelings "NUMB" will give you so just go ahead and listen to it as soon as you can!
8. "Infinity (888)" ft. Joey Bada$$
"Infinity (888)" is X's take on old school rap featuring Brooklyn rapper, Joey Bada$$. XXXTentacion has done this kind of old school rap but when you mix his old school sound with Bada$$'s, you apparently get an incredibly calm rap beat focused around a jazzy vibe.
Bada$$ kicks off the song spitting his classic 90's stuff, and then X comes through with a similar flow at first, but then really goes in after letting the beat run for a few seconds. X really does "spit the pain" on this entire album and he proves it time and time again with each track.
9. "going down!"
This is one of my least favorite songs on the album and it's honestly still so good. It's one of X's rap songs that feature a lot of punchlines and ranging in his voice from deeper to higher pitched as he continues to rap.
The fact that I'm not obsessed with this song but I still turn it up when it comes on just shows how good the quality of "?" really is.
10. "Pain = BESTFRIEND" ft. Travis Barker
No, you did NOT read that wrong. This song does feature drums from Blink 182's long-time drummer, Travis Barker. How the collaboration came about, I still have no clue, but that doesn't mean I can't be grateful for every second of it.
"Pain = BESTFRIEND" starts off with just a guitar riff that X is singing over, leaving me very curious how Barker will enter the song. But then it transitions to screaming and the drums bash through and then lead into the break before Barker's solo.The song seems to be about X reflecting on his regrets while he's singing, really capturing the pain he feels when thinking about his past.
Then, as the Travis Barker comes in with the drums and the screams take over the singing, X tells us all that he shouldn't waste a tear because his pain will always be there, no matter what, and that he uses it for good now instead of letting it cause his destruction. This is definitely a key theme throughout the entire album. Here are the words XXXTentacion screams:
"Don't cry, don't cry. It won't end. Pain will always be my friend."
11. "$$$" ft. Matt OX
Matt OX is a child Philadelphia rapper that went viral practically overnight since the release of what is his most popular song, "Overwhelming." The two artists collaborated very well here, something I think X can probably do with any variety of talent because of his own arsenal of sounds.
The sound that goes with "$$$" kind of reminds me of Travis Scott meets Migos in the Peach Beach course on "Mario Kart: Double Dash !!" It's a catchy song to listen to for sure and it's perfect for anyone who isn't into X's rock sound.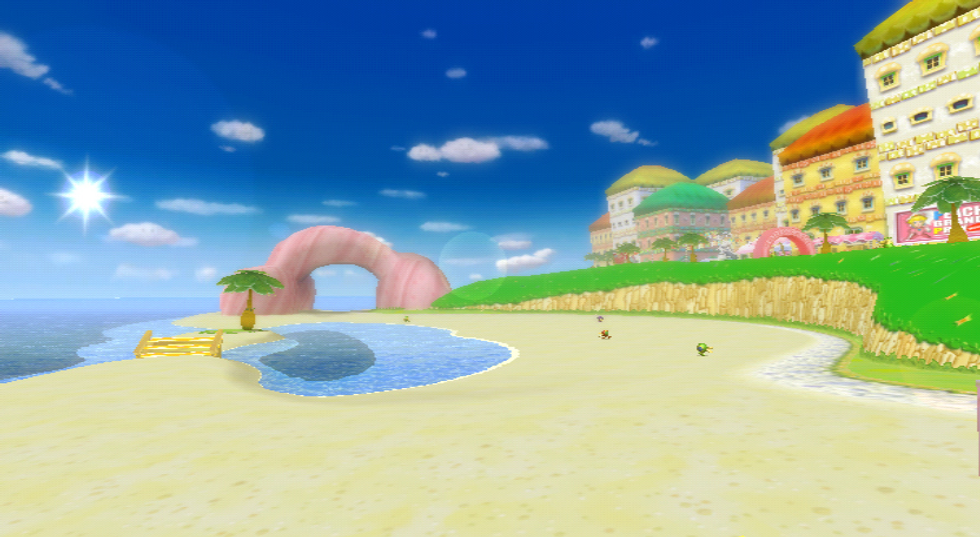 12. "love yourself (interlude)"
The song starts with what sounds like a recorded conversation playing over an acoustic guitar; the conversation is believed to be between X and a YouTuber named Taylor White. X enters the track, sings a short hook and then allows the song to fade into the next.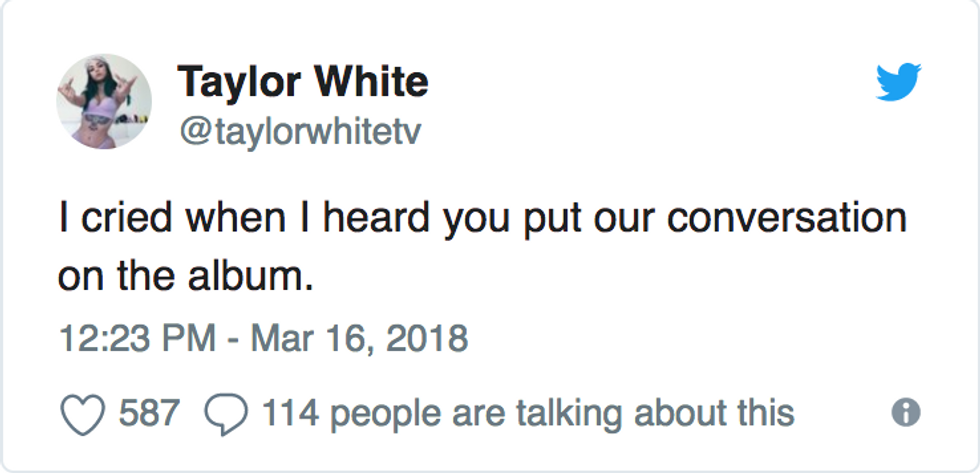 straightforward hook.
14. "I don't even speak spanish lol" ft. Rio Santana, Judah and Carlos Andrez
This song is a straight flex on other artists in today's music. XXXTentacion has already proved he could make better rock music than a majority of today's bands and sing and rap over music as good as anyone in hip-hop, but now he's created one of the hottest spanglish crossover songs I've ever heard and I'm just wondering what else X is going to do before his time is up.
Not only is this song insanely catchy and enjoyable, but X even gives you an entertaining title, too! "I don't even speak spanish lol" is such a bop and it's even better knowing that the Florida rapper didn't understand what is being said on the track.
15. "changes"
"changes" is the second time you will hear PnB Rock's voice on "?," though it is uncredited. This song is a beautiful ballad consisting of X (and PnB rock) singing over a slow piano and what sounds like strings from an orchestra in the background. "changes" was one of the three singles released prior to the entire album and people still have the song on repeat–for obvious reasons, of course.
16. "Hope"
The last of the three singles I'll be talking about is actually a song that XXXTentacion dedicated to the victims of the Parkland shooting in Florida. Being from Florida, I imagine the shooting felt much more emotional to X and other Florida natives than it would have for people in other areas of the country.
In the song's description on SoundCloud, the platform "Hope" was originally released on, X said:
"follow your dreams, and know that even though you have lost, you have guardian angels watching over you, day in and day out, the last thing they want is for their lives to be lost in vein, make them proud! live full, healthy, genius lives!
#you are not alone"
X later took the track off of his SoundCloud, probably because he wanted viewers to have to listen to them album rather than stream "Hope" for free.
17. "schizophrenia"
This track immediately gives off a creepy vibe that could easily be mistaken for a lost Marilyn Manson song. Because of this, I expected that tone to carry through the song, but it actually fell more and more aligned with a punk song until X screams at the end–but even that didn't bring back the creep factor "schizophrenia" started with.
Overall, it was a really cool song but it would have been a lot better had he continued it the way he started it.
18. "before I close my eyes"
As I've said earlier under "Pain = BESTFRIEND," a key theme throughout "?" is the transition of XXXTentacion's image from a thug who probably was on his way to a short-lived life into a young man who wants to see the world become a better place. Well, "before I close my eyes" is the perfect song to finish off that concept. During the song, X sings:
"Before I lay me down to sleep,
I pray the lord my soul to keep,
I hope it's not too late for me, whoa"
Final Score: 9/10
I know that's a really high rating, but it's well-deserved because of the combination of factors such as: the quick transition of X's style over time, his overwhelming creativity and his unique song.
Be sure to come back to my page for more music pieces but if it feels too long to wait until next week, click my name at the top and read some more of my music articles from previous weeks.