If you're a true 90s kid, you probably remember the Wonder Ball. If you don't remember the Wonder Ball, or maybe you felt as if you were too old at the time to enjoy one, then let me remind you. Wonder Balls were wondrous things. They were hollow chocolate shells that contained a small figurine of a popular Disney or Pokémon character, along with a collectible sticker. Back in the day, these things were the sh*t.
Unfortunately, these little bundles of joy were discontinued in 1997 when competitors and consumers began campaigning about the potential choking hazard the figurine posed. Many were left broken-hearted over the loss of this very special treat. Consumers were not left hanging too long, though, because in 2000, Nestlé relaunched the Wonder Ball, replacing the figurine with sweet, hard candies. The candies resembled famous characters from Disney and Pokémon again.
This blissful period didn't last long, though. In 2004 the company sold the product to Frankford, who then later discontinued it. Many claimed that the Wonder Ball was discontinued because some child had chocked on the candies and died. However, this was revealed to be false, and so the love for the Wonder Ball did not die out.
Most kids today do not know the many wonders of the Wonder Ball, and in my opinion, it's a true shame. I myself, a 20 year-old college student, miss the Wonder Ball tremendously. I'm sure many of my peers would agree that the Wonder Ball was one of the best things about our childhood.
Some companies tried to leech off of the Wonder Ball's remaining fans. A company named Candy Treasure released a product known as Choco treasure. This egg-shaped candy was made from chocolate and was hollow. Filling its insides was a small figurine ranging from sports equipment, to dinosaurs, and even to Spiderman. It wasn't the same, though, nothing could truly fill the void the Wonder Ball had left.
But wait!
On Feb. 25, 2016, pictures of new Wonder Balls circulated the internet. The post claims that each individual had bought them at their local Walmart.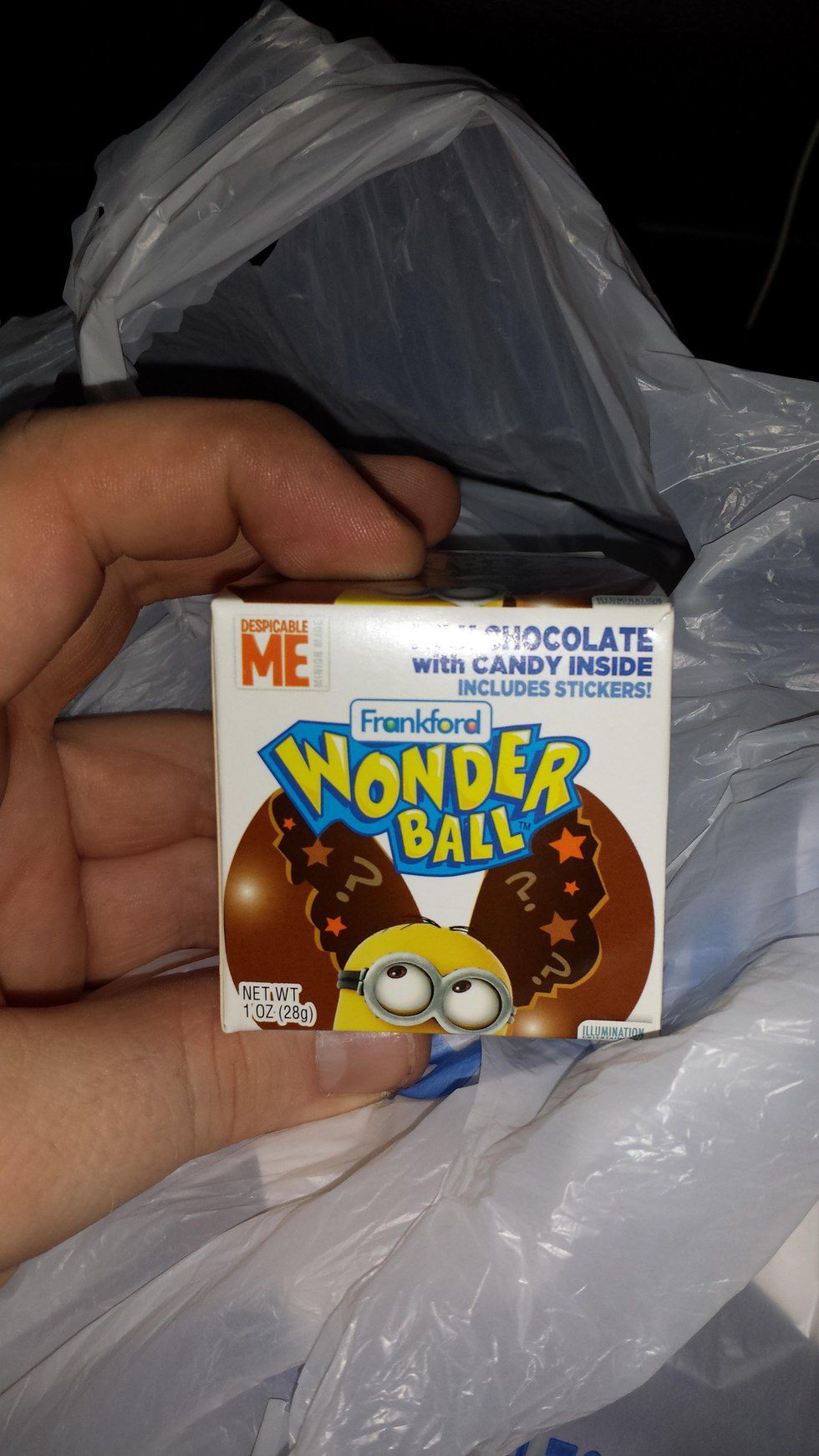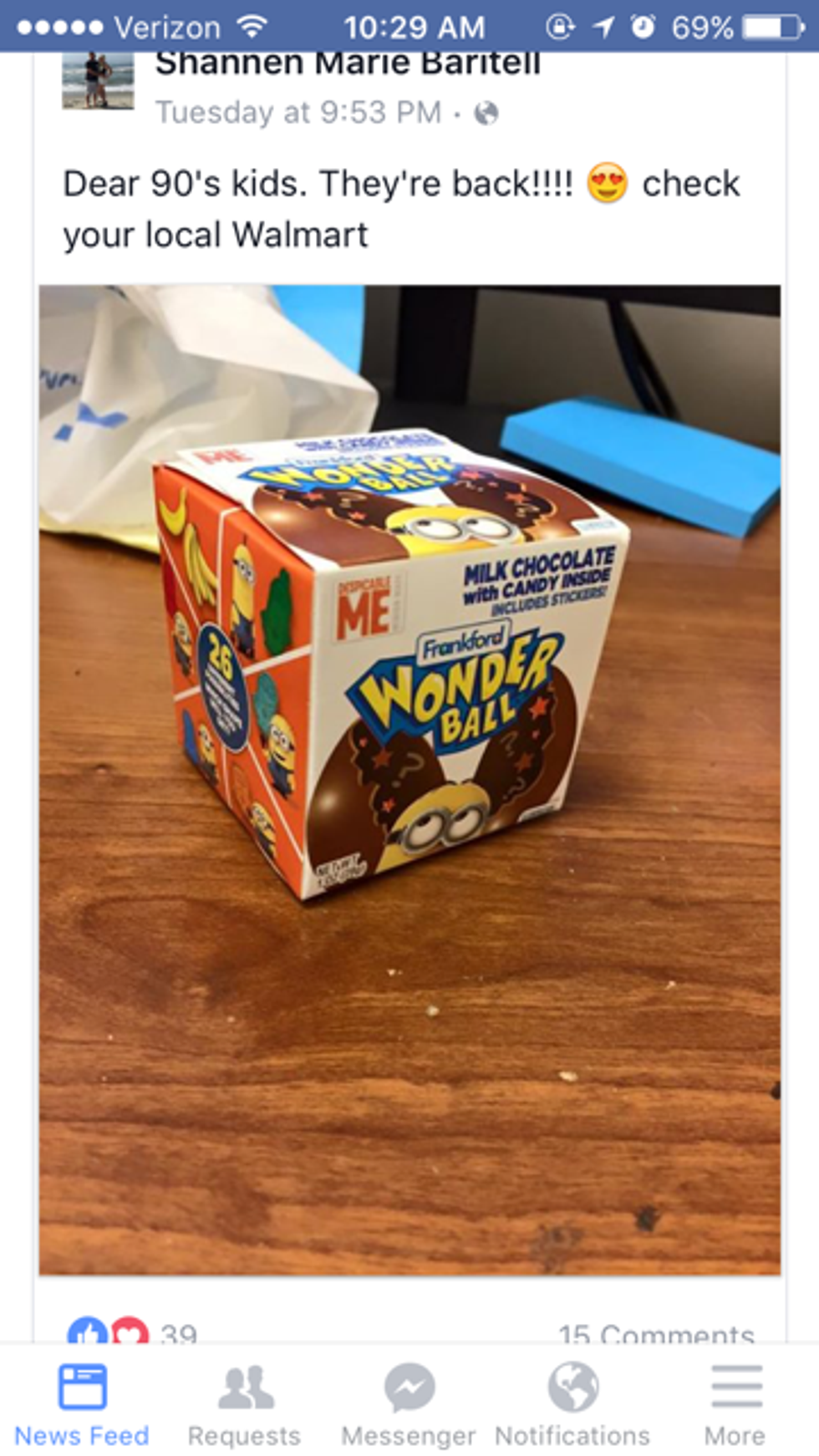 Despite the same kind of Wonder Ball being shown on both Reddit and Facebook, and both people stating they got it from Walmart, I don't think I would get too excited. Frankford never released anything saying they were going to start producing Wonder Balls again.
If a company were to relaunch a popular item, one would think that they would make a bigger fuss about it, not keep it under the radar like this. However, with two different people claiming the exact same thing, maybe it isn't such a wild thought. Maybe the Wonder Ball really is back.
I'm not trying to get my hopes up too high; I don't want to be crushed when I don't ever see them at my local Walmart. But if by some chance I do see them, you better believe I am buying a good dozen or two of these bad boys, and that I will knock down anyone who tries to get in my way. For all of you hopeful Wonder Ball fans out there, I truly hope the Wonder Ball is, in fact, back on the shelves. Happy ball hunting!