Pockets... something men probably take for granted. They're crucial for everyday life, yet a lot of woman's clothing doesn't have them. Now, I want to know why that is.
Women probably carry two to three times the amount of things on a daily basis than men, but we don't have the luxury to use pockets, as a lot of clothing either don't have pockets at all or they're shallow as hell.
Sure, we have pocketbooks and those are super convenient, but have you ever wanted to just carry a wallet, your keys, and some Chapstick (essential), but realize that it's impossible without some kind of bag because your pockets aren't deep enough to carry anything. Frustrating, right?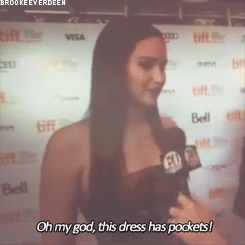 Every girl when they realize that something they're wearing has pockets.
I'm not sure what goes through the designers' heads when they design clothing with no pockets. Do they think that it's a fashion statement? When in reality, it's just super inconvenient.
Sometimes if I'm wearing a dress or a romper, I just want somewhere to put my phone, but almost all of the time, I don't have a pocket. I'm truly getting sick and tired of it.
Ladies, we need more pockets. It is something that we deserve the right to have, just as much as men, who don't even fully appreciate them.
C'mon... let's make this happen.