This past weekend, I got the opportunity to attend Wizard World Comic Con. A fan convention is a weekend-long event where thousands gather to experience all things pop culture. Famous movie and tv stars attend the event like Jason Mamoa and Karen Gillan. The Wizard World organization added Cleveland to its route in 2015 and I've attended every year since.
This year I went to the convention with my cousin Isabel. We go together almost every year and this year I decided to lighten our load and not go there the second the door open. Mainly because I knew there wasn't a lot of new and exciting stuff this year. Sure, Jason Mamoa attended this year but to get a selfie with him was over $120 alone. Plus, the line for his booth wrapped around the side of the whole autograph area.
My cousin only managed to get a picture of the top of his hat. I was more concerned with meeting one of my favorite voice actors, Kevin Conroy. He has been the voice of Batman in many animated projects since 1992. He is regarded as THE voice of Batman. I got to meet him several years ago in 2017. I got his autograph and everything, so I was more focused on just getting another selfie with him this year. Which was surprisingly cheap. Sure $20 does not sound cheap but by convention standards, it's pretty inexpensive.
At around 1:45, we headed over for Kevin Conroy's autograph signing. While we waited in line, he finally arrived and decided to have fun with everyone waiting in line for him. He screamed to get everyone's attention and got on a table and screamed his iconic Batman line. "I am vengeance, I am the night, I am Batman!" If you are a Batman fan, then you know how powerful and iconic those lines are. I managed to get a bit of video of him saying it.

Kevin Conroy saying: "I am vengeance..." s3.amazonaws.com
So, my cousin and I patiently waited in line. Inching closer and closer to meeting him again. Each person ahead of us left with a giant smile on their face. Understandable seeing as we are meeting an icon. Eventually, I met him and this time I wasn't stumbling with my words, as much, like last time. I got my selfie with him and just talked to him about some Batman stuff. But my fun didn't end after that picture. Kevin was hosting a panel later that afternoon and he explained his journey of becoming the voice of Batman. The struggles, the fun he would have while in the recording booth with others like Tara Strong and Mark Hamill. As well as one of the funniest stories I've ever heard. Kevin talked about one of the first times he discovered that the Batman show he was doing "Batman: The Animated Series" was a hit. It was when a homeless man recognized him and made him do the iconic "I am vengeance line…" Kevin told it best and I honestly wished I recorded it.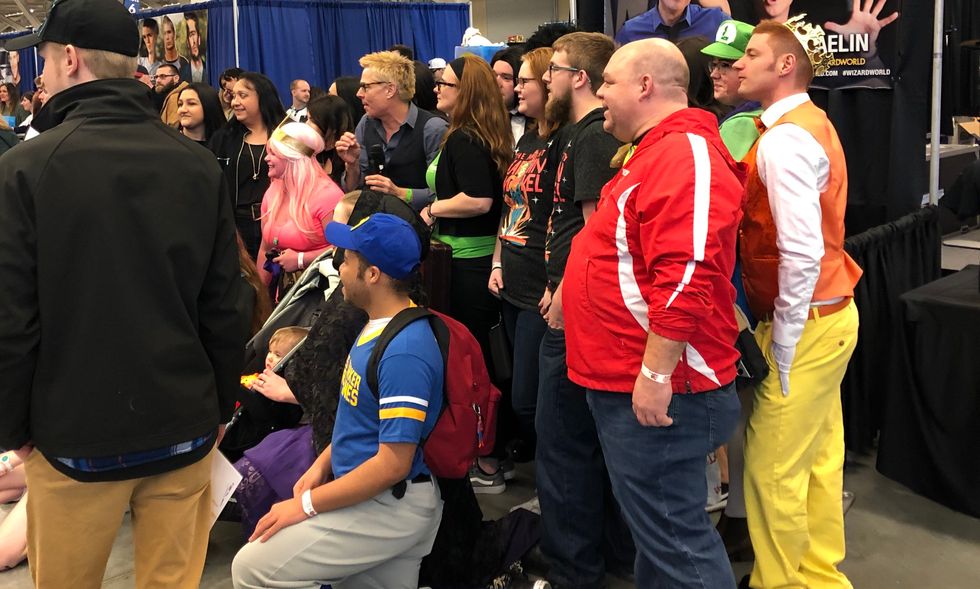 Me with KatoIsabel Alvarado
Besides me fanboying over Kevin Conroy, I had fun just walking the convention floor. I went with a more simplistic costume this year. I went as a character in the novel I am working on. The character used to play baseball in high school, that's why I was in the whole baseball get-up. Which I actually had custom made to have my last name and favorite number on the back. The outfit did help out when some famous celebrity, "Kato Kaelin" wanted to have a group selfie with as many people as possible. He was super ecstatic and was saying things like: "Get me a Spider-Man, come over here. We need a baseball player… there!" I honestly forgot for a moment that I was dressed as a baseball player. After that, my cousin and I just simply walked around the convention center. I got two bookmarks, for when I eventually do start reading. And other than that, I just took it all in this year. Normally I try to record as much as possible but this time I just wanted to just enjoy being among my people. A lot of my life I was made fun of for my excitement with superheroes and other pop culture things. But this year it was nice to just take it all in. I can't wait till next year's Wizard World! I wonder what I'll be.