Welcome back
Sign in to comment to your favorite stories, participate in your community and interact with your friends
LOG IN WITH FACEBOOK
Report this Content
This article has not been reviewed by Odyssey HQ and solely reflects the ideas and opinions of the creator.
Subscribe to our
Newsletter
Student Life
No one expects you to have your life together by the time you're 20, because honestly, they didn't either.
11903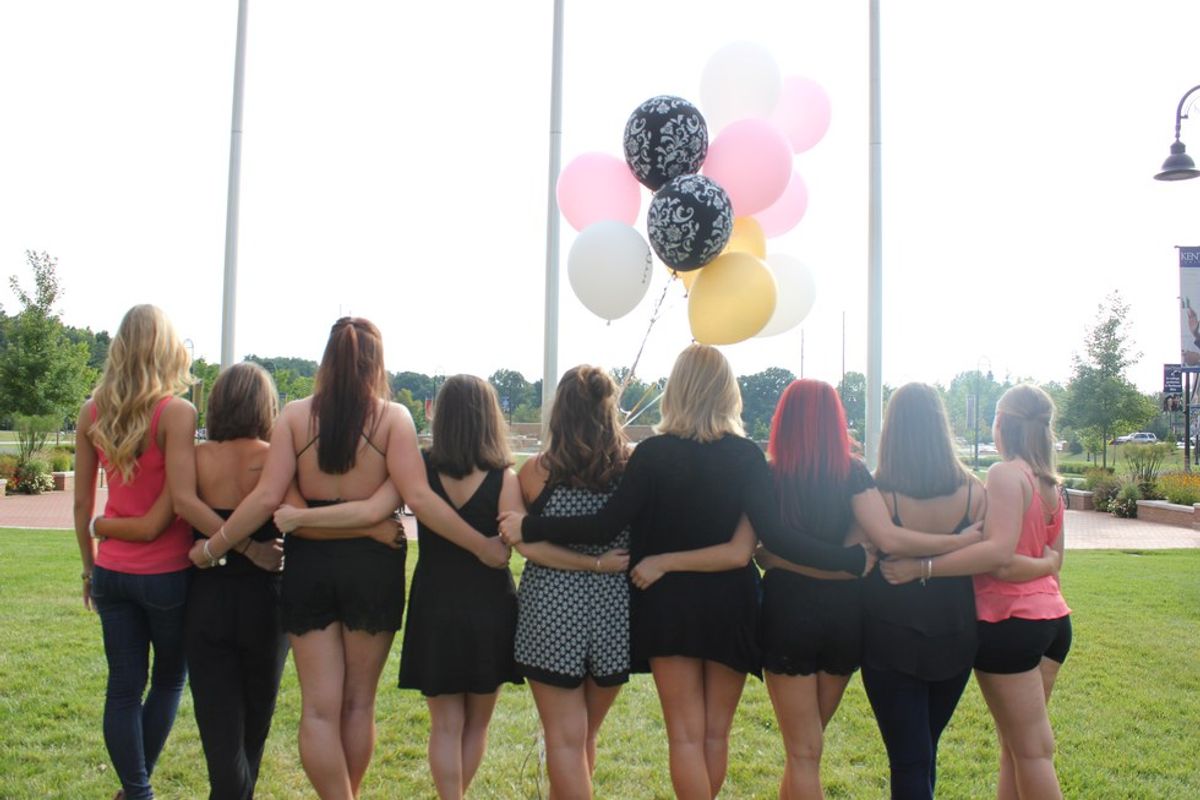 Allyson Foutty
We are all often faced with many life challenges throughout the time leading up to our 20s. Before this time, and throughout it, we often look back at the things we've learned and how they've influenced who we are as people today. Some of my biggest influences were some of the challenges I've faced, but they've taught me 20 important things by the start of my 20s.
1. Believe that every situation you're put in is there to teach you a lesson and help you grow.
The situation may not be ideal and may hurt, but it is still going to teach you something you never knew before. You'll learn many life lessons when you are put into tough situations. You learn to grow as a person and learn more about yourself. You don't always see the good in these situations at first and you constantly over think them, but in the end you'll realize the bigger picture and realize how much of a better person you are because of it.

2. Dream big. Really big.
Don't think you can't succeed if you create dreams too big for yourself. How do you expect to achieve your biggest goals if you sell yourself short every time? Dream big, give yourself something to work for and be proud of yourself when you finally accomplish those dreams.
3. Get involved with whatever you can.
Take every opportunity given to you. Get involved in many organizations; each one has their own leadership opportunities to help you, too. Join an organization maybe you thought you never would and learn more about what they do and what they stand for. It may help you grow in ways you never imagined and allows you to learn about things you may have been blind to before.
4. Be a hard worker, but don't wear yourself too thin.
We all think working hard and doing everything we can is our human nature. It's important to work hard and gain a good work ethic, but don't exhaust yourself while trying to do it. Taking on every leadership role may look good, but when you try to give 100 percent to each one, you'll wear yourself too thin. Work hard, give your all to small things, and take on new roles as you adapt to the others.
5. There's a reason for every person you cross paths with.
Even if it's just in passing. That one kid who smiled at you when you were having a bad day? He was put there for a reason. The person you were in a relationship with for two years, but it ended badly? His time with you had a reason. Each person you encounter, whether it's for a split second or for the rest of your life, has a reason for being there. You may not understand the reason right away, but one day, it will make sense.

6. Make sure your passions reflect your career choice.
You don't want to live the rest of your life unhappy, and you're more than likely going to have to work almost every day for the rest of your life. Make sure you're doing something you love to do and that you're passionate about. Money is only paper, your happiness is so much more important.
7. Relationships shouldn't be stressful.
Sure, they take time, but you shouldn't be constantly worrying over them and questioning whether things are okay. A relationship is supposed to be loving and happy, not stressful. If any relationship is making you feel overwhelmed or unhappy, it's not worth it.
8. Try new things outside of your comfort zone.
Go out and try a new restaurant with food from a different culture, go on a hike somewhere you've never been, talk to people you wouldn't normally talk to. Try new things and meet new people outside of your comfort zone. It helps you grow and become a more diverse person.
9. Give back to your community.
They gave you so much in your time of getting here, so give back to them while you can. You don't have to just give money, but by doing things like volunteering to help in a local park or helping with fundraising for the children still in that town. Constantly showing support for your community and volunteering is enough to give back to your community.
10. Don't settle.
For anything. Don't settle for a boy just because you need someone. Don't settle for anything less than your biggest dreams (just use the opportunities as stepping stones to get you there). Don't settle. You deserve so much more than that. You deserve to have everything you've ever wanted, and don't sell yourself short by just settling for things because it seems convenient.
11. Do random acts of kindness.
Buy the person's coffee behind you on a Monday morning, buy a young family's breakfast for them, or smile at a stranger. Do random acts of kindness without even thinking and pay it forward. Such small actions can go a long way and make someone's day that much better, plus, you feel pretty good afterward, too.
12. Whoever you consider family, keep them first and remind them of their importance.
They've been there through the good and bad times, and no matter who they are, you consider them family. Don't forget what all they've helped you through and make sure they are a priority in your life. Let them know how much they mean to you, because we aren't always guaranteed another chance to.
13. Do things for yourself.
Eat a salad for dinner after a hard workout or get super dressed up just to take yourself to dinner. Do things for yourself and to make yourself feel good. It's not always about impressing others, it's about feeling good in your skin. When you do things for yourself every once and a while, you start to realize just how good it feels when you do.
14. Meet new people, lots of different people.
Start talking to strangers and ask them millions of different questions to get to know them better. Where they are from, what their favorite food is, what they like to do, etc. It's important to meet lots of people and establish connections, but it's even better to branch out and know a variety of different people. You learn so much more when you expand and know tons of different people.

15. Don't forget your roots.
Yeah, you hate high school and everything about it. You feel like your hometown has nothing left for you, but don't forget that it's still your home and where you came from. It gave you all of your first experiences and helped form you into the person you are today (whether you want to admit it or not).
16. Listen to your parents' advice.
They've been in your shoes and they've lived it before. They know it's what you don't want to hear, but they know what's best for you (P.S. they also want what's best for you). Believe them when they say this won't matter years from now, or you deserve someone who treats you better, because truth is, they've lived a similar experience and they're probably right.
17. Let go of the past, live in the present, and embrace the future.
The past can still hurt sometimes, but that's all it is… the past. It's memories and lessons learned. The present is the now, and live it to its fullest before it becomes the past, but embrace the future and all it has to offer. Don't get so caught up in the future that you forget about what's happening how, but anticipate it and use the present to prepare yourself for the future.
18. You're happiness is the most important thing.
It trumps all. Everything you do should make you happy. You're happiness is most important. Forget what others think and do what makes you happy.
19. Learn to love yourself and embrace it.
Be proud of who you are and where you've been, and be sure to let people know that. The person you've become and all the things you've been through have made you into the beautiful and strong person you are today. The world should know you love yourself and are passionate about certain things. Just love who you are. You can't be someone until you are yourself.
20. Know that it's okay to not have your life together by 20, because in all honesty, you'll probably never fully will.
You're constantly growing and learning new things. This is helping you become a better person and take on new experiences. No one expects you to have your life together by the time you're 20, because honestly, they didn't either. Set high standards and goals and fight through the highs and lows to get where you want to and should be. And who knows, maybe by that time, you might have your life together.
Keep Reading...
Show less
Featured
The ingredients to build a relationship are a little more complicated than just a bouquet of flowers and a box of candy.
10006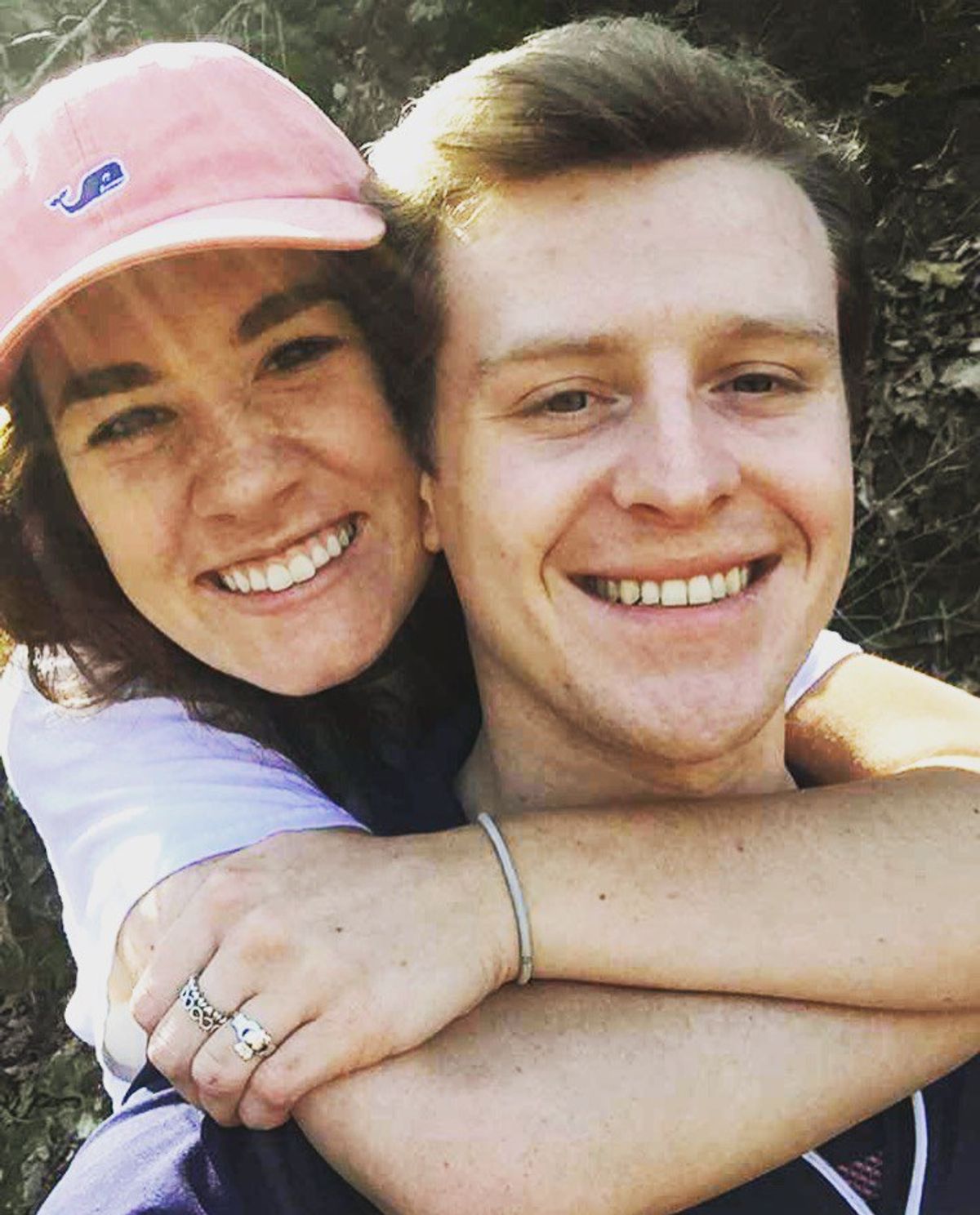 Relationships. Long distance or not, significant others are much more than just that. I would be lying if I said I did not love the sweet gestures that only a boyfriend can give. The flowers, funny phone calls, hand holding, breakfast dates, and tight hugs are special but my relationship and many others out there exist on much more than just these little gestures. It is a tricky concoction that consists of one part boyfriend and two parts best friend and would not work without one part or the other. While having a relationship may not be quite as easy as baking a batch of cookies, it has its own recipe (with a few variations for flavor) to follow for a good match.
This recipe begins with a dash of awkwardness and smiles. Maybe you were set up on a blind date or have known each other for years, either way, once the ingredient of "more than friends" is thrown into the mix, it is a whole new ballgame. In my case, it began with lots of pure annoyance, time, and forced proximity. My boyfriend was quite literally the most annoying person I had ever met. Imagine the little boy on the playground who never stops pulling your hair and making fun of you? Yes, that's him except rather than five years old and on a playground we were much older and worked together. Trick phone calls on work phones became a common occurrence from him as well as constant humiliation in front of customers. Sounds like the perfect start to a relationship right? After having to work with this five year old boy for a year, he finally began to grow on me. Remember the essence of time? Very important in this particular recipe because this time would eventually call for the friendship that I mentioned earlier.
After allowing this annoyance to settle in, friendship began to ferment. Whether it takes you seconds or months, a relationship is nothing without a huge scoop of friendship. It took this friendship months to emerge but once it did, a whole can of laughter and smiles had been opened. A relationship-friendship is unique because the significant other wants to know the big and little things, the ins and outs, the real you. Being working buddies, the real us was known from the start. Yes, you can flip-flop this crucial ingredient placement to another time in the relationship but it simply will not work without it. Like I said, two parts best friendship. This "friend zone" relationship was eventually matched with the awkwardness and smiles of something more. A first date of sweaty hands and nervousness but from the start I knew this was the right recipe for me.
This awkwardness was quickly overtaken by the "ever-important" friendship that I mentioned. The connection of a significant other became real. Time is added, yet again, to this recipe, though a different kind. This time is laced with memories made together. This time is the final ingredient to the recipe. A bond with your significant other can only grow with age. It is that time spent with one another that becomes necessary for the best friendship to continue. No, my recipe is not complete nor will it ever fully be. This relationship stuff is not about making it to the finish line because there isn't one. There will always be more "things" you did not know about each other and more memories to make. Keep adding your ingredients and building up your recipe every day to make the best match you possibly can. Because though every recipe may be a little different, they are all just as sweet on the inside.
Keep Reading...
Show less
Featured
The LATEST Trends.
9170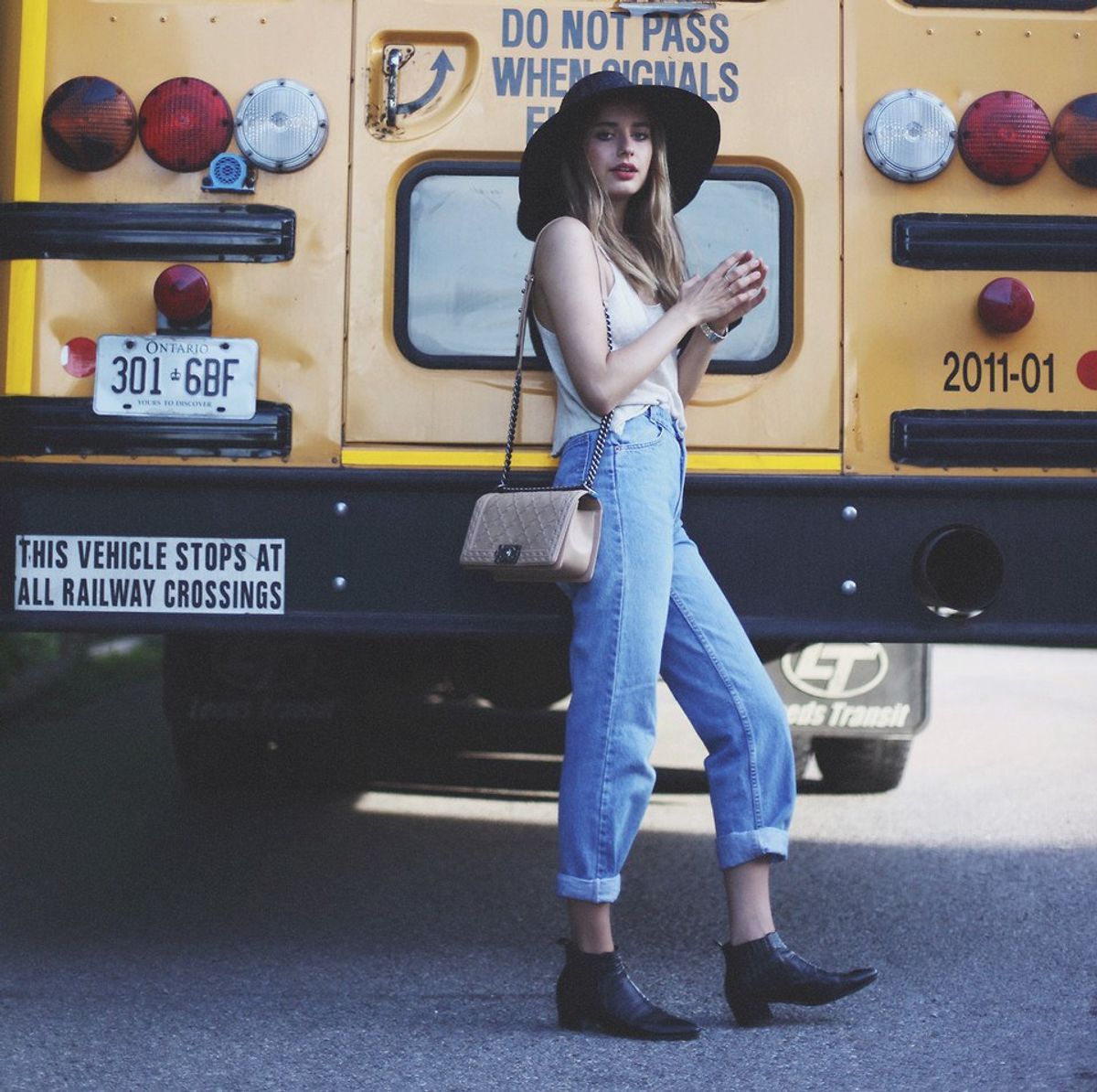 google images
Fashion just keeps growing and changing and old trends are made new! Now, I'm no beauty guru, just a beauty guru wannabe, but personally I have compiled some stylish wardrobe must haves! These can be cute assets to go back to school or just to catch up on some of the latest trends...

Boyfriend jeans- no boyfriend no problem! No boyfriend jeans= problem. They may look hard to pull off, or maybe you are scared you can't rock them, but trust me girl you can! Boyfriend jeans are universally flattering to virtually everybody type and can be an asset to a back to school (or not) wardrobe!
Chokers- ahhhhh the beloved chokers. Chokers can range from a solid gold articulate chain to simple a shoe lace tied around your neck, but either way they can make a huge difference in an outfit and take it from cute to super trendy!
Bralettes- alike to chokers, there is an abundance of shapes and sizes of bralettes. Believe it or not a simple lacy bra can totally make or break your outfit. You can find them with pads, seamless, sports bra style, lingerie style, or any design you can dream of, making bralettes work for everyone!
Lace ups- from Emily fields on PLL to that Tillys mannequin down the street, lace up outfits are everywhere. You can get lace up dresses, shirts, skirts, shorts and virtually anything else. Lace up outfits can be edgey, girly, anything and are super in style this season!
Suede- three years ago if we told you you would be rushing online to snag the last suede booties in your size at top shop, you would be like "your kidding". But we weren't! Suede is everywhere on shoes, clothes, accessories, everything! Suede looks super chic and makes outfits looks classy and nice with a bit of a hippie feel to it!
Keep Reading...
Show less
Student Life
Summertime is only 93 days of the year, Find something to do!
9739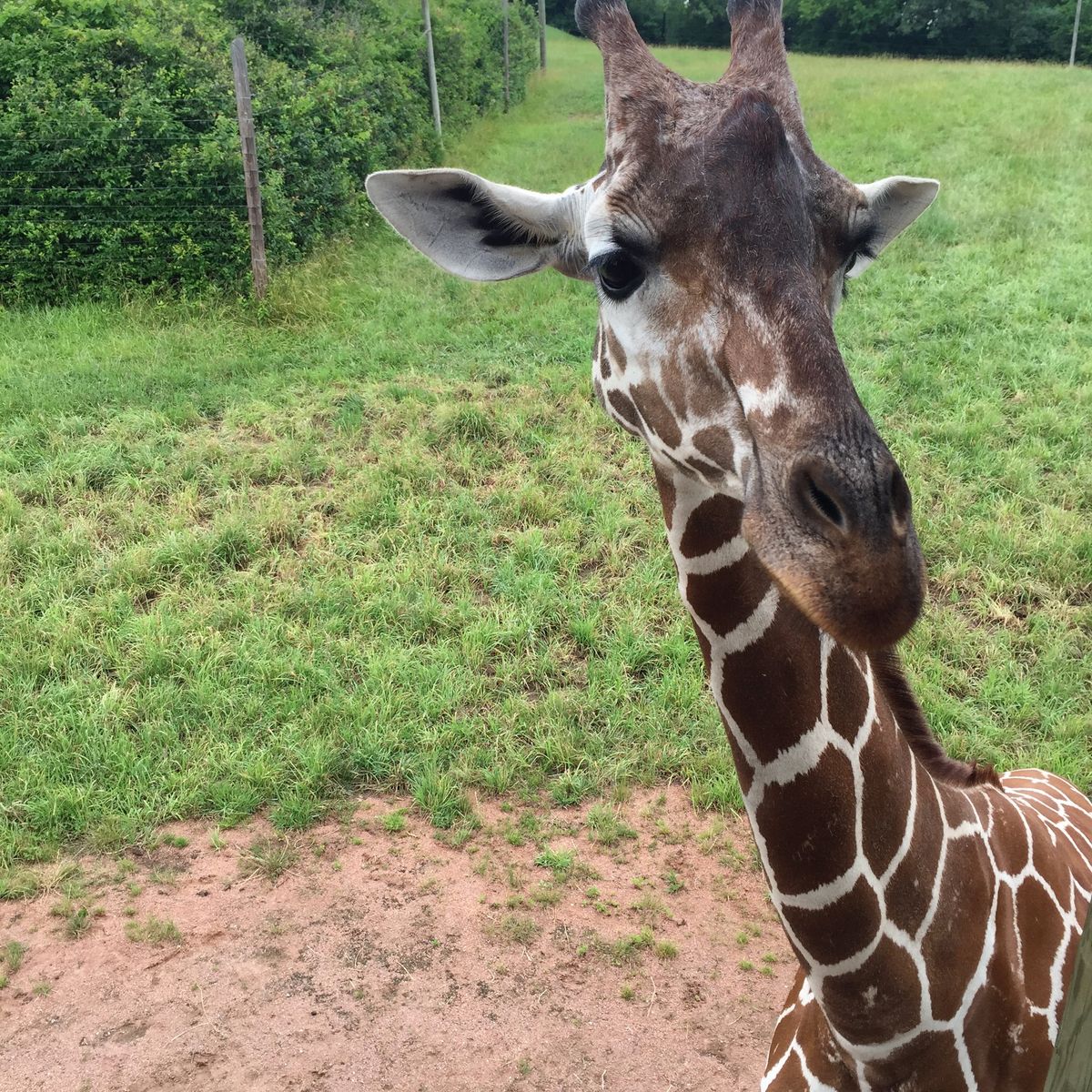 Tallie Ammar
Summertime is ideal for more than just hanging out and binging your favorite TV series with your friends. Although summer does bring rain and thunderstorms which is perfect for those binging days, take advantage of those nice and sunny days. There is so many opportunities to get out of the house and enjoy the season before the snow starts to come back. Here are 25 interesting dates that are doable almost anywhere for any age.
1. Zoo: Please name one person who doesn't want to hangout with cool animals.
2. Lake/ Water Activities: Everyone loves being thrown off a tube or jet ski, whether you admit it or not.
3. Amusement park: Scream your heads off on rollercoasters, and expensive food.
4. Picnic: Take a cozy blanket and bring some of your favorite foods to watch the sunrise or sunset.
5. Camp Fire Night: Who doesn't love s'mores? Or Beer?
6. Drive in movie: Let's pretend we are back in the 1950's and snuggle up in a car and watch a movie.
7. Baseball game: Sunshine, drinks, good food, and good music, what else can describe a better summer day?
8. Stargazing on a clear night: Calls for romance, seems more fun than starring at clouds during the day.
9. Strawberry picking: Summertime calls for juicy and ripe fruits, fresh picked strawberries are not only better tasting, but it's fun to pick your own to eat, plus the field are really pretty.
10. Outdoor concerts: Summertime is known for concerts and music festivals, take advantage of the fresh air and get together with some friends to enjoy a good time.
11. Random road trip: Whether it's 20 miles away or 200 miles away, get in a car, get a good playlist going and start driving.
12. Batting cages: Go hit some frustrations out and have a good laugh at all the balls you miss.
13. Go cart racing: Pretend to be a kid driving in a major race.
14. Mini golf: Those courses aren't always easy, but it's more exciting than playing 18-hole with your dad.
15. Late night drive with favorite playlist- Late night drives on dark country roads singing are some of the best moments a couple can share.
16. Fishing: Cast a line and see what you can catch, even if your best catch is the person that might be next to you.
17. Ice skating: Ice skating can be fun because it's the opposite of summertime
18. Local park and swing on the swings
19. Play tourist in a town: There are about 31,000 different cities in the country, go find a new one.
20. Water park: Slides slides and more slides!
21. Board game night: Weather it's monopoly or cards, bring out the competitive side of the other person.
22. Museum: It may be summer but the learning doesn't have to stop.
23. Cook a home cooked meal together: Teamwork makes Dreamwork!
24. County Fair: Ride some risky unstable rides, and eat food that is so unhealthy but a must.
25. Shooting range: Break out those bad boys and show them how its done.
Keep Reading...
Show less
Featured
My favorite spots.
7005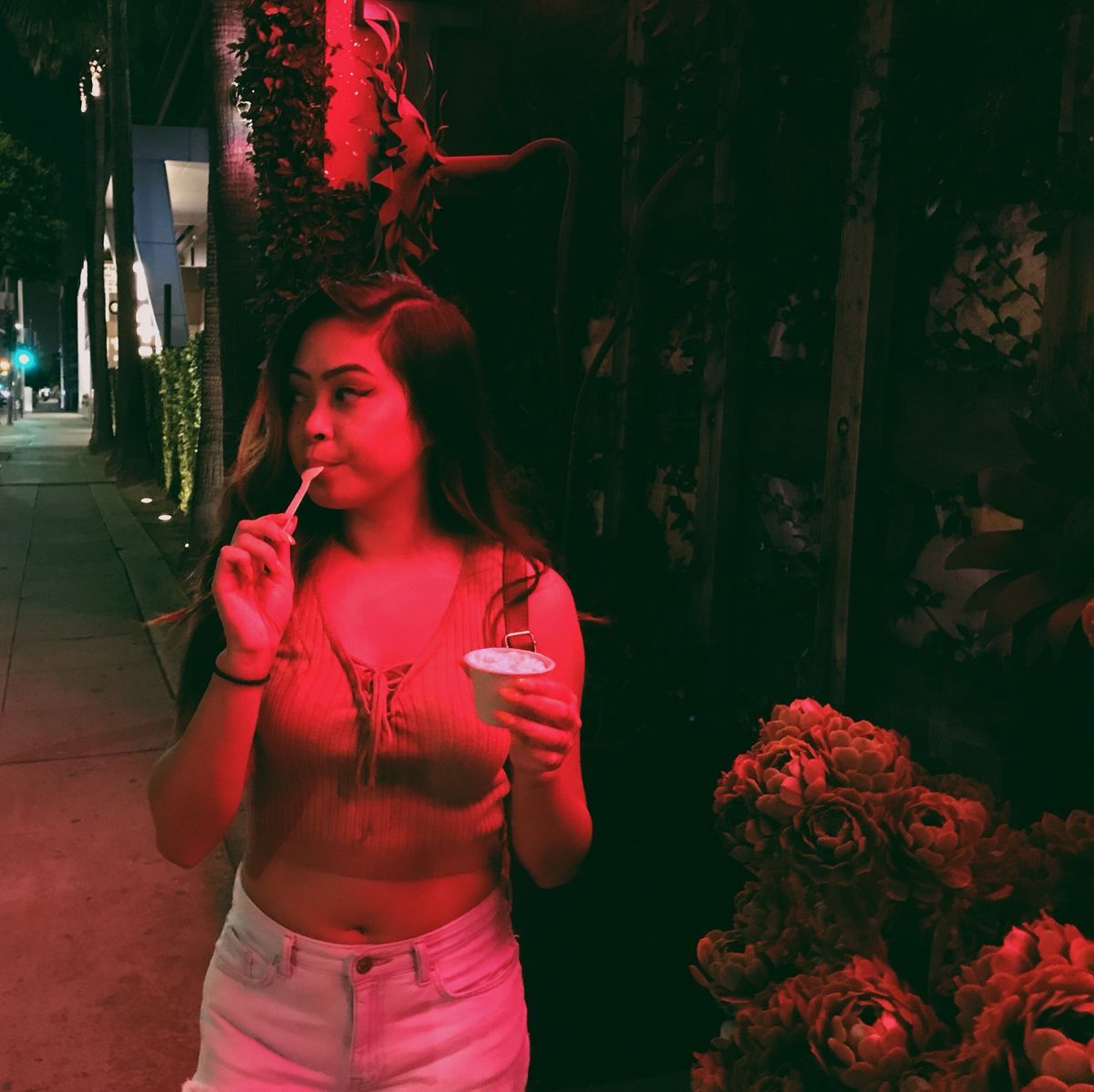 Leilani Encarnacion
Philadelphia has its beauty, but some of you may have not been to some of the most beautiful hidden spots in the city. This summer is a chance for new adventures and exploring, so here are a few places that I highly recommend you should visit at least once.
1. Spruce Street Harbor Park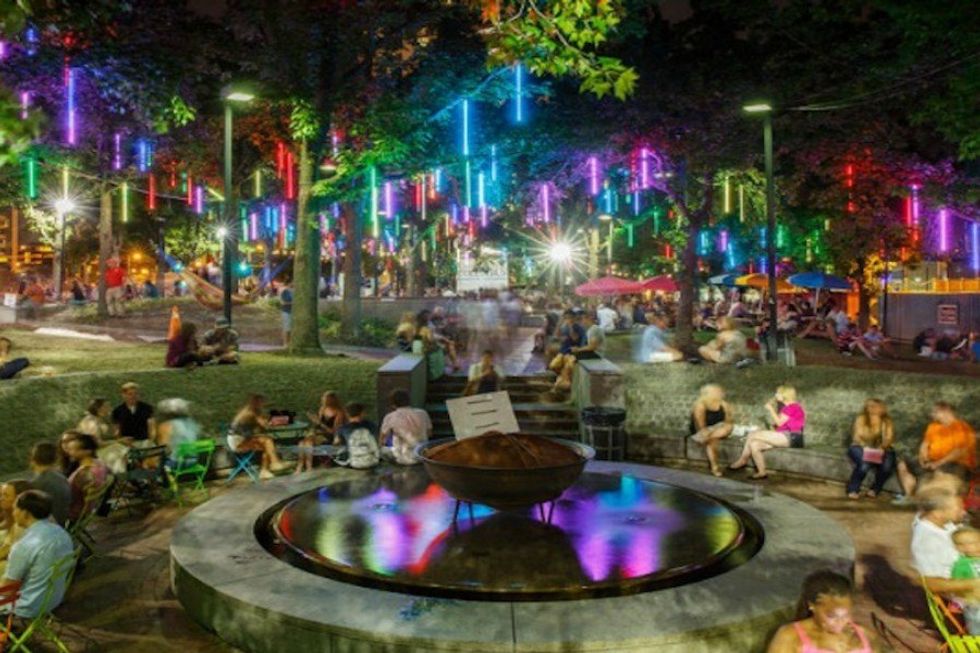 Hammocks, pretty lights, yummy food, and good drinks...need I say more? Perfect place for a date or a hangout with your friends. The best time to go is at night, and it's located right next to the water. Franklin Fountain (aka the best ice cream spot in Philly) is right there, and you can't go wrong on a perfect sunny day. Definitely recommend if you haven't been yet.
2. Old City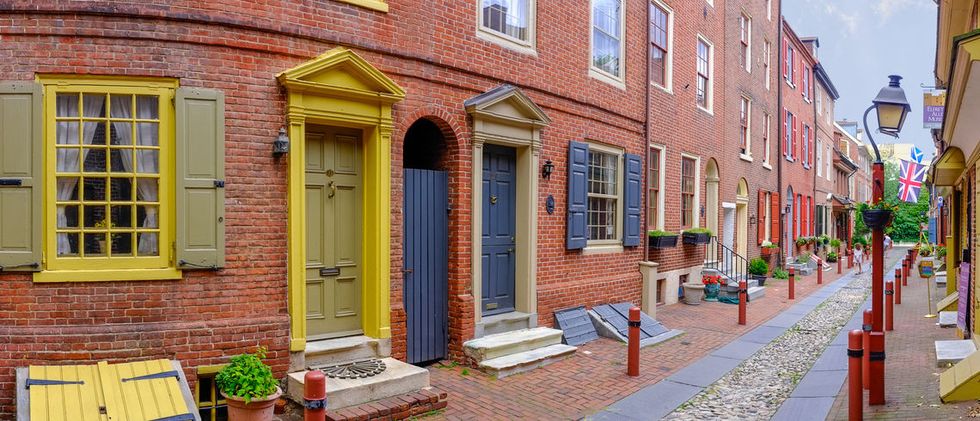 Old city is the cutest part of Philadelphia in my opinion. The architecture is stunning and goes back hundreds of years. There is so much history there, and that's what makes it such a gem. Perfect spot to walk around and just explore!. Also good for picture taking! 10/10.
3. Cira Green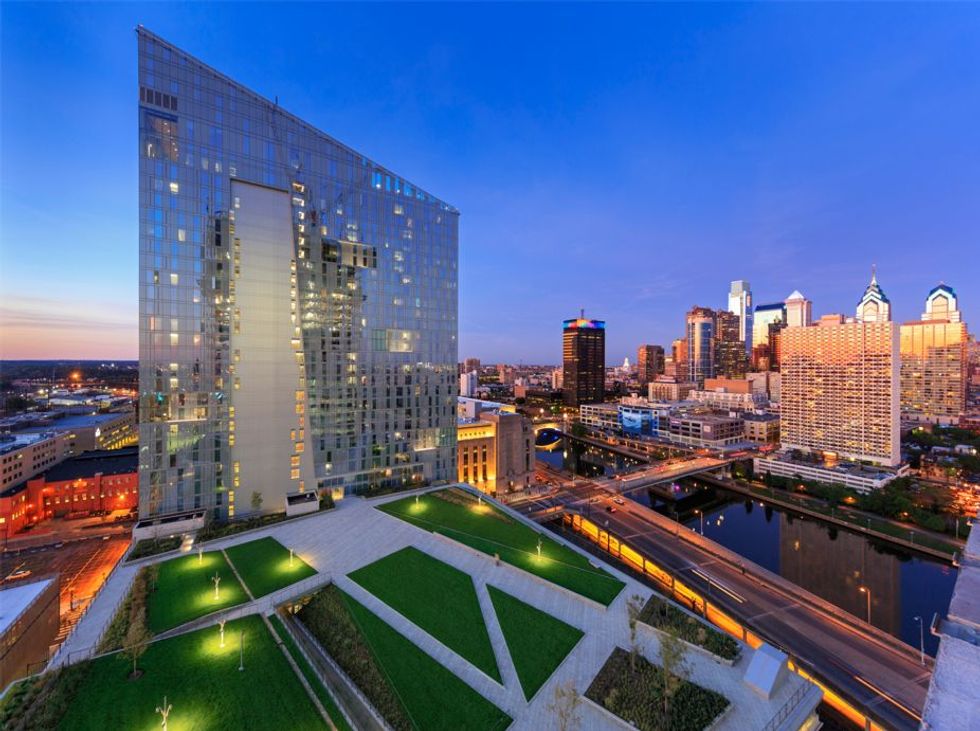 This place is located close to Drexel University. It is located on the rooftop, so you're going to have to go up the elevator to get there. It is a beautiful are of grass and greenery with a great view of the city. It is an ideal spot for those who want to have a picnic, or just wanting to lay and talk with someone. And again, a perfect place for picture taking.
4. Magic Gardens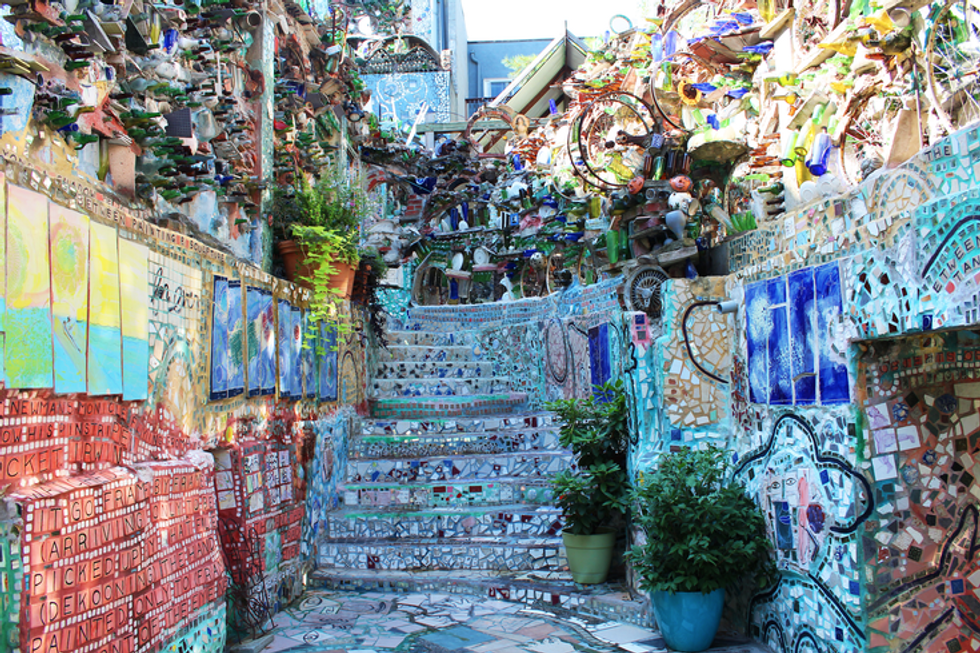 Again, super obvious choice for Philly natives, but for those of you who haven't been should definitely come to Magic Gardens on South Street. Aesthetically pleasing and pretty art to look at. Definitely recommend this place for those willing to spend a bit!
5. Boathouse Row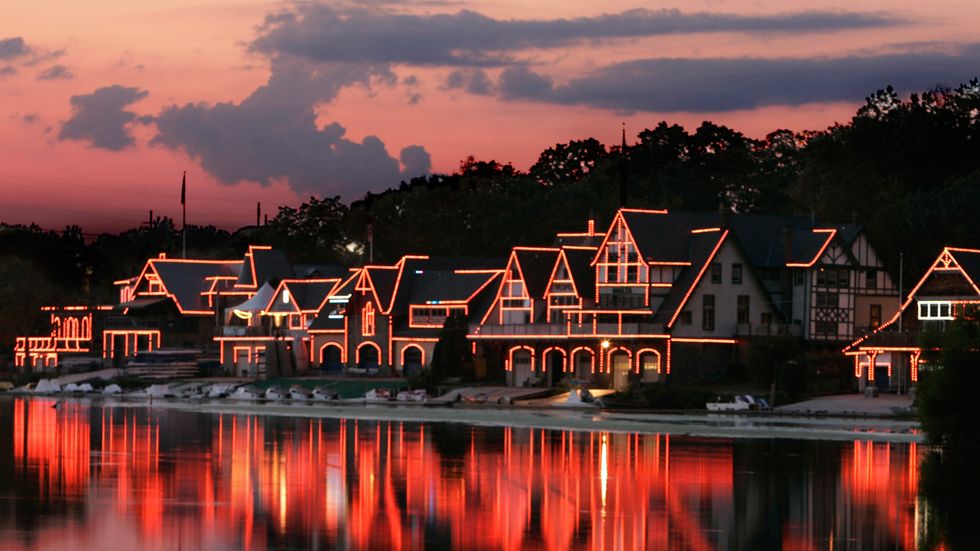 The most beautiful views can be seen during sunset while overlooking Boathouse Row. Located on the east bank of the Schuylkill River, it is a great place to come sit and relax, and maybe even row some boats while you're at it. Riding bikes along here is also a fun thing to do.
6. Penn's Landing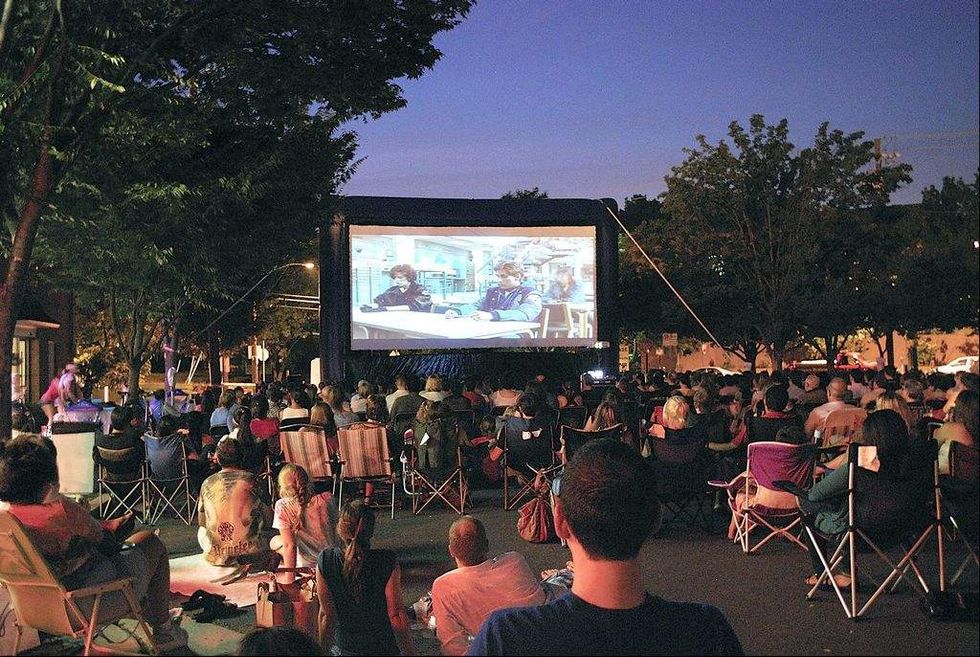 Penn's Landing has it all. Concerts, movie screenings, fireworks, etc. There is always something happening at Penn's Landing, especially during the summer. Always keep an eye out online on the events that are happening here. Along the water once again, it is a place with beautiful views and a happy atmosphere. Last, but definitely not the least on this list.
So, here are some places you should visit this summer. I know, most of these are pretty common, but how many have you actually been to? And if you've been to all, go again, because these places are common and most talked about for a reason! Happy summer!

Keep Reading...
Show less
Subscribe to Our Newsletter