Researchers Neil Howe and William Strauss labeled those born between 1982 and 2004 as millennials and deemed us as "the next great generation." Despite all the hate we get from older generations, I think we deserve this title. Here are my eight reasons why we're better than they make us seem.
1. We're lazy.
According to the World Economic Forum studies, Millennials are actually more likely to become workaholics than the generations before us.
The Forum interviewed almost 6,000 people about their attitudes concerning taking time off work. Those who did not take off and use their earned vacation times were termed "work martyrs."
The Forum reported that "more than four in 10 (43%) of work martyrs are millennials, compared to just 29% of overall respondents."
The study also showed nearly 25 percent of millennials forfeited their earned holiday days compared to the 19 and 17 percent of Gen X and Baby Boomers.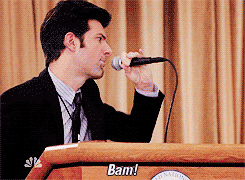 2. We're obsessed with technology.
From watching television to checking your phone or email, these are the statistics that a Nielson study came up with about ages most distracted by technology.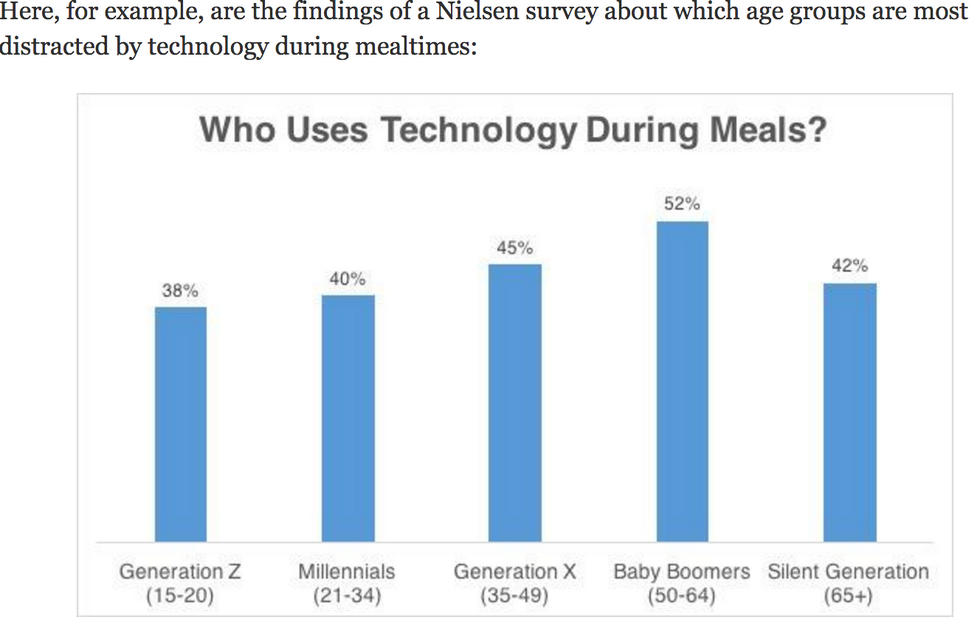 "Well...that's just for television and work. Millennials are the ones obsessed with their phones and social media! " Check the facts. The majority of compulsive social media checkers are adults---with the highest usage observed in those between the ages of 25 and 54.
Yeah, you read that right.
3. We really don't care about politics.
A short survey right before the latest presidential election showed that millennials weren't uninterested in the election...they were just worried about different things. In fact, millennials are most interested in education, healthcare, and–believe it or not–the economy.

Millennials around the world are also becoming some of the youngest to get involved. Take Wyat Roy, Mhairi Black, and Justin Chennette for just a few examples.


Wyat Roy, who at 20 years old took the title of the youngest elected Australian parliamentarian member ever, is now Australia's Assistant Minister for Innovation. He has proved time and time again that his youth will not stop him from making a difference.

Mhairi Black, the current "Baby of the House" as the youngest member in the House of Commons of the United Kingdom, endorses Women Against State Pension Inequality and went viral after her speech about the failing welfare system and the need for food banks in Scotland.
Justin Chennette is currently the youngest member of the Maine Senate. He had previously served two terms in the Maine House of Representatives and today is the ranking member of the Taxation Committee
All three of these millennial politicians are pillars that prove millennials can and are involved–and want to make a difference in this world.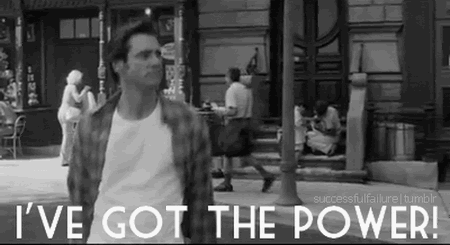 4. We're total narcissists.
I think it's safe to say millennials would stick their neck out for others more than most people think. Here are just three reasons why:
Priyanka Chopra, an Indian actress, is a millennial advocating for child and woman rights around the globe. She is a UNICEF Goodwill Ambassador who travels to places like Zimbabwe to combat sexual violence against children. She not only puts her own life in danger but bases almost her entire existence on getting equal rights for those who can't fight themselves.
Despite gunfire, a 20-year-old intern, Daniel Hernandez Jr. was a hero when he risked his life for a shot and wounded Representative Gabrielle Giffords. Later, he became an advocate for gun control and safety and is now wanting to continue becoming involved in politics to make for a better America.
Lastly, Mark Zuckerberg, founder of Facebook and perhaps the most famous millennial, announced that he and his wife were going to donate 99 percent–yes, 99 percent–of their Facebook shares to causes that will help make this world a better place for children like their daughter, Max. Their goal is "to promote equality for all children in next generation."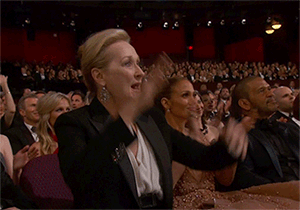 5. We're just copies of each other.
"Meet one...meet them all. Millennials are all the same." Wrong.
In the United States, Millennials are the most ethnically and racially diverse generation. That's pretty dang cool. In fact, over 40 percent of American Millennials are nonwhite or hispanic.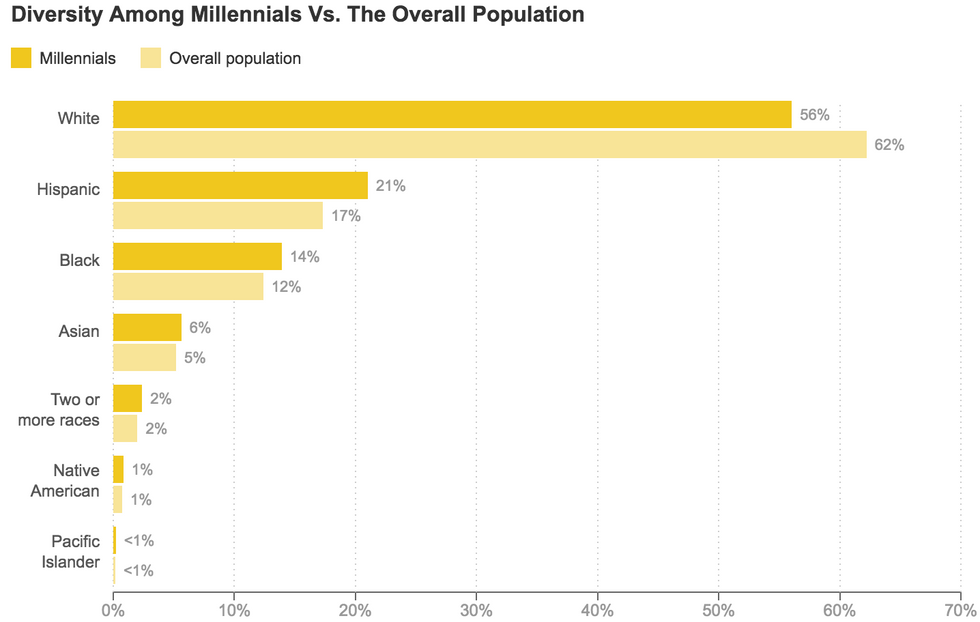 What's more? Millennials were surveyed and found to be more accepting and welcoming of immigrants and diversity here in the U.S. of A.
We fight every day to combat the one-size-fits-all ideology. We embrace difference and push against conformity. Millennials want all shapes, colors, sex, and beliefs to be accepted–and we aren't afraid to tell you.
Bye, bye, stereotypes.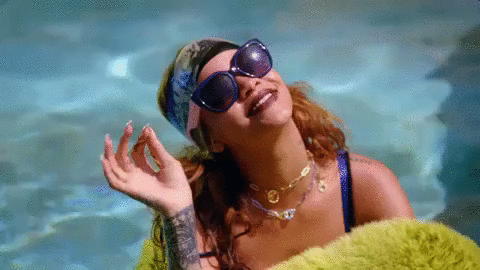 6. We're only wasting our money on avocado toast.
Contrary to popular belief, millennials are actually really good at saving and taking care of their money. In fact, TD Ameritrade's recent study should encourage those depending on millennials for financial support. The study shows we have a pretty good comprehension of how our finances work.
Compared to the 41 percent of Americans who have a working budget, it has been reported that 80 percent of working millennials maintain and follow one. More than half of us have an emergency fund, and 72 percent are saving for retirement. Not a bad trend if you ask me.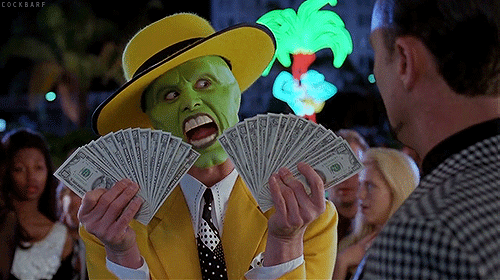 7. We won't change the world.
Millennials aren't making a positive difference? Really? Read the stories of Malala Yousafzai and Sonita Alizadeh and tell me if you still think this.
Malala Yousafzai, the youngest ever Nobel Peace Prize recipient, is known for her open defiance of the Taliban. She demanded girls receive education and was rewarded by a bullet to the face. Before you finish that gasp--just wait. Her story was not over, and neither was her fight. After recovering, Malala continued advocating equal rights and speaks globally to promote education for girls around the world.
Documentaries and movies have since been made about her amazing life and fight, helping spread and build awareness for her amazing story.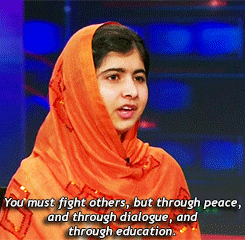 Another millennial famous for her defiance to a cultural norm is Sonita Alizadeh. Sonita's story began to catch global attention after she released her rap "Brides for Sale" that spoke against the practice of Afghan families selling their daughters to men looking for brides.

She recorded her rap in Iran, another risky move since it is illegal for women to sing aloud there. After an Iranian filmmaker picked up her story and began making a documentary about her escape of this marriage practice, Sonita moved to the United States for school on full scholarship. She has performed at the International Women for Courage conference in D.C and continues writing music to spread awareness of this unequal practice.
8. We don't genuinely care about education.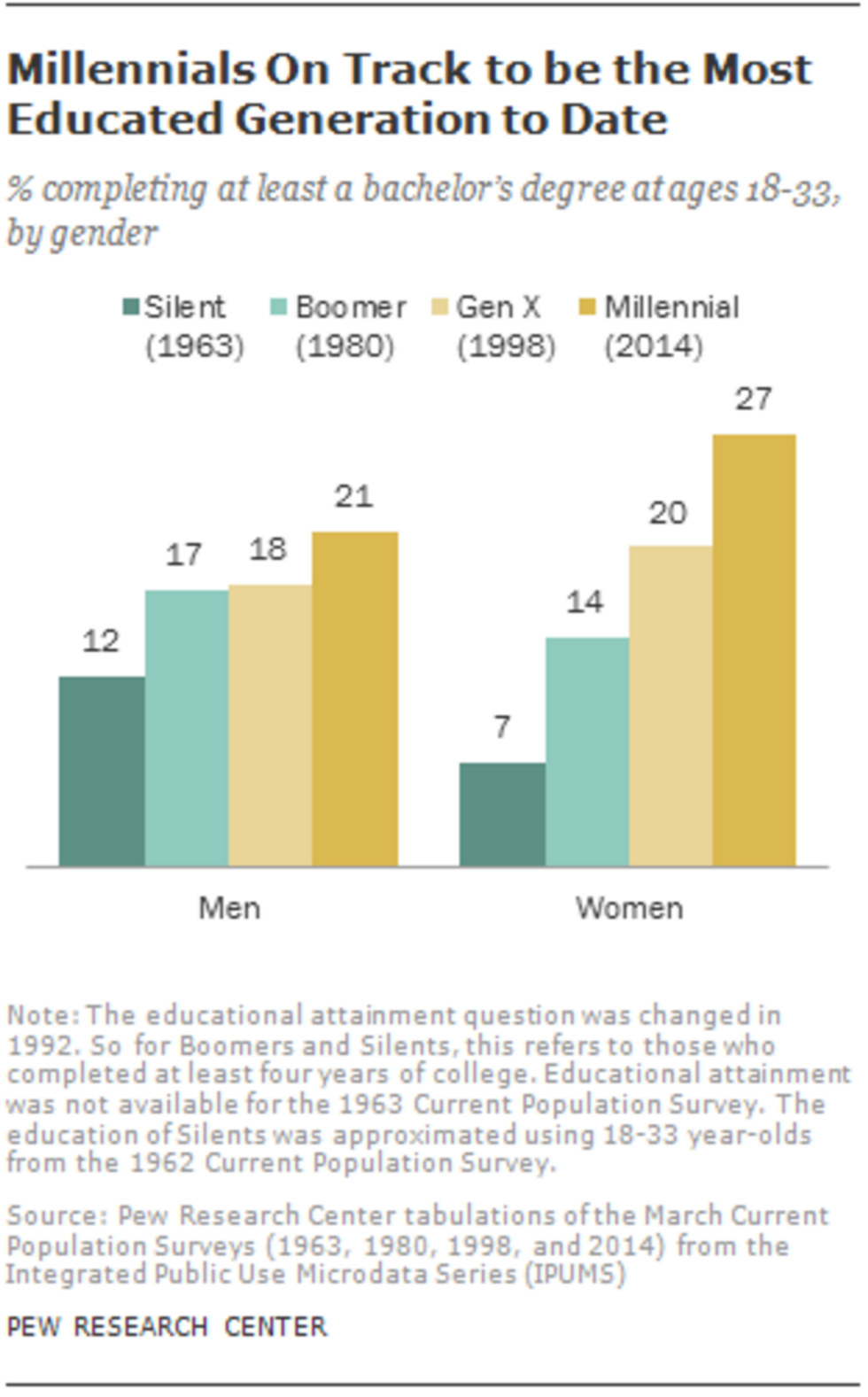 A separate study from the above results showed that, although still a relatively low percentage, Millennials are the most educated generation coming in at 34 percent with a bachelor's degree.
To wrap this up...
I guess the last thought I have to offer is an open note to the generations before us-hose who are so quick to judge and use the term "millennial" in such a negative way...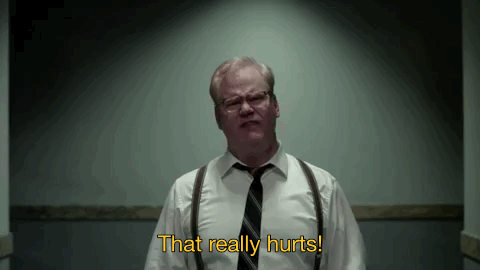 With all respect, I ask that you consider one thing: if you don't like us---if you don't like what our generation is---think about who raised us.