I chose to go to a university out of state, and it made me realize I never knew how good I had it. The saying, "you never know what you've got until it's gone" has never been more true in this situation.
Being 30 to 45 minutes away from one of the greatest cities in the world definitely spoils you.
1. You're surrounded by good pizza
Amazing Chicago-Style pizza is a call or short drive away. We have Giordano's, Lou Malnati's, Vito and Nick's, Gino's East, Barraco's, and many others. Papa Johns and Little Caesars has nothing on our Chicago pizza.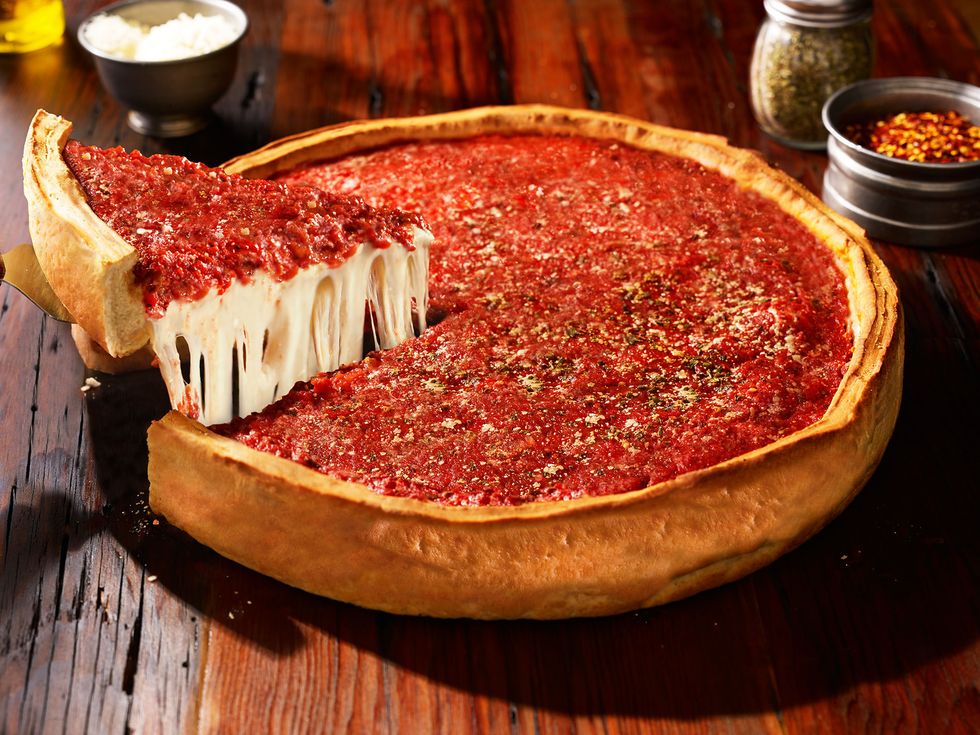 2. Portillo's
I talk about how amazing Portillo's is to my friends and they look at me like I'm crazy. People outside of Illinois just don't get it. The beef, hot dogs, salads, burgers, and fries are all too amazing for words. Don't even get me started on the desserts. Thank you, Dick Portillo.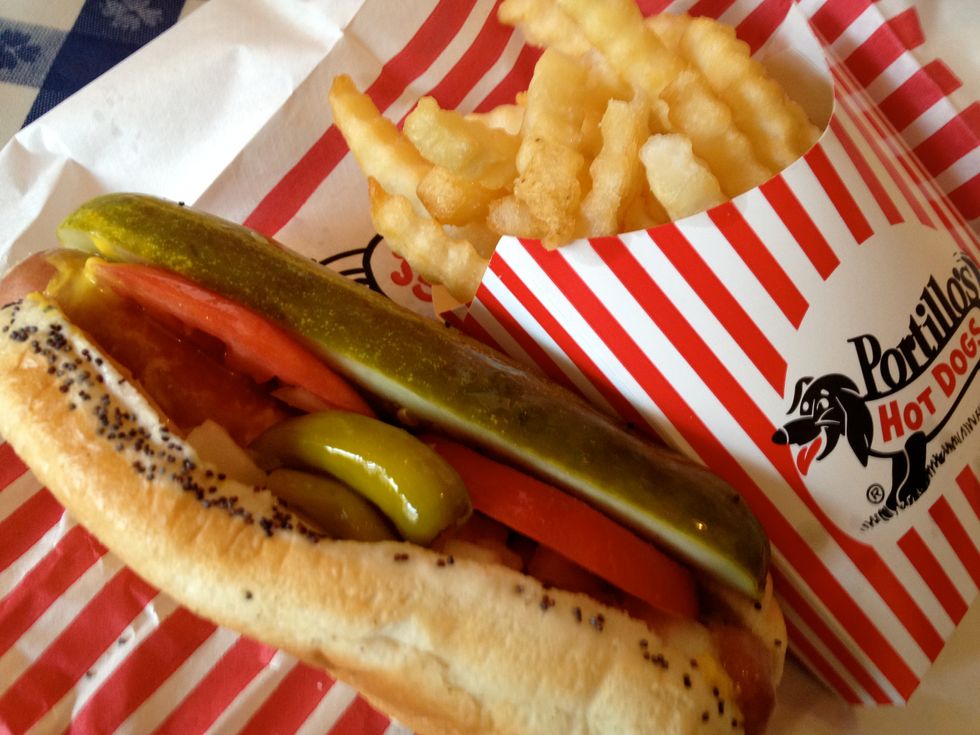 3. You have access to the world's greatest museums
The Art Institute was ranked the #1 museum in the world in 2015. There is also The Shedd Aquarium, The Field Museum, The Adler Planetarium, The Museum of Science and Industry, and The Chicago History Museum. The museums also offer free days to Illinois residents. It doesn't get much better than that.
4. Navy Pier
The iconic Ferris wheel, mini golf, IMAX Theater, Chicago Children's Museum, some of the best shops and restaurants all combined on one pier creates an amazing experience for all ages. Not to mention it's where you can get some of the most amazing views of the lake and the city. There are amazing firework displays multiple times every week in the summer, as well.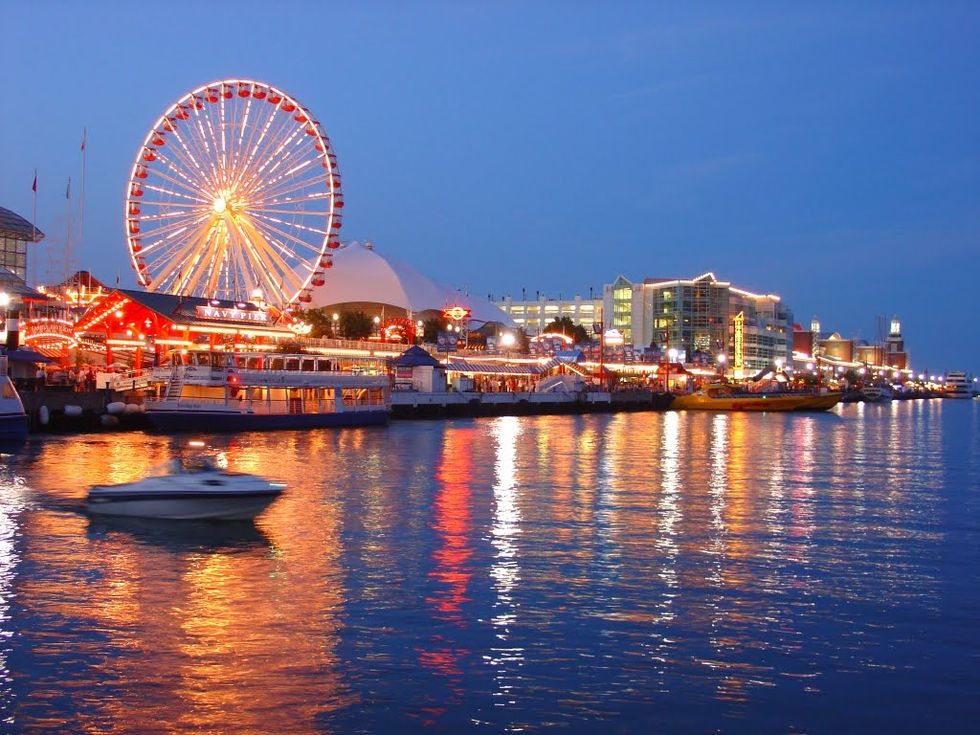 5. Lake Michigan
We have beaches and some of the greatest views of the lake. It's an amazing place to hang out in the summer. Fun fact, it's the only Great Lake that America doesn't share with Canada. The lake is also the location of the Air and Water Show- Chicago's second most popular festival.
6. Two amazing zoos
Brookfield Zoo and Lincoln Park Zoo have a huge array of animals from all over the world. Not to mention the fact they both have light shows in the winter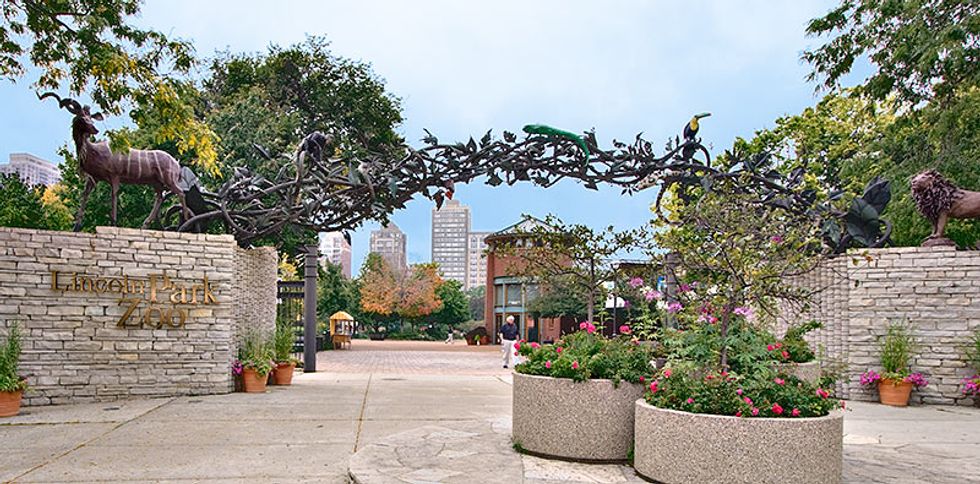 We can easily head out to Comiskey Park (Sorry, I still can't refer to it as U.S. Cellular Field, but thankfully, that will probably change soon seeing as U.S. Cellular doesn't even exist anymore) to watch the 2005 World Series winning team, the Chicago White Sox. You could also head out to the "Friendly Confines" to watch the Cubs play, too. No matter who you root for, the rivalry games will always be some of the most exciting games to watch. Go Sox!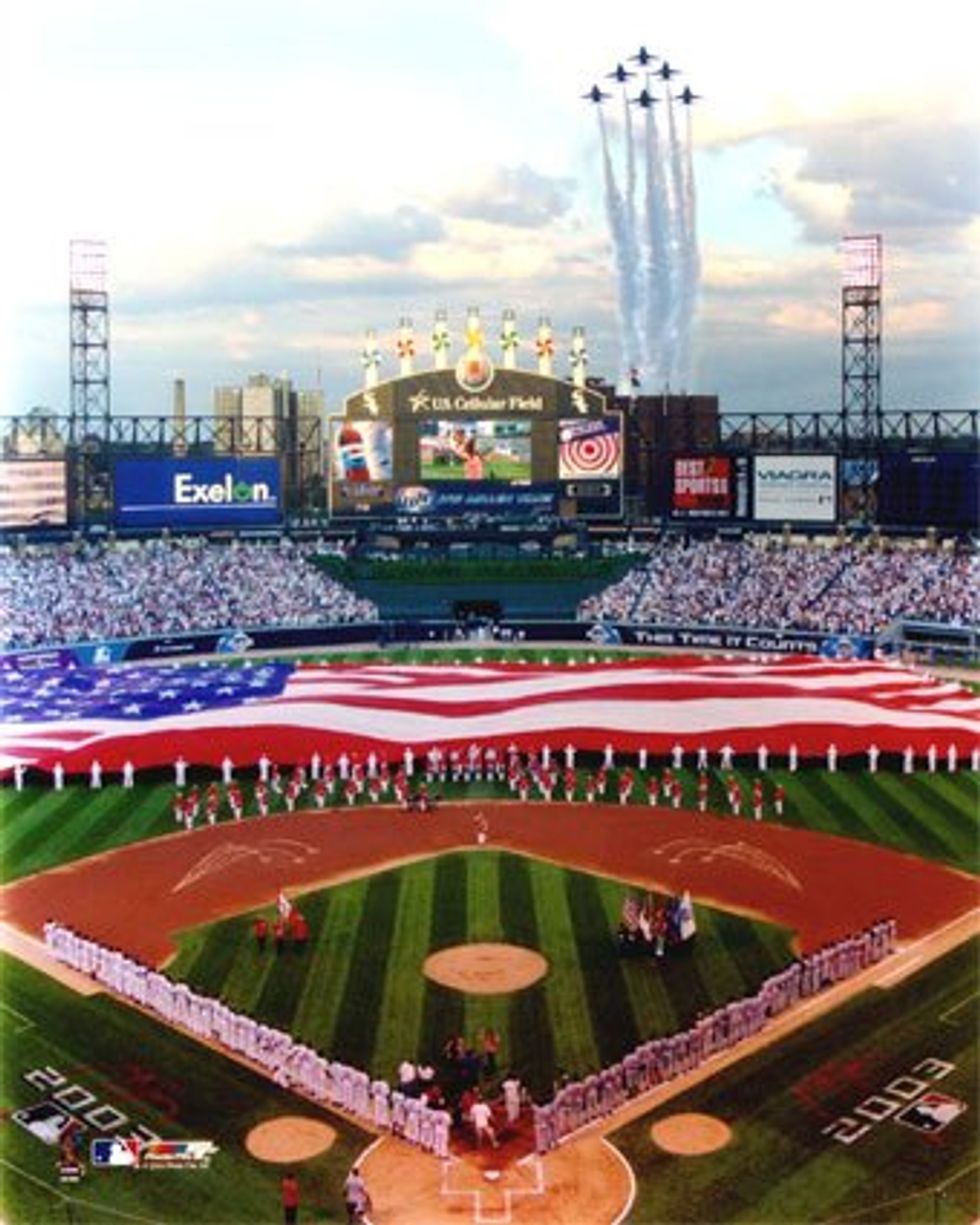 8. Football
Not only are we lucky enough to have two baseball teams, but we also have the Chicago Bears. They haven't been doing too well in recent years, but at least we can say we had the first team to record a Super Bowl Shuffle. DA BEARS!
9. The best hockey team in the nation
Chelsea Dagger seems to always be on repeat in the United Center. That's because the Chicago Blackhawks are on fire. Who else can say their city's hockey team has won 3 Stanley Cups since 2010? We have the Blackhawks to thank for some of the most epic city-wide celebrations. As Corey Crawford would say, "fuggin' right, Chicago!"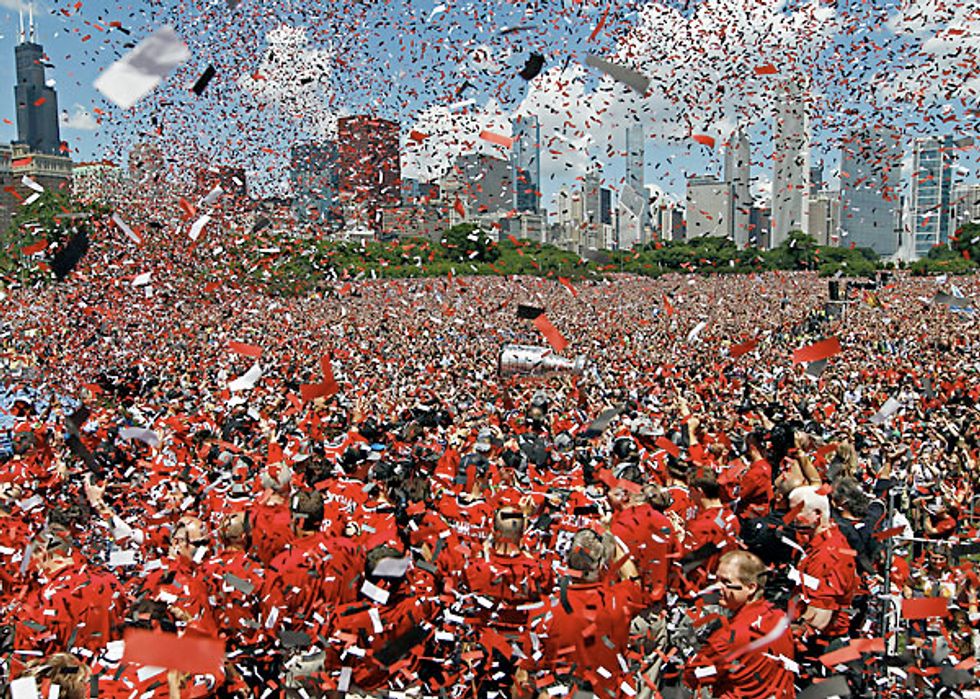 10. Basketball
6 NBA Championships from 1990-2000. The Chicago Bulls are the only other team to have accomplished this besides the Boston Celtics. We've had the privilege of having some of the greatest players of the game on our team. Michael Jordan, need I say more?
11. Grant Park
There seems to always be an event at Grant Park in the summer. The Chicago Blues Festival, Lollapolooza, and The Taste of Chicago. Even when there isn't an event, the park is still a cool place to hang out with friends. It is also home Buckingham Fountain- one of the largest fountains in the world.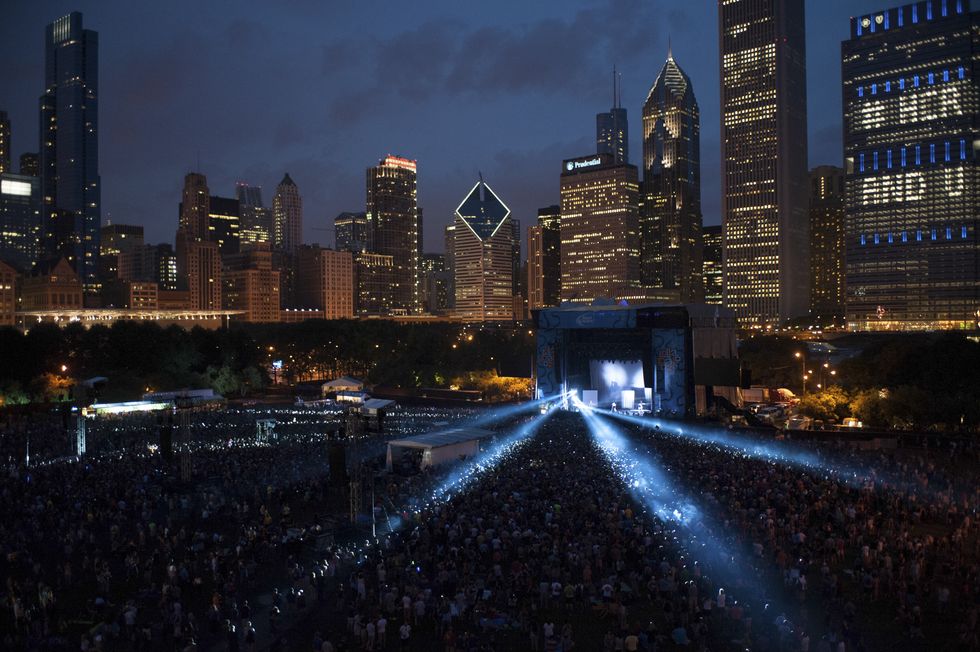 12. Concerts
All major bands make it a point to stop in Chicago on their tours. We're so lucky to have so many venue options for bands and singers, and that makes it almost impossible for them to pass up our amazing city.
13. Maggie Daley Park
Chicago's newest addition is really awesome. The slides and the swings make me jealous of all of the kids who get to spend their summers here. Also, the views from the top of the slides are breathtaking. The ice skating ribbon is a nice switch up from Millennium Park's typical ice rink, making the wipeout experience a little less embarrassing.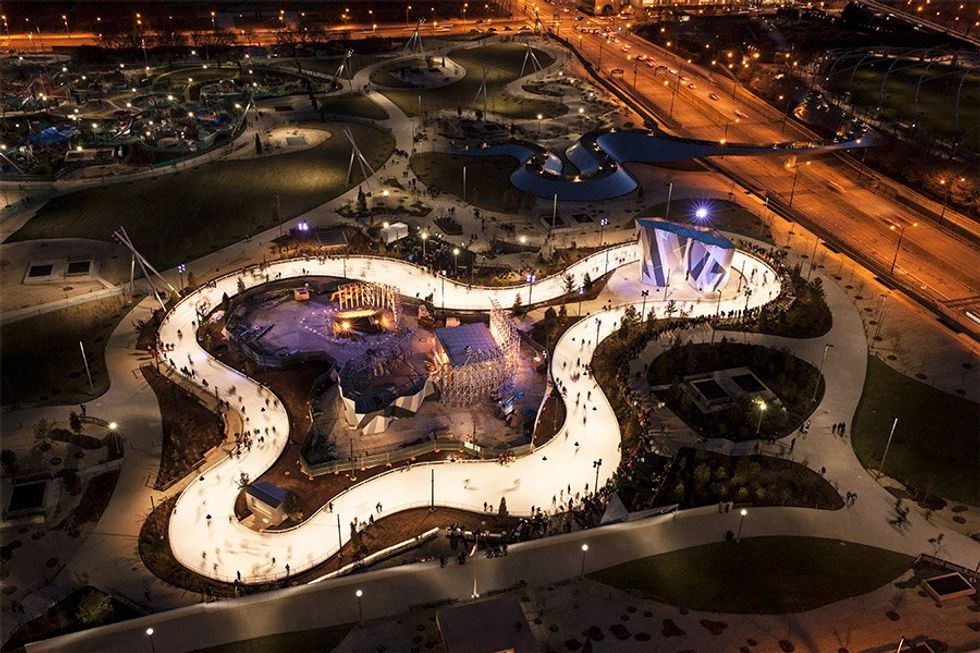 14. Michigan Ave
There are so many wonderful things I could say about the Magnificent Mile. There are endless shops and restaurants and landmarks along that mile-long stretch. It's one of the best shopping experiences ever, and certainly one you won't be able to find in many other places.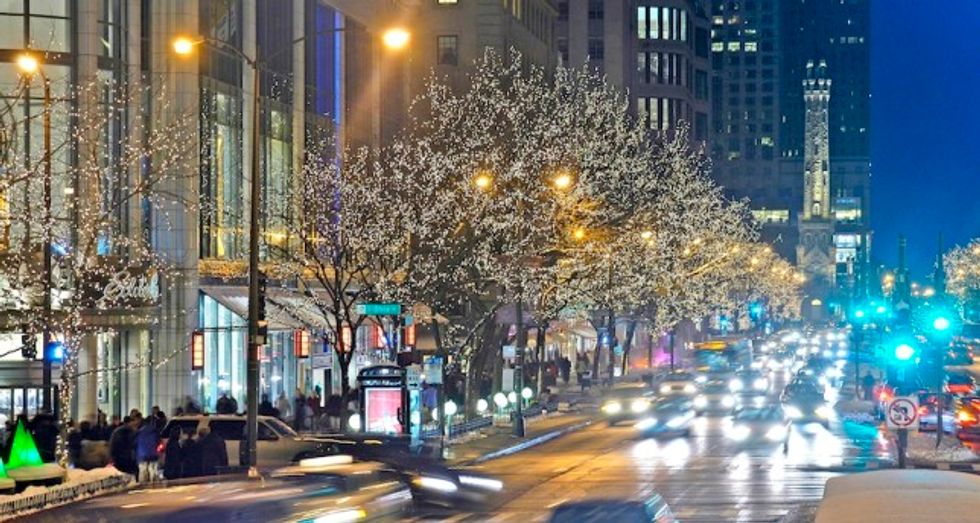 15. Sky Deck and 360 Chicago
If you're brave enough, you can stand in a glass box on the 103rd floor of the Sears Tower (I refuse to call it the Willis Tower) for less than $20. If you can't handle heights, you could always choose a different experience on the 94th floor of the John Hancock Building and tilt 1,000 feet above the city.
16. Millennium Park
I feel like Millennium Park is everyone's first stop after getting off at La Salle Street Station. The Bean (Cloud Gate) is so fascinating and a great spot to take pictures, especially for prom. There are also really awesome concerts and movies in the park here all summer and ice skating all winter.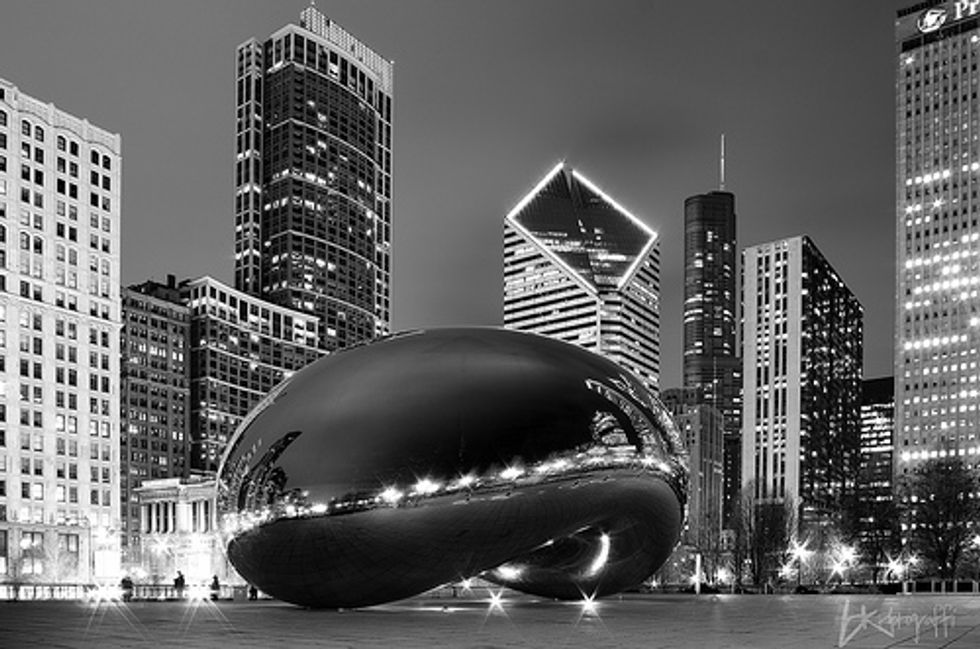 Chicago has so many amazing things to offer, and there are so many perks to living in the suburbs. We're able to grow up with a small town atmosphere, but I mean, how many other people can say they have access to all of this in just a short 30-45 minute drive or an hour train ride? We are incredibly lucky to be so near such an incredible city.