What could Supreme Court justice Sonia Sotomayor, Yahoo! COO Sheryl Sandberg, and former secretaries of State Hillary Clinton and Condoleezza Rice, and USA Girl Scouts CEO Anna Maria Chávez all have in common?
They have all been personally victimized by the word "bossy."
Bossy is defined by the Merriam Webster Dictionary as, "inclined to dominate, and likely to tell others what to do." Bossy has many synonyms, such as pushy, overbearing, imperious, officious, high-handed, authoritarian, dictatorial, and controlling.

Ah, we meet again, you pestering word. Bossy is a word that has followed me since my first leadership role: being a big sister. Being the oldest of five children in my family, I took a lot of personal responsibility to help my younger siblings along and lead them to do the right thing, stepping up in the place of my parents at times to help out and assist them, and pushing them to always be the best they can be. More than often, my siblings would call me "bossy." Being the bossy older sister gives the feeling of negativity, pestering, nagging authority. According to research, bossy is prominently stamped on the older sister more than the older brother. One time, a coach called me bossy. Classmates have called me bossy, coworkers, and even elders. Where does this come from, why is it prominent to females, and how can we change this state of mind and promote our women instead of degrade them?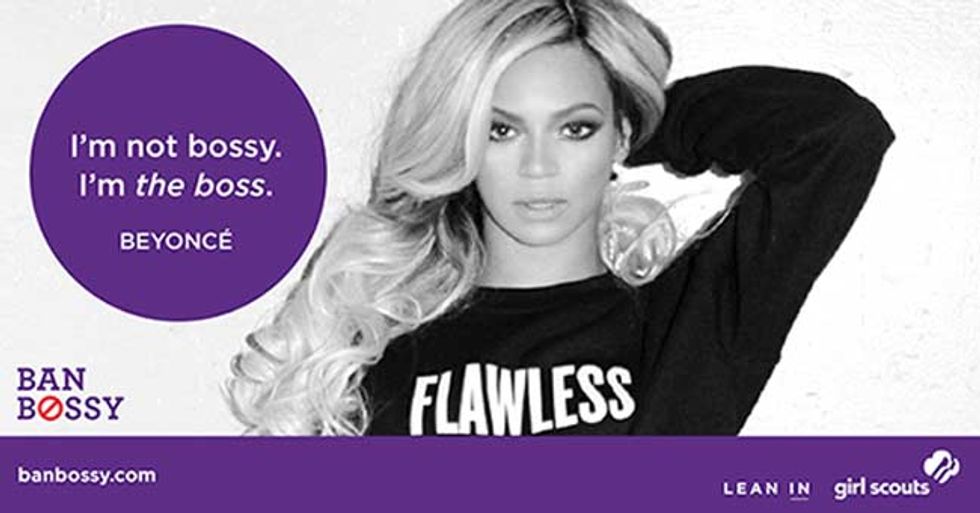 Research tells that bossy starts in childhood. Children tend to begin early play with peers and friends of the same gender, and they learn how to play with and talk to each other differently. With young girls, language is used to tell secrets and become friends through closeness and likeness of each other. With young boys, language is used to determine who is the best at what, who is the winner, and who is going to be the leader. If a boy tells other boys what to do and they listen, he's the leader. Girls don't like a girl who tells others what to do, and when she does, she is the intimidator and immediately outcast from the group, and risks being branded with the term "bossy."
According to Sandberg, "We call girls bossy on the playground. We call them too aggressive or other B-words in the workplace. They're bossy as little girls, and then they're aggressive, political, shrill, too ambitious as women." It seems that like a certain other b-word classically stamped on women, "bossy" reveals an offensive term stamped on women that follows them throughout their lives, in their personalism and professionalism.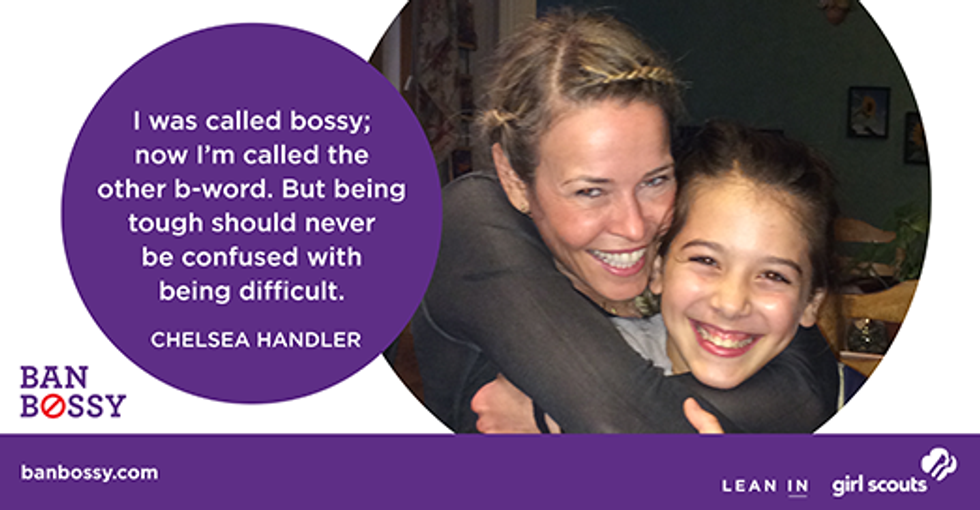 So why are so many women, such as myself, offended by the term "bossy," and being called the negative word? In normal interactions, women are expected to be more nurturing, collaborative, and kind, while men are expected to be assertive, commanding, and direct. Bossy women are often penalized for asserting themselves, whether it's young girls getting called "pushy," "know-it-all," and "smartypants" or professional women deemed as "aggressive," "ambitious," and "difficult."
When a woman becomes the leader, and begins to do her job to delegate work and tell people what to do, she is immediately degraded for using the exact same skills in the exact same position as the man. Is your female boss talking to you as you would expect a woman to talk, or does she talk in the way that you'd expect a person of authority to talk? Why does she have to have a soft touch and be high ranking? Why can't she just focus on being the boss like anyone of the other gender in the same role, leading the company to long-term success?
I take personal offense in being called bossy because most of the times that I have been slapped with the label, I have been acting in the position that I was assigned to be in, such as a big sister, the leader of a group project, coaching a team, leading younger people, and even giving my advice to those senior to me. Bossiness and female leadership are not equivalent, and definitely need to be separated and not pushed together.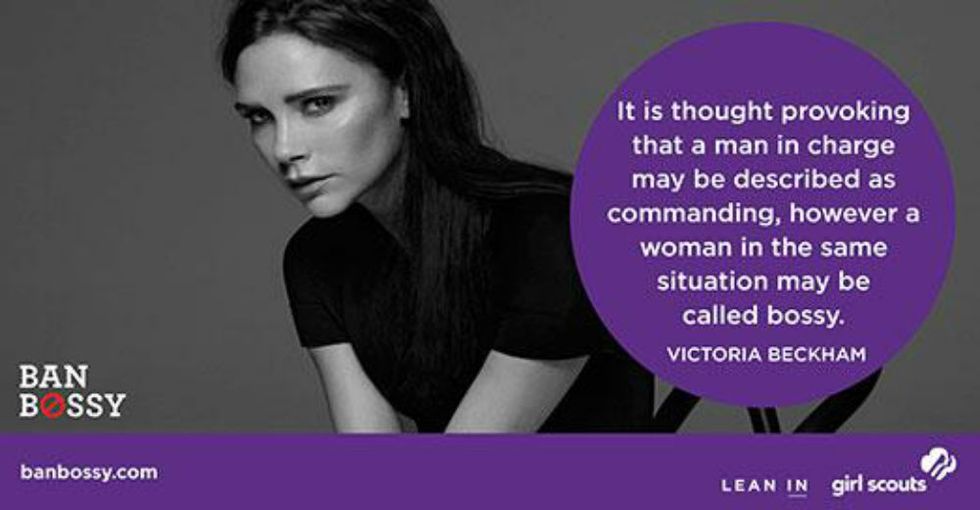 I think this answers a lot of questions in the way a female leader speaks to her followers compared to a male leader. To avoid sounding bossy, women have to learn how to soften their speech with an extra dose of politeness. It is more common for a woman to start her sentences with specific phrases, such as "I just wanted to follow up..." "I just wanted to check in..." "I was just wondering..." The word "just" puts the woman in a state where she is having to ask for permission, like a shy knock on the door.
"Just" isn't about being polite: it's a subtle message of subordination. Immediately, taking "just" out of the conversation strengthens and clarifies the message being asked. The female leader should never have to ask for permission to speak, just as the male leader is allowed to speak, ask for, and demand tasks without ever being labeled with derogative terms such as "bossy."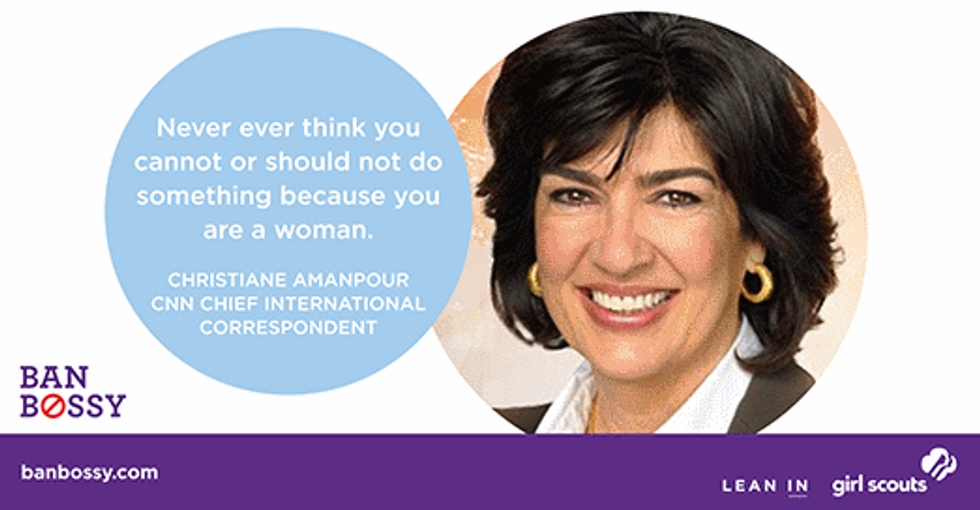 Calling someone "bossy" is a way of expressing the negative reaction that women get if they talk in ways that are expected from someone in authority. Otherwise stated, bossy is another way to get a woman to sit down and shut up. Being called any sort of name, especially in the workplace and in leadership roles, can cause a women to pull her hand back and not reach as high, bite her tongue, and work to try to fit in.
The next time you think it might be a good idea to call a woman "bossy," hold your tongue and think about if you would say the same thing if she were a man in the same position. I can almost guarantee you that your word choice will change.