1. Boston Terrier Museum - Floydada, TX
This museum of everyone's favorite tuxedoed dog opened in 2007, filled with vintage ads, books, Christmas ornaments, paintings, and other collectibles featuring Boston terriers. Bob and Francis Hambright began their treasure hunt in 1991, 20 years after their first of five pet Boston terriers entered their lives.

They traveled around the country collecting Boston terrier trinkets, and Bob continued to collect even after Francis died. The Museum doesn't have regular hours, but after a simple phone call (the number is even on the outside of the building) you'll be set. Possibly a good time to convince a parent to let you get that doggie in the window?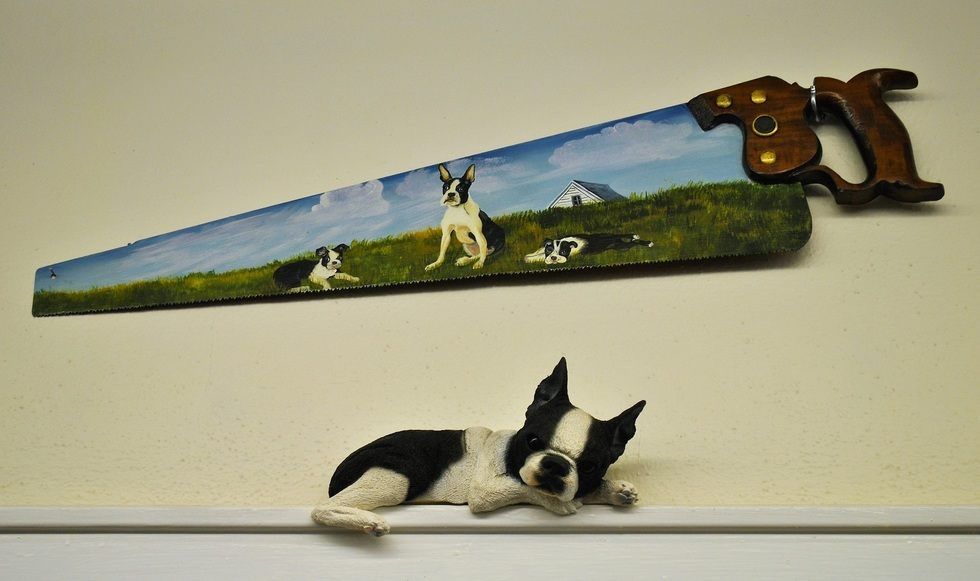 2. Barney Smith's Toilet Seat Art Museum - San Antonio, TX
Want everyone to know your name? Have an extra toilet seat lying around? You can bring it to Barney Smith's Toilet Seat Art Museum, and Smith can decorate and engrave your name on it so that future generations will know where it came from. A retired master plumber, Smith began collecting used (clean) seats that he would then paint or decorate with other items.

He worked in his garage, but when local media caught wind of his amusing artwork he decided to open up a museum and is more than happy to show his collection to anyone who stops by. Just make sure to call first!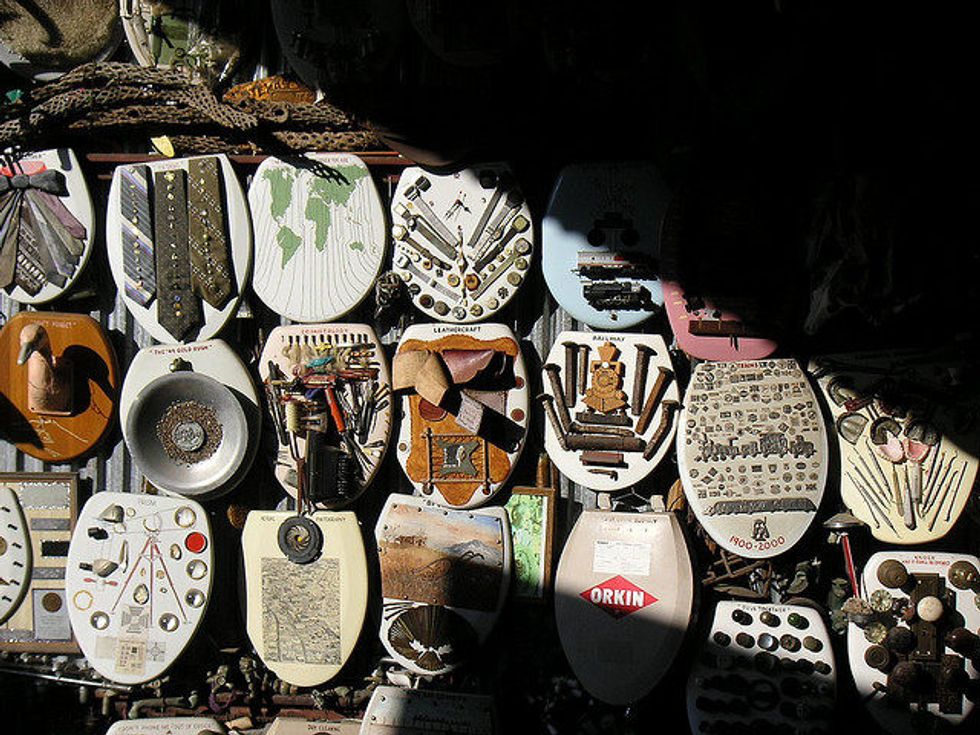 3. Lajitas Ghost Town - Terlingua, TX
If you said the mayor of Lajitas was a drunken old goat, you wouldn't be wrong. Once a busy city of mercury production, it became a ghost town near the end of World War ll. Then in the 1980s, a joke election started between a man from Houston and a goat named Clay Henry.

The Houstonian won the first election, but the goat easily won the second. (You know you're bad at your job when…) Goat mayor Clay Henry's successor was his son Clay Henry ll, who was then killed by his son and current mayor Clay Henry lll. Just like his ancestors before him, Clay Henry lll is fed a steady diet of beer. All you have to do is put an opened bottle in his mouth, and the mayor will chug it all by himself. Possible guest of honor at your next Aggie Ring Dunk?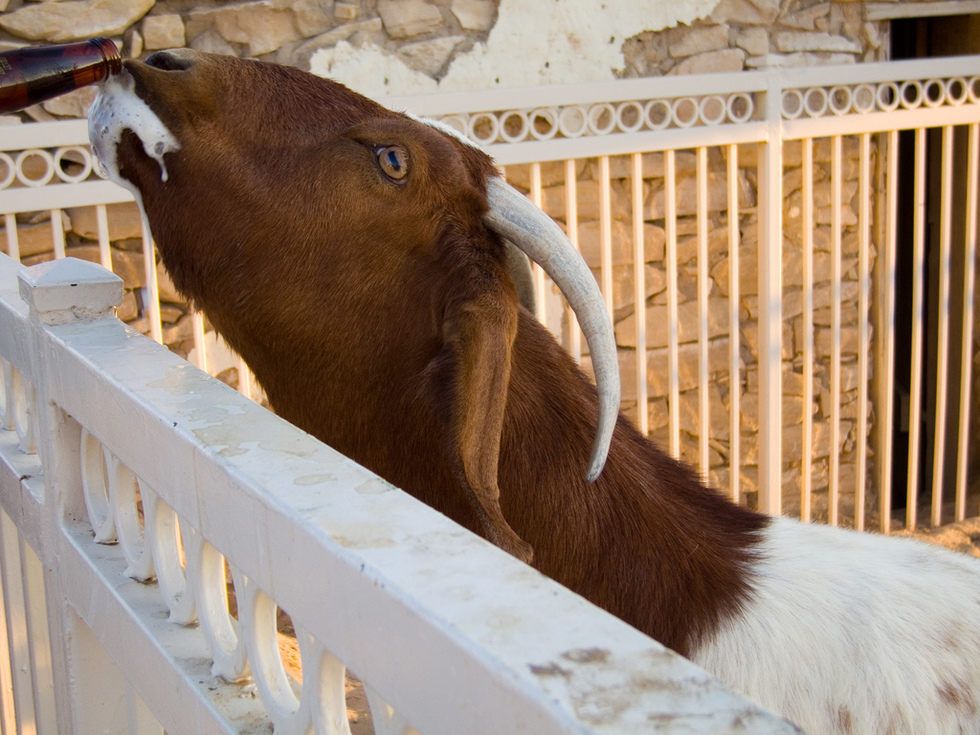 4. Ms. Pearl - Cedar Creek, TX
An adorable treat for your nuttiest friends, Ms. Pearl stands 14 feet tall off of Highway 71 outside Austin, TX. Begging to have a picture taken with you, Ms. Pearl holds a pecan that probably has something to do with the nearby Berdoll Pecan Candy & Gift Company, a family-owned business that includes a gift shop and pecan orchard.

While the gift shop has business hours, you can visit Ms. Pearl anytime. And make sure to satisfy your sweet tooth by stopping at her vending machine! It is stocked daily with fresh, full-size pecan pies.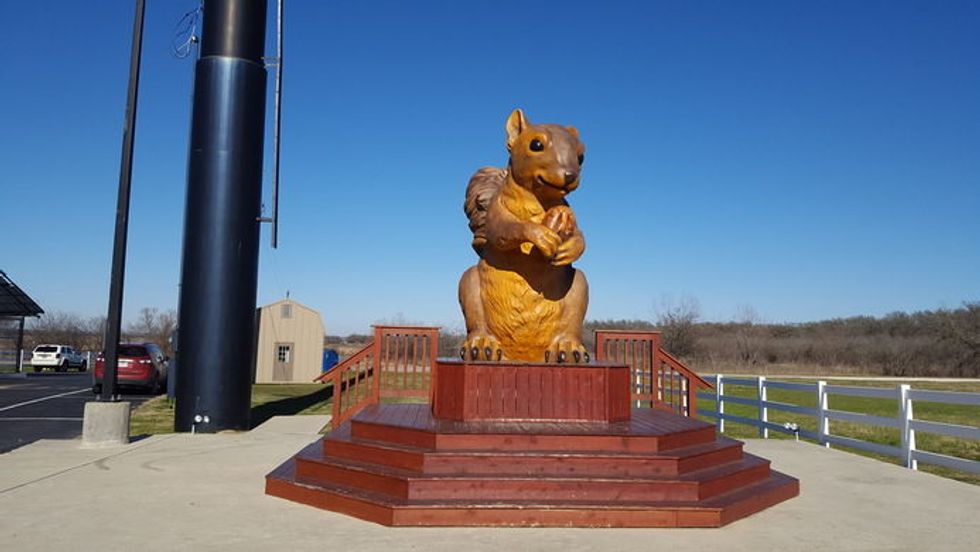 5. Ozymandias on the Plains - Amarillo, TX
This photo stop is the perfect chance to stretch your legs! These legs are located just off of I-27, and are said to be the remains of a statue of Ramesses ll, also known as Ozymandias, and rumored to have inspired poet Percy Shelley to write a poem after he visited the ruins.

While the opposite is true (the legs were sculpted to look like the ruins of the poem and there's even a faux historical marker on site), it's fun to pretend. And the socks? Actually vandalism, but when removed, they always come back in a variety of colors and designs.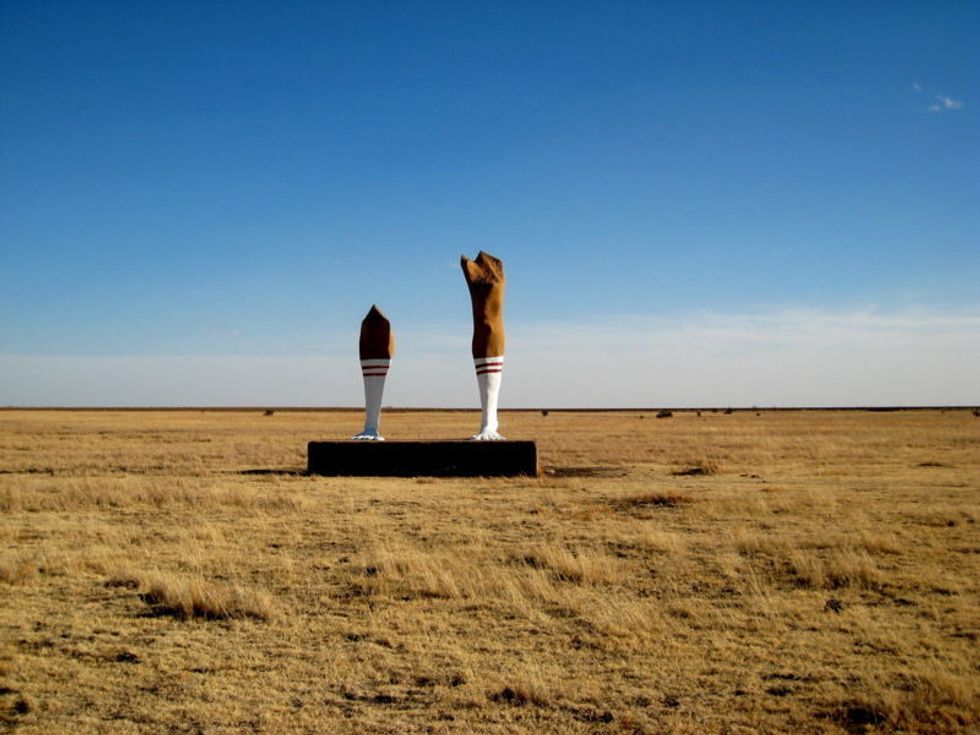 6. Food Shark Museum of Electronic Wonders & Late Night Grilled Cheese Parlour - Marfa, TX
Dotted with electronics that are now past their prime, this odd food service offers up the ultimate comfort food, surrounded by the equally comforting glow of old televisions, monitors, and even stereo systems. Just a little bit of color and nostalgia to distract from the dry desert of West Texas.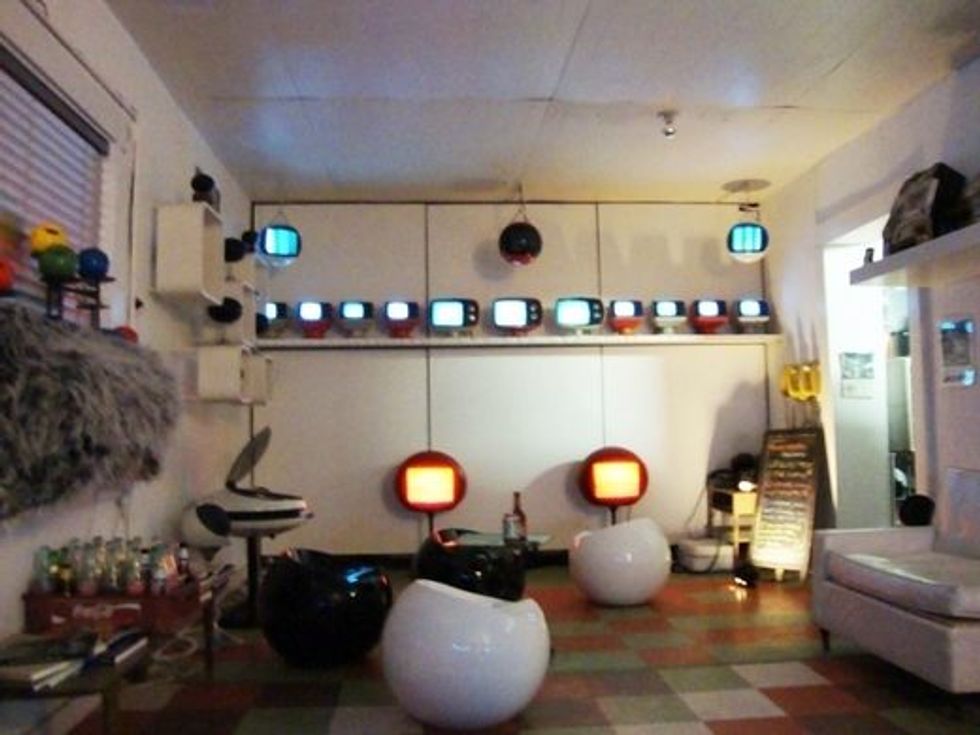 7. National Museum of Funeral History - Houston, TX
Celebrating one of humankind's oldest cultural rituals, the National Museum of Funeral History in Houston has an enlightening collection of funeral programs from the famous, beautiful old hearses, African dream coffins, a specially-designed funeral bus with an unfortunate end, and even JFK's original eternal flame. Home to a variety of exhibits, the museum also includes a school that teaches embalming practices.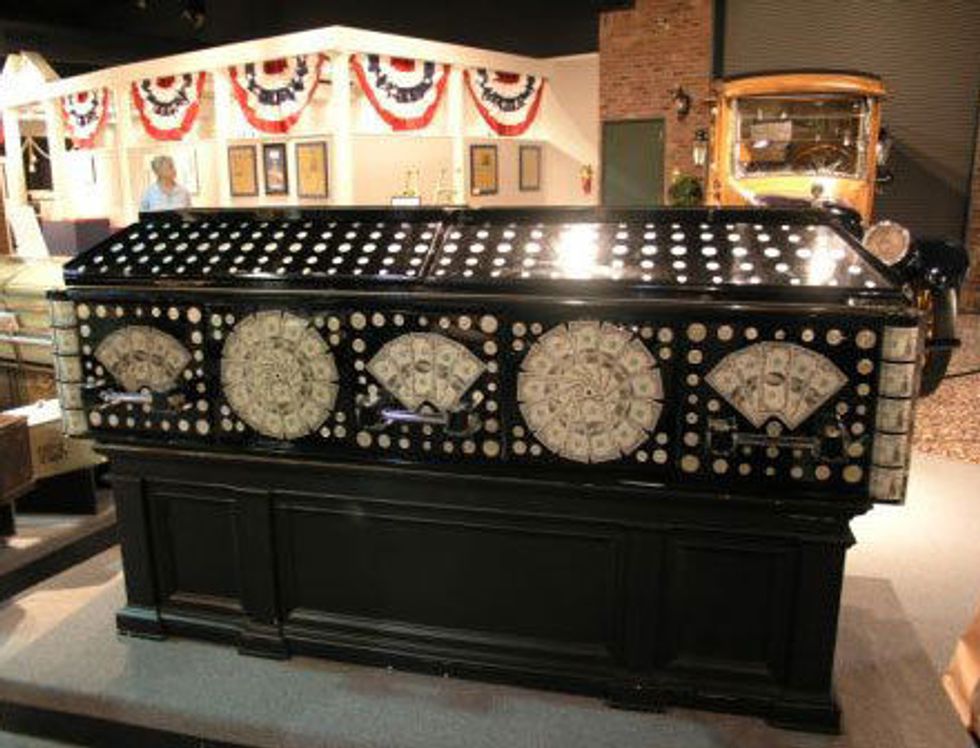 8. World's Largest Pecan - Seguin, TX
They say everything is bigger in Texas! Honoring the Spanish explorer Alvar Nunez Cabeza de Vaca, who survived on pecans while being held captive on the Guadalupe River (which he called "the river of nuts"), a dentist built this massive pecan in 1962.

The statue held the title of "World's Largest Pecan" for two decades until pecan farmers in Missouri built a larger one, but Seguin continued to pride themselves on being the home of the nut. In 2011, the city made good on their claim and revealed a new 16-foot long pecan. The original pecan sits in front of Seguin's City Hall, and the current largest pecan is gloriously housed outside of the Texas Agricultural and Heritage Center, where pictures can be taken anytime.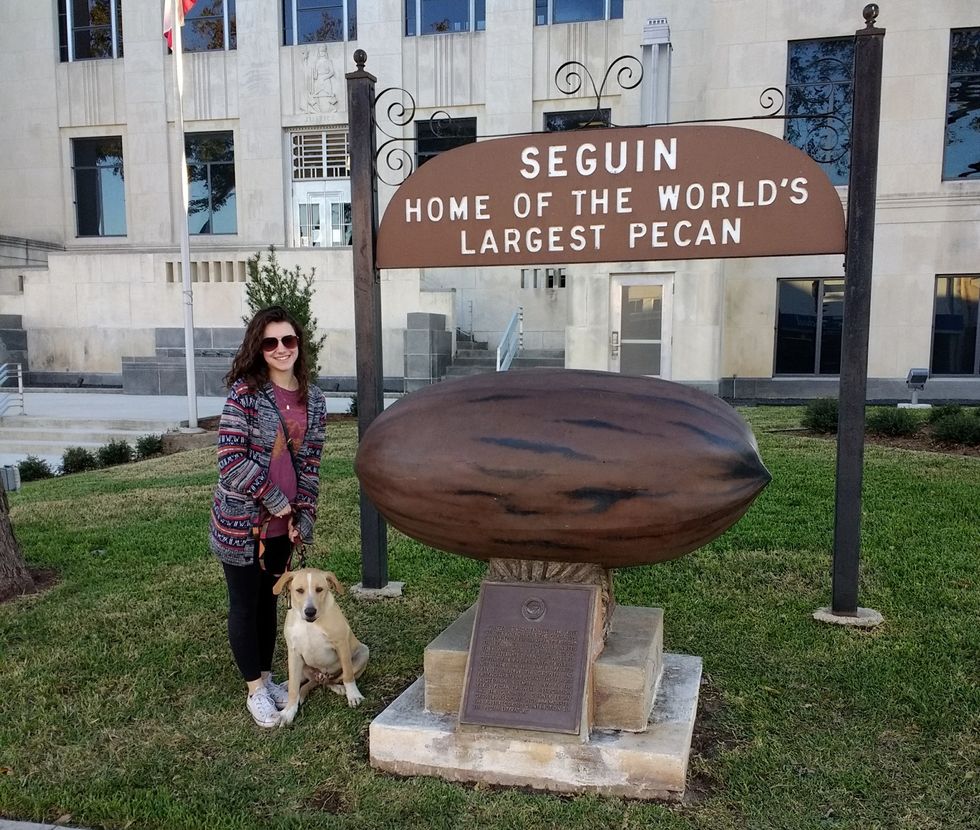 9. "Eye" Sculpture - Dallas, TX
The perfect addition to an eye-catching Instagram, this 30-foot fiberglass orb sits outside of the Joule Hotel in downtown Dallas. Purchased by the hotel in 2013 to add to their art collection and sculpture garden, artist Tony Tasset says there is no deep symbolism behind his work- he "just wanted to make something awesome."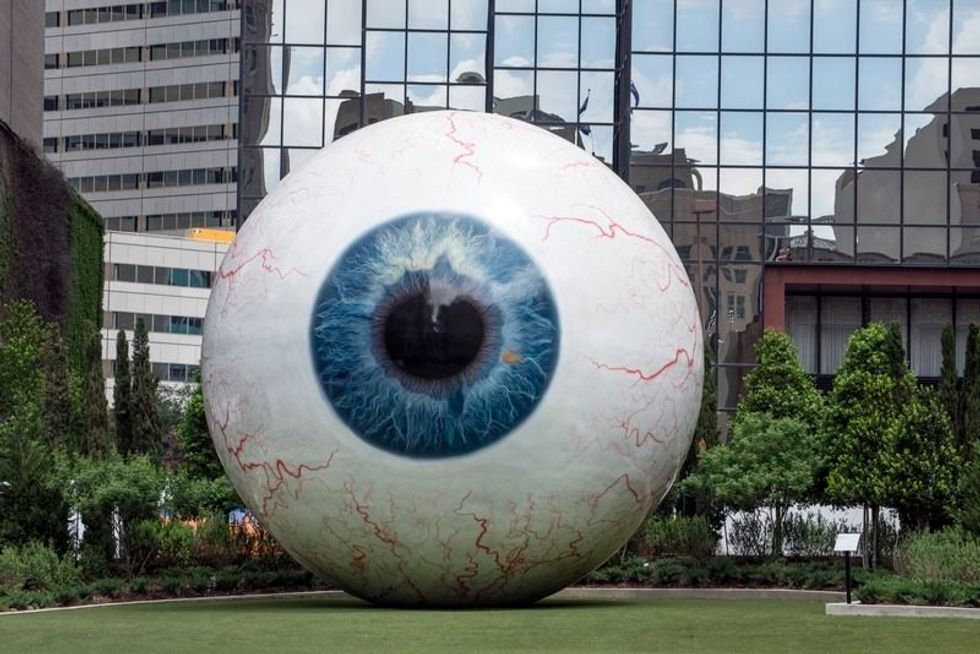 10. Prada Marfa - Valentine, TX
Gucci Gucci, Louis Louis, Fendi Fendi, Prada… Marfa? This biodegradable fully stocked Prada store in the West Texas desert was created as a commentary on Western materialism. Miuccia Prada herself was actually consulted on the project, allowing the artists to use the Prada logo and selecting the merchandise inside.

After the grand opening, the multitude of confused press coverages led to vandalism, so the store was equipped with heavy alarms and stronger windows, and stocked with only right-footed shoes and bags with no bottoms. While most people accept the artists' story, conspiracy theorists argue that Prada Marfa is not art, but actually a trap set by aliens to attract potential abductees. Sounds like shoplifting, amirite?