We are closer than ever to ending the stigma around mental illnesses and self-harm. But as soon as we take one step forward, we fall two steps back. This Halloween season, Walmart allowed a costume accessory called "Razor Blade Suicide Scar Wound Latex Costume Make Up" to go on their shelves. This "accessory" picture showed a piece of skin that had two deep cuts on an arm with a razor blade in someone's hand. Not only is this considered a "costume" but on the Walmart website it was listed under the "Party" section.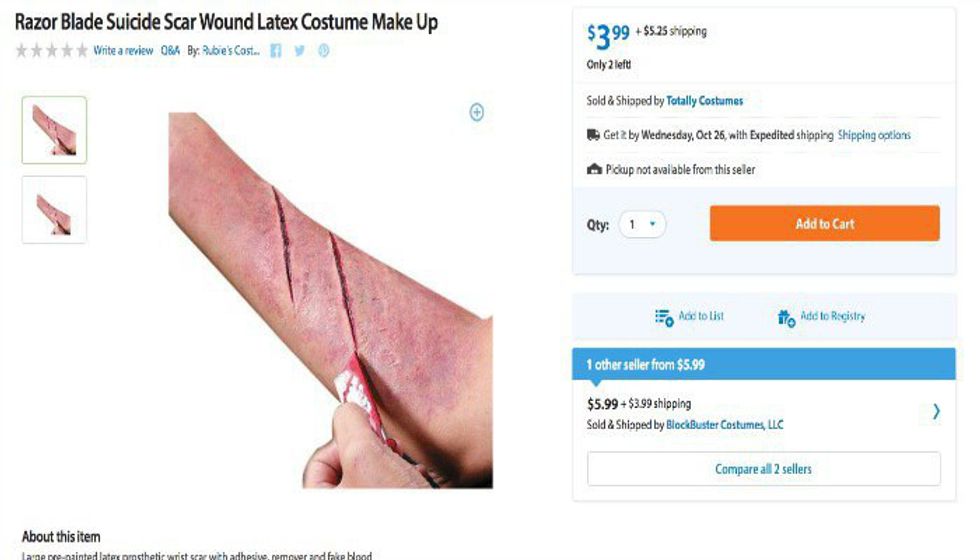 As distasteful as this is, it is an insult to those across the globe who have suffered from any form of depression or self-harm. The stigma is alive and well around these issues, and this "costume" has not helped whatsoever. Whether you want to recognize it or not, something like this affects many people personally. Almost everyone has in some way been connected to self-harm and depression, and everyone should be outraged with this costume. How could a company as large as Walmart make such a colossal mistake?
From recent statistics, suicide is the second leading cause of death among people ages 10-34, and the fourth leading cause of death among people ages 35-54. In the US alone, one person commits suicide every 16.2 seconds. Suicide is a permanent solution to a temporary problem. Regardless of how many people actually commit suicide, this costume is offensive to those who know someone that has committed suicide, as well as to those who have cut themselves before.
What is considered a "Party Costume" to Walmart is real everyday life to many people. This "costume" is not a joke, or something to take lightly. Leave jokes to vampire, zombie and chainsaw killer costumes. This "joke" ruins people's lives; this joke causes mental and emotional pain for loved ones everywhere.
Walmart did address this issue with a statement, ""This costume is appalling and it was unacceptable for a third-party seller to list it on our marketplace. It clearly violated our prohibited items policy and we removed it when it was brought to our attention."
Regardless of the fact that the "costume" is off the shelves, many people are deeply hurt by Walmart's insensitivity to a deeply saddening subject. This "family friendly" establishment has lost the respect and business of many shoppers due to this crass mishap. Major corporations or not, we should all be working to end the stigma around self harm and mental illnesses.