There is an image floating through social media of a family order from KFC costing around $20, compared with a large quantity of groceries costing around $20. (see below)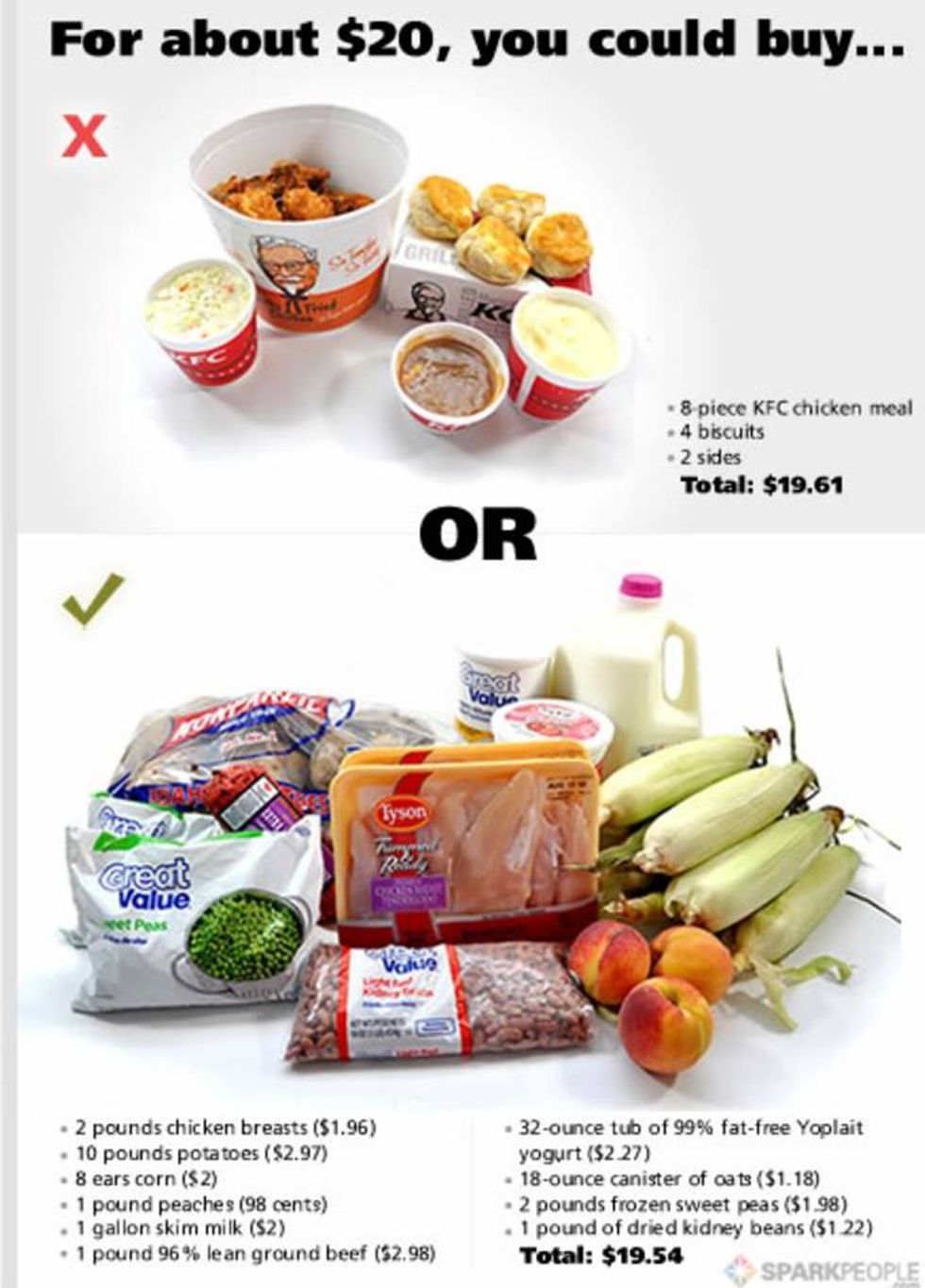 This image has received a lot of backlash, from individuals claiming that the KFC is tastier or easier, or primarily, that there is no way that you could actually get that much food for $20.
Being the self-proclaimed grocery store aficionado that I am, I said, "Challenge accepted."
I am definitely not someone who will say anything fast food is definitively and automatically trash. Eating fast food too frequently is often notorious for poorer long-term nutrition (such as excess saturated/trans fat/sodium/calories, and inadequate fruits/vegetables/fiber, the like), but there are definitely good options out there, and I am a firm believer in everything having a place within one's diet within the context of balance (emotionally and physically).
(I just personally would rather have Zaxby's over KFC any day, but anywho…)
Is this viral shopping list closer to $20 or $50?
Is it worth it to spend money on groceries rather than meals from fast food?
Let's find out, ladies and gentlemen.
I took a trip to my local Walmart and snapped pictures of the items and prices from the list, as well as some additional items for future reference. Here are the prices I found for the items from the list, as close as I could get:
OG Shopping List (as cheap as I could get it)
1 lb. peaches - $2.48 rather than $0.98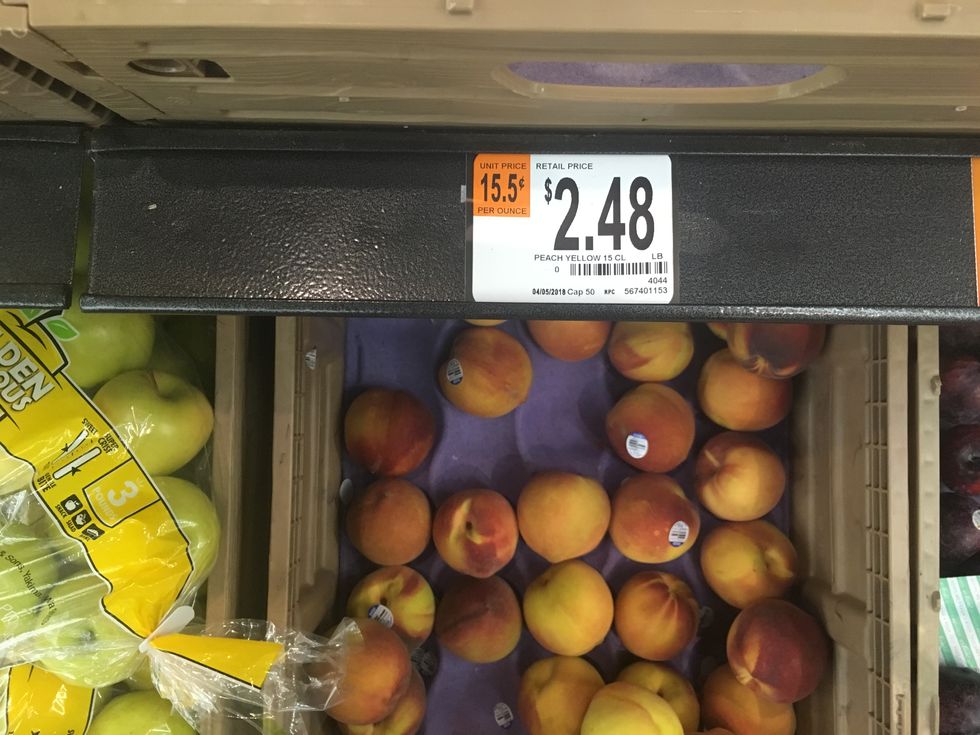 10 lb. potatoes - $4.94 rather than $2.97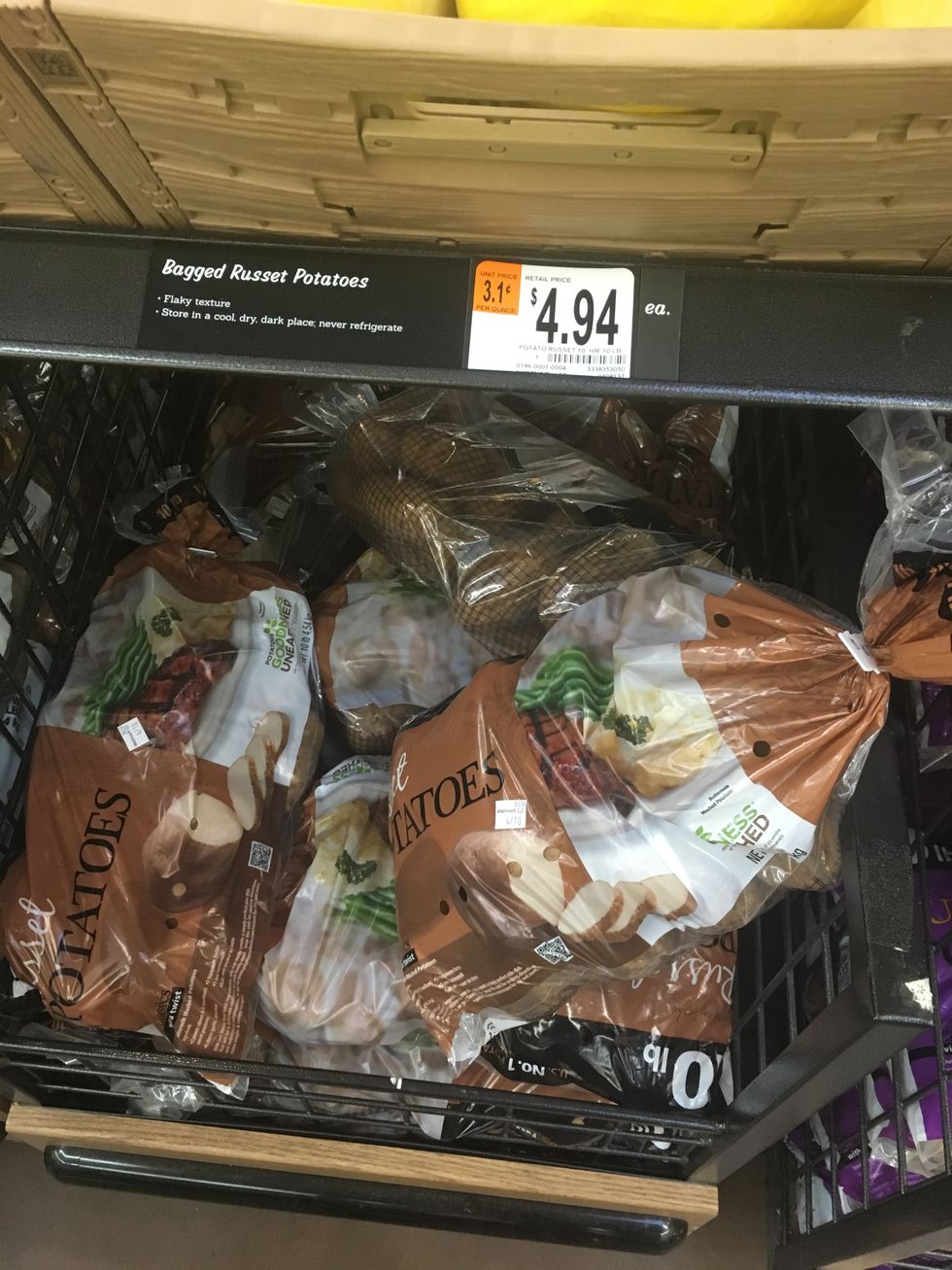 8 ears corn - $4.00 rather than $2.00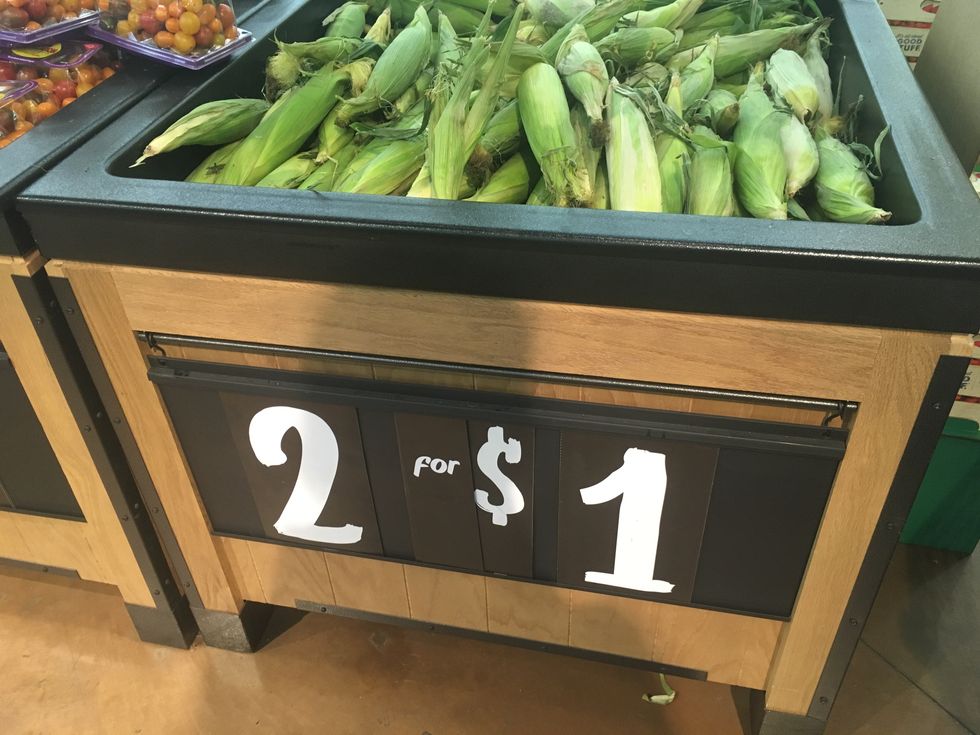 2 lb. chicken breast ($7.07 rather than $1.96)

Technically, 2.06 lb. Sanderson Farms boneless skinless chicken breast fillets with rib meat (rather than Tyson chicken breast tenderloins).
1 gallon skim milk - $2.24 rather than $2.00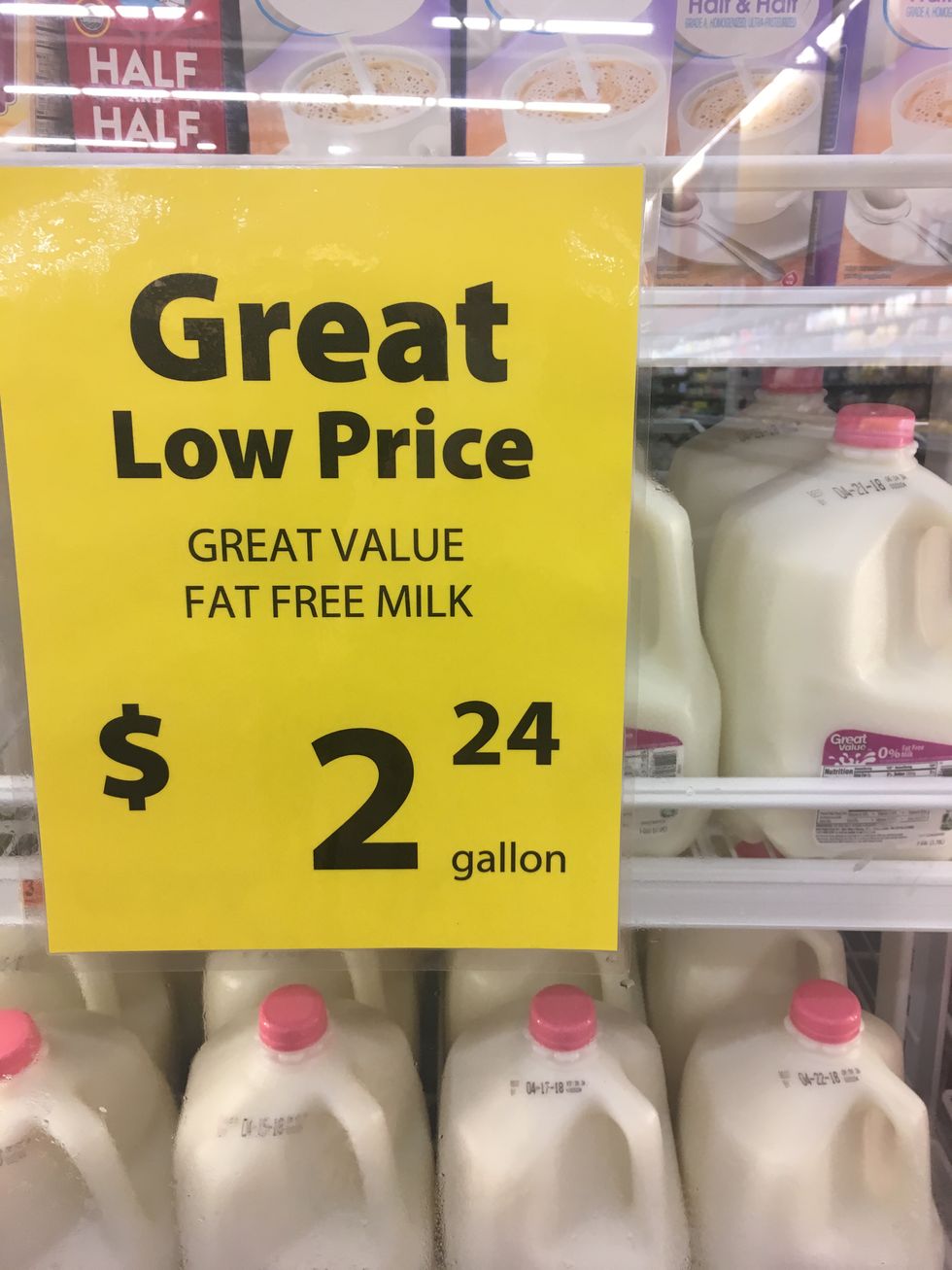 1 lb. lean ground beef - $5.18 rather than $2.98

Technically, 93% lean rather than 96%.

32-oz yogurt - $2.18 rather than $2.27

Technically, Great Value low-fat rather than Yoplait fat free.

18-oz oats - $1.68 rather than $1.18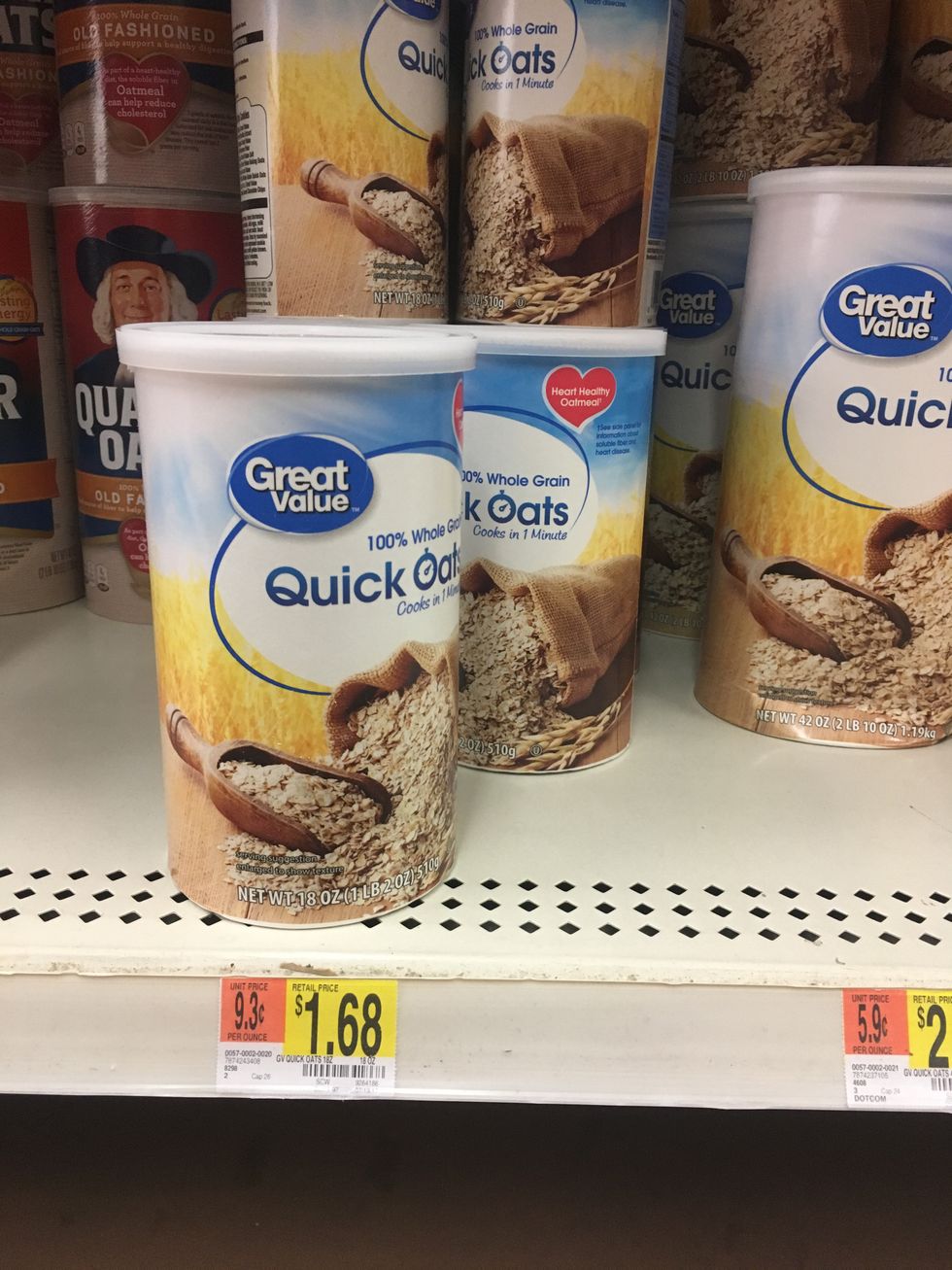 2 lb. frozen sweet peas - $2.22 rather than $1.98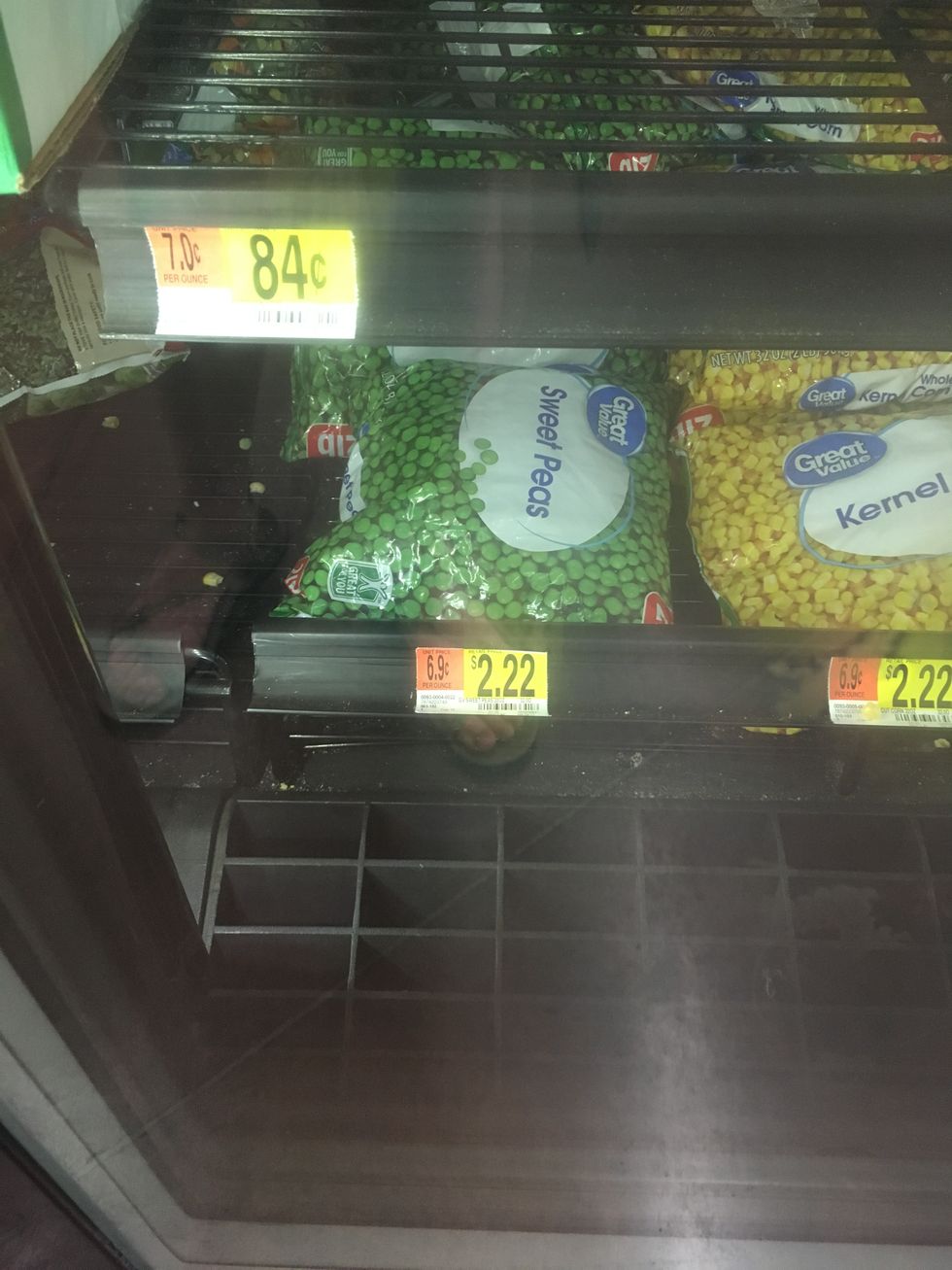 1 lb. dried beans - $1.26 rather than $1.22

Technically, pinto instead of kidney.
GRAND TOTAL - $33.25 rather than $19.54.
You also have to factor in that I used the generic yogurt brand, which will be a little cheaper than the Yoplait they used.
However, you also have to consider that there are different available grocery store chains, store locations, seasons, and local deals. I didn't count coupons or Walmart's Savings Catcher, and I'm pretty sure inflation played a role in this as well. The labels in the picture are old, and the family meal at KFC, now called the "$20 fill up" will even cost you around $22 now with tax - more than $19.61.
Modified Shopping List
I actually modified the shopping list just a bit, to see if I could get it a smidgen closer to that $20 mark.
Modifications: 1 lb 85% lean ground turkey instead of 93% lean ground beef; 2 lb drumsticks instead of chicken breasts; 2 lb bananas (approx. 6) instead of 1 lb peaches (approx. 3).
Switch to turkey - $2.76 (save $2.42)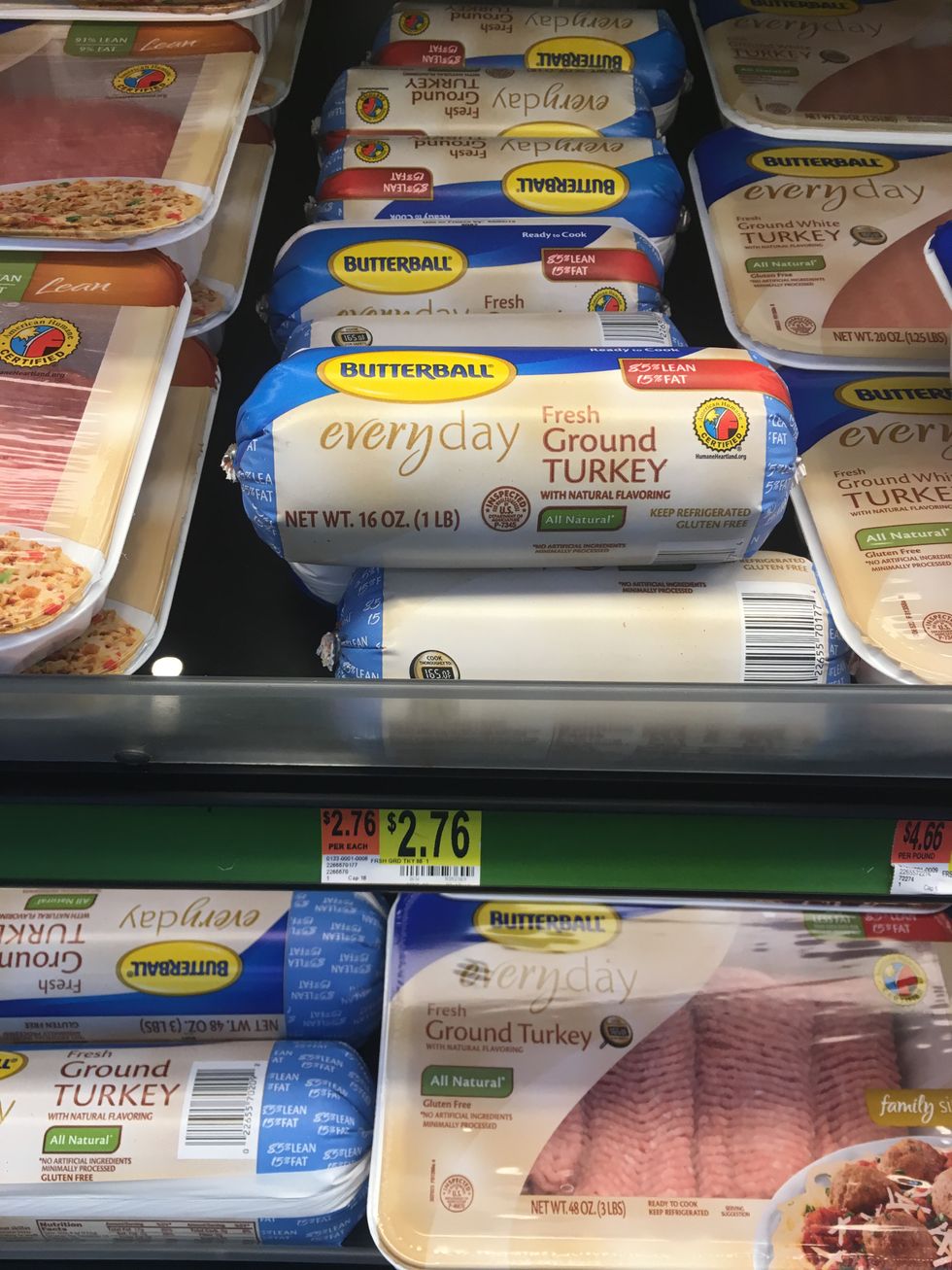 Switch to drumsticks - $3.84 (save $3.23)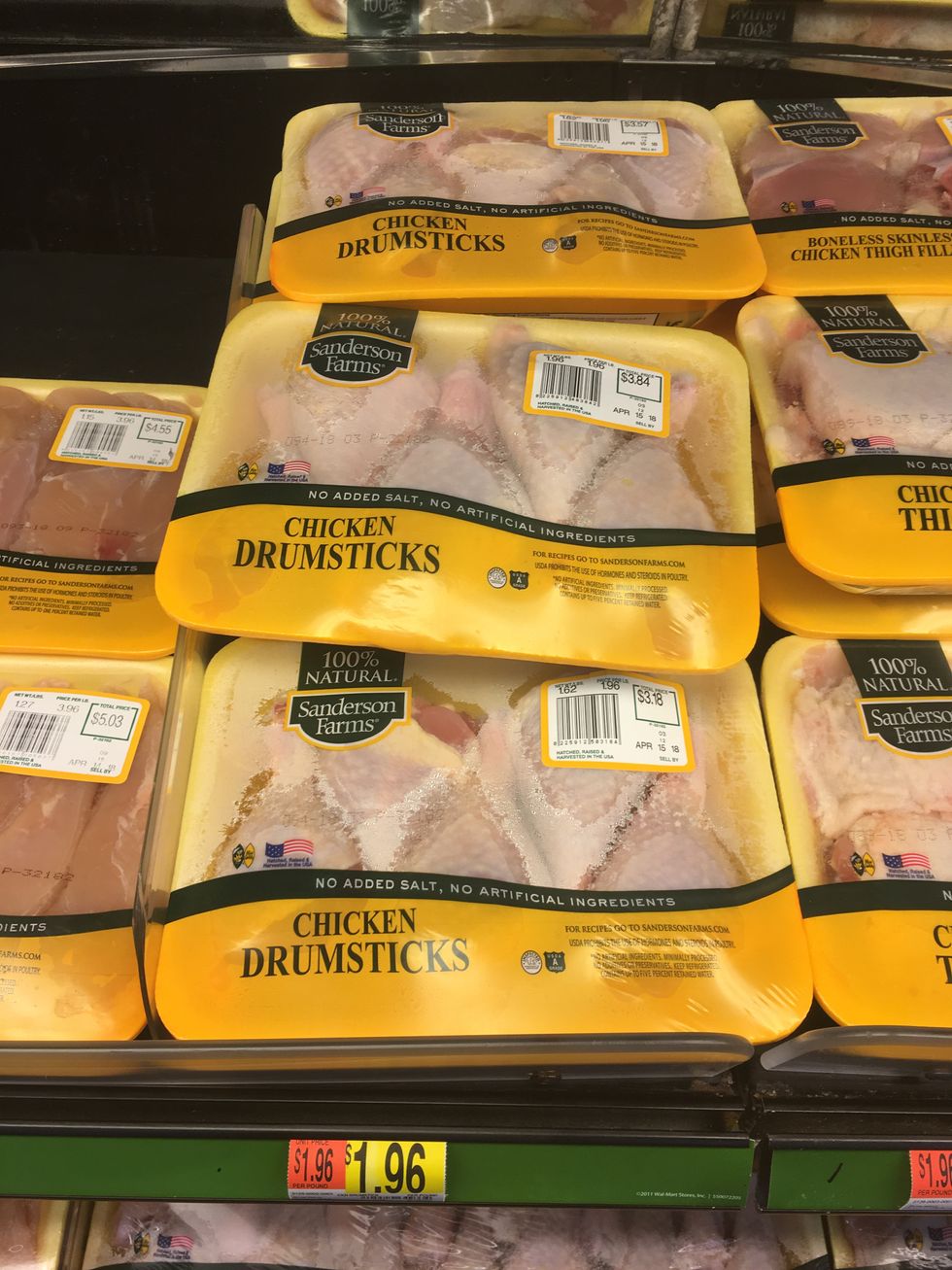 Switch to bananas - $1.18 (save $1.30)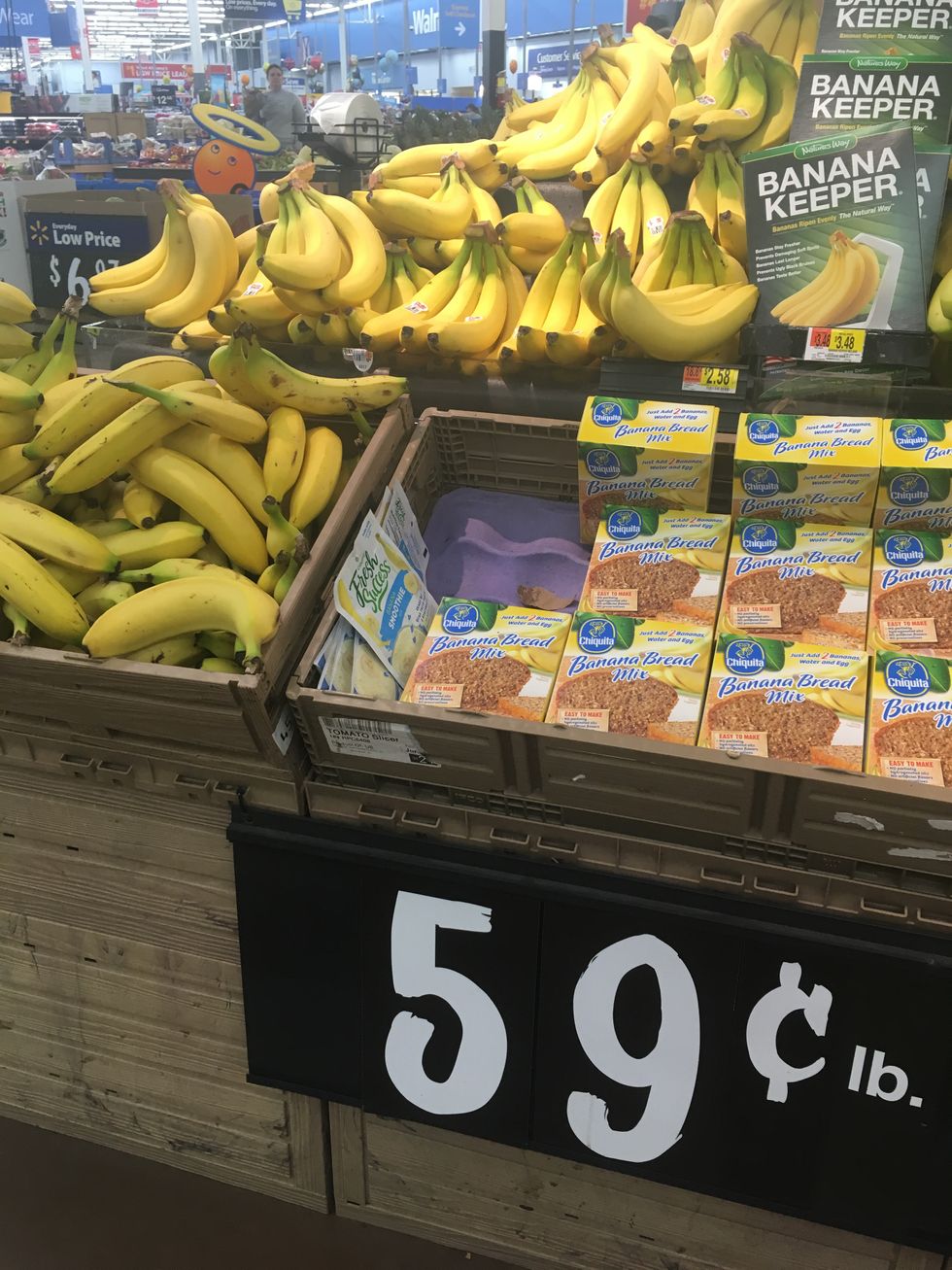 New total: $26.30
Under $20 Version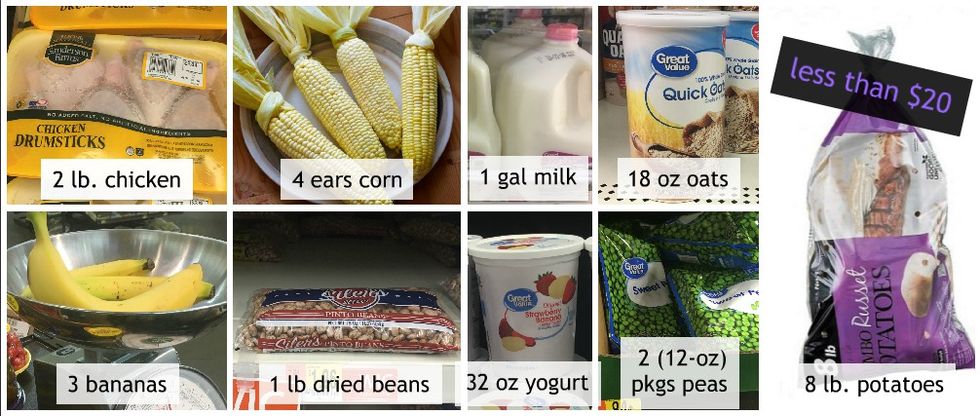 So, is it even possible to get a bunch of comparable groceries at Walmart under $20? Would it be worth it to buy real groceries?
It is, even with inflation, after I made a few additional changes.
Modifications: (I didn't get a picture of the 8-lb bag, but ideally, that would probably be the first thing I'd reduce in size to get it under $20. You can get a heck of a lot more mashed potatoes from even an 8-lb bag (or possibly smaller), not to mention the other items, but we'll start by reducing with the options and prices that I did take pictures of before I left the store.)
Modifications, for real this time:
4 ears of corn instead of 8
3 bananas (1 lb.) instead of 6 (2 lb.)
No ground turkey
24 oz. frozen sweet peas instead of 2 lb.
8 lb. potatoes instead of 10 lb. (I'm sure it's at least 41 cents cheaper than the 10 lb.)
So, for less than $20 dollars, instead of getting 8 pieces of chicken, two pints of potatoes, a pint of coleslaw, and 4 biscuits, you're still getting:
2 lb. chicken drumsticks
8 lb. potatoes
4 ears of corn (which could easily make 8 little cobs)
3 bananas
1 gallon of skim milk
32 oz. low-fat yogurt
18 oz. oats
1 lb. pinto beans
24 oz. frozen sweet peas
Another Combination of Foods Under $20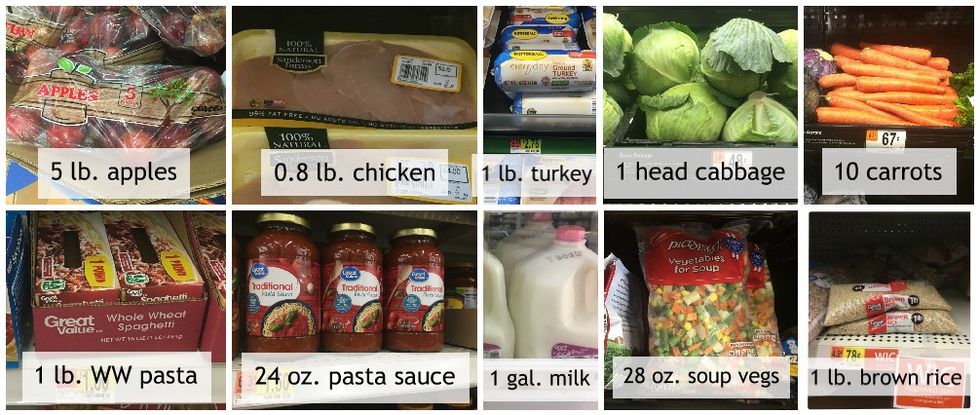 Here's another bunch of items I compiled, partly inspired by some of the deals I found at Walmart when I went. These could be used to make family-sized chicken and rice soup with mixed veggies, whole wheat spaghetti with meat sauce, baked carrots, shredded cabbage (or boiled if you're into that), apple slices, milk, and you might even have leftovers of carrots, rice, etc.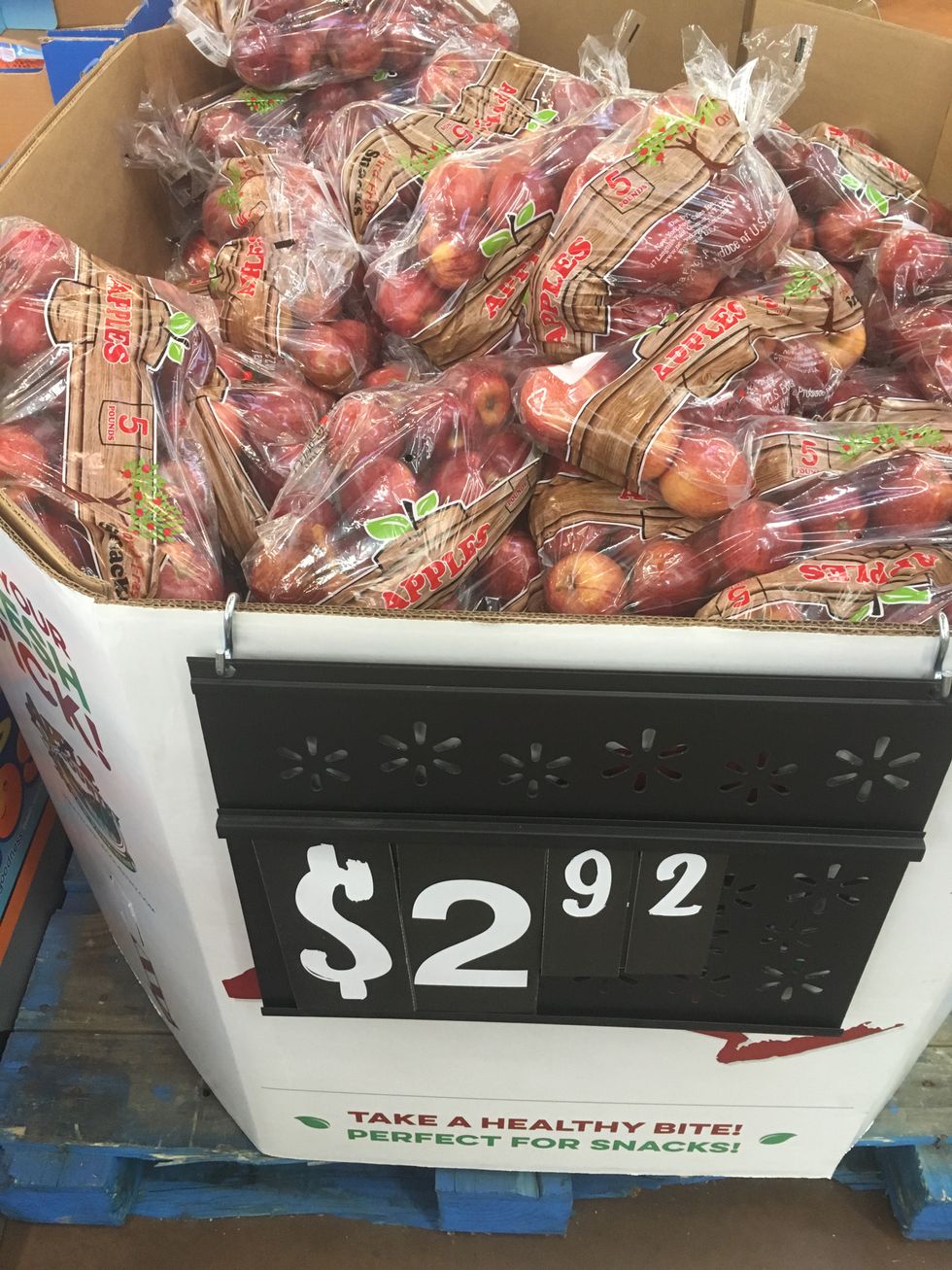 2 lb. (1 head) cabbage - $0.96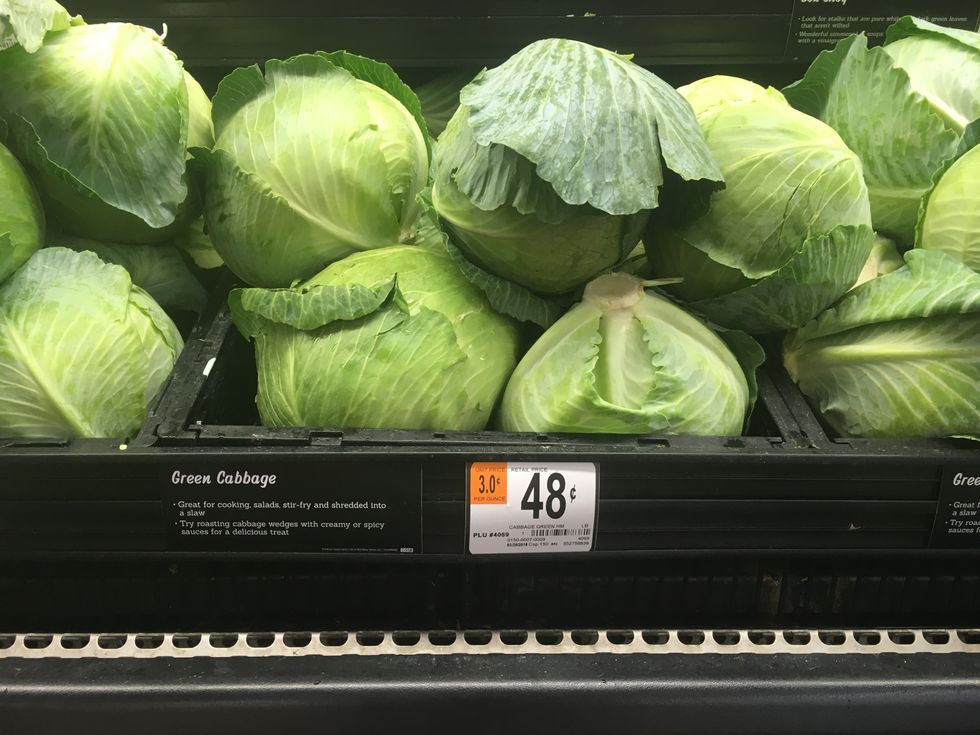 2 lb. (10) carrots - $1.34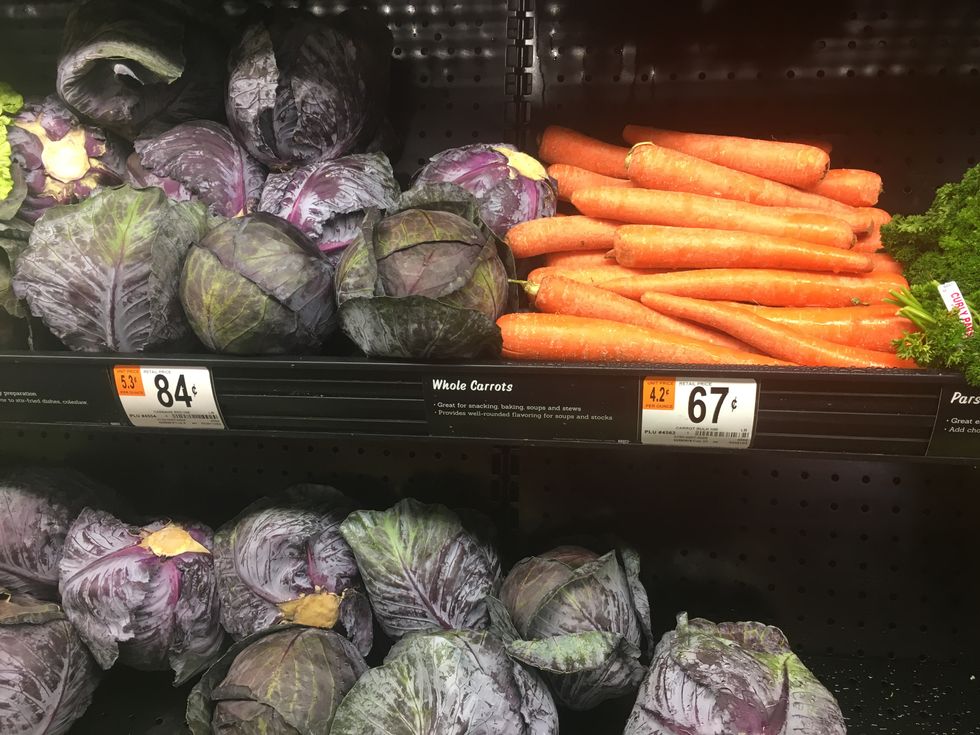 1 lb. 85% lean ground turkey - $2.76
0.80 lb. thinly sliced chicken breast fillets - $3.10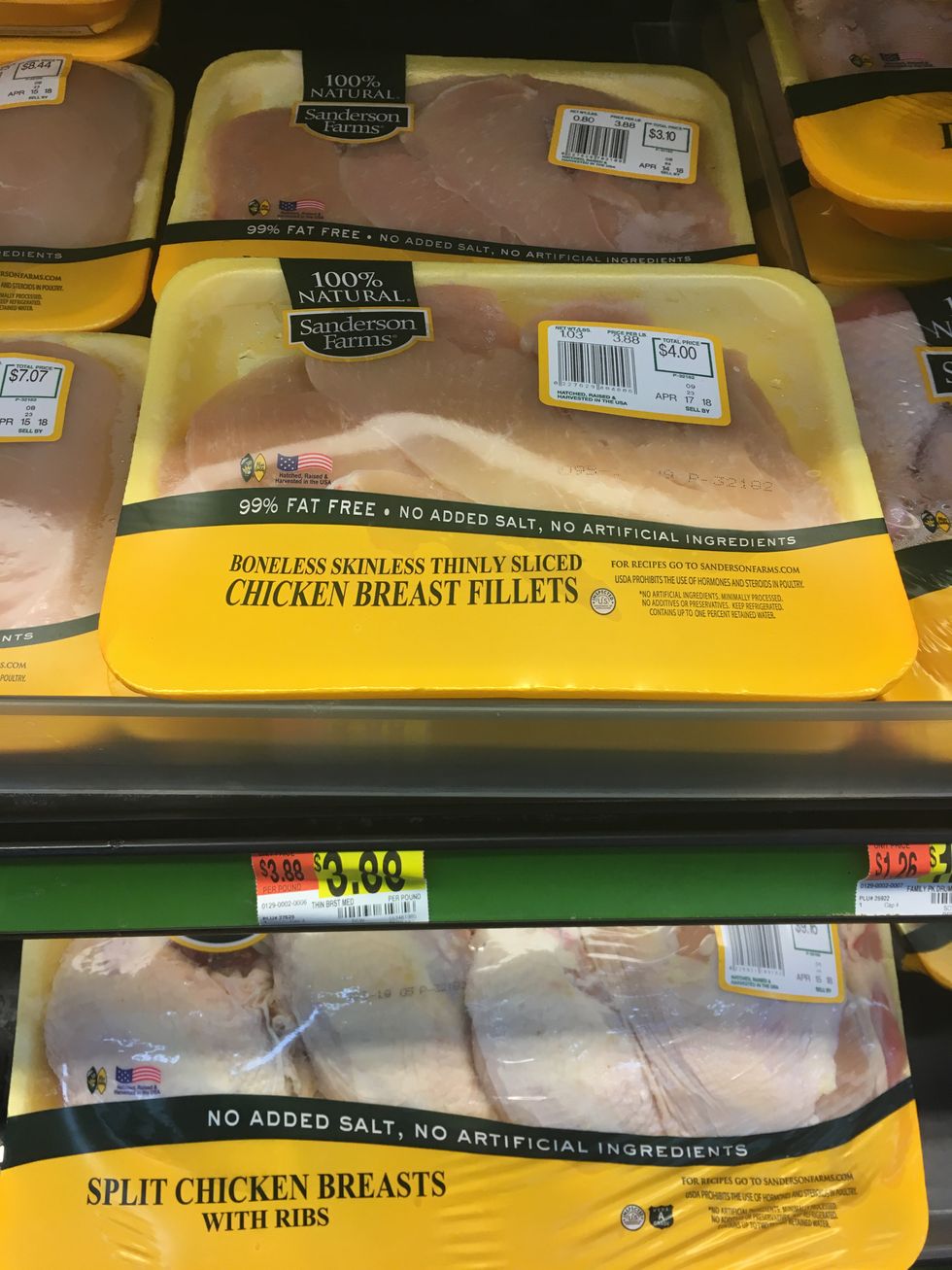 1 gallon skim milk - $2.24
1 lb. brown rice - $0.78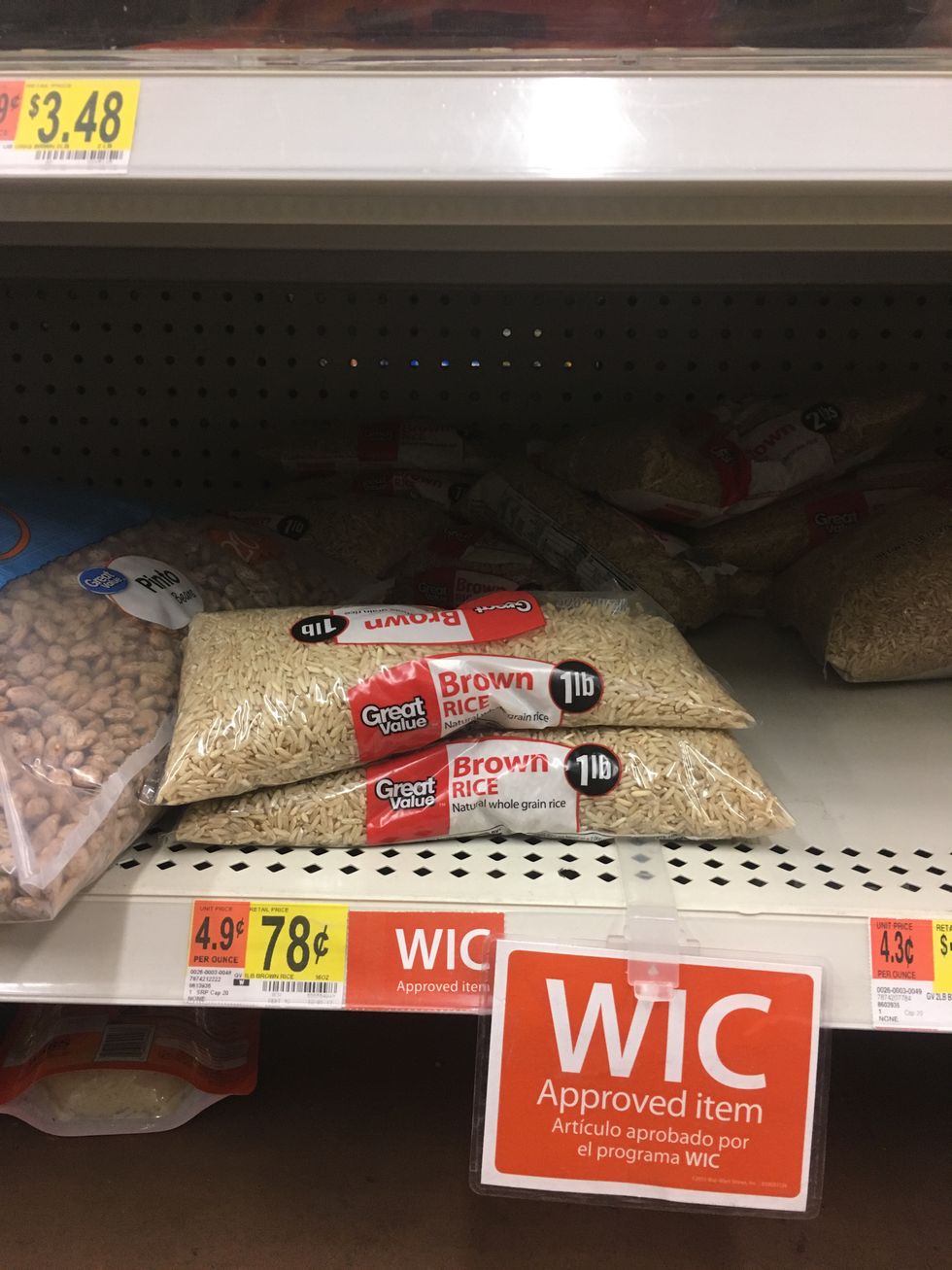 28 oz. frozen soup vegetables - $2.76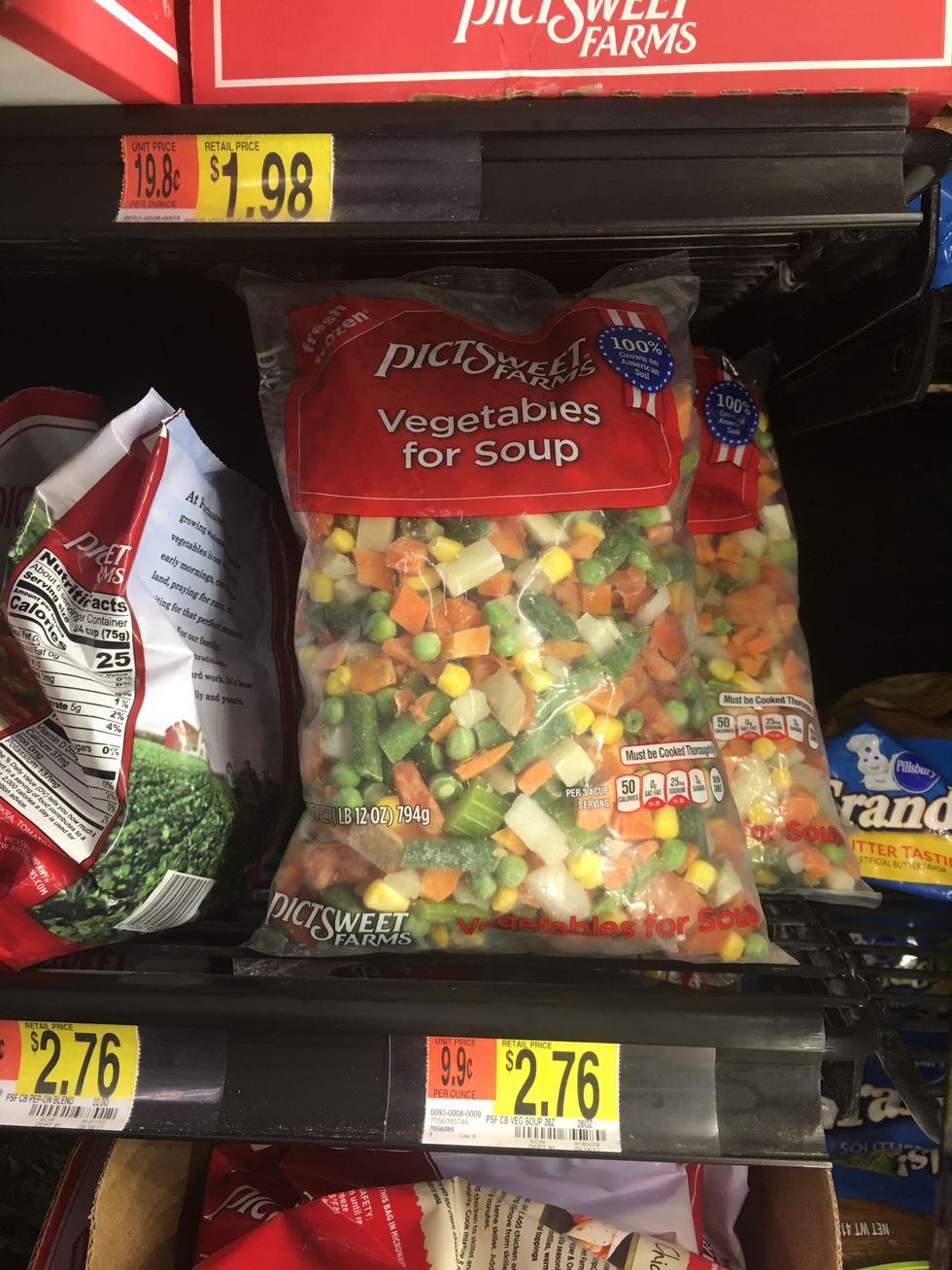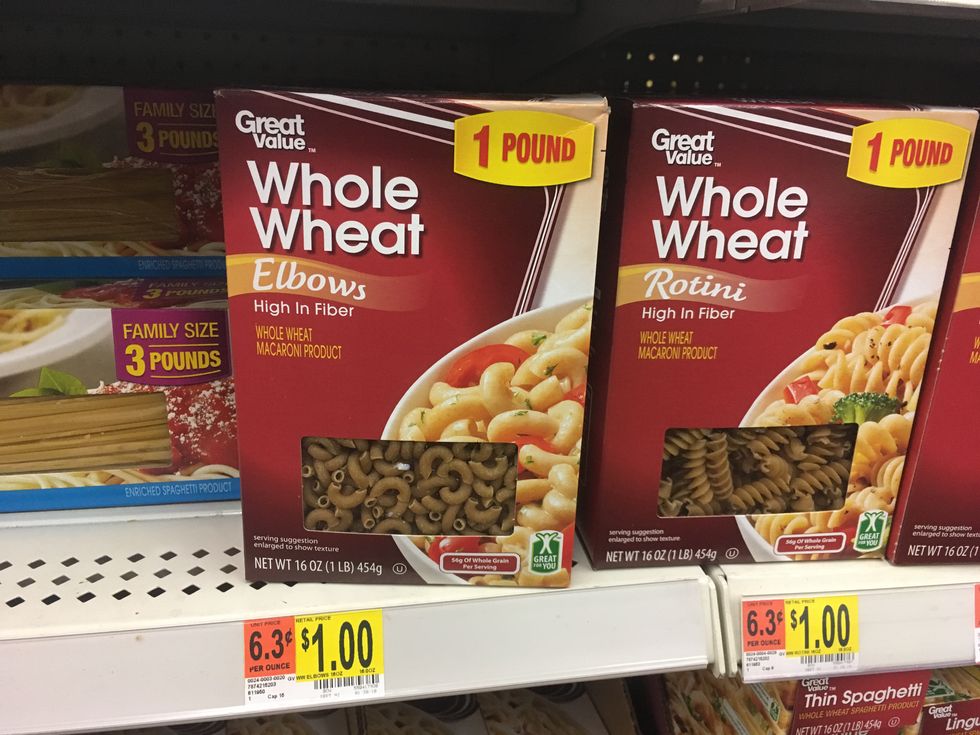 24 oz. pasta sauce - $1.50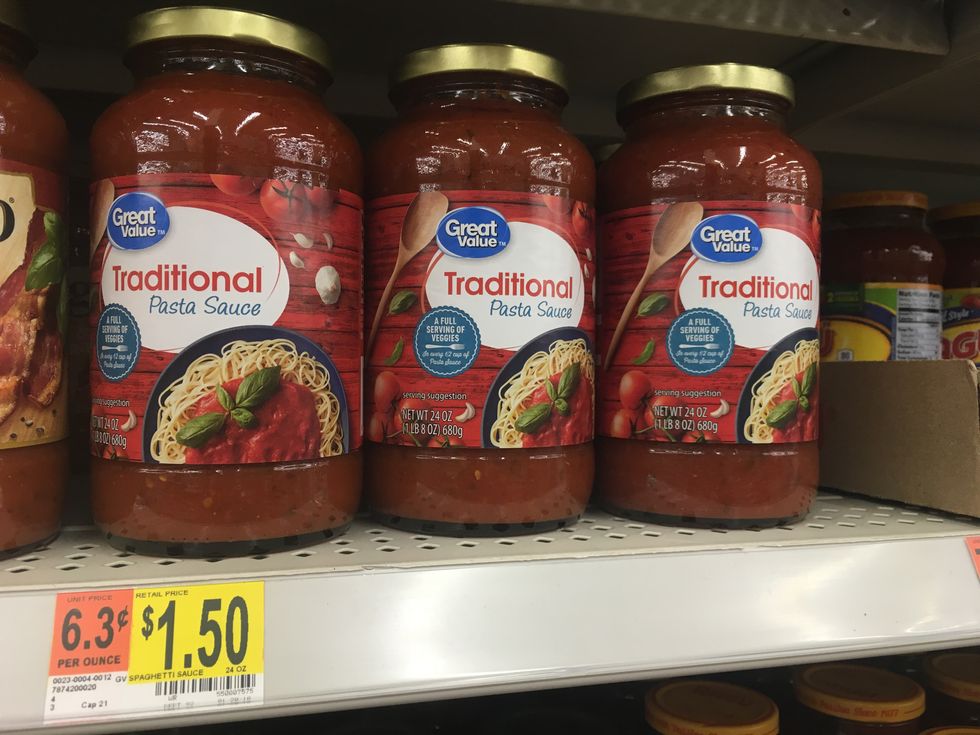 Just as an example of how prices vary by store, at my Walmart Neighborhood Market back home (just 2 hours away from this Walmart), milk cost 98 cents the other day - compared with the over $2 here. I added this last example to show how various items may go on sale depending on several of the factors mentioned above-- time of year, location, type of store, etc. My next mission is to try a different grocery chain (such as Aldi), to see if I can get even more foods for less than $20.
So in conclusion, while this specific grocery order going around the internet cost more than $20 at my local Walmart, it still was only a little over $30 - and likely would leave one with a lot more food (for a much higher nutritional value). The chicken, in particular, costs a lot more than I expected (the individual who made the image might have found it on sale), but the total certainly was not $50.
If you want to go enjoy KFC, life is short. A healthy diet can include the occasional KFC. However, it is totally feasible, delicious, possibly fun, and definitely worth it (nutritionally and monetarily!) to make wholesome grocery shopping a part of your routine.