Going to Tokyo Disneyland can seem to be a daunting trip if you live in the United States. The trip across the ocean is quite a commitment and an expense. Thankfully, the trip is totally 100% worth it because Tokyo Disneyland is absolutely amazing and like no other.
It's going to be crowded.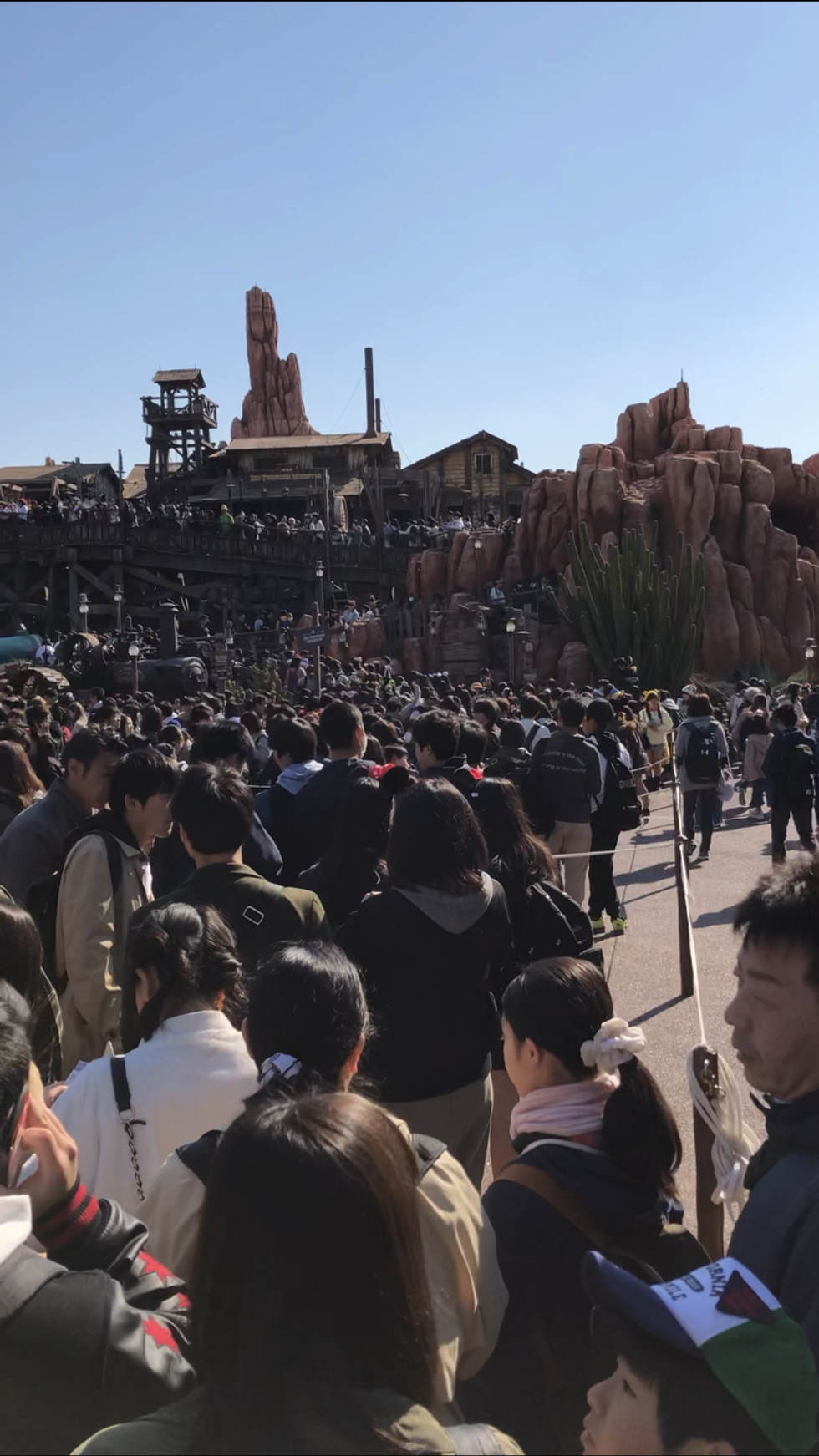 Beth Monnig
Tokyo Disneyland is EXTREMELY busy. When I visited there were easily 2-3 hour waits for every ride. We waited 30 min in line to get a FastPass for a ride. Plan for crowds and get to the parks early. Definitely expect to need at least two full days to ensure that you can experience everything.
There are two parks, and they are quite a bit apart.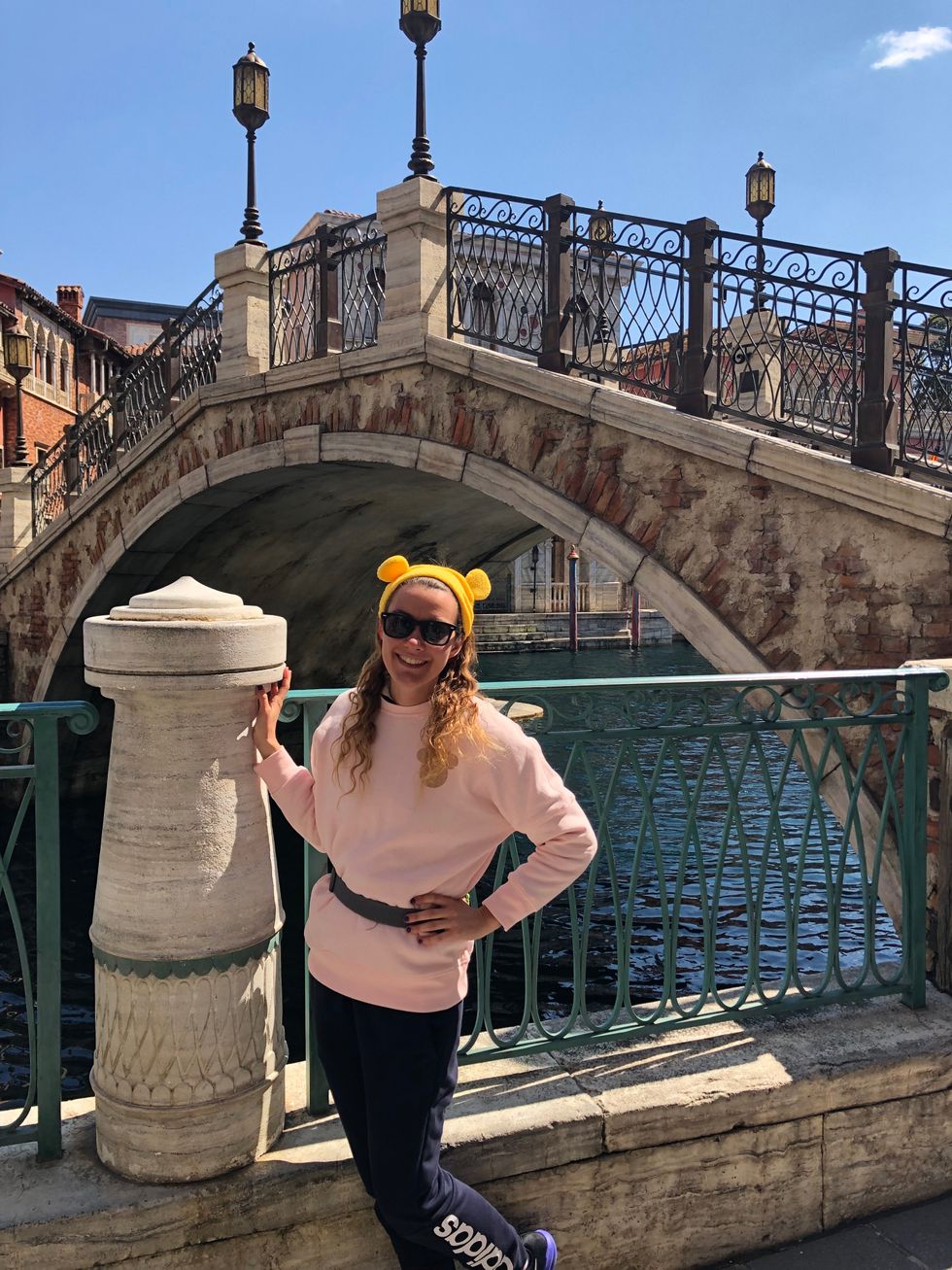 Beth Monnig
Tokyo Disneyland is much like the Magic Kingdom in Walt Disney World or Disneyland in California. Many of the rides are the same. However, Tokyo Disney Sea is unlike anything the United States has to offer, without a doubt. The parks are quite a distance apart if you are used to Disneyland and walking right across the promenade to park-hop. Luckily there is a monorail that connects Tokyo Disneyland with Tokyo Disney Sea. However, the Disney monorail in Tokyo costs money to ride. It's about $3.00.
Tokyo Disney Sea.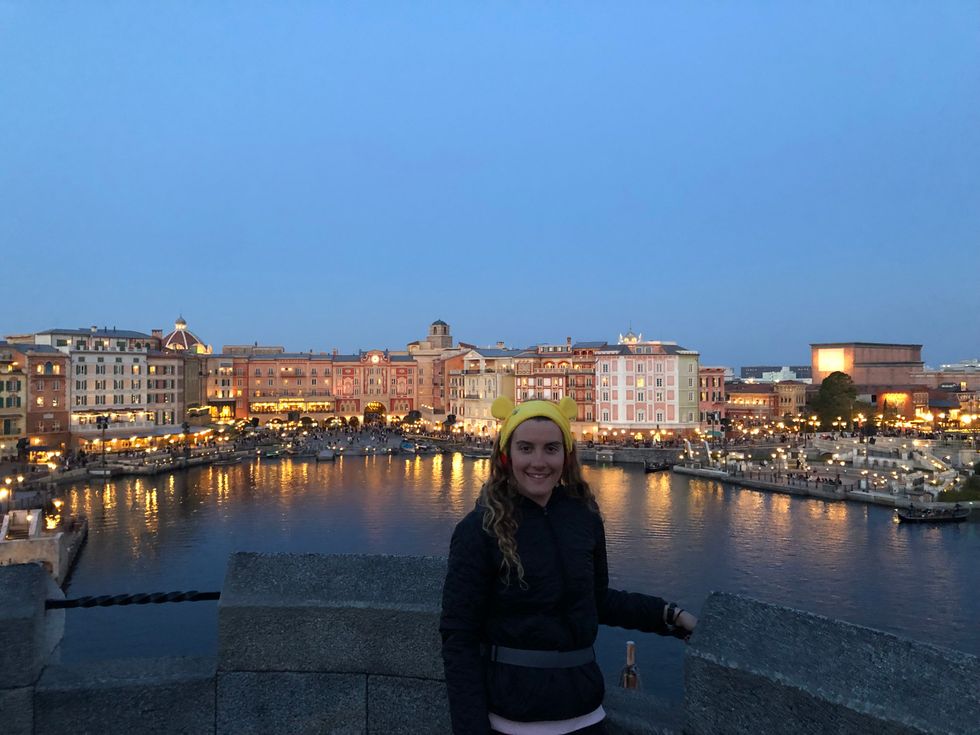 Beth Monnig
What can I say? Tokyo Disney Sea is amazing. The architecture is breathtaking. The theming is so intricate and detailed that you could spend your whole day just admiring how the park looks. It is very unlike any other Disney park in the world. The rides themselves are different as well. Indiana Jones and Toy Story Mania are very similar to the ones in California or Florida, however, everything else is different or completely new. If you love Tower of Terror, check out the new storyline at the one in Tokyo Disney Sea. The creepy monkey will give you a fright. But the Venetian gondolas make you feel transported directly to Venice.
Paper fastpasses are the way to go.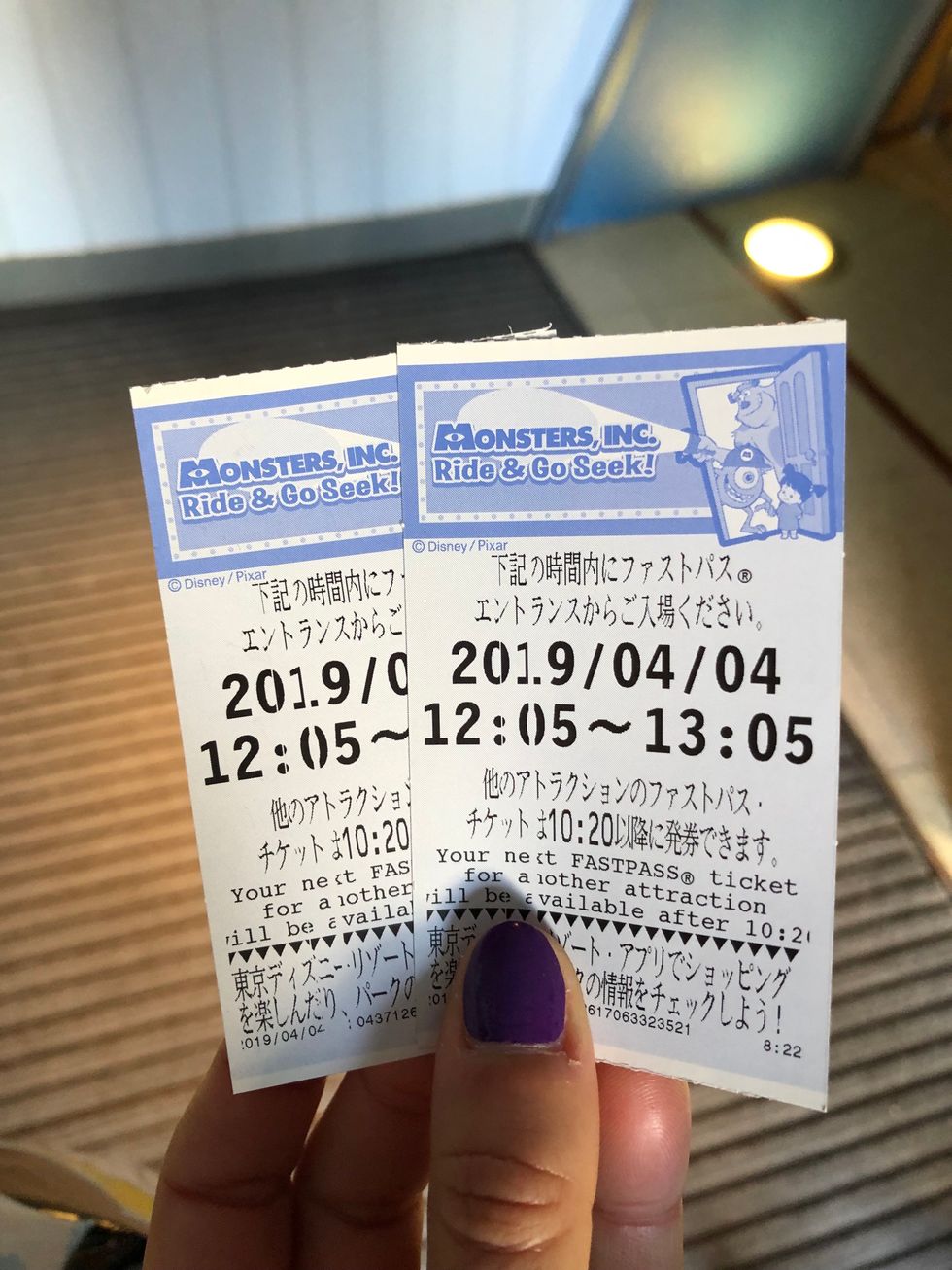 Beth Monnig
As mentioned before, Tokyo Disneyland is CROWDED! If you want to maximize your day, be sure to take advantage of the free fastpasses that they offer. These are paper fastpasses that must be obtained by going directly to the ride of choice, waiting in a rather long queue, and scanning your ticket. A paper fastpass ticket will be offered that will tell you what time to return. If you play it right, you can really take advantage of this system, however, the Japanese are very well educated in how to play the fastpass system, and therefore the fastpasses run out rather quickly and early in the day.
Check out the children's height wristbands.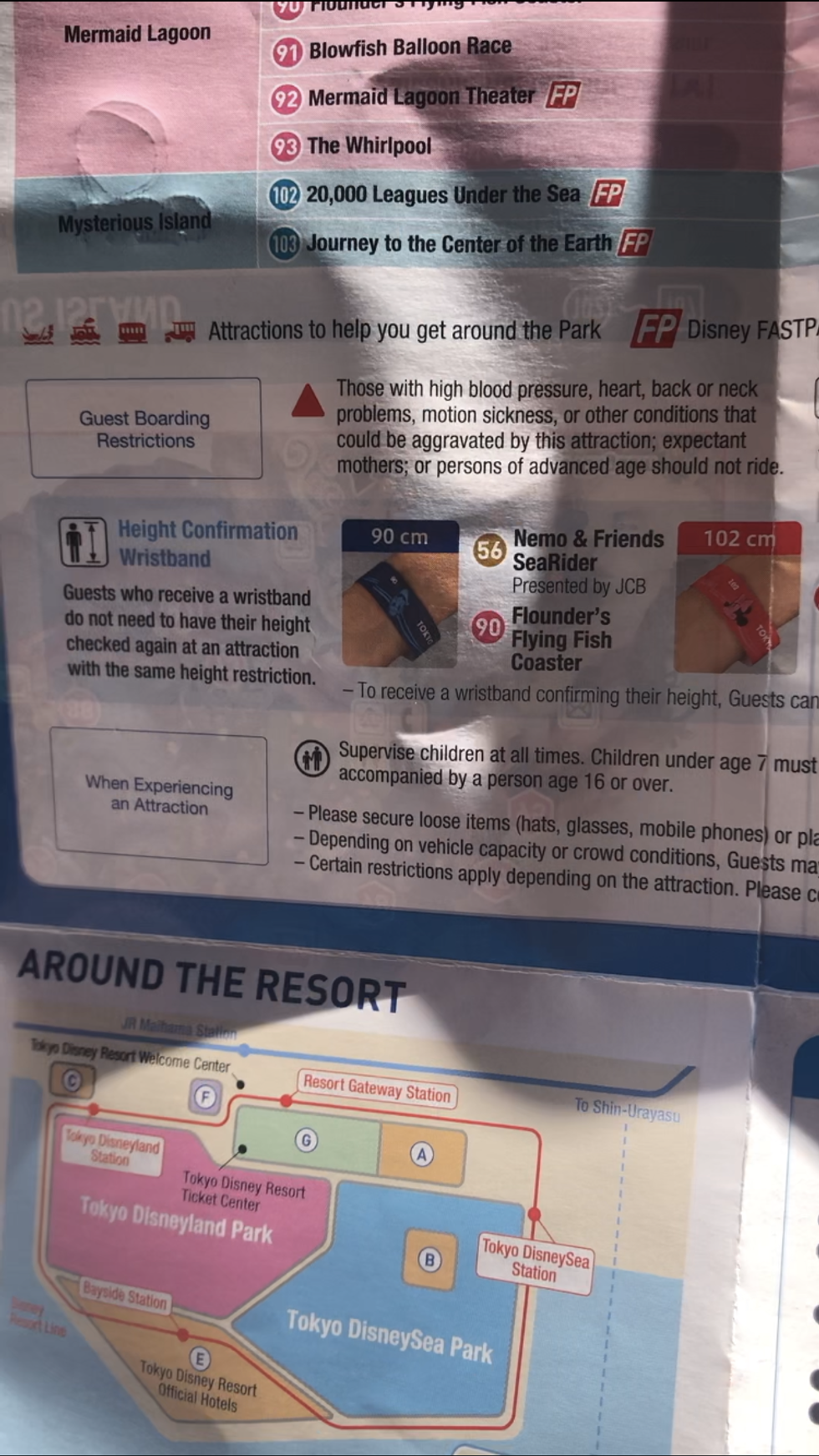 Beth Monnig
If you have a child who is shorter and barely makes the hight requirement for certain attractions, Tokyo Disneyland has the solution you have likely been looking for in the States. You can obtain a hight wristband that shows how tall your child is so that they do not have to be remeasured at every attraction before they enter. This likely makes it easier for the cast members at the attractions, as well as less of a headache for parents whose children have to repeatedly be measured.
No photography in the rides.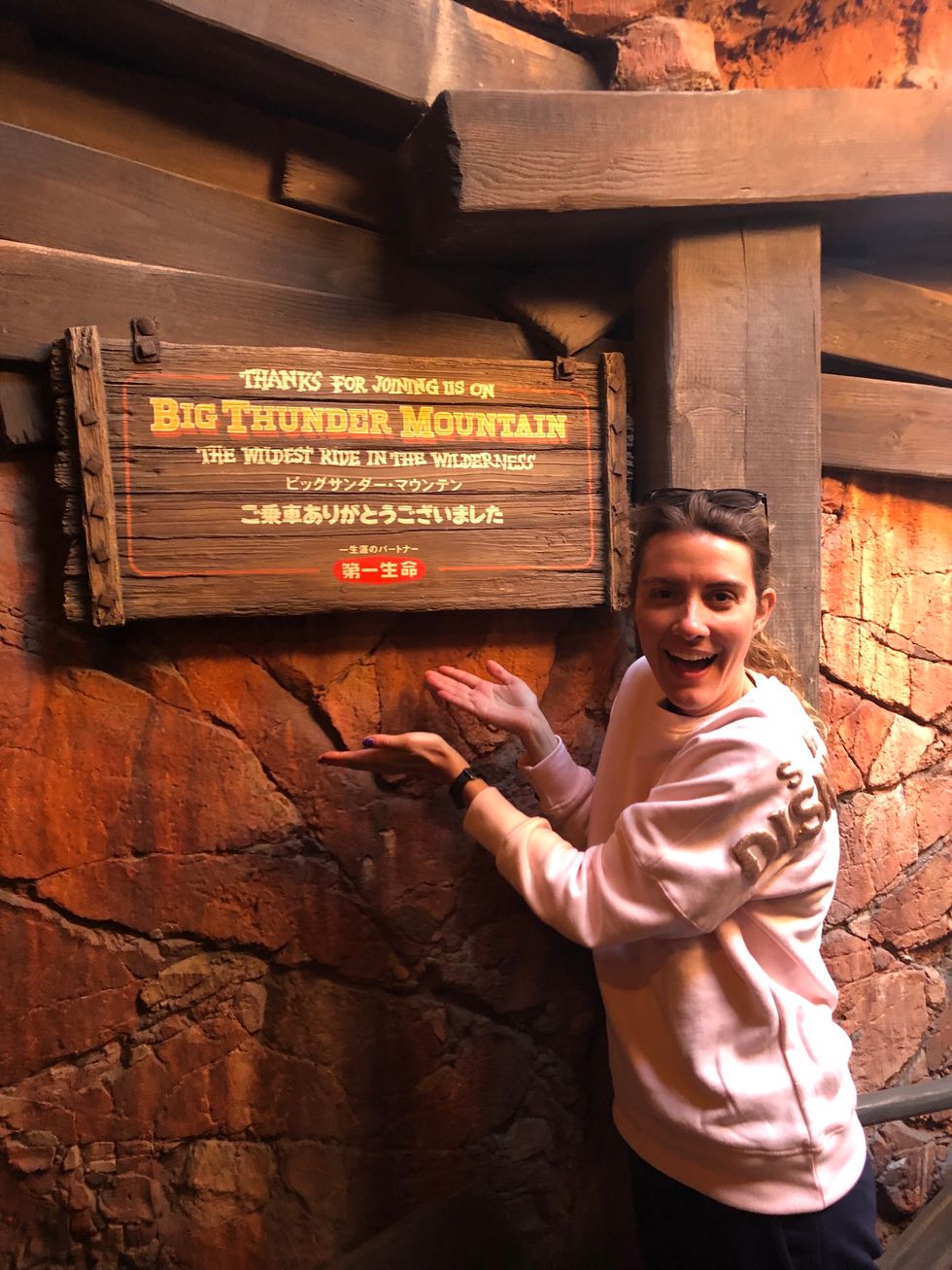 Beth Monnig
I'm not quite sure why this is stressed so much, but photography inside the attractions is forbidden at most of the attractions at Tokyo Disneyland. The cast members are very adamant about putting away your phone in the queue and on the ride, whether or not you are using flash photography or filming.
Plan to snack... A LOT.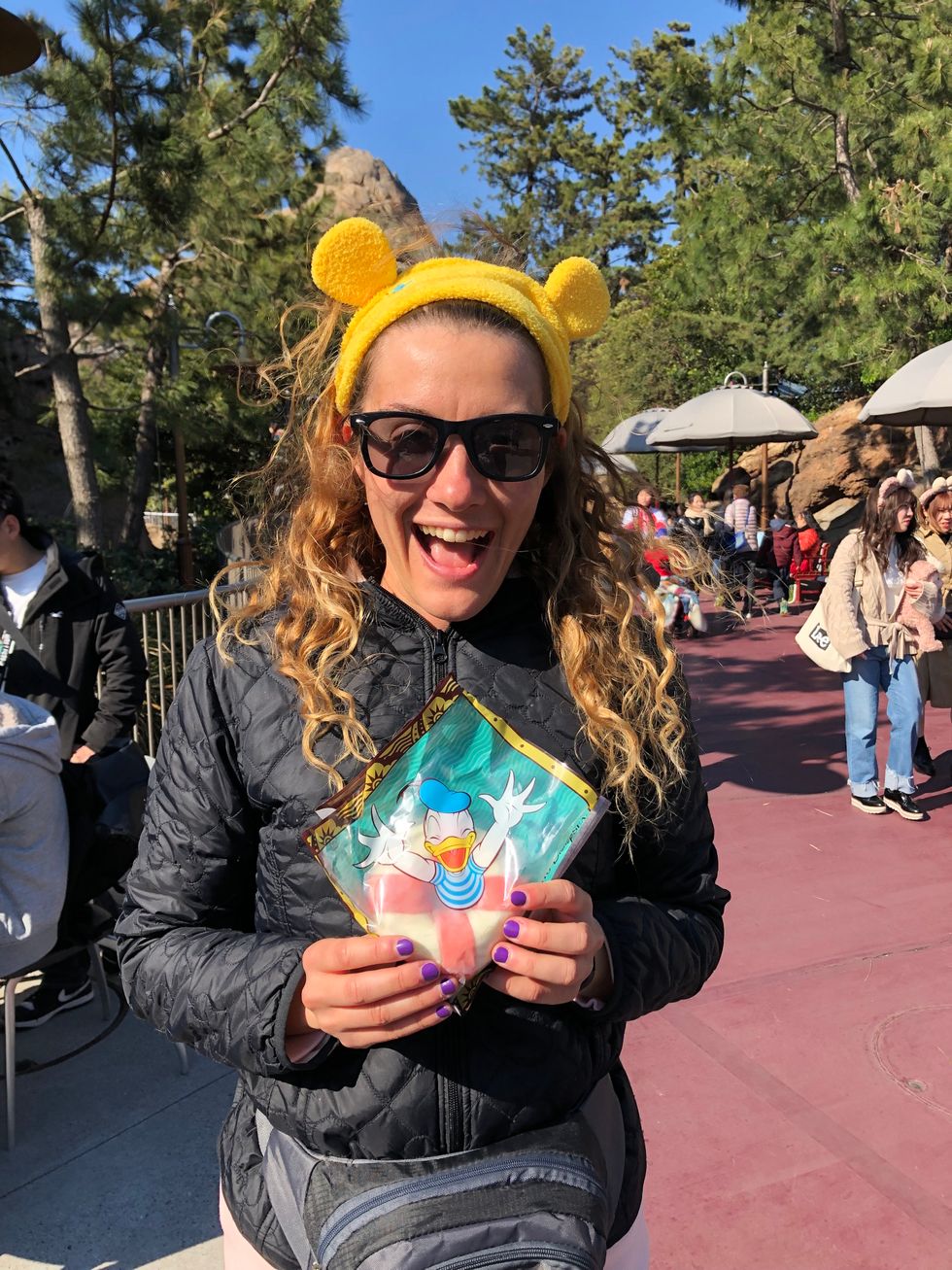 Beth Monnig
The snacks at Tokyo Disneyland are both delicious and adorable. Some are also very unique, but tasty. Try the hugely diverse popcorn selections offering such flavors as Milk Chocolate, garlic shrimp, soy sauce, and barbecue. However, be prepared to spend upwards of 40 min in line to purchase it!
You can't leave without a Duffy Bear.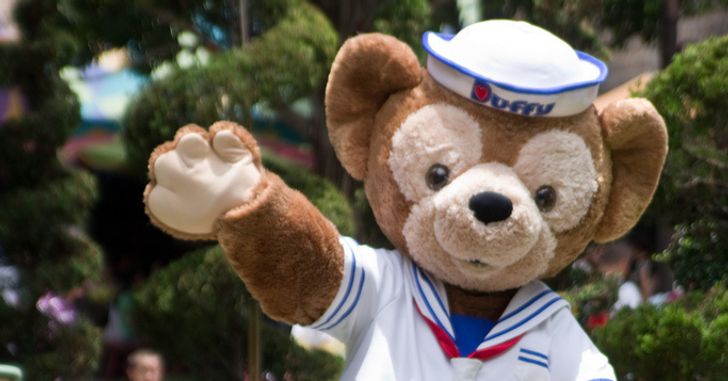 Duffy bears are HUGELY popular in Tokyo Disney. There can be lines just to get into the shops where you can purchase the new Duffy merchandise. The Japanese like to dress up with their Duffy bears and take pictures around the parks. So if you want to really take part in the culture, you cannot leave Tokyo Disney without a Duffy bear of your own. (If you did not know, Duffy bear is Mickey Mouse's teddy bear.)
There are plenty of convenient travel options to and from Tokyo.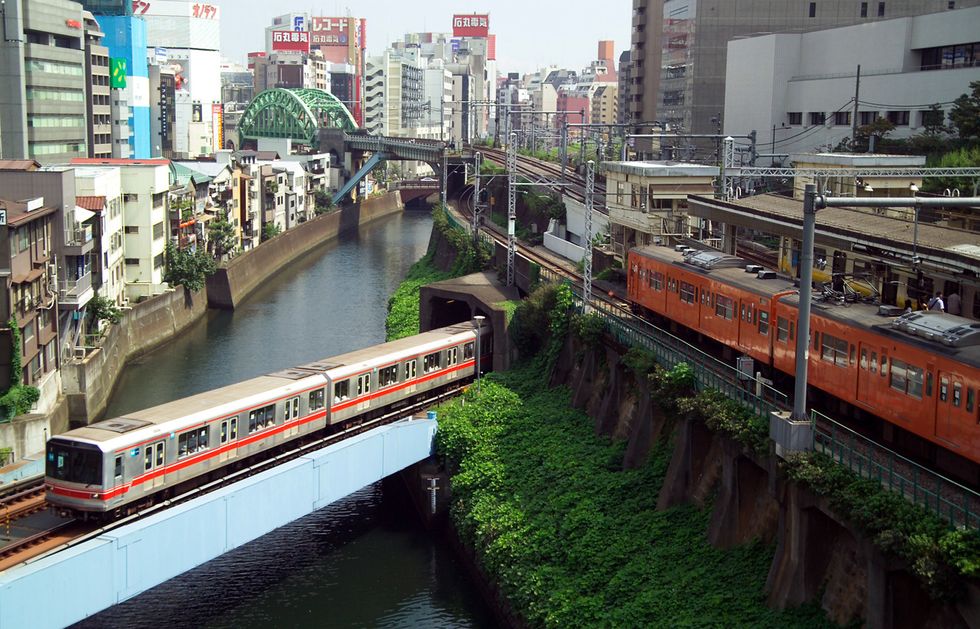 It's very easy to travel to Tokyo Disneyland from Tokyo. The JR rail line stops at Maihama station. This can quickly be accessed from Tokyo center in 30 min or less if you plan to do more in Tokyo than just visit the Disney parks (which I highly recommend).
Most people speak at least a little English... and all are extremely friendly and helpful.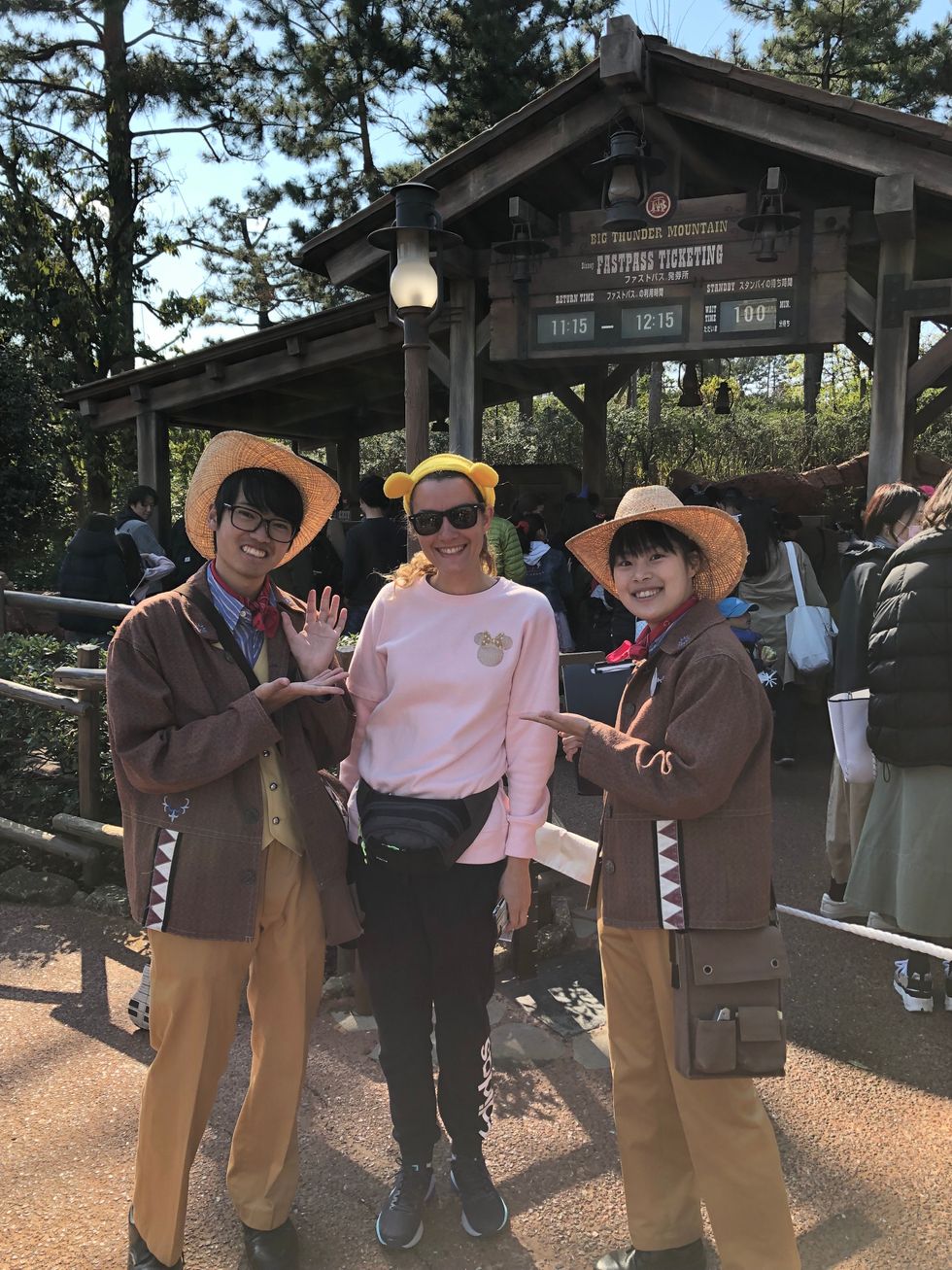 Beth Monnig
The cast members in Japan are so kind and friendly! While not all of them are completely fluent in English, they do try their best to be accommodating and speak English with you if you are struggling to find where you are going or need help with recommendations. While many of the rides are solely in Japanese, the signs and park maps can be found in English as well. Part of the fun though is experiencing some of your favorite attractions in a different language!
If you are a huge Disney fan and up for a unique adventure, I highly suggest visiting Tokyo Disneyland and Tokyo Disney Sea! If you're interested in seeing more of Tokyo Disneyland, check out my vlog discussing the trip!