One of my favorite books is Jane Eyre by Charlotte Brontë; I have read it three times in the last three years, and I love it, even more, each time. I am also a fan of Wuthering Heights by Emily Brontë, so for one of my British literary pilgrimages, I ventured to the Brontë parsonage.
The parsonage itself is in the very remote country town of Haworth, and I stayed in the neighboring town of Hebden Bridge. Haworth consisted entirely of a single cobblestone road lined with local shops. The road led up a very steep hill to the Brontë museum, and surrounding this geographical oddity are only moors.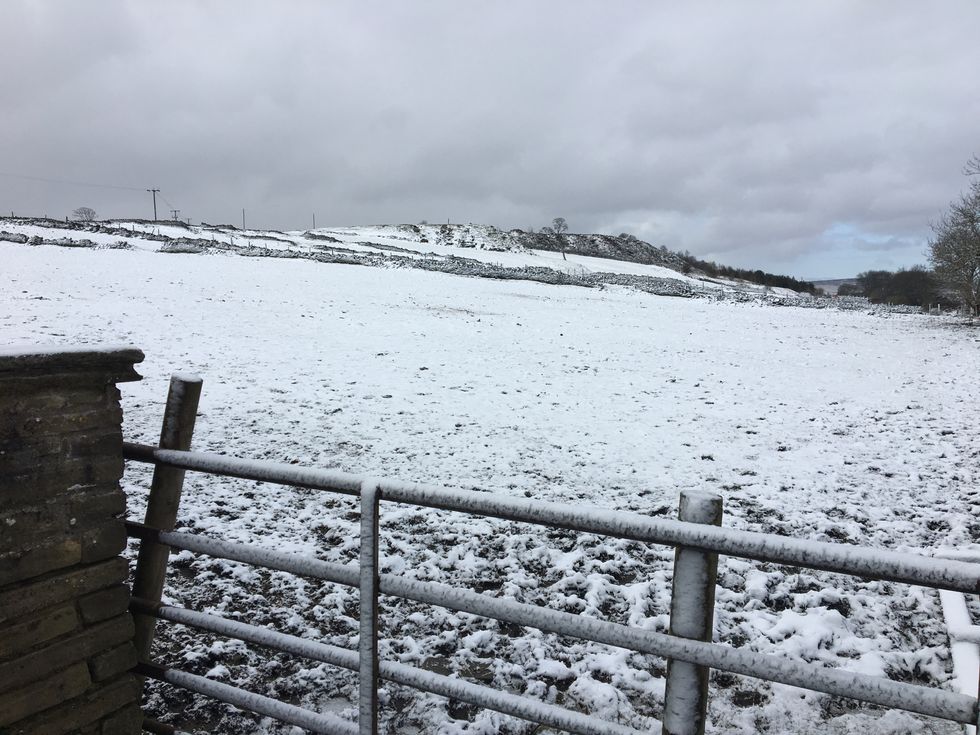 The first thing that I noticed about Haworth was the forty-five-degree-incline hill on which the town is built; the second thing I noticed was how remote the town is. I imagine that most of the shops sprang up out of Brontë tourism, and this means that there was practically nothing surrounding the Brontë family when they lived there. Their father, Patrick Brontë, was born on St. Patrick's Day (coincidentally, the day I visited), so there were a few banners up commemorating his life.
The parsonage itself is a small house that has been preserved incredibly well and converted into a museum, and it is flanked by a small schoolhouse and a church. Patrick Brontë built the school for his daughters and the other local youth since it was part of his job as a clergyman.
Eventually, Charlotte Brontë taught there. The church next door has a large graveyard where Patrick and the family's servants are buried; Charlotte and Emily are buried under the church itself. You can see the graveyard from the window of the servant's quarters in the house.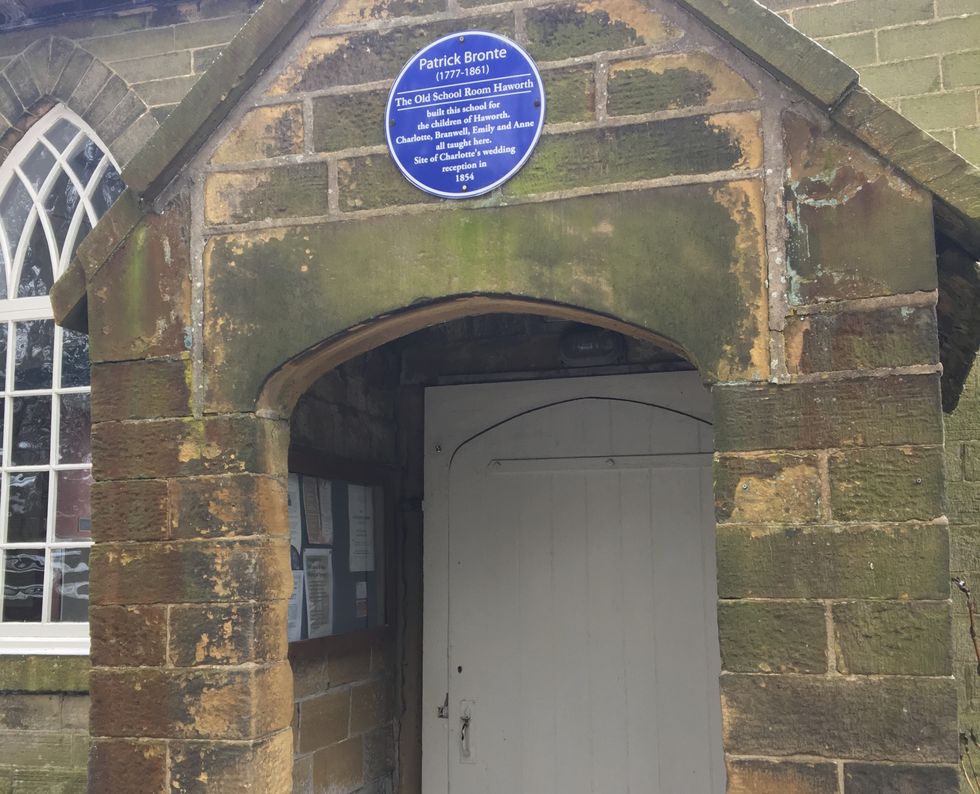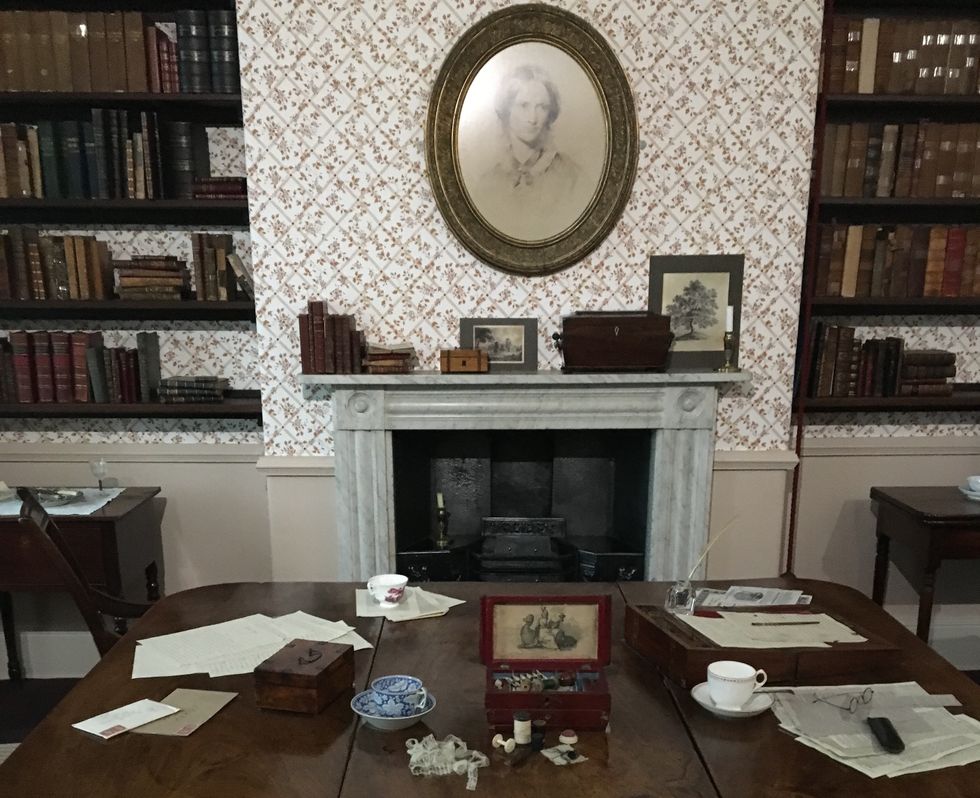 The best part of the museum was that they have everything in the house preserved as if the Brontë family members are about to walk back in. They have the table where Jane Eyre and Wuthering Heights were written (Emily Bronte carved a big "E" into it) since the sisters would often sit there and discuss their works. They have Charlotte and Emily's old clothes; the reconstructed the areas where Emily and Branwell, their brother, died.
Most interestingly, they have written works and sketches by the sisters themselves. Charlotte and Emily were both very good artists, and their art/writing desks were on display. They even had out some of the famous little books with nearly microscopic writing.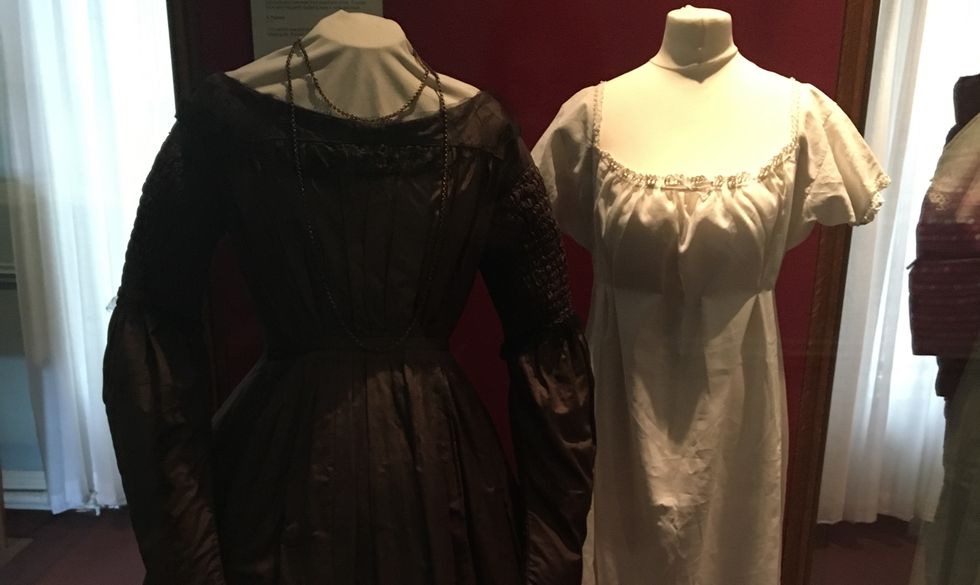 Besides the table, the item in the museum that brought on the most significant fit of enthusiastic worship was the handwritten manuscript of Jane Eyre. Charlotte's handwriting is gorgeous. When I think about the book in relationship to Charlotte's life, I see a lot of parallels. Like Jane, Charlotte was a governess and a teacher at a small school.
Jane's father is, like Patrick Brontë, a clergyman. Jane's angelic friend, Helen, who dies of tuberculosis at school is very similar to Charlotte's older sister, who also died of TB at school; Lowood is much like Charlotte's hated boarding school. When I looked out on the moors, I could clearly imagine Jane Eyre wandering over them as she runs from Mr. Rochester.
It seems almost crazy to think that I stood in the very house that inspired such amazing women to write such fantastic works; then again, every great book has to be written somewhere. Overall, it was a very rewarding trip, and I expect that it will change the way that I imagine Jane Eyre when I read it for the fourth time.