After receiving a generous amount of money for my high school graduation, my summer journey of revamping my wardrobe began. I do occasionally purchase from retail stores like PacSun, but thrift stores and vintage stores are my absolute favorite.
While thrift stores are good when you're on a budget, vintage stores have all of the good stuff in one place and the vibes are IMMACULATE! From Champion and Tommy Hilfiger to Leviʻs, Gucci, and Harley Davidson, vintage stores have it ALL! Although they can be a little pricier than the thrift store, the finds are amazing (and sometimes itʻs okay to splurge on yourself.)
I have not visited all of the stores I listed, but I am hoping to visit all of them in the near future. I hope you enjoy them as much as I do!
Harbors Vintage, located in the heart of Honolulu, was the first vintage store I had ever visited.
Not only do they have a wide selection of clothing and accessories, but their staff are also the kindest people I have ever met!
They work extremely hard (especially in posting, selling, and shipping their items through Instagram and their website throughout the pandemic), and I respect their hustle so much. Shoutout to Harbors Vintage for being my OG!
This shop has so many different name brands ranging from Champion and Disney to A Bathing Ape and FOG Essentials as well as a huge shoe collection for sneakerheads.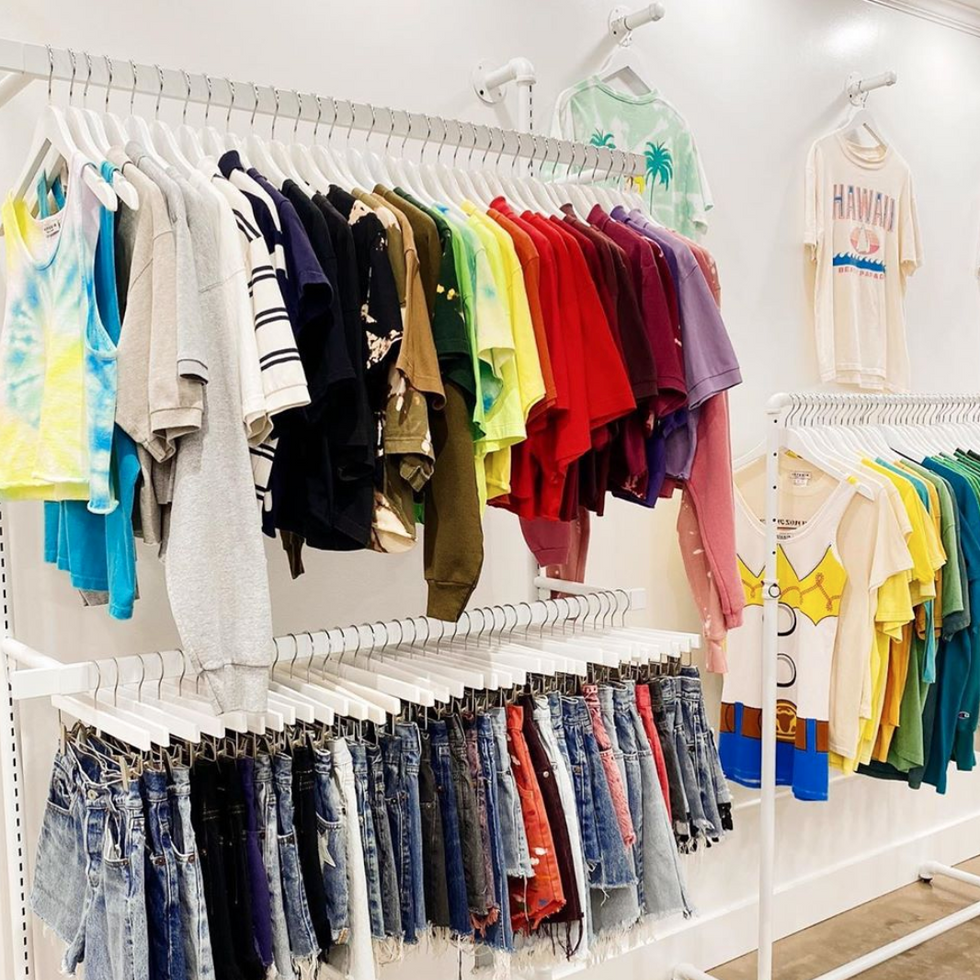 @homecominghonolulu
This super cute shop is conveniently located on the ground floor of Ala Moana Shopping Center and I honestly discovered it by accident while walking to the post office.
The clothes were adorable...the variety of brands, accessories, sizes, and styles just made me extremely happy.
Plus the girl working there was so sweet, shoutout to her!
Besides the cropped t-shirt section (my personal favorite), their sunglass wall is so cute and affordable! Throughout the store, they had name brands like Tommy Hilfiger and Champion as well as a variety of college and professional sports team merchandise.
This cool store has two locations in Waikīkī and Kakaʻako and like Artesia, I discovered this shop by accident while I drove past it with my friends.
There were many cute pieces, from $20 tees and shoes to hundred-dollar Gucci and Balenciaga items.
There was something there for everyone. I am a major sucker for jackets, hoodies, and sweatshirts and this store had so many for really reasonable prices, almost influencing me to buy yet another hoodie despite living in Hawaiʻi's consistent 80-degree weather.
GREEN GYPSY THRIFT SHOP: 66-935 Kaukonahua Rd, Waialua, HI 96791