"Venom: Let There Be Carnage" has officially hit theaters. The second installment of Marvel's anti-hero solo films begins and ends with an even bigger and louder bang than the first. After the end of 2018's "Venom," the movie's namesake was already established to be in a separate film universe from the Marvel Cinematic Universe's Spider-Man, played by Tom Holland. As far as the MCU was concerned, Venom, or at least Tom Hardy's Venom, did not exist, and vice-versa. But since the MCU has started exploring the multiverse following "WandaVision," "Loki," and even teasing it soon released "Spider-Man: No Way Home," fans have been speculating whether or not Tom Hardy's Venom may have a place in the MCU after all. Well, for the experienced Marvel fans who waited for the post-credits scene in "Venom: Let There Be Carnage," that question has finally been answered. And, of course, spoilers ahead.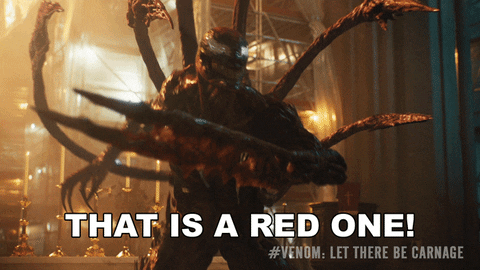 Giphy
Venom's second installment follows Eddie Brock and Venom and their internal conflict, as they continue learning how to coexist in the same body while having very different desires for how to live their life. They must also juggle an external conflict against the vengeful Cletus Kasady, played by Woody Harrelson, who has found himself bound to a much more violence-prone symbiote like Venom - appropriately named Carnage. The hour thirty-minute film follows these conflicts in detail and leaves the audience with a great few questions unanswered, most notably, what's next for Eddie Brock and Venom? This question finds a possible answer in the film's post-credits scene
The post-credits scene opens with Brock and Venom "thriving" in their new life when their world suddenly begins shifting in strange ways. When the dust settles, they are met with a news broadcast hosted by J. Jonah Jameson, who made a brief appearance in "Spider-Man: Far From Home," featuring none other than Tom Holland's Spider-Man - completely unmasked for the world to see. This not only confirms fan-theories that Venom was coming to the MCU, but also shows a new way of introducing the conflict between Spider-Man and Venom seen in past movies and Marvel Comics. Since Venom considers himself a hero in his universe, when his first exposure to Spider-Man is a depiction of Peter Parker as a villain, this could spring him into action against the web-slinging hero of the MCU. This also strongly suggests his involvement in "Spider-Man: No Way Home" as one of the potentially many antagonists, despite Brock and Venom believing themselves to be heroes. In the end, only time will tell what role Venom will play in the future, but it is always fun to speculate what could be.
From Your Site Articles
Related Articles Around the Web