Chai has been synonymous with home since I can remember — any South Asian person will relate to that sentiment. Every morning at home begins with a cup of chai, and every guest who comes into our home is greeted with a fresh, hot cup paired with samosas and Parle-G biscuits.
When I went to college, I occasionally strayed from the straight and narrow chai path, flirting with a couple of lattes, and English Breakfasts now and then. After years of testing the waters, I fully committed to a faithful relationship with traditional chai. Holding the hot cup in my hands while sipping on the spices and inhaling the aroma isn't just a delicious experience, it's a transformative one.
Now and then, I'll feel tempted to mix things up. With the seductive scent of pumpkin in the air during the colder months, I've tried a pumpkin spice latte or two. Although I appreciate the creamy pumpkin and frothy milk, the syrup and caffeine aren't necessarily for me.
I mixed things up a bit a couple of years ago when I realized that chai itself already has warm spices in it like cinnamon, cardamom, star anise, and ginger that pair nicely with pumpkin. Being vegan, I swap creamy oat milk in for traditional cow's milk and came up the drink all of my family and friends look forward to every year.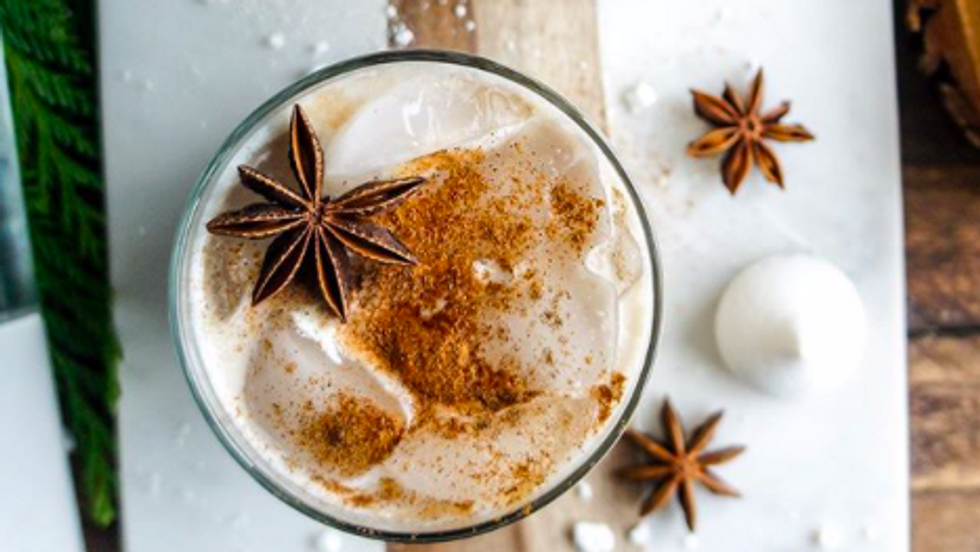 @windycitydinnerfairy
Ingredients (1 cup):

- 2 tbsp pumpkin puree
- 3/4 cup oat milk
- 1 Tetley Masala Chai tea bag or my favorite homemade chai recipe by Vegan Richa
- 2 pinches pumpkin spice mix/cinnamon
- Handheld frother (I use this one)
- 1 tbsp brown sugar or maple syrup, optional
Recipe:
Start brewing your tea with just half a cup of water.
Heat up oat milk on the stove for 5 minutes on medium-high heat, or in the microwave for 2 minutes using your favorite mug.
Pour oat milk in a mug if you chose the stove option.
Add in your pumpkin puree and a pinch of pumpkin spice mix or cinnamon.
If you would like sugar or maple syrup, add that now, as well.
Hold your mug at a 45-degree angle to prevent splashing, and froth the mixture till it's all blended into a smooth, light brown color.
Pour in your brewed chai, and stir with a spoon.
Add a pinch of pumpkin spice mix or cinnamon on top.
For added flair, top your mug with (vegan) whipped cream, star anise, and a cinnamon stick — I do this for guests and they love it.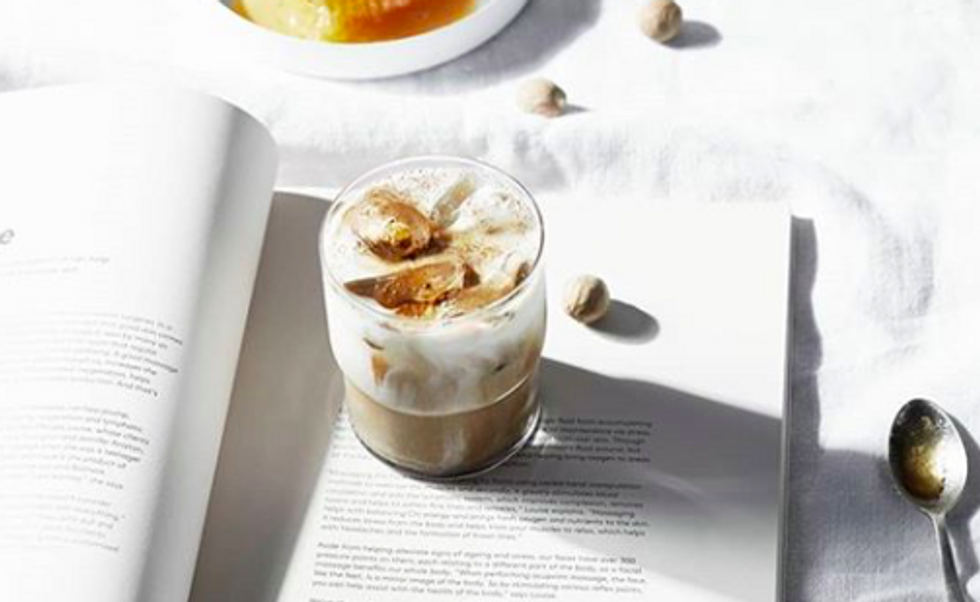 @gingerco.au
Odyssey may earn a portion of purchases made via links on this page.