If you already have tickets to the show and are looking for an in-depth itinerary for the day, or if you are a huge Ellen fan looking to get tickets, I am going to be sharing my entire experience as a guaranteed ticket holder for the audience. The day was filled with many surprises, laughter, and dancing, and it truly was a once in a lifetime experience that exceeded my expectations!
(If you have tickets to the show already, I would skip this next paragraph on how I got tickets)
GETTING TICKETS TO THE SHOW
First of all, how do you even get tickets to The Ellen Show? The process is quite easy actually, but you basically have to win the lottery to get guaranteed tickets. I applied on her website more than 15 different times for tickets to the show without any luck. Assuming this last time was no different, I randomly picked a date and requested 2 tickets to her show and pushed the thought of going out of my mind. You can only imagine my surprise when I got an email two days later saying that not only could I have guaranteed tickets to the show, but I could bring up to 3 more people with me! I almost peed my pants! If you do get this email, respond ASAP.  If you don't respond quickly enough they will not give you the tickets. I responded about 20 minutes after receiving the email and the show got back to me the next day saying that I got 3 guaranteed tickets. Before I knew it, what was once a dream became a reality, and I got to share it with my mom and best friend!
THE WAITING AREA
The day of the show arrived and we got up at 7:00 am to get breakfast and get ourselves ready to be on the show. We arrived at the waiting area (which is really a parking garage) at 10:45 am and were instructed to come back at our check-in time, which was 1:00. THE TIME YOU ARRIVE DOES NOT MATTER! After walking down the street to a cute bistro, we arrived back at 12:30 and there were about 100 girls already there sharing the same excitement as us. Around 1:00 a young girl and boy (probably upper 20s, lower 30s) walked into the garage and were scouting the audience with a clipboard. Having read the other blogs, I let out my inner excitement and went crazy! Before I knew it, the girl came up to our party and asked if we love Ellen, and of course we said YES!!! She instructed us to meet her in the back section of the waiting area when they called us! A little passed 1:00 they instructed everyone to gather neatly in the roped lines. This is where your ticket will be given to you! I advise you, while in the waiting area, to sit as close to the road as you can because the first to be lined up will be given the lower numbers, meaning you will probably sit closer to Ellen! We got numbers 50-52 and could not contain our excitement as we sat down, filled out the survey, and waited for them to give us more details.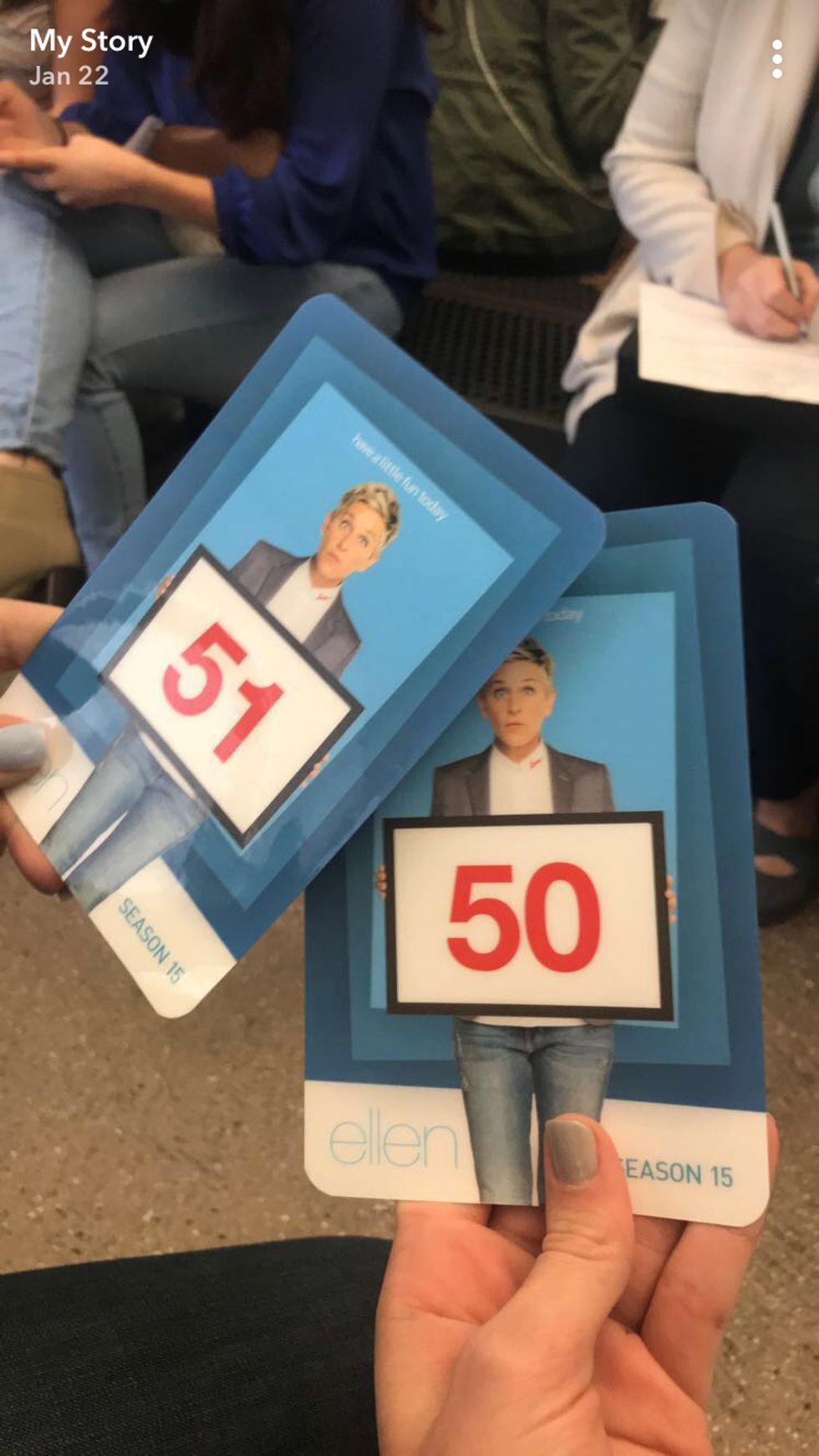 THE BUNGALOW 
After everyone got their numbered tickets, the lady that spoke to us earlier announced for everyone that she spoke with to meet her in the back of the waiting area. She took us and what seemed to be about other 20 groups with her around the building to a small section of the parking lot. Here she instructed us that just by our looks and personalities, she would be cutting down the number of us significantly. We all lined up and she spoke with each group individually again, asking if why love Ellen, where are we from, etc. Some groups didn't even get to speak with her just due what they were wearing and their demeanor. She got to us and only about one or two people had made it passed the first interview so far. We were asked who was the biggest Ellen fan, where we were from, the number of people in our party, and how often we watched the show. They sent my mom and I to the bungalow, but unfortunately my best friend had to be sent back to the waiting area. Every time they spoke to you, someone took your picture and recorded your number. 
The bungalow was nothing more than a shaded area under a tree and there were no more than 10 of us who made it through the first "interview." The lady came over again and told us that she would need to cut the number down again. Without even talking to us, despite our excitable attitude, we had our picture taken and were sent back to the waiting area. 
GOING INTO THE STUDIO
The people who made it through the bungalow were taken in first, then we were lined up in groups of 30. Each group was taken in one by one across the street and into the studio. We were sat in a long hallway while we waited for the group in front of us to settle into the riff riff room. When they were situated, we were brought into the studio and we too were sat in the riff riff room. There was not a lot of opportunity to shop or use the bathroom because all 200 of us were crammed into the little room. We waited for about 30 minutes until they began to bring people into the studio; first VIP, then CW ticket holders, then the bungalow people, then the numbers. YOUR NUMBER ALSO DOES NOT DETERMINE WHERE YOU ARE SEATED! Yes, the lower numbers were brought in first, but the numbers were mostly used to line you up and make sure you didn't get out of order. The upper 100s were brought in before us solely because they were standing closer to the door. We were sat in the far right section of the studio against the rail, not the ideal place to sit but hey, we were at The Ellen Show, how can we complain? 
THE SHOW 
Immediately after everyone was seated, a super energetic guy came out and basically got the audience pumped up. He made up dance moves, sang with us, and kept the audience entertained while we waited for the show to start. All of a sudden, he announced Twitch was coming in and you could feel the excitement build up. Twitch led us in dance contests, had us make up dance moves, and showed the audience a fun time. He took his place and the producer counted down.... "we are live in 5,4,3,2...." and Ellen's theme song played. It was honestly a starstruck moment when Ellen walked out! She is just as personable and funny in person as she is on TV. The guests for the show were Hoda Kotb, First Aid Kit, and an incredible man who saved an infant's life during a mudslide. Two people won VIP tickets to the Grammys and the entire audience also won a $150 MasterCard Gift card! (side note: the people who were chosen for the games were not in the bungalow with us) In regards to commercial breaks, they only lasted about 30 seconds and the audience dances while Ellen practices her lines for the next segment. After the last segment was filmed, we were notified that we would film half of the show for the Monday of the next week too! Ellen and Twitch went off to change and the audience danced while we waited. She then interviewed Megan Mullally from Will and Grace and the three men who star in the movie The 15:17 to Paris. After getting more than we could wish for, Hoda came out again and interviewed Ellen for the Today Show! After we were sure everything was over, Ellen thanked us for coming and the audience guy said his goodbyes. Another man who worked for Ellen asked to speak to about 5 people across the street where we checked in, and my best friend and I were one of the names! Excitement rose again, and we made our way out of the studio back across the street. 
THE SURPRISE CALLBACK
The man met us across the street and had us fill out a couple of surveys. Everyone there was part of the group that was brought to the parking lot, but sent back to the waiting area, and we were very confused on why we were there, but happily did anything they asked us to. When everyone finished filling out the new surveys, the man notified us that he read our original surveys (WHAT?? people actually read those!) and watched us keep our energy up after being sent back to the audience waiting area and told us he would like us to audition for Ellen's Game of Games!! OMG!! He took a picture of us and we had a 30 second interview telling our name, age, occupation, where we are from, and why we want the money from the game show. After we finished the audition tapes, our time at The Ellen Show was over. We were not ready to go back to reality, but this was a once in a lifetime experience that I was so grateful to attend. 
If you have any questions, or want a further explanation on anything I said above, please feel free to DM me on Instagram!