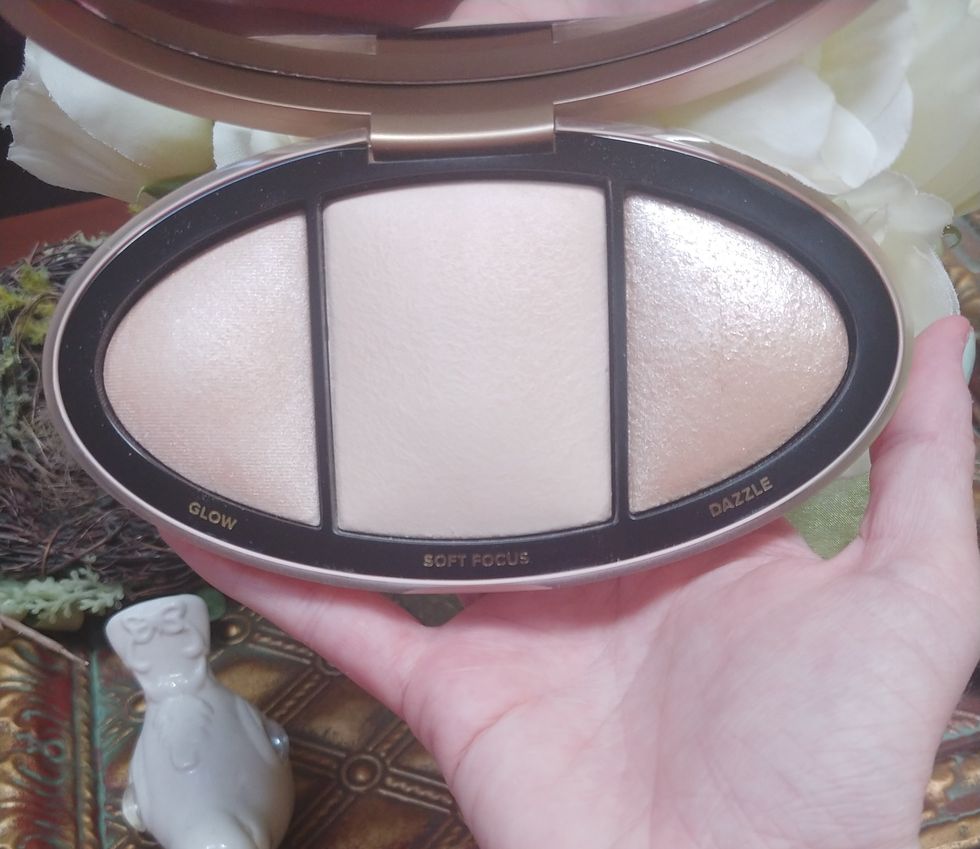 Inside of Too Faced Born This Way Turn Up The Light Highlighting PaletteAmanda Ellard
You may have already seen a few beauty influencers reviewing Too Faced's Born This Way collection's Turn up the Light Highlighting Palette. A single product with three different types of finishes that can be used in more ways than just setting makeup isn't something I seen too often. There's no doubt it's been being talked about in the beauty world, but what does it really achieve?


The palette comes in four versions: Light, Medium, Tan, and Deep. The largest middle pan Soft Focus is akin to a setting powder, but unlike a thin, transparent powder, it not only sets but also provides another layer of coverage that I found to provide a subtle blurring effect that doesn't feel too overdone. The left pan Glow is very much like a highlighter, but also toned down. It doesn't carry much sparkle or paints on that icy, holographic look. Rather, even when just applying it with my finger and not blending it in, it provides a natural shine that seamlessly slipped in among the rest of my natural makeup look. I've found other highlighters I've tried that are more of a natural color rather than the blue, white, or holographic mixes I also like to grab to feel too much like bronzer or too gold on my face, however I was surprised to not think so about this one. The right pan Dazzle feels also similar to a setting powder, although Too Faced advises it can be used a highlighter, however it has a wide, subtle sparkle to it. I add wide because when I brushed it over my face the tiny sparkles were far apart from each other. It's a great idea for adding a bit of glow or an extra punch to any look. However, it feels thin and I didn't notice much of a difference between it and the matte middle pan. I still suggest not skipping over it even though the effect is very subtle, as it's still a fun addition to the usual routine.

Even if you don't use foundation that needs setting, this palette will still provide a bit of coverage by itself. Also over foundation, I felt my face looked more well blended and I didn't see my dry skin peeking out from underneath even after hours of being inside and outside. The Born This Way Turn up the Light Highlighting Palette is definitely versatile (try using the left pan Glow under the middle pan Soft Focus for a glow from beneath, or build up the right pan Dazzle for a gentle a touch of highlighter or over eyeshadow) and a cute packaging only makes the experience better. The top has an elegant black design. The oval case opens easily but feels sturdy (I don't feel like I'm about to drop it while opening it!) and is thick so I always end up with a good grip on the product. If you are like me and use a large brush to apply powder, it can be hard to get a good amount of powder at once on the brush from the smaller left and right pans, although a fan brush and other smaller brushes would work wonderfully with the side pans. The pans do feel large overall; I have the sense they will last a long time. It should be worth a try for anyone looking for something new to experiment with or to change up their usual routine.