January 1st, 2017, as I was sitting on my flight coming back home and wondering what would the year would be like I was quite optimistic and confident it would be a good year. I was coming back from visiting my best-friend who I hadn't seen since the 8th grade.
By coincidence on the last day of the year, it was also the end of an emotionally abusive relationship I've been stuck in. 2017 was by far a painful one and one that I wasn't prepared for in any kind of way.
I thought I had it all together until you came into my life again. but I don't blame you entirely, I allowed it to happen. You knew what to say and do to make me crawl back to you. I loved you unconditionally and settled for what I thought was love. I truly cherished the moments where I could fully be myself with you and you understood me. Thank you for those moments where in that second I felt like the only girl in the world. But unfortunately in our situation the bad outweighed the good.
Why was it so bad trying to know more about you? How could one question turn into the biggest fight? I didn't understand that, I didn't know why was it so hard for you to answer me. Trying to get you to open to me was like running into a solid brick wall and expecting it to break each time.
The day I found out you lied was the day I came to realization with myself that my gut feeling was always right. All these thoughts running in my mind, trying to put the puzzle together and trying to find out why you did what you did. I was scared to confront you about it but I did. Instead of being adults about it, you proceeded by calling me out of my name and blocking me. Yes, he blocked me. But what hurt the most was the very fact that you called me out of my name. That was what hurt the most. A couple of days went on and I hadn't heard from him. I started to accept the fact it was over, and one night unexpectedly you called me and pretended like nothing had happen. You had forbidden me to talk about the fight we had by threatening me you'd block me again.
I screamed at you, Block me, and hung up. You were never the guy who talked about our problems and tried fixing them instead you'd insult me or ignore me as punishment. You wanted things your way or there was no way. You were the most controlling person I've met. I knew right there and then you were no good. But that didn't stop me from you.
Things between us got worse each day.

"I don't want anything with you anymore. Whatever we had its over now and too far out to fix. I don't have feelings for you anymore." these were the words that stuck with me after that call. I couldn't feel anything. I was at rock bottom and my heart was shattered. I was confused, why did you call me to tell me that? But everything took a turn the next day and I finally had the final piece to this puzzle.
Once again, I got another call from you and I didn't answer the way you wanted me to so you hung up and told me we'll try again. You spoke to me like you were my master, and I had to obey you. You called again and I answered the "wrong way" and you hung up again. A few minuets after I received what was probably the most extreme news I've gotten. You were having a baby. Say what?! There were no words for me to say and I lost it. There were no tears rolling down my face, no pain in my heart because I was so shocked I was completely numb. What do I do now?
"I want you in my life still." you told me one thing one day and something else the next. But this was not a joke, this was something I didn't take lightly. You basically had a double life that I didn't know about. I wasn't worth the truth. The next morning I sat in my car praying to God to please guide me. I took a deep breath and begin to think about what was the next step I needed to take. If I stayed in his life I'd have to deal with the pain of him keeping that away from me and every other thought that came along with that, if I walked away I'd still be heartbroken but I would'nt have to deal with any of that or know. I wasn't ready for that, I've never been in this situation before. The answer was clear as day. I chose to let go. I said my goodbye to him and I never heard back from him after that.
The person I was completely open with, the person I loved, turned out to be a complete stranger. How can someone do that to somebody? 9 months and you hid a baby from me. This was a heartbreak I've never experienced before.
A month after I allowed him in my life again. You apologized, teared up and I hadn't necessarily forgiven you but it was enough for me to let you back in. Our relationship was definitely very toxic at this point and progressively grew worse. The insults, mind games, manipulation became a regular day thing, and you made it seem so easy and didn't care what damage it had on me because to you I deserved it. Everything had to be your way or it wouldn't work out. You never failed at reminding me I was walking on eggshells or that you'd stop talking me if I did something to tick you off. I was in a dark hole and became miserable with my life. What has my life come to I thought. I pushed everyone away from me, and I tried to handle this on my own. I thought it was better to disappear from my closest friends instead of hearing them telling me this wasn't going to end well for me. How did I for one second believed you? I believed all your little sick lies and truly thought you loved me. Silly silly me.
I'm not embarrassed to admit I was dumb for letting him back in but I was so consumed by him and disregarded all his actions. I was blinded and didn't see how emotionally abusive he actually was.
December 31st was the end of this crazy ride. I honestly wouldn't have ended it but I'm glad the events took place and shut down the roller-coaster for me. Thank you for this experience because it was truly one of a kind and I'm stronger than I was yesterday.
It feels easier to breathe and this is the freest I've felt, and of course I've had my hard days but I can proudly say I am moving forward and each day gets easier.
Life is beautiful and incredibly short. Live your best life and enjoy every second.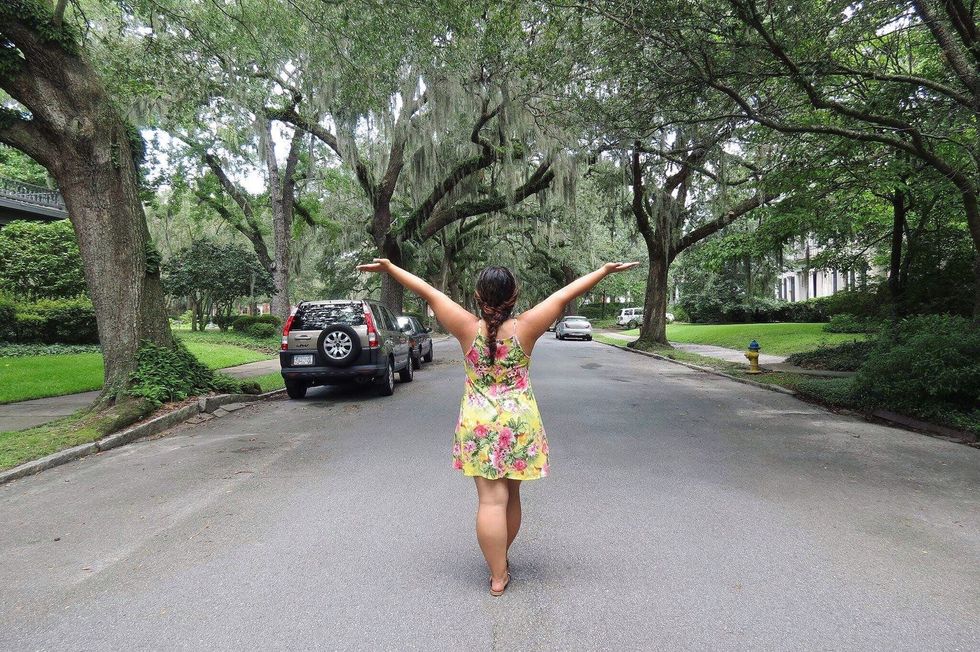 Savannah, Georgia Toni Fry's Photography
LIFE IS BEAUTIFUL. LIVE YOUR BEST LIFE.