Trends come and go, but some are here to stay.
One of the biggest fad diets in the country right now is all about purging toxins from your body and making your insides the cleanest they've ever been, and it's sure to have a lasting impact on American society. I'm sure you've heard of it. I'm sure some of you have even tried it. It's easy, it's fun, it's gooey, it's everything you've ever wanted in a diet. You already know what it is.

That's right! I'm talking about the Tide Pod Diet!
I've never really been into specialty diets before–I didn't jump on the South Beach bandwagon, can't say I've ever even heard of the Atkins diet, and definitely no Paleo for me–but with all the buzz this one's been getting, I just had to try it. There have been so many success stories and I wanted to test the Tide Pod Diet out for myself. I planned out exactly one month's worth of carefully prepared breakfasts, lunches, and dinners, documented the cleanliness of my digestive system and my quickly-waning strength on the daily, and fully committed myself to eating nothing but laundry detergent for thirty whole days.
This is that account.
---


Day 1
I'm excited. Today was the jumping off point for this new dietary adventure. I started the day with a single Tide Pod. I bit into the plastic wrapping and then suddenly the detergent exploded all over my face. The "Original Scent" liquid oozed down my throat and all over my chin and some even squirted out onto the dining table. It was definitely not what I was expecting, but it actually tasted somewhat okay--like a syrupy orange juice that kinda burned my insides. I knew I'd be able to get used to it.
For lunch and dinner, I upped my intake game and made sure to pop the pod with it entirely in my mouth so as not to waste any of the detergent. I wasn't making the mistake of biting into it again!
Day 2
Day two was a little more difficult. My body was still adjusting to the new diet. I got through it, though. I got through it.
Day 3
The diarrhea set in today. Just two days after exclusively eating laundry detergent, I guess I couldn't hold it in any longer. I rushed to the bathroom as soon as I felt it coming and made it to the toilet just in time for the fiery feces to fly out of me. I had to sit there for like two hours just to make sure everything got out okay. Definitely not the greatest feeling in the world, but on the plus side, I think I can kinda see some abs now.
Day 4
Today I started vomiting, too. I had stuff coming out of both ends. And, to top that off, I was really craving something other than laundry detergent to eat. Like, a big juicy steak. Getting through dinner was the hardest, somewhat because I wanted that steak so badly but also because it was difficult to hold off my endless stream of projectile vomit long enough to pop in another pod.
Day 5
One workweek down and I'm already seeing results. I'm the lightest and thinnest and most sick I've been since high school! Those Tide Pods are really seeming to purge all the dirt and grime from my body. As an added bonus, I also used them while washing my clothes and they got out a lot of stains. What can't these little amazing gel packs do?
Day 6
My stomach feels like it's constantly on fire. Today was not a good day.
Day 7
One week! Seven days of exclusively eating Tide Pods! A near constant flow of 100% liquid diarrhea! This is going spectacularly!!!!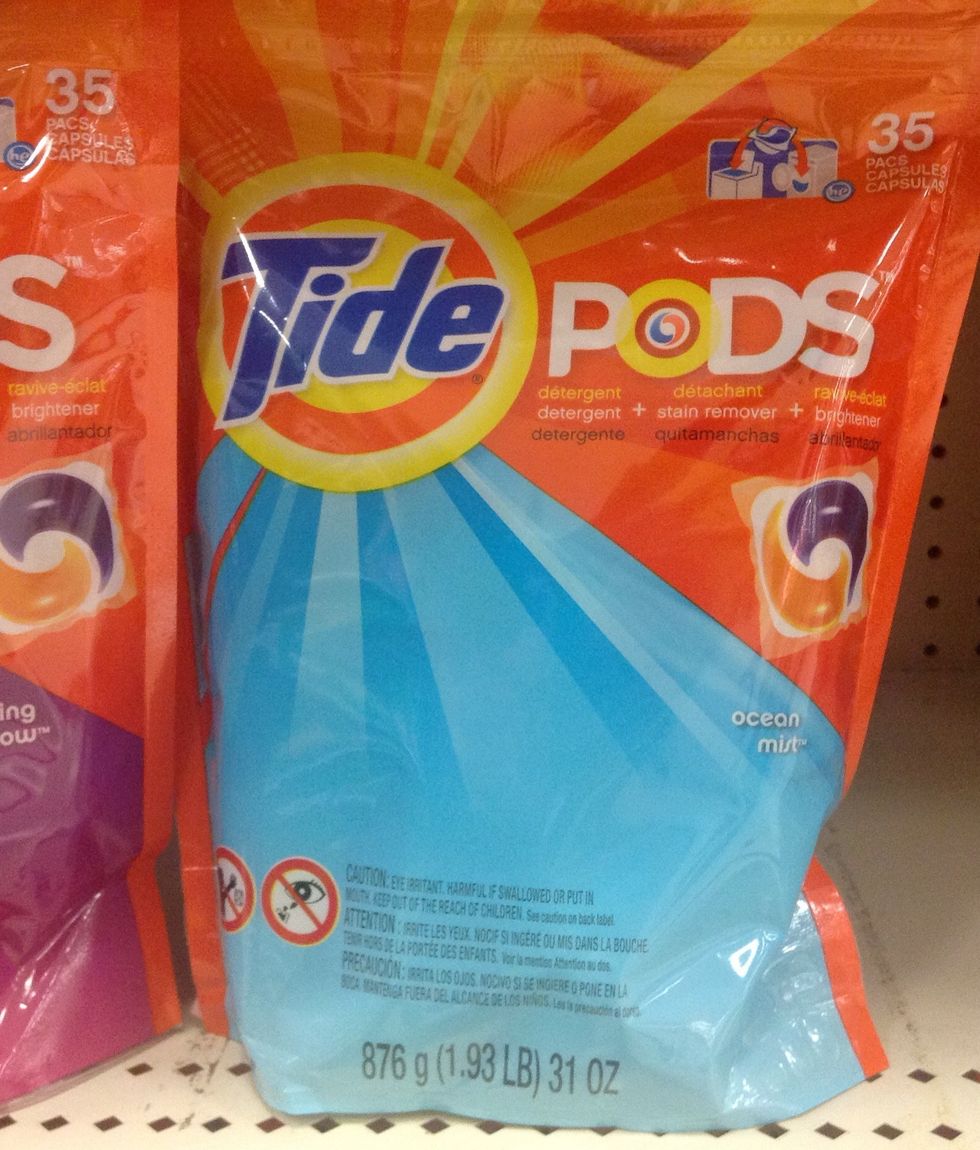 Day 8
I've decided to try to switch things up and try out a new Tide Pods flavor, "Ocean Mist". This one had a distinct fishy flavor that also burned my insides. It was more of a savory pod than a sweet one, so I enjoyed having it for dinner.
Day 9
Another positive side effect of the "Ocean Mist" flavored pods is that they turned my poop blue. I found that out today on my ninth consecutive trip to the toilet this morning.
Day 10

I had a headache for most of the day today. I thought my body had gotten used to my new diet by now, but I guess not. Less fiery diarrhea today, though.
Day 11
Okay, I cheated today. There was this little girl selling knock-off Snickers bars for her soccer team on the street today and I bought one. In a moment of weakness, I ate it. To make up for my shortcoming, I had two pods for dinner tonight.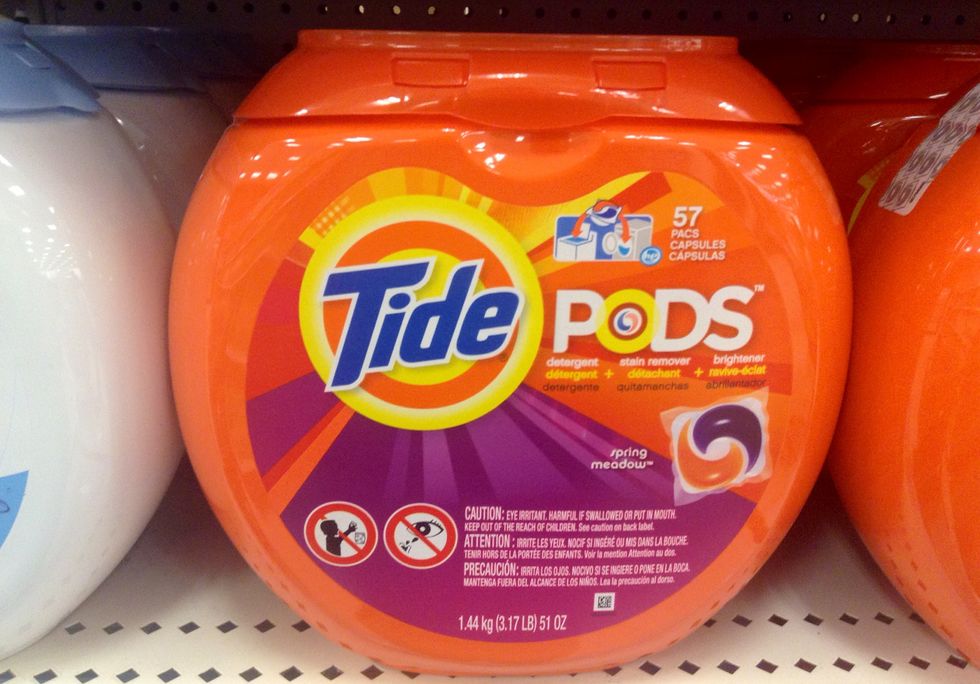 Day 12
I caved yesterday because I was craving something sweet. To remedy that, I went out today to get some more pods, these ones the "Spring Meadow" flavor. These ones taste like honey and lavender and feel just like a warm, tickly swig of burning acid. Craving quenched.
Day 13
Apparently this whole "Tide Pod Diet" is pretty cool because I've already inspired a few friends to try it out too. Hopefully I can inspire more and more people as I make my way through the rest of this gooey journey!
Day 14
I weighed myself today and I've lost forty-five pounds since starting this diet two weeks ago. I'd say that's definitely a success, and I'm not even halfway done yet! I am constantly on the toilet, my head is constantly in a trash can, and I can no longer feel my feet, but I'm making progress. Things are looking up!
Day 15
My entire body feels tingly. Not a good day.
Day 16
Still feeling tingly. I had more cravings for non-Tide Pod food today, and it was for food I don't even like (chicken burritos but without the chicken and just the sour cream). More throwing up, more diarrhea. Another bad day.
Day 17
Today I threw up a huge red glob and I'm not sure what it is. It was like the size of my thumb and squishy. I just left it on my counter, not sure if I should get rid of it or take it to a doctor or what. In other news, I've officially lost a full fifty pounds! This diet is definitely working–but, I have to ask, at what cost?
Day 18
I trashed the red glob. It's probably just normal body stuff, right? I feel fine–besides the diarrhea, vomiting, tingly sensation, loss of feeling in my feet, and vision in my left eye–so I don't think I really need to worry too much about some tiny stomach glob. I'm just going to continue eating my "Spring Meadow" laundry detergent pods and watch the pounds just fall off!
Day 19
Okay, I threw up another red glob today. I'll take this one to the doctor tomorrow.
Day 20
The doctor doesn't know what the red glob is, and, more importantly, she was completely against my continuing of the Tide Pod Diet. I told her tough luck, because I'm twenty days in and I'm seeing this thing through to the end. She told me to come back if I threw up any more red globs and let me go.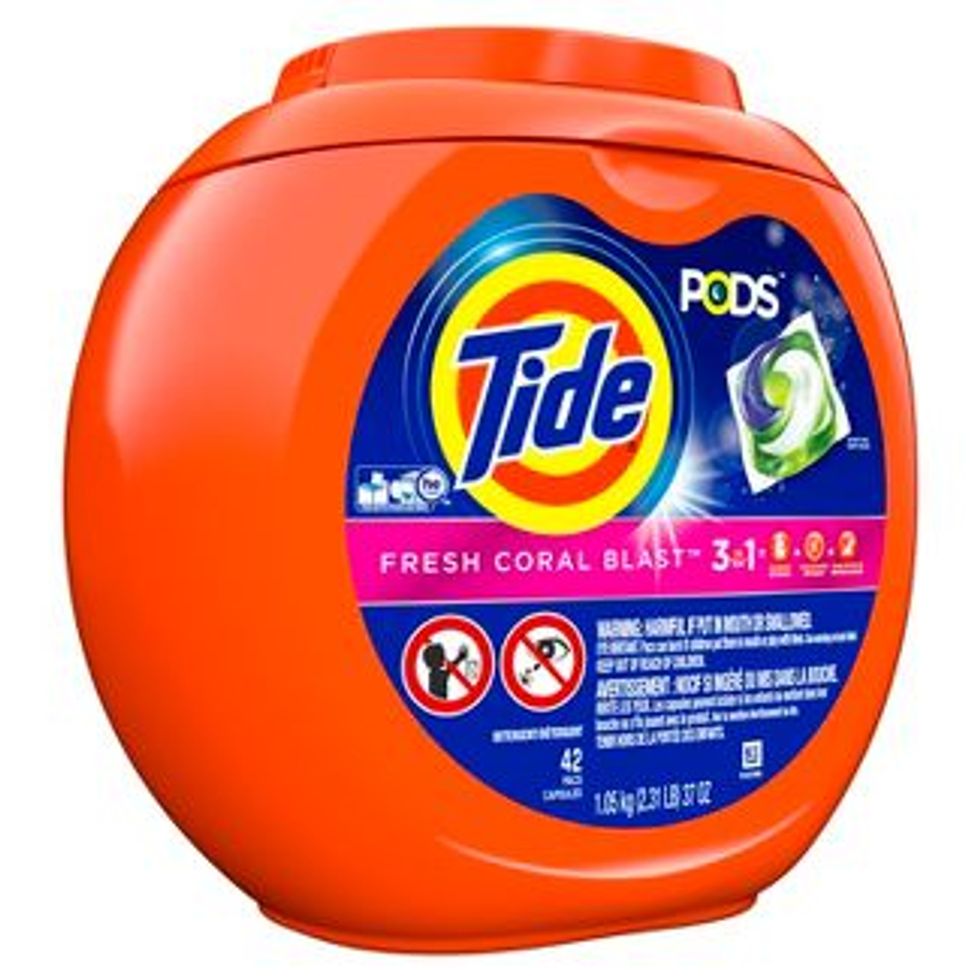 Day 21
Switching things up again with a new Tide Pod flavor for these last ten days: "Fresh Coral Blast". These ones taste like pink. Also, I can only taste colors now. Also, these ones also burn.
(Also, I didn't get a picture of my own bag of "Fresh Coral Blast" Tide Pods because my ring finger is the only one that can actually move still, so I couldn't operate a camera. Here's a picture of its packaging from Target!)
Day 22
Scale says I've lost sixty pounds so far. It took me a while to find it–I couldn't see it through my left eye, my feet still have no feeling in them, and my right eye can only see up to a foot away from it. I had to squat to read the weight. I also had a squat over the toilet while dispelling the diarrhea from my bowels because now it feels like sharp needles whenever I sit down. This diet might be a little difficult to finish.
Day 23
I passed out in the Tide Pods isle of Target today. Now I'm back at the hospital. Doctors are urging me not to eat any more laundry detergent–it might kill me, they're saying–but I can't just stop now. I only have one more week left! I'm pushing through.
Day 24
The nurses have had to clean my bedsheets five times today because I keep spewing out the brown stuff. After the fifth time, they just let me sit in it. It's not all that bad, though, because I've lost all sense of smell, so it's just like a squishy blanket keeping me nice and warm. I could have it worse.
Day 25
Another day in the hospital in my poop-blanket. Five more days, five more days, five more days.
Day 26
I asked the nurses to weigh me today and now, I've officially lost a total of seventy pounds! I can't believe it. I mean, I was in okay shape before (a mild 150), but now I look straight up sick. I'm super skinny, super small, my skin is super green, and I'm feeling so happy. I'm so happy with the results I'm seeing. It's amazing, this Tide Pod adventure I've been on. I can't believe how transformative it's been, both physically and mentally. I mean, I can't even remember my name! There have definitely been some lasting effects to this diet, and who knows? Maybe I'll keep on doing it after these thirty days are up. We'll just have to wait and see! I can't wait to see what surprises the last few days bring me!
Day 27
So, I died. I woke up this morning floating above my body as the doctors wheeled my corpse down to the morgue. I'll be damned, though, if I'm going to let this setback stop me from finishing this diet. I'm going to keep on eating, keep on digesting, keep on keeping on with this Tide Pod Diet!
Day 28
I found a way around the whole "ghosts can't eat real food" thing by squishing the Tide Pod in my hand and then watching as the detergent morsel dies, too. Then, I eat the ghost Tide Pod and let it move through my dead digestive system. Each swallow weighs me down a bit more and I don't float as high off the ground anymore, but I've only got two days to go, and I can't die after already dying, so I'm not too worried about anything.
Day 29
Ghost Tide Pods taste exactly like alive Tide Pods except there are none of the fun flavors and just fire. Also, I'm now back to walking on the ground.
Day 30
I completed the thirty-day Tide Pod Diet! I popped in the last Tide Pod today at dinnertime and I started sinking even faster than usual and I just kept on falling and falling until I was directly in the center of the Earth's fiery molten core and I think I might be here for the rest of time, but it was worth it! I've successfully eaten nothing but laundry detergent (and one off-brand Snickers bar) for a whole month!
---
If I can do it, so can you. I hope my own journey inspires countless others to try out the Tide Pod Diet and end up spending an eternity in the scalding pit of lava at Earth's center. The results are amazing and I am so happy with how it turned out. If you need that extra push, well here it is! Good luck to you and everyone else on their own Tide Pod journey! It's an experience you'll never forget (because the constant burning sensation will never let you)!