With Sonic Mania, Sega has done the unthinkable for a corporate player in video games: They've given it to the fans. Sega has had a nightmarish time trying to rekindle the magic and majesty of its iconic mascot since the blue hedgehog's peak in the '90s.
Since the jump to 3D and the attempts Sega had done to retain this franchise throughout the years, Sega has also tried to reinvent the series over and over, with middling success. Meanwhile, various fan projects have sought to create new "traditional" Sonic games via hacked-in additions to original game code, as well as completely, faithfully recreated versions of '90s-era Sonics. Sega initially shut the project down, but in a move that surprised many, the publisher gave a game developer, Christian Whitehead, the go-ahead to finish a port of Sonic CD, Sonic The Hedgehog, and Sonic The Hedgehog 2 for consoles and mobile platforms to generally positive reception.
Then, Sega gave these same fan developers the keys to its mascot, a partnership between Christian Whitehead and studios Headcannon and PagodaWest games. The end result is Sonic Mania, a game that feels like the series' Genesis-period ideas were taken to logical extremes, in a way that fans have been waiting for a long time.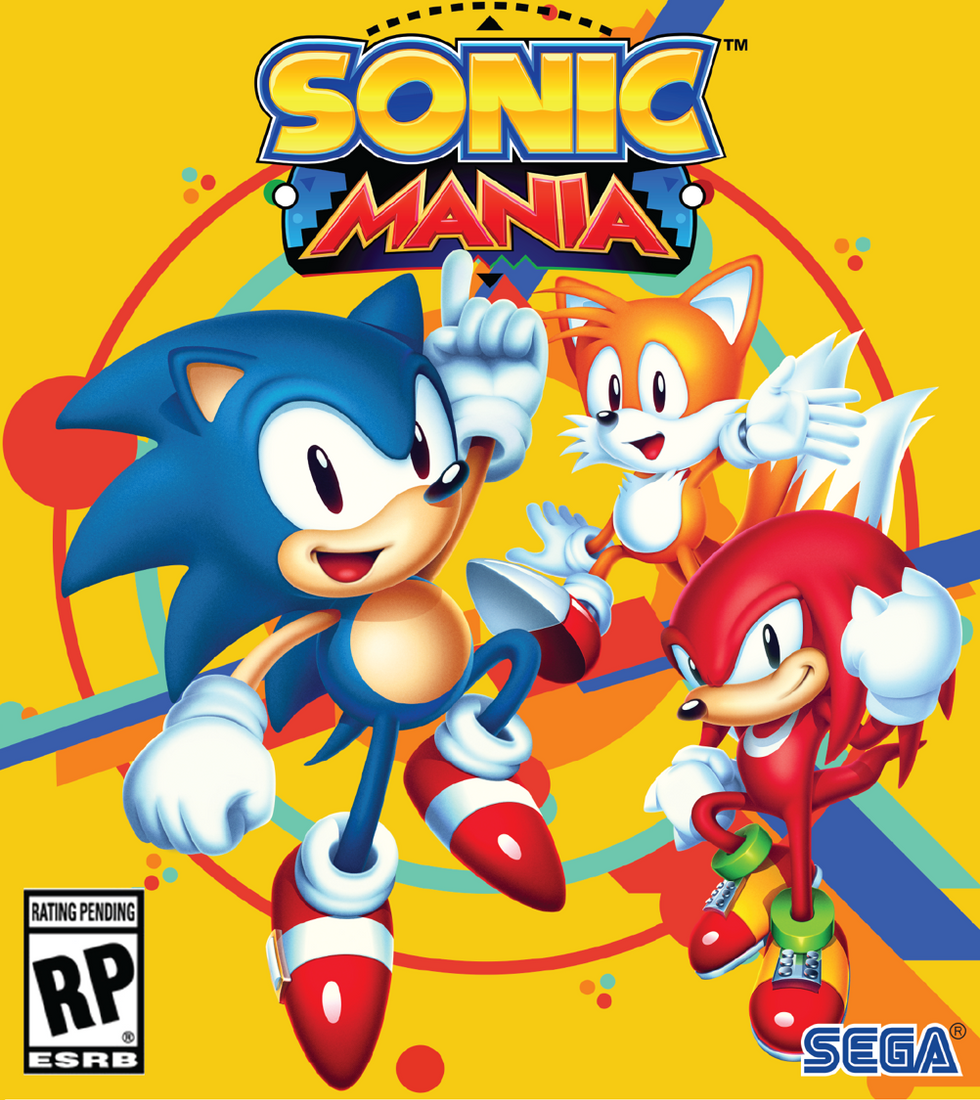 1) Story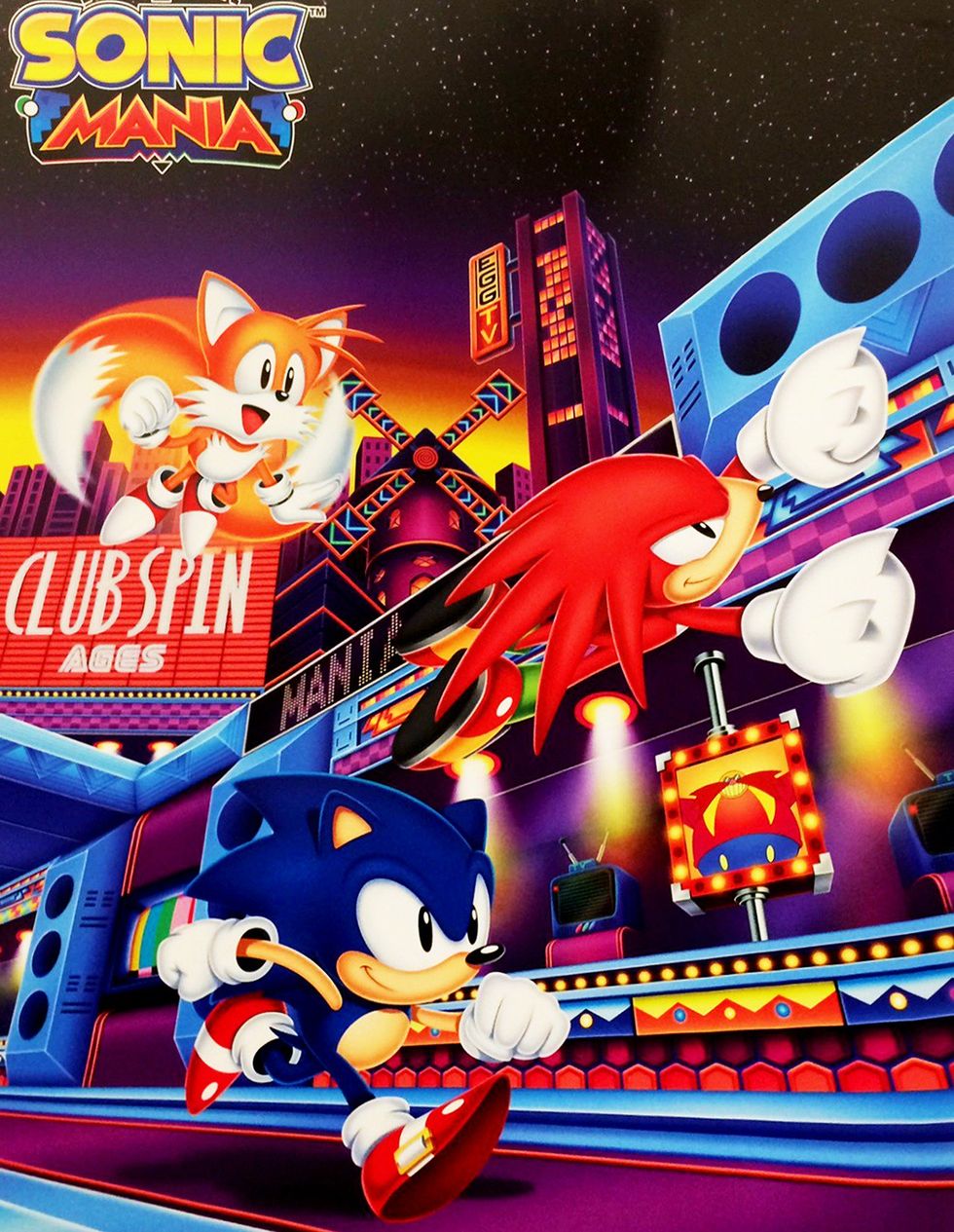 Sonic Mania opens as Dr. Robotnik once again steals a Time Stone and the Chaos Emeralds, and it's up to Sonic the Hedgehog, constant companion Miles Tails Prower and frenemy Knuckles the Echidna to get travel through time and space, get the Chaos Emeralds back and defeat the Hard-Boiled Heavies and Robotnik until…whenever Sega rolls this whole thing out again.
2) Gameplay

If you've played any of the Sega Genesis games, Sonic Mania is going to look and feel familiar. No, really. Sonic Mania looks achingly familiar, to the point where I'm not clear whether or not many assets have been pulled directly from existing Sonic games. It certainly looks like a Genesis game, but it has improved graphically. Animations are more detailed than I remember them being from the cartridge titles, and the color palette looks SOOOO beautiful!
This extends to the way Sonic Mania plays as well. Sonic has a new ability, the Drop Dash, which allows him to immediately drop out of a jump and dash upon hitting the ground, but otherwise, you could draw a direct line between Sonic the Hedgehog 3 & Knuckles and Sonic Mania. It's a side-scrolling platformer, but it's nothing like its contemporaries. Instead, Sonic and his friends collect rings as they race through each level, looping and backtracking at speeds that seem too fast for even the game's camera to keep up.
That feeling of barely controlled speed is Sonic's original schtick, and it's leveraged for everything it's worth here. Levels feel much bigger and faster than they were in the Genesis games, with many, many more paths to barrel down, even as many enemies and bits of scenery hit your sense of nostalgia like a bucket of ice.
No matter if you're playing as Sonic alone, Tails alone, Sonic & Tails, or Knuckles alone... It all works, and the speed is exhilarating, and remarkably, no other game has ever managed to capture the same lightning in a bottle that Sonic did. Sonic Mania, more than any Sega-led project of the last 20 years, feels exactly the way I remember the original trilogy. As I made my way through the revamped, reimagined Green Hill Zone that starts the game, it was hard not to feel nostalgic with parts I remembered from the original Sonic The Hedgehog while being blown away from the new level design I have encountered in the second act.
66% of Sonic Mania are reimagined/revamped levels from the original trilogy and Sonic CD (like Green Hill Zone, Chemical Plant Zone, Stardust Speedway Zone, Hydrocity Zone, etc.). The remaining 34%, however, are brand new levels!!! We have Studiopolis Zone, Mirage Saloon Zone, Press Garden Zone, and Titanic Monarch Zone. Even though these levels are brand new from beginning to end, there are some mechanics that they used from past Sonic games. For example, Titanic Monarch Zone has these circles that spin you around like that Glowing Sphere Bonus Stage from Sonic & Knuckles.
Another inventive and fun part of the game lies within the boss encounters. I know! I was surprised too! Each boss requires a different strategy, which isn't unusual, but Sonic Mania really blows out its most basic gameplay structures, drawing from Sonic games outside of the traditional 2D platformers and digging deep into 16-bit canon. Some encounters aren't platformers at all, some involve battles on the move that go much further than even Sonic CD did, and all of them have enough surprises to keep them engaging. These sections were routinely the parts I always looked forward to the more I play Sonic Mania.
Like any other platformer, Sonic Mania gives you a pool of lives when you start a game, and you gain more through collecting 100 rings or finding them scattered throughout levels. As long as you have more lives, you'll resume at the last checkpoint you dinged when you die, but if you run out, you have to restart the stage you're on from the beginning. This is marginally better than the original game, which had no continues officially apart from the cheat codes. It still kinda sucks, but it isn't something that will make me want to rip my hair out of my skull.

Along with collecting rings, gaining lives and going as fast as you can, there are power-ups you can find throughout the stage, and they still function exactly how they were in the original games. The Speed Shoes make you go even faster for a moment, and the Invincibility power-up makes you invincible for a while as well.
Now, the Elemental Shields help you progress the game in different ways, and it definitely shows with Sonic Mania. The Flame Shield gives you the Fire Dash, the Bubble Shield gives you the Bounce Attack, and the Electric Shield gives you a Double Jump while drawing any stack of rings towards you. Something that really caught my eye was when I had the Fire Shield in Green Hill Zone and Oil Ocean Zone. I can do things like setting a bridge and oil on fire!!! I love exploring and finding that kind of stuff, and this game lets me do that whenever I want.
On paper, Sonic Mania is a comfortable, fast-paced adventure that anyone who loves the platforming genre can get their hands on, and it's addicting to play. However, the one problem of this game depends on if you're a die-hard Sonic fan...which I am. If you're not, you'll miss out on all the callbacks and references (like the cameos of Bean the Dynamite, Fang the Sniper, and Bark the Polar Bear in Mirage Saloon Zone) which Sonic Mania is bursting with. It's crazy!
I mean, if this is going to be your first Sonic game, then I hope you will have a great time, and I hope you go back to see what inspired this masterpiece in the first place. But, a lot of the things you've seen experienced won't have the same level of impact on you as it would to longtime fans of the series.
3) Bonus Stages
Bonus Stages make a return, and they are special areas where the player can earn bonuses. They become available when jumping into the Star Circle that appears if a Star Post is passed when carrying at least twenty-five Rings. Sonic Mania's bonus stages play the same as the Special Stages from Sonic the Hedgehog 3 & Knuckles, as well as the secret "Blue Sphere" game that could be played by connecting the Sonic 1 cartridge to Sonic & Knuckles. Here, the player must run across a spherical planet. To succeed, the player must collect blue spheres and rings whilst avoiding the red spheres (with the blue spheres turning into red spheres when collected; boxing a group of blue spheres inside a perimeter of red spheres will turn all the spheres in the box into Rings). Collecting all rings on the board will result in a "Perfect" and the stage will end either when the player hits a red sphere or collects every blue sphere. The longer the player stays in the stage, the more it will speed up, thus increasing the difficulty.
If you just complete the Bonus Stage, you'll be awarded with a Silver Medal. If you complete the stage and collected all the rings, you'll get a Gold Medal. If you manage to collect all 32 medals, you can unlock some hidden stuff for Sonic Mania (like the ability to use to Insta-Shield from Sonic 3 & Knuckles or the Super Peel Out move from Sonic CD, a Mean-Bean mini game [in reference to Dr. Robotnik's Mean Bean Machine], a sound test mode, etc.).
4) Special Stages

The Special Stages for Sonic Mania are extra levels where the players can collect the Chaos Emeralds. These Stages can be accessed through hidden Giant Rings in every zone you pass. In each Special Stage, the playable character enters a wide open field akin to the Special Stages in Sonic CD The objective is to catch up to the sole UFO in this level and obtain the Chaos Emerald it has within the time limit; if the player falls off the stage or if time runs out, the stage will end but can be retried infinitely. As aid, the player can collect blue spheres to make the playable character run faster and rings to increase the player's time limit.
If you manage to collect all 7 Chaos Emeralds, you will have the ability to transform into Super Sonic, Super Tails, and Super Knuckles. While being in the super form, your character can run faster, jump higher, and completely destroy bosses. However, you still need to keep an eye out for dangerous hazards and your ring count.
5) Ending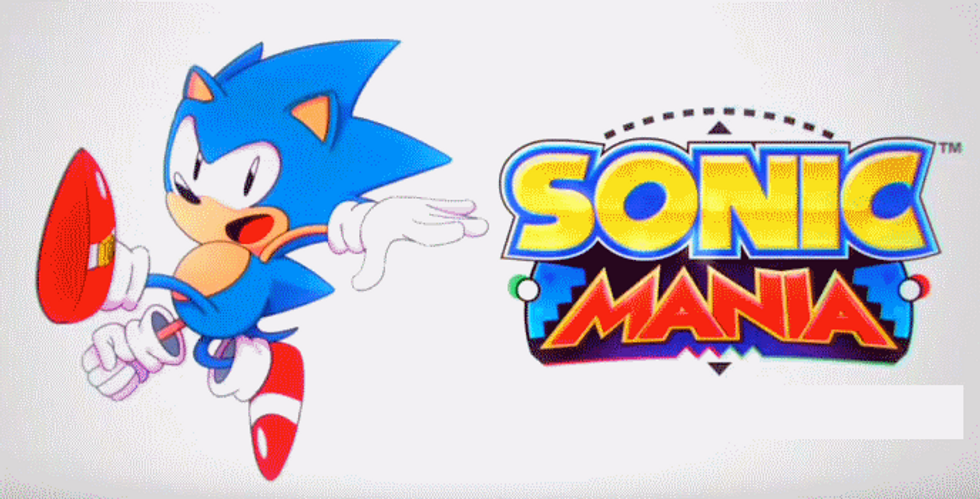 Normally, you saved the day when you complete the game, but there's one ending that caught me by surprise and made me suspicious. When you collect all 7 Chaos Emeralds and completed the game as Sonic, he goes through a time rift in his ending and does this pose shown above. The last time I saw Sonic doing this pose was during the CGI cutscene from Sonic Forces (which is down below, if you want to check it out), and at 0:59 to be exact.
I was flabbergasted when I saw that! Then, I thought to myself, "What does this mean? Could Sonic Mania be a prequel to the upcoming Sonic Forces?!?! Because the Sonic in Sonic Mania is technically from another dimension, and he ends up going to Modern Sonic's dimension anyways to help him save the world!" All of the suspense was killing me in a good way, and it still makes me excited for Sonic Forces. Thank you for sneaking that in for us, Mania!!!
6) Overall

With all that said, because I have been waiting for over a year to play this game, and because I am a longtime fan... HOOOOOLY SH*******T!!! THIS GAME IS A TEXTBOOK EXAMPLE OF NOSTALGIC PAMPERING, BUT I DON'T CARE BECAUSE SONIC MANIA IS THAT F***ING AMAZING! BUY IT NOW, PLAY IT NOW, AND SHOW SEGA WHERE THE MONEY IS AND HOPEFULLY THIS WILL LEAD TO MORE ORIGINAL STUFF!!! IT'S LIKE VICARIOUS VISIONS AND WHAT THEY DID WITH CRASH BANDICOOT: N-SANE TRILOGY. I LOVE THAT GAME JUST LIKE I LOVE SONIC MANIA!!! IN FACT, I'M GOING TO STOP WASTING TIME! I'LL BE BACK WITH MY SONIC ADVENTURE 2 REVIEW, BUT UNTIL THEN DO YOURSELF A FAVOR AND PLAY THIS GAME NOW!!!
Rating: 5 / 5... Or maybe 10 / 5, OR 100 / 5, OR 1000 / 5!!!! IT'S THAT GOOD, YOU GUYS!!!