With the holidays and by extension, winter, rapidly approaching, what better way to spend those cold nights than staying in with some hot chocolate and watching a holiday movie? Snuggled up in bed with fuzzy socks and a soft blanket is the best so here is a list of movies that can bring some holiday cheer.
Note: Not all these movies have snow, they are simply just feel-good movies to watch with your hot chocolate. You're welcome.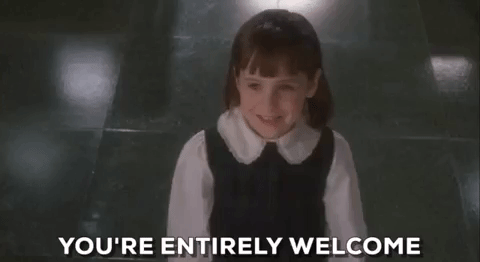 1.) "The Holiday"
2.) "Breakfast at Tiffany's"
3.) "Elf"
4.) "Home Alone" (The first and second movies)
5.) "The Nightmare Before Christmas"
6.) "Corpse Bride" (not necessarily a holiday movie, but still gut-wrenchingly heartwarming)
7.) "The Muppet Christmas Carol"
8.) "How the Grinch Stole Christmas"
9.) "The Polar Express"
10.) "Rudolph the Red-Nosed Reindeer" (I know this is from the 60's but doesn't it give you a warm and fuzzy feeling?)
11.) "The Last Holiday" (This movie is so underrated it's insane. Queen Latifah actually killed it in this).
12.) "Mickey's Once Upon a Christmas"
13.) "A Christmas Carol"
14.) "Father of the Bride" (1&2)
15.) "A Very Murray Christmas"
16.) "Good Luck Charlie: It's Christmas"
17.) "Miracle on 34th Street"
18.) "Christmas Crush"
19.) "12 Dates of Christmas"
20.) "The Sisterhood of the Traveling Pants"
21.) "Bend it Like Beckham" (not a holiday movie, but still incredibly empowering and a feel-good classic)
22.) "Eloise at Christmastime" (and Eloise at the Plaza tbh. When I was a kid, I honestly wanted to be Eloise not gonna lie)
23.) "National Lampoon's Christmas Vacation"
24.) "Love Actually"
25.) "Merry Christmas Drake and Josh" (Okay, it's a Nickelodeon movie but still worth a watch)
26.) "The Legend of Frosty the Snowman"
27.) "Grandma Got Run Over by a Reindeer"
28.) "A Charlie Brown Christmas"
29.) "Christmas Cupid"
30.) "The Ultimate Christmas Present"
31.) "Willy Wonka and the Chocolate Factory"
32.) "Cheaper by the Dozen"
33.) "Casper's Haunted Christmas"
34.) "You've Got Mail"
35.) "A Dennis the Menace Christmas"
36.) "The Santa Paws 2: The Santa Pups"
37.) "The Santa Clause" movie series
38.) "Mickey's Once Upon A Christmas" and "Mickey's Twice Upon A Christmas"
39.) "Arthur Christmas"
40.) "Snowglobe"
41.) "Toy Story"
42.) "Deck the Halls"
43.) "Raising Helen"
44.) "A Very Merry Daughter of the Bride"
45.) "The Proposal"
46.) "Almost Christmas"
47.) "Tyler Perry A Madea's Christmas" (Some people love it, some people hate it, I can chill with it but you do you.)
48.) "Matilda"
49.) "Annie"
50.) "Phantom of the Opera"
51.) "The Pagemaster"
52.) "Beethoven's Christmas Adventure"
53.) Any "Degrassi" specials, especially "Degrassi Takes Manhattan" and the holiday episodes.
54.) "Fantasia"
55.) "Jack Frost"
56.) "Richie Rich's Christmas Wish"
57.) The "Gossip Girl" Christmas/Holiday Episodes (They're messy friends, but they have exceptional friendsgivings and the decorations are phenomenal.)
58.) "The Year Without A Santa Claus"
59.) "Addams Family Values"
60.) "Four Christmases"


Happy binge-watching, and happy holidays!