Have a special occasion coming up and dreaming about sipping on that perfect cocktail to complement it? Or, planning a large event like a baby shower or wedding and have absolutely no idea where to start? Look no further as I've compiled a list of some of the most popular occasions along with its perfect liquid counterpart.
Wedding
From black tie to casual, mojitos are the perfect drink for weddings all over. They are a classic and refreshing cocktail that can be taken from day to night and are sure to ease the pain of your dancing feet. To make, all you need is white rum, sugar, lime juice, soda water, and mint leaves to garnish.
Baby Shower
Mimosa's are the quintessential baby shower drink, and the great thing about them is that that they can be easily recreated for expectant mothers, otherwise known as the "Momosa." Mommy's-to-be can join in on the fun by using non-alcoholic champagne and orange juice, reliving the pre-pregnancy days (minus the buzz, of course). To make, all you need is orange juice and champagne.
Vacation
Margaritas scream vacation. It's one of those drinks that work whether you're sitting oceanside basking in the sun or out to dinner after a long day of rest and relaxation. Not to mention, it is the most Instagrammed vacation cocktail. To make, all you need is tequila, triple sec, lime juice, and salt (or sugar) to rim the top of the glass.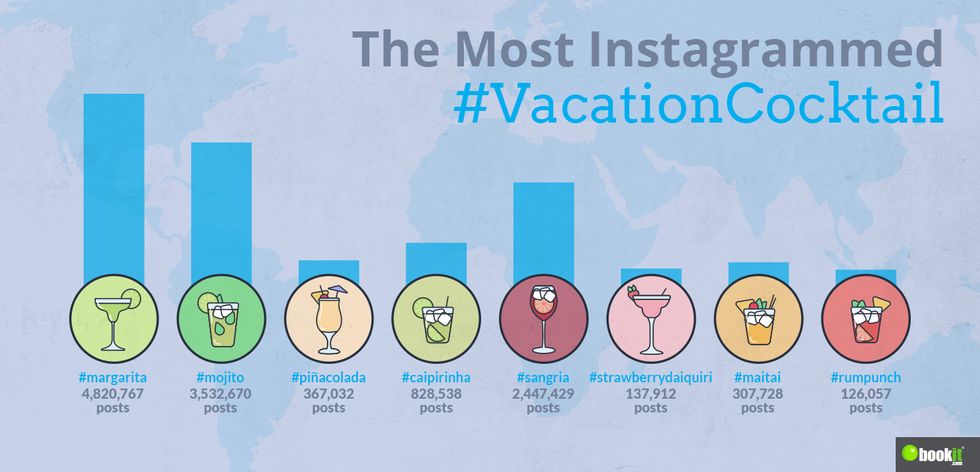 First Date

Nothing screams "I have class" like a martini. Invented during the Gold Rush of the mid-1800s, the martini is a flirty, elegant, and sophisticated and the perfect cocktail to sip on to get through a first date. Although, not the best drink to guzzle down, so if the date isn't going well, switch to something with a straw. To make, all you need is gin, vermouth, and a lemon peel or (blue cheese stuffed) olives to garnish.
Holidays
Moscow Mules scream holidays. It could be the copper mugs or the spicy ginger beer, but something about it makes you want to sit by the fire with friends and family and celebrate the holidays. To make, all you need is vodka, spicy ginger beer, and lime juice, topped off with a lime wedge to garnish (copper mug not optional).
Do any of these cocktails ring true as your favorite cocktail for these occasions?