I've been burnt out for a while now. I've had exams every week since the fourth week of the term, and I've been desperately trying to balance studying (emphasis on 'dying') with two part-time jobs, exercise, and a chaotic social life. Growing up, my siblings and I were raised to recognize the benefits of hard work and endurance. We were always encouraged (and sometimes forced) to work harder, push ourselves, and get past the struggles in our lives. Our parents raised us to be independent and tough. However, it's taken me the past three years of college to understand that, sometimes, being resilient isn't going to cut it. Sometimes, I've learned, you just need a break.
For a long time, I thought exercise was my "break." I thought that going for a long-distance run or attending a yoga class was a perfectly acceptable break, a reset, and that was all I needed to de-stress and relax. In many ways, it is a great way to feel refreshed and focused. However, after months of pushing myself mentally and physically, working out every other day at around 10 p.m. after all of my other responsibilities were attended to, stopped being an acceptable form of "me time." I was going to bed later and later, and waking up early. Essentially, I was exhausted all of the time. I never gave my body or mind a chance to rest long enough to feel rested or refocused. When I was working out, I was planning my next day. When I crossed out one assignment/study time on my planner, I wrote "run" right below it. I was never still for very long—physically or mentally.
Then, my roommate woke up one Saturday morning with a brilliant idea: "Let's go to the beach!" At first I thought there was no way I could go along. I had two quizzes, a discussion board, and an article to complete by Sunday night; I wanted to go for a run, and I definitely needed groceries. It was sudden and unplanned—two words anyone with anxiety (read: me) strongly dislikes. Soon, though, she was putting thoughts of giant waves and ocean sunsets in my head. Within an hour of her waking up with the idea, we were in my Camry, headed for the jagged Oregon coastline. We drove for a little over an hour and wound up in a little seaside city where the forest winds down rocky hills and opens into the turbulent Pacific ocean.
We spent the day walking along the beach and taking portraits of each other. We stayed to watch the sun set spectacularly over the silver waves and we went out to eat at an adorable little diner. I'd forgotten how much I love the ocean. You just can't get the feeling that a combination of salty air and crashing waves gives you anywhere else.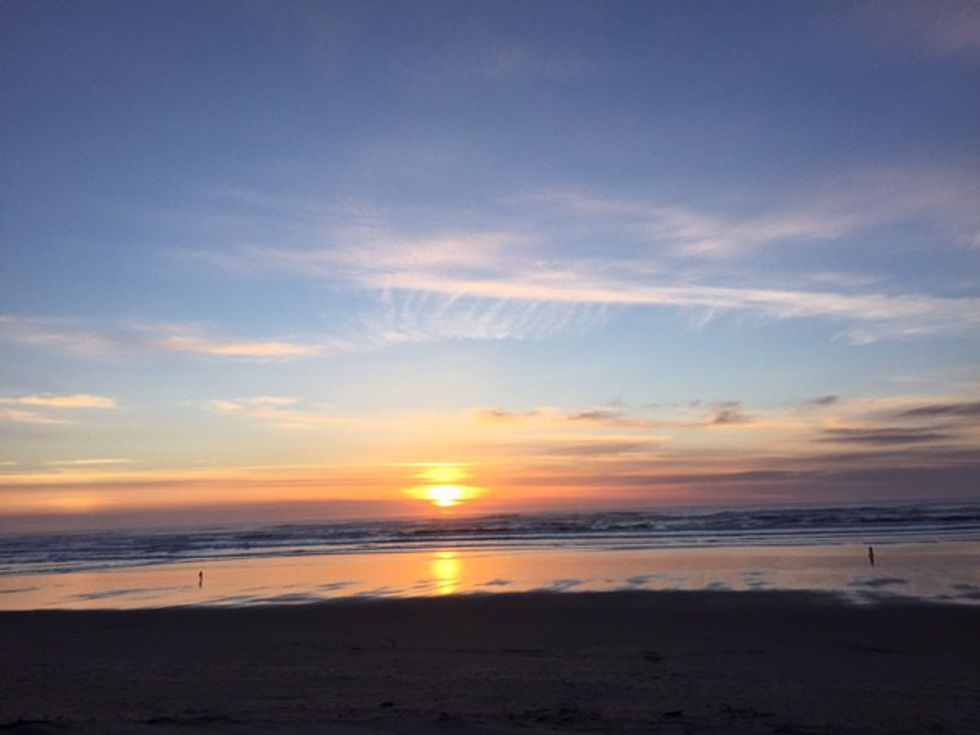 Ultimately, it was exactly the kind of break that I needed. I didn't think about school, work, or other people for the entire day; I came back to my apartment late that night feeling completely relaxed and happy. I didn't even realize that I needed a break like that until it was over.
Everyone needs a break sometimes, and I think it's all too easy for people (especially college students) to forget to slow down and take a little time for themselves. We get caught up in our fast-paced, high-stress lives and we don't make time to do anything besides pleasing others and work. Our energy levels get horribly low and we find ourselves running on a terrible combination of caffeine and sheer willpower. I've noticed that this leaves me, and probably other people in my position, irritated and virtually always stressed out. When you haven't had a real break in weeks, or even months, it doesn't take much to overwhelm you.
Therefore, my advice is this: take a break for an entire day. Go to the beach, go to the mountains, or go to the city. Wherever you feel most at peace and happy. Just one day off will give you the energy and peace of mind to continue your personal rat race.