COVID-19 lockdowns have now lasted for what feels like years, and most people are pretty fed up with being locked at home. As governors begin to lift restrictions in the US, more and more people are returning to their previous lifestyles, with necessary measures. Everyone, in some capacity, has felt the brunt of this virus' massive force. With over 5.5 million cases and 350 thousand deaths worldwide, this pandemic has transformed global interaction on a macrocosmic scale. While these deaths are a travesty, and I don't hope to downplay this tragic situation, its effects have not been entirely negative. Environmentalists everywhere are reporting decreases in pollution and toxicity caused by human beings, one of the few benefits of this lengthy quarantine. Here's just a few examples of how the Earth is recovering.
1. Carbon emissions have dropped.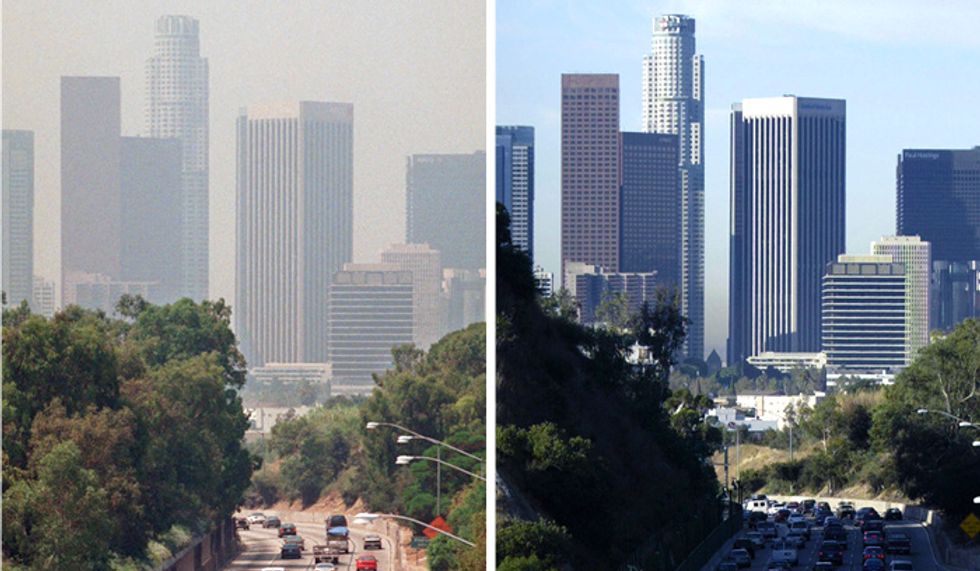 In recent years, there's been an enormous (and necessary) push for governments and corporations to decrease carbon emissions. As we continue to see such detrimental effects on the air and our ozone layer, scientists and climate activists have been fighting tirelessly for legislation that will preserve our planet. While unintentional, this 17% plummet in emissions poses a hopeful future for our climate if we take necessary measures to keep these levels from rising once again.
Air quality has significantly improved.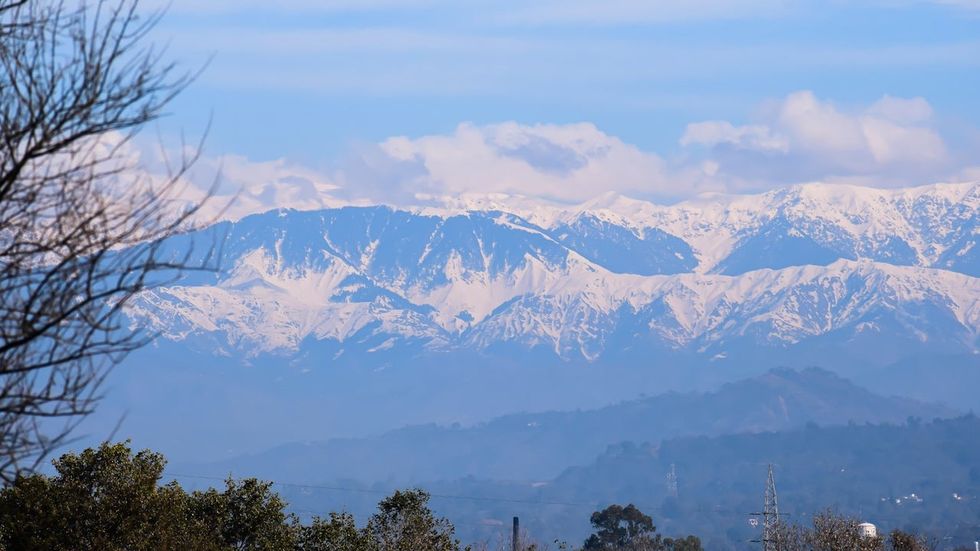 https://weather.com/health/coronavirus/video/himalayas-visible-for-first-time-in-30-years-due-to-lockdown
Carbon emissions are just a singular aspect of the environmental harm caused by humans. According to the World Health Organization, air pollution, caused by chemicals like nitrogen dioxide and particulate matter, kills seven million people every year (https://www.who.int/health-topics/air-pollution#tab=tab_1); This means that the current combination of decreased production, aviation, power usage, and a number of other factors could be the key to saving actual lives, in addition to the natural world (and it sure is beautiful when you can see it clearly!)
Endangered species are reappearing.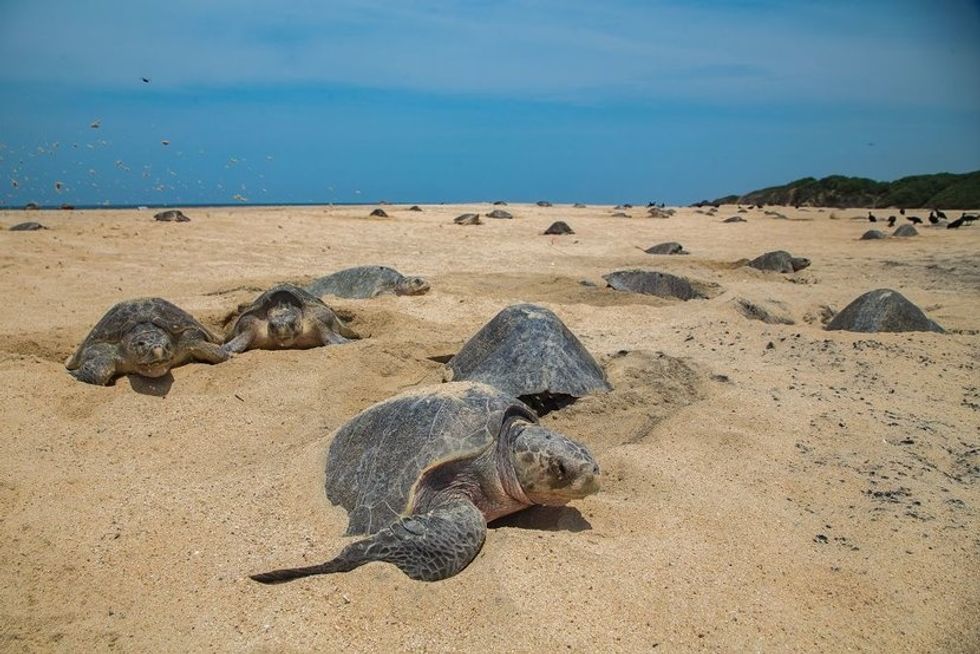 MEXICO-NATURE-ANIMALS-TURTLES-NESTING
Endangered species lists have gotten longer over time, and there is enormous concern from conservationists over the number of animals that are going extinct in recent years. Because of our self-isolation, however, animals such as the turtle in this picture have been thriving in their natural habitats. These turtles are better off in our absence, and they are not the only ones. Animals, endangered and not, are roaming deserted cities and streets, basking in their newfound freedom to exist without fear.
Noise pollution levels have lowered.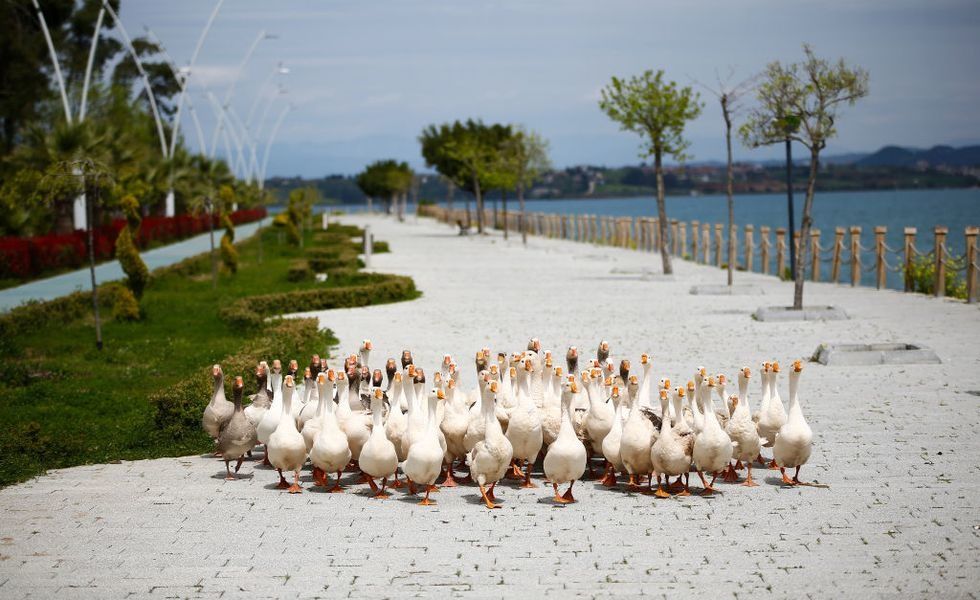 https://www.countryliving.com/uk/news/g32066174/animals-deserted-towns-cities-lockdown/
Whether it's in the bustle of the city or the depths of the ocean, quiet environments are better for nature. Reduced levels of noise have a number of benefits for animals including greater reproductive success, minimal migration, and lower mortality rates. Even more so, this quarantine-imposed quiet could be good for people. Many of us are so used to busy, hectic lifestyles, and the silence of cities might actually benefit people's health, mentally and physically.
These are just four examples of the positive effects that lockdowns have had on the environment, and a simple google search can give you more. While this reprieve from the climate crisis is auspicious, the effects are only temporary as countries across the globe begin reopening. Climate change is not going to disappear which is why it's increasingly crucial for us to look at these issues, and take necessary actions to ensure that our planet can sustain our global population. If you didn't believe in climate change prior, this is your glaring, concrete evidence that much of our climate crisis is man-made. We need to accept the overwhelming amounts of research and act with decision, or we may not have a world to inhabit in the next several decades. The Earth is speaking to us, and it's about time that we listen.