One reason I chose to attend Butler University was the feeling of warmth and care I received after visiting. I was told that the Butler community is one that supports everyone unconditionally. I felt this and continue to feel it. However, I never quite understood what "The Butler Way" was. If you ever step foot on Butler's campus, you will probably hear chatter about this understood mindset of selflessness and commitment among the students, student-athletes, and professors. This concept is so abstract, though, that it almost sounds like a dream instead of a reality. I thought that there was no real way to prove that this motto has any bearing on the experience at Butler. Fortunately, I was very wrong.
As a member of the Butler University Athletic Bands, I was graced with the opportunity to travel with the men's basketball team to the conference tournament in New York City. I was absolutely ecstatic about the prospects of going to the "Big Apple" with some of my closest friends to support the team I loved. When we arrived at the arena, I noticed that there were not very many Butler fans in the crowd. I had never been to an away game, so I was so used to thousands of fans cheering for my team. I immediately felt the chill as we got ready to play our instruments for people who could not have cared less.
Indianapolis is pretty far from New York City, so it was not very feasible for there to be thousands of adoring Butler fans at the arena. However, the other team was only a few hours drive away. Needless to say, the arena was packed, but not with Butler fans. At first, this new environment did not really phase me much. I was just so excited to start playing and cheering. The "away game" feeling finally hit me when one of our players got a foul. The whole arena erupted in applause. This confused me at first, but then I remembered that this was not a typical home game, we were on different soil.
For the duration of the game, my bandmates and I relentlessly cheered on our team. Our sole job in a game setting it to play for, cheer on, and support the basketball players. I will say that we TOTALLY nailed that. Although there were only 29 of us, we made enough noise to fill the entire arena at times. I was so proud of how positive and passionate we all were.
Unfortunately, trouble starting brewing when the other team got the lead. I noticed that their fans kept looking at the band and mocking us. We saw tongues sticking out, rude gestures, and devilish grins that really annoyed us. As a musician, I have never really been an environment where people do not want me to succeed. This game was the moment that I realized that the sports world is different.
Nonetheless, our band director told us to keep our heads up and to keep screaming as loud as we could for our players. As the realization that the other team was probably going to win hit us, our cheers grew stronger. We were not going to give up. While our volume increased, so did the volume of the fans of the other team. "Boos" could be heard whenever our team made a shot, and the same fans kept glaring at us.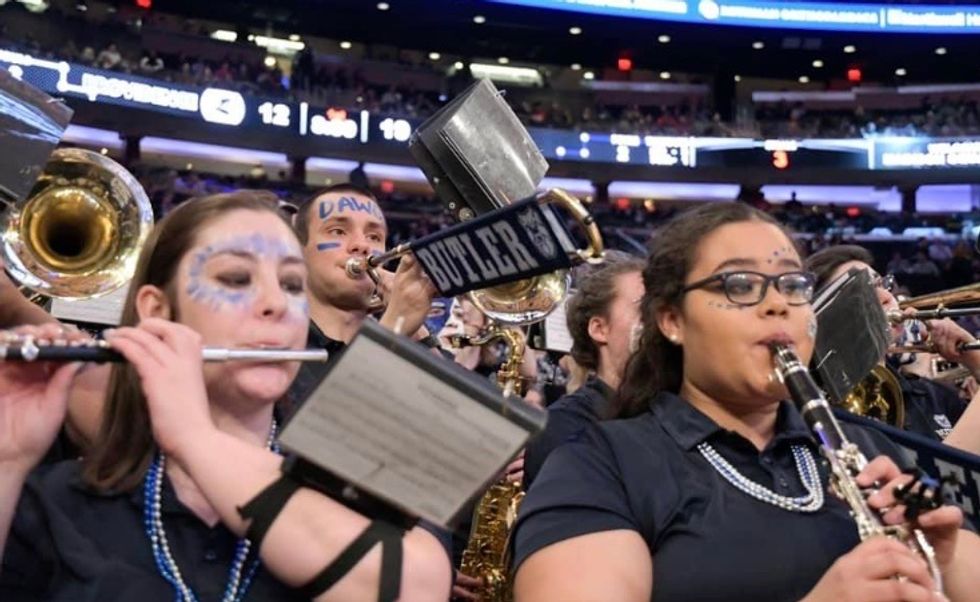 Big East Photo
When the game ended with a loss, we tried our best to keep the smiles up and the cheering loud. When we had finished playing our fight song for the final time, we packed up and started exiting. This is the moment where all heck broke loose. Fans from all over the place starting shouting at us. "Go back to where you came from!" "Go wipe that paint off of your face, you're done." "Bye, bye!" This heckling came from all directions. Some members of the band were shown very crude gestures, and there were times where I just wanted to scream.
However, that did not happen. With the support of my other band members, I was able to keep a smile on my face. I merely shouted "Go Dawgs!" at anyone who tried to take away my happiness. I realized that this strength and positivity that our band showed was the epitome of "The Butler Way." This concept does not involve negativity, yelling at others, or heckling. This concept is purely comprised of passion, integrity, selflessness, and hope. I have never been so proud of my school.
We cheered our team on until the end and even past that. With our face paint, polos, khakis, and instruments we represented "The Butler Way." We never stopped fighting for the Butler Bulldogs, as they never stopped fighting for us. All I have left to say is Go Butler, Go Band, and Go Dawgs!