Can we just take a minute and talk about how immensely painful and irritating finding a good workout program is? As someone who has been navigating the fitness world for more than three years, I constantly experiment with new routines and workout classes. I've done everything from CrossFit to spin classes, but besides strength training, I couldn't find anything that aligned with my fitness goals.
As time went on, I began traveling down the devastating path of plateauing. So what's a girl to do? After hours of copious research, I found Orangetheory Fitness online and immediately signed up for my free first class. Now, I've been a dedicated member for more than six months.

Orangetheory Fitness, founded by Ellen Lathem in 2009, is a one-hour, high intensity interval training (HIIT) group fitness class based on five training zones with the main focus being zones three (green zone), four (orange zone) and five (red zone).
Orangetheory's appeal is the science behind the workout. They use an advanced heart rate monitoring system that displays the names of each member on television screens placed in the studio so clients can monitor stats such as calorie burn and heart rate throughout the workout. Orangetheory says if you spend 12-20 minutes in your orange and red zones (84 percent of your max heart rate) during the hour-long class you will experience the "after-burn effect."
The scientific name for this is excess post-exercise oxygen consumption (EPOC), which means your body needs more oxygen at a higher rate than it did before exercise. According to the Orangetheory Fitness website, the after-burn effect results in a 200-400 calorie burn increase for the next 24-36 hours.
Basically, 12 minutes in the orange zone equals after-burn, which equals more energy and more calories burned post-workout.
So here I am. Testing the theory behind Orangetheory Fitness.
I generally go to Orangetheory three to four times a week in conjunction with isolated muscle group training twice a week, and now that I'm six months into the program I can say that I'm really impressed.
Yes, I feel more energized.
Yes, I have toned up.
Yes, my performance has improved. I went from not being able to run a mile without walking, to running 1.44 miles in 12 minutes. I didn't even think it was possible.
But there's so much more to it. Beyond the positive results I've experienced in the gym and in my body, Orangetheory continues to keep me engaged and constantly improving.
Orangetheory's class templates are broken down into endurance, strength, power, and ESP (a combination of the three) days. The workouts change every single day to prevent plateauing and to avoid overworking specific muscles. Plus, I never get bored!
Orangetheory promotes its healthy lifestyle and client improvement through fun challenges throughout the year. Some are weeklong, month-long and sometimes, just a single day, but always have incentives.
Oh, and I get to play dress-up? Wearing neon sweatbands, scrunchies and leotards to the gym and workout only to '80s music? Sign me up.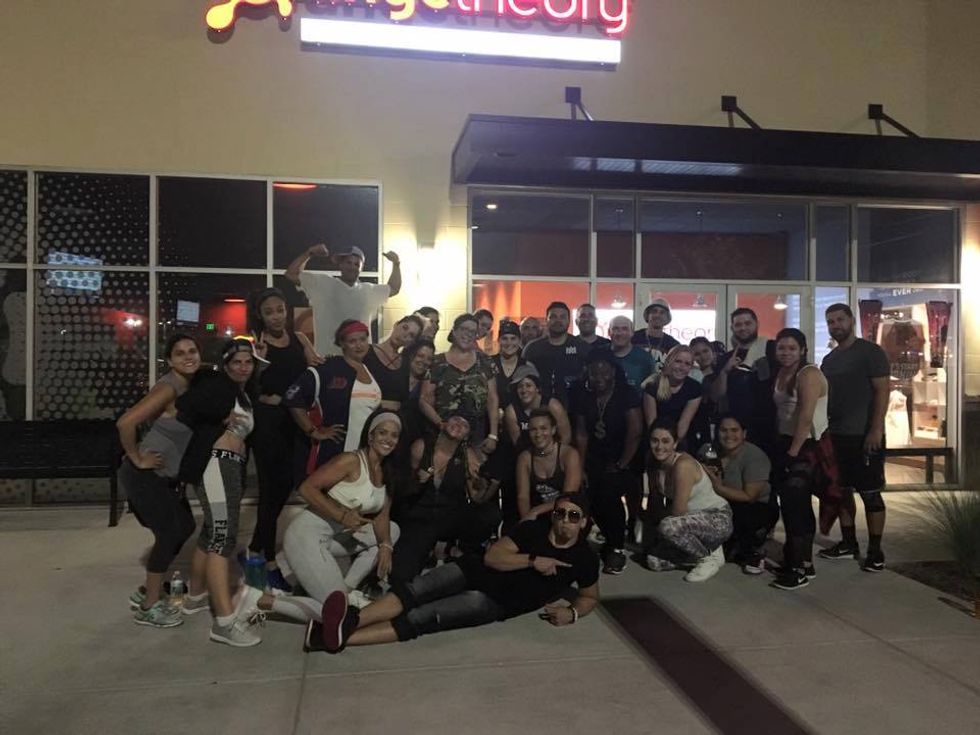 The coaches at Orangetheory are so motivational. They are quick to correct form and always make safety a priority in the studio. From my very first class when they showed me proper form for the rower, to pushing me to increase my speed on the treadmill, I swear they know my limits better than I do.

I love that it doesn't matter if I'm the last one on the rower because I decided to use heavier weights on the strength exercises. Orangetheory is designed so I constantly compete with myself and my past performance. On the other hand, I thrive off competition, it is a big motivator for me to perform at my highest level. Whether person next to me on the treadmill knows I'm actually trying to keep up with them, I don't know, but I certainly know that I'm going to do my best to beat their speeds and distance.
With more than 350 studios in 11 countries, I can find an Orangetheory everywhere. As a member of the Orangetheory family, I have access to every single studio worldwide. Everywhere I've traveled since becoming a member had a studio less than fifteen minutes away.
I love the combination of cardiovascular and strength training into one class. I have always struggled with finding a structured regime that pushes me to improve my cardio performance, but Orangetheory makes it fast and fun.
Due to the heart rate monitoring technology, coaches (among the rest of the class) can see exactly how hard I'm working, and they're certainly not afraid to call me out. And it is super embarrassing when everyone's working in the orange zone and I'm not.
Orangetheory emails me after every workout with stats from the class. My total calorie burn, the total time I spent in the five zones and my average heart rate. It also keeps me updated with weekly, monthly and yearly totals. Nothing shows progress like a bunch of visually appealing numbers.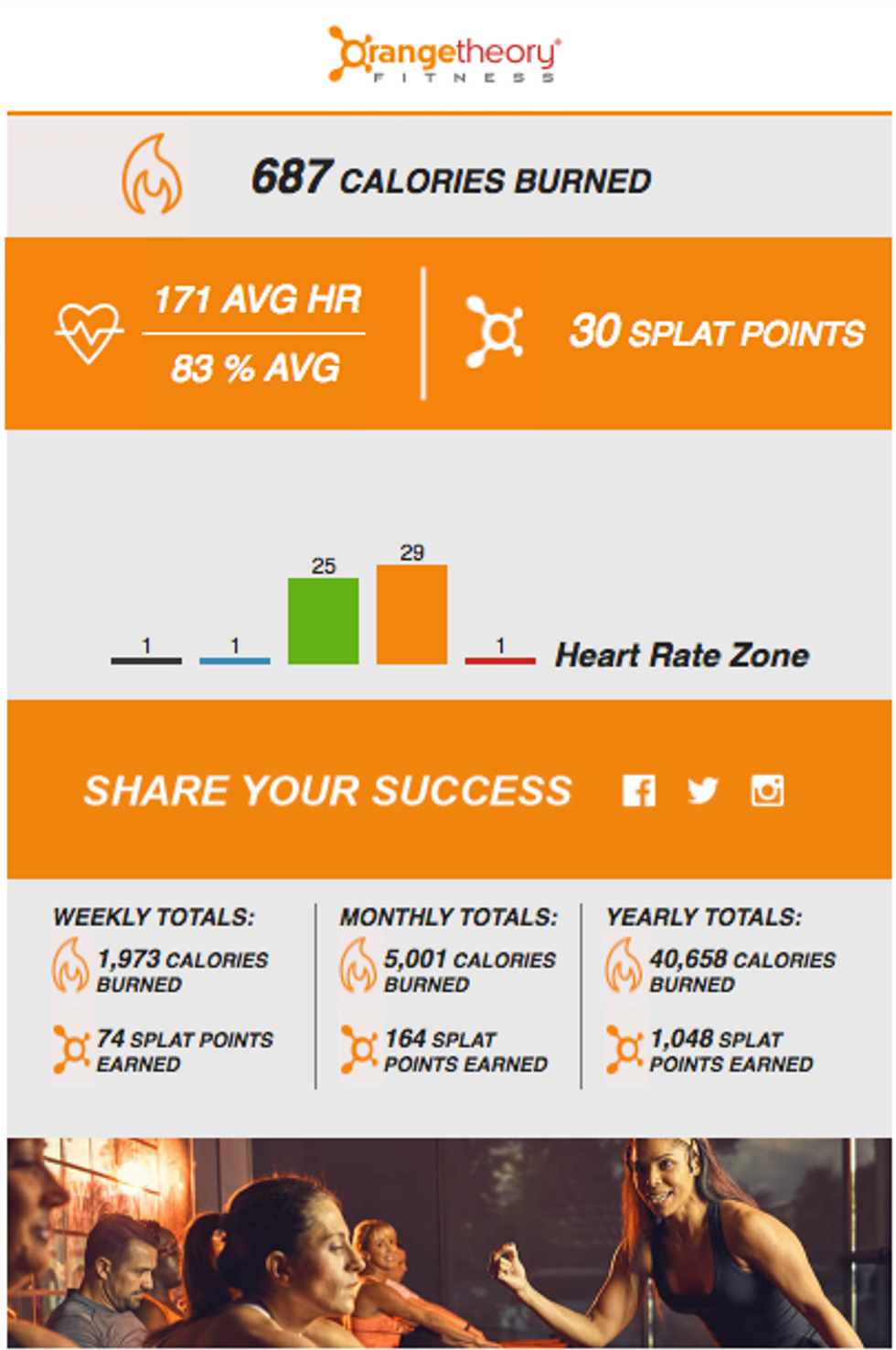 I always joke that I'm "working in my orange zone" no matter what I'm doing. I believe Orangetheory has taught me a lot more than just how to row, but constantly reminds me that my ability to do anything is totally mental.
Can I run at 12 miles per hour for 30 seconds? Yes. Is it because I mentally told myself I could do it, or is it because my coach bribed me with a tequila shot? Your guess is as good as mine. Either way, Orangetheory, the supportive members and inspirational coaches helped me reach a personal record I never thought possible. I will forever #KeepBurning.