"Silent Sam" was installed in McCorkle Place, the upper quad of the University of North Carolina at Chapel Hill, in 1913 by the Daughters of the Confederacy. It was commissioned for the more than 1,000 UNC students who left their studies to fight on the side of the Confederacy in the Civil War, on the 50th anniversary of the Civil War's beginning. The statue was built facing North to signify the importance of the Union, though Silent Sam was dedicated to Confederate efforts.
Silent Sam has evolved into a point of controversy on campus and throughout the state; more recently, this controversy has received national attention. In March of 1965, Letters to the Editor were sent to The Daily Tar Heel regarding the statue's significance, history and meaning. Following the assassination of Martin Luther King Jr. in 1968, the statue was vandalized.
In the 1970s, the statue became home for many of the Black Student Movement's demonstrations. After LAPD officers were found not guilty in the Rodney King trial of 1992, students gathered at the monument to speak out and share their thoughts. In 1997, a Martin Luther King Jr. Day march culminated at Silent Sam. In 2015, the statue was once again vandalized.
Of course, we are all familiar with the most recent events. Following riots and protests on UVA's campus in Charlottesville, Virginia, several protests have occurred at the Silent Sam monument. Many students have called for this semester to be "Sam's Last Semester," and the university has asked the state for permission to take the monument down.
However, since Roy Cooper granted permission, no further action has been taken. Divisions have grown among students and administration over what to do about Silent Sam. There is now a 24-hour occupation of the monument by interested student groups.
I surveyed 440 current UNC students from the freshman and sophomore class on their opinions regarding Silent Sam. I also interviewed 25 students to hear their full opinions.
The majority of students think that Silent Sam should be moved to a museum. As sophomore Chloe Boyd put it, "While it's important to acknowledge our history, UNC needs to be an inclusive environment, and I think Silent Sam should be moved to a museum or a cemetery." Most students think that, while Silent Sam is important to university history, it should be moved to somewhere less central.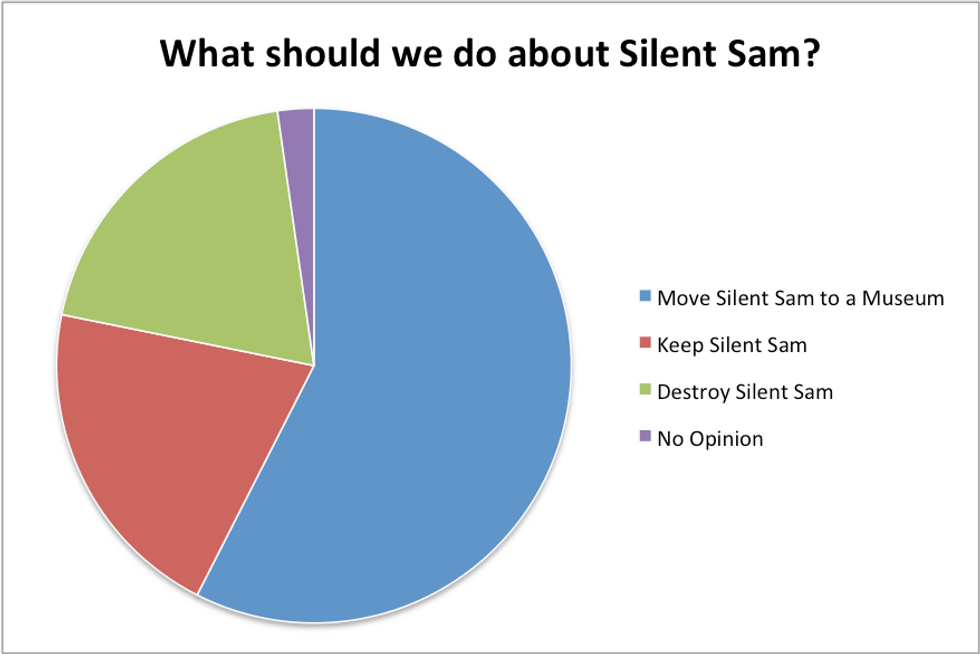 Many students expressed concern with what the statue represents in the minds of students and Chapel Hill residents, especially following the Charlottesville protest. Sophomore Roan Urquhart said, "I don't think Silent Sam should be destroyed, but it may represent something that UNC doesn't necessarily want to say about itself. I think it should be moved to a less public area of campus or a museum."
Sophomore Jamey Cross echoed this, saying, "I think there's definitely a place for [historical monuments like Silent Sam], but it doesn't need to be so public."
Junior Lauren Wilkinson articulated some students' reasoning, saying, "[Silent Sam] seems to be a symbol of the South's previous support of slavery and racism, and, now, groups that still hold those ideologies...[as they] come out to support and agree with inequality." She added that since the monument was not installed during or immediately following the Civil War, it seems slightly inappropriate, taking away from the Table Statue also located in McCorkle Place.
Sophomore Martha Bennett said, "I think that the statue's purpose was moreso focused on the students of UNC who had to leave their education to go fight in the war. I don't see it as a symbol of the Confederacy, but rather as a symbol commemorating that sacrifice, not necessarily glorifying the cause the Confederacy was fighting for." Bennett agreed that construction many years after the war could come off as inappropriate.
Many students said that they saw no problem with the statue, no reason for the protests, and no reason to take it down. This group was evenly balanced with those that said Silent Sam should be destroyed, though people with these more extreme ideas for action were more reluctant to be interviewed on the issue.

A student (who has asked to remain nameless) said, "...the statue honors ALL alumni that fought in the Civil War, so I'm not sure why people want it down. I do not see the statue as racist. It's been on campus since the 1900s and was put there by the Daughters of the Confederacy. Honestly, I think the riot was unsafe and should not have happened. It was very one-sided. If you were against the statue coming down, it seemed like it might cause violent reactions."
Violence is a very real concern for many students on campus, and many of those with whom I talked said that as long as protests on either side remained peaceful, they had no real opinion.
Twenty-four-hour occupation of the monument began shortly after the mayor of Chapel Hill, Pam Hemminger, asked that the statue be taken down. It has not really impacted university life for most students, though it looms large in many students' minds that the occupation and protests continue to occur.
Regardless of what you think should be done about Silent Sam, try to keep in mind the wide variety of opinions represented even in this tiny fraction of UNC students. We are a university that frequently boasts of "lifelong learning." That starts with a basic understanding of the opinions of others.
With a statue that represents so many different ideas and values to so many different people, there are certainly a lot of factors involved in the decision for what should be done about it. Try to keep that in mind. We may think that we know the right answer, but everyone thinks they know the right answer.