Featured
Nobody ever tells you that romantic partners aren't the only ones who can break your heart.
812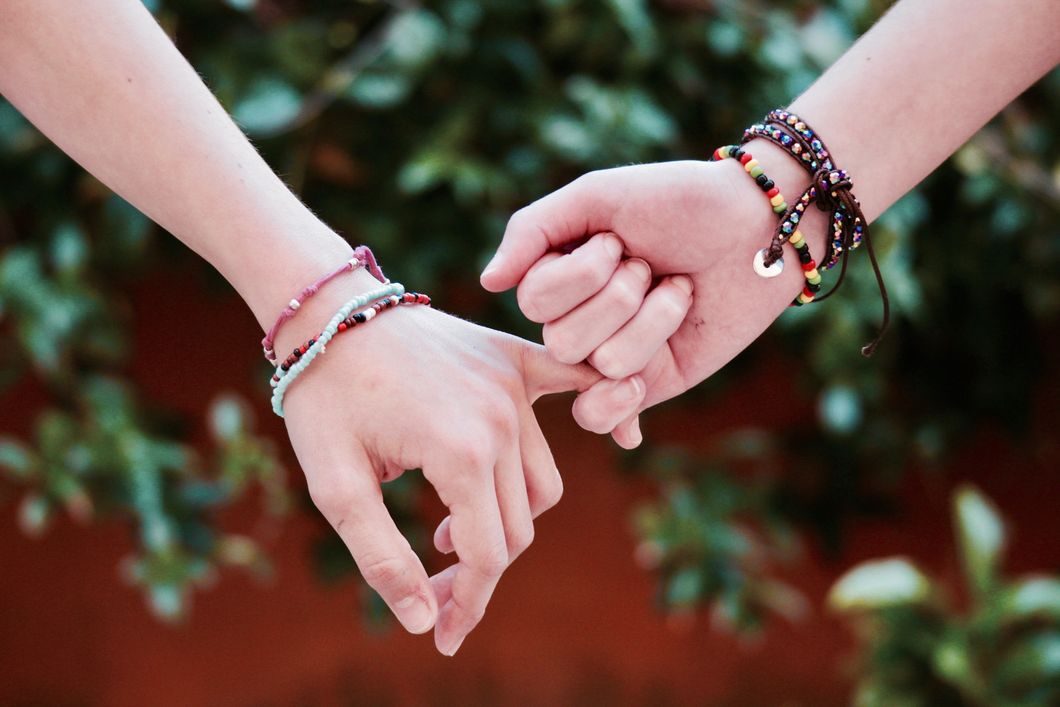 Growing up I LOVED romance novels and movies, and since I'd read almost every Nicholas Sparks book and watched every accompanying movie by the age of 12, I felt that I had a pretty clear idea of what my first heartbreak would look like. A boy, who I'd fallen in love with over some time, would call me or text me and say "we need to talk,' or meet up with me just to say, "it's not you, it's me" before kissing me on the forehead and leaving me to sulk and miss him forever.
Looking back at my first, and only, heartbreak, I wish that's how it had gone. Instead, though, it was much, much worse, because it wasn't some boy I'd only been dating for a few months or a summer fling in high school. It was my best friend whom I'd been friends with since kindergarten.

This girl was my other half. Since 3rd grade, we were literally inseparable, spending the night with each other every weekend, taking each other to family events, and even wearing matching outfits to school. Neither of us had siblings close to our age, so we were all the other really had. From ages 8 to 15 we were like sisters.
Unfortunately, though, when you get to high school, life changes, and it did for both of us.
We both started dating and it was fine at first. We still managed to find time to do things together, sometimes even upsetting our boyfriends by spending too much time with each other. Despite our friendship seeming to transition well with high school and relationships, it didn't last long.
Eventually, her boyfriend began treating her very poorly, and I, not wanting to see her in a relationship like this and not wanting to be around someone like her boyfriend, cautioned her and said that I didn't want to be around him. She agreed and started distancing herself from him, but did this while telling her family she was only doing it because I didn't like him. Her family didn't take kindly to that because they liked him since he was her first boyfriend.
They decided to ground her for 2 weeks, but only from seeing me. After a few conversations of me begging her to tell her family why I didn't want to be around him, she refused, and seemingly took her family and her boyfriend's side.
I will never forget the last text I received from her. It said, "I have some other things I need to take care of," and that was it. That was how my best friend of seven years ended our friendship, all over a boy, who she broke up with years later for the exact reason I told her he was toxic for in the first place.
I cried so hard when she never texted me back. I laid in bed and sobbed because I felt that maybe I was wrong. I felt conflicted because I also knew I wasn't. I felt insignificant and disposable and like the friendship that we had build meant nothing to her. My heart hurt so badly. I didn't want to eat, I couldn't sleep, and I felt physically ill for weeks. The people say that when your heart breaks you will know it aren't lying. It was the worst pain, mentally and physically, that I had felt up to that point in my life.
In the end, of course, I was fine. I returned back to school in August, after all of this happened in June, and looked her in the eyes and felt okay. It hurt a little bit, but I was okay.
That heartbreak definitely caught me off guard, and maybe that's why it sucked so much. You're told from a young age that at some point you're going to get your heart broken. What you're not told though, is that it doesn't have to be a boyfriend or girlfriend; it can be anyone you love.
To this day, I still get a little sad when I think about our friendship and what it could have been, but I have fully accepted what happened. Because of her I not only have a handful of fun, unforgettable memories, but I have a unique first heartbreak experience, one I'll never forget.