Lifestyle
Here's the coffee shop where you should get your morning brew.
553446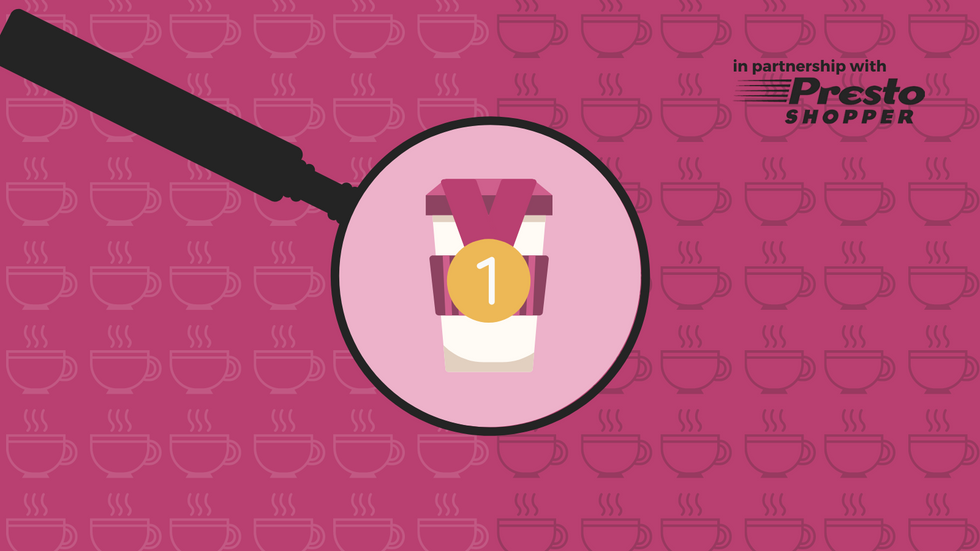 Coffee, for billions of people, is one of the only things that can get us out of bed (after hitting snooze a time or two), especially in 2020. Because, if we're being honest, is there anything that beats a quality cup of coffee on those mornings when all we wanted to do is roll over and go back to sleep? The answer is no. And if you're headed to a coffee shop to pick up your caffeinated beverage, you don't want to sleep on the best coffee drinks in America.
According to LiveShopper Sassie's Coffee Project survey, when it comes to chain coffee shops, there are definitely preferred spots you'll want to hit up for your go-to order — whether you order the classic, frozen, or flavored coffee, an espresso, tea, or other. To figure out the hot spots, 1,000 coffee drinkers across the United States took to LiveShopper's mobile app, PrestoShopper, to answer various questions about their coffee drinking habits and preferences. In return, these survey respondents got money back for their coffee — something any user who downloads the app can do as well (yes, even you).
Based on the overall ratings (from 1-5) of 1,621 cups of coffee, the best coffee in America was discovered to be from Caribou Coffee (4.72), followed by Starbucks (4.6), Tim Hortons (4.52), The Coffee Bean & Tea Leaf (4.48), Peet's Coffee & Tea (4.46), and Dunkin' Donuts (4.41).
When it came to the best cups in America based on individual drinks, though, different shops took first place for each. For the regular cup, espresso, and tea, Caribou Coffee took first place with 4.77, 4.75, and 4.72 ratings respectively. If you're looking for a flavored beverage (PSL included) Starbucks is your spot, coming in first there with a 4.76 rating, while Peet's Coffee & Tea took first place with a 4.72 rating for their frozen coffee drinks.

SEE ALSO: How Much Of A Coffee Snob You Are, Based On Where You Live
If you had to pick, which coffee chain are you hitting up for your morning brew?
Want to participate? They're at it again using Live Shops to get feedback from customers to see what coffee drinkers think today.
Simply download the PrestoShopper App and create an account. Then, find participating coffee shop locations near you by using the Presto Map from your phone! Once you've found an assignment you can complete within 60 minutes, accept it, execute it, and complete the 10 question survey on your mobile device (I repeat, you must do so within 60 minutes of accepting said assignment to participate).
Once you've verified that you've completed the assignment based on GPS technology and/or a photo of your receipt, you'll be rewarded with an Amazon code upon completion of the assignment.
In other words... getting money back for your coffee is as easy as downloading the app, completing a simple survey, and submitting your receipt! We love to see it.

Keep Reading...
Show less