Sports
For my final piece on UGA football this season, I give my personal take on where UGA football is currently at and where it is headed.
353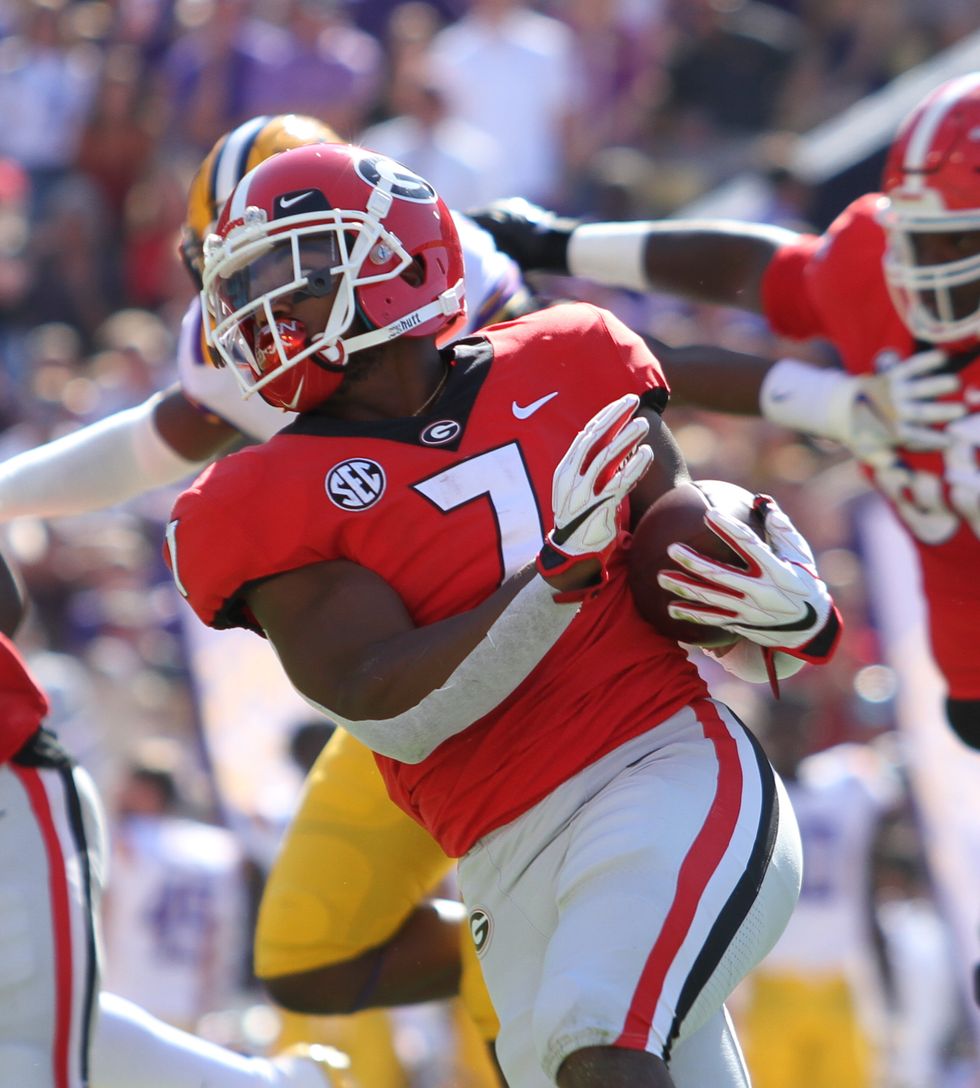 Over the last month, UGA has been talked about as a football program trending upwards and definitely in a prime position to win championships. They have also been talked about as an overrated program with an overrated head coach and an offense that is inconsistent at best. Some say 2017 was a fluke, and that we will never reach those heights again. What's true about the program? Are these analysis on point or way off? That's what my job is today, to inform the public what the truth about UGA football is right now, and to debunk some opinions on the current status of the program.
A little over three years ago, Georgia's athletic department took a huge gamble when they fired Mark Richt, one of their most successful football coaches in school history, and replaced with former UGA player and 4-time national champion defensive coordinator at Alabama, Kirby Smart. The risk seemed to have paid off in 2017 when the Dawgs found themselves undefeated through 9 games, won the SEC title over Auburn who they lost to a few weeks prior, and beat Oklahoma in the Rose Bowl to compete for the national championship. Unfortunately, the Dawgs lost the title game to Alabama after squandering a 20-7 lead to lose by the final score of 26-23 in overtime.
With many fans believing that 2018 was the time to win a national championship, Georgia suffered a devastating midseason loss to LSU in a dominant fashion that saw Georgia never hold a lead throughout. Now only one loss would ruin the Dawgs chances at returning to the college football playoff. Despite the intense pressure of not suffering the one loss, Georgia defeated all opponents on their schedule to close the regular season 11-1 and would face Alabama in a defacto playoff quarterfinal in the SEC Championship game. Once again, the Dawgs blew a lead, this time 28-14, and watched Alabama win yet another SEC title by the score of 35-28. Georgia would play in the meaningless Sugar Bowl against Big 12 runner up, the Texas Longhorns. While most thought Georgia would win this game, they suffered a humiliating 28-21 defeat to Texas, who dominated the entire game despite what the final score ended up being.
Ok, now that the recap is over, let's discuss where this program is at. I'm almost treating this as a midterm for Kirby Smart, seeing how he has built this program in his short time here and discussing whether he should remain head coach, or if he was just a one season wonder. I've heard this argument a lot that he may not be the former coordinator that is finally going to beat Saban, due to the fact that Saban knows how to outsmart all his former coordinators, including the ones that were on his staff for the longest period. Smart is going to beat Saban at some point, but his quest is not to beat Saban, it's to become the next Saban and build the next great college football dynasty. He will get over this hump soon enough, so I'm not worried about the two losses to Alabama. Hopefully, when he does, he will be competing for a national championship that same season.
Despite the three-loss season following a national championship appearance, which seems very similar to the Falcons after their Super Bowl run, this program is in a better position to win a title than most people will give them credit for. In just his second season, coach Smart took a team that went 8-5 the previous year all the way to the national title game the next season. He did this without most of his own recruits, which he has brought in the first number 1 recruiting class in the country for the school. This tells me that if he can do that with some of Richt's recruits, I can only imagine what Smart can do with some of his own players.
The defense will always be good under coach Smart due to his background with being a defensive coordinator, so the side of the ball that will be questionable is the offense. The last two seasons have seen some electric running backs take the field at UGA, including NFL backs Sony Michel and Nick Chubb. Elijah Holyfield and D'Andre Swift picked up right where the previous two left off with stellar seasons in 2018. Even with all the success at running back, the position that got talked about the most over everything had to be the quarterback position. Jake Fromm has been in charge of that position for two years now since taking over for an injured Jacob Eason in the season opener of the 2017 season. Fromm has exceeded expectations, but have left many fans asking for more from him. I am not in this minority. I believe Fromm has the capability to win a national championship at his time at UGA if he continues what he was doing at the end of this past season. He came on extremely hot to close the season and put his name into consideration for a darkhorse Heisman contender next season. He led college football in completion percentage, brought his third-down passing numbers by almost 10%, and retained his starting job while facing immense pressure from the fanbase to start the wunderkind Justin Fields. My prediction is that he will play even better in 2019, and could be the one to lead the Dawgs to a title for the first time in almost 40 years.
In conclusion, my fellow Dawgs fans, let me say this. To the ones around the world watching DawgNation rise up from the ashes, to the ones that unfortunately have to play UGA year in and year out, and to the ones that have ridiculed us for years about not winning titles, you're about to see this new breed of Bulldogs take the field in the next few years. For the many that believe this Kirby Smart project is not the right move, you best believe Kirby is not going anywhere anytime soon and will be the one to take UGA to the extreme heights of college football. UGA football is looking the best it has ever had in my lifetime, maybe even in history, and will be a cornerstone of college football for many years to come. All we need now is some patience and let this process happen and enjoy the growing pains this team will endure in pursuit of a championship. I promise it will make the victory so much sweeter.
Thank you, and goodnight DawgNation.
Keep Reading...
Show less